Attention bloggers, entrepreneurs, marketers and anybody who is interested in growing their list quickly.
Form design plays a huge part on a visitors psyche to join your list. This new free WordPress plugin – Rainmaker is hands down the easiest tool to get beautiful readymade forms and 10X your subscribers.
And we're happy to announce that Email Subscribers plugin has integrated with it.
As you may already know Email Subscribers already allows you to
Embed a form
Collect a list
Send subscribers bulk emails
Notify subscribers once a new post goes live
Using Rainmaker you can further polish the look of these forms and grow your subscribers list way further.
Benefits of using the Rainmaker Forms
Readymade Beautiful Designs that Convert Faster
Studies show that, 47% visitors make a decision to subscriber simply by the way a form looks. Rainmaker has a collection of 3 highly converting form designs. They are simple, highly effective and look sleek on any website.

Embedding the Form on theWebsite is a Cakewalk!
Rainmaker forms are very easy to embed. It generates a simple shortcode and that's it. No coding knowledge or no developer assistance required.
Embed Anywhere on your site
Also, this shortcode can be embedded anywhere on your website – Post, Page, Widget anywhere you like.
Simple Steps to Integrate Email Subscribers with Rainmaker
1. Install Rainmaker on your WordPress Website. Create a new Rainmaker Form. Choose form elements you want – Name/ Email…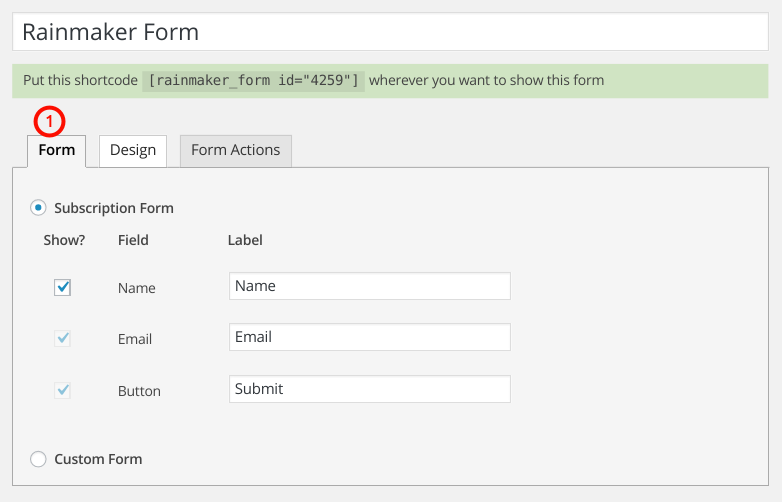 2. Select a design template – Classic / Material / Iconic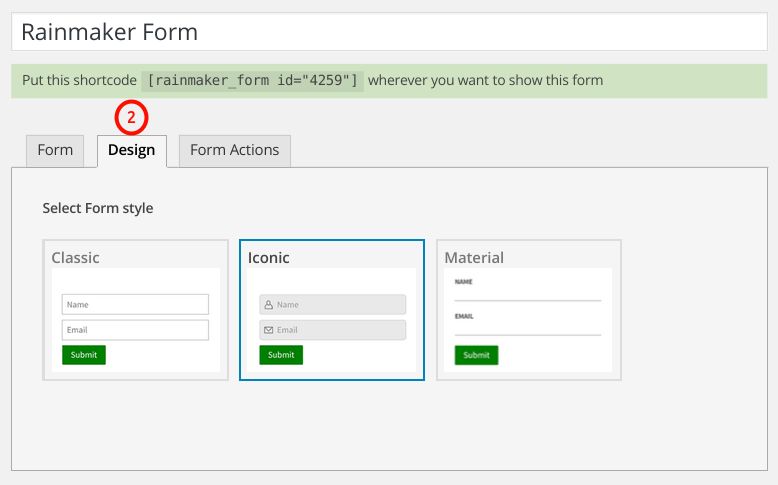 3. Select Form Actions
4. Connect with Email Subscribers. Save the form.
5. Copy and insert the Rainmaker form shortcode in a sidebar / widget / Icegram message / post / page – basically anywhere you want to show the form. Watch leads grow and be merry!
Use Rainmaker it's Free
Beautiful forms + Easy Deployment + Freedom to Insert Anywhere on your Website = Higher conversion
We recommend Rainmaker to grow your list and stay connected with the list by sending automated emails using Email Subscribers.
Download Rainmaker (It's Free)