Looking beyond marketplaces
Selling products on online marketplaces like Amazon, eBay, and Etsy is great to draw high volumes of traffic. This strategy enables merchants to sell products and earn profits faster without the need to spend on advertising. It's also easy to find potential buyers from these marketplaces.
However, successful eCommerce business owners are applying another online selling strategy. They want to build a better brand identity, stand out from their competitors, and deliver personalized shopping experiences, all of which are difficult to achieve by selling on marketplaces alone.
So, they are creating their own online store or webshop using content management systems, getting full control over its design and functionality.
WordPress comes to the party
WordPress is the most popular content management system used for building various types of websites which include blogs and eCommerce sites. It is an open-source platform which you can download, use, and modify for free.
What's great about this is that Automattic, the developer that created WordPress, also came up with an easy-to-use and highly flexible and customizable eCommerce solution that can be leveraged for transforming an ordinary WordPress website into a powerful eCommerce store.
, a plugin which is exclusively designed for WordPress. WooCommerce provides eCommerce businesses with all the essential capabilities they need so they can set up and manage their online store without having to deal with technical complexities.
With this solution, they will be able to produce an eCommerce website that effectively engages online shoppers and generates higher conversions and sales.
1. Producing beautiful & unique online stores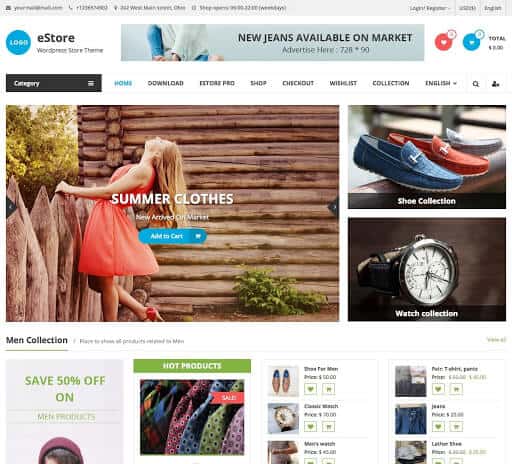 Your online store or webshop won't gain popularity and credibility if it doesn't look good in the eyes of your potential customers.
In fact, Blue Corona conducted a web design research which revealed that 48% of surveyed respondents said they consider the design of a website as the main factor in determining whether a business is credible or not.
Fortunately, eCommerce businesses take advantage of these flexible and powerful WooCommerce features to customize the look and feel of their online store. This too without writing and configuring any code at all.
Storefront is among the WooCommerce eCommerce platforms offered by Automattic. It is a theme offering that allows users to edit any pre-designed eCommerce store themes specific to their industry or create a custom theme from scratch.
With this, they will be able to come up with an online store that reflects its own brand identity and deliver unique navigational experiences to online shoppers.
2. Enabling you to sell any type of products or services anytime
WooCommerce is the perfect solution for B2C eCommerce business model. This is because it allows you to sell any type of product to your customers anytime; whether physical or digital.
For instance, your customers can access specific content or download digital products such as applications or eBooks from your online store depending on the membership or subscription plan they have opted-in.
You can also set up physical products with multiple variations and upload images for each product variation, allowing your customers to choose and purchase those products that match their needs and preferences.
WooCommerce, moreover, supports eCommerce businesses that are offering services such as online classes and training, equipment rental, and travel and tours. They can use a WooCommerce-specific extension to let customers book services and appointments directly within their eCommerce website.
3. Simplifying order management
Oracle in co-operation with Real TouchPoints produced a survey report regarding the last mile delivery challenges faced by retailers. As per this survey, the majority of consumers want to view and track the status of their orders in real-time.
The reason for this is very obvious. Customers want to make sure that their orders are delivered on time. And in case there are unavoidable issues along the way, they are expecting those to be resolved as fast as possible.
WooCommerce eases your burdens when it comes to managing orders from your customers. The solution permits you to
Moreover, it makes it easy for you to process refunds whenever orders are being canceled. You can do this straight right within the WooCommerce dashboard.
This prevents customers from filing a chargeback, a time-consuming course of action taken by some customers engaging in online commerce who raise disputes in their transactions.
4. Leveraging content marketing
WooCommerce is indeed built based on WordPress, a word-class content management platform. Because of this, you won't have a hard time creating, publishing, and managing all the content you need for increasing your online store's traffic, boosting its profitability, and keeping your customers engaged.
The platform lets you create blogs, so online shoppers can understand the benefits they can get from using your products or services.
You can also add videos to your eCommerce website for the same purpose. Furthermore, it allows you to showcase user-generated content which includes product reviews and testimonials to improve your online brand reputation.
In fact, some consumers read product reviews online first before they decide to purchase products from physical retail stores based on statistics about online shopping behavior.
5. Solving cart abandonment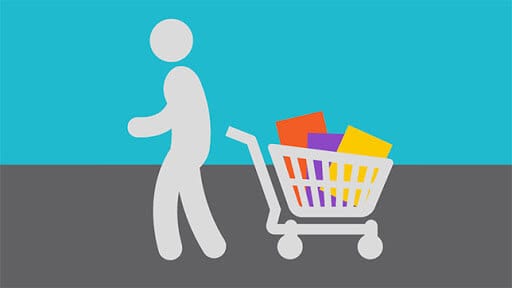 One common issue faced by eCommerce businesses is decreasing the percentage of online shoppers who have the intention to buy products from their online store but fail to complete transactions. This is also known as cart abandonment, an issue that you need to solve so you won't end up losing sales.
One of the major cart abandonment reason could be the high shipping costs. Luckily, WooCommerce permits you to apply different shipping strategies, like offering free shipping or shipping discounts for specific products or locations.
WooCommerce also enables you to make your checkout process simple, preventing online shoppers from going through multiple pages and entering a lot of information. You can customize your checkout page by using a plugin that lets you add, delete, or edit checkout data fields.
Moreover, the eCommerce solution gives you the capability to formulate and implement cart recovery email strategies. For instance, you can send out emails that remind online shoppers of the products they placed in their shopping cart. You can also include a message in your emails that encourages them to trust your products.
6. Streamlining processes & enhancing customer engagement
WooCommerce provides you with access to a wide array of free and paid plugins that help you accelerate your online store management processes and engage with online shoppers better.
With these plugins, you'll be able to easily track product inventory, automatically calculate sales taxes, update the prices of multiple products at once, and integrate your WooCommerce store with leading accounting packages.
When it comes to engaging with online shoppers, WooCommerce offers a plugin that allows you to create custom thank You pages that online shoppers can share on Facebook.
You can also use a plugin for adding live chat functionality to your eCommerce store, permitting online shoppers to communicate with your customer service staff in case they want to request information about your products or services or seek assistance for any concerns they have.
If you want to offer promotions, WooCommerce provides a set of plugins for such purposes as well. These plugins enable you to generate coupons in bulk, handle how the bargain products are displayed on your online store, give points to your online shoppers as rewards every time they make purchases, and other capabilities.
WooCommerce helps you showcase your promotions on your online store so customers can easily check them out as recommended by some essential online shopping tips.
7. Generating organized & simplified analytics
WooCommerce provides you with important statistics and metrics which you can use for measuring, analyzing, and evaluating the performance of your online store. These analytics are presented in an organized and simplified way.
WooCommerce lets you find out how many sales your online store is making for any time, whether daily, weekly, monthly, or yearly. You can also discover which brands and products are generating higher profits as well as gain insights into your customers' buying behaviors and attitudes.
If you want to get more analytics, you can integrate WooCommerce with other tools such as Google Analytics and social media platforms. This helps you track the volume of traffic your online store is generating and understand what social media users think and feel about your products or services. It's also essential to have a reliable synch with your sales tools.
Making online selling easier than ever before
Having your own eCommerce website gives you an advantage over your competitors who are relying only on online marketplaces.
However, putting up an online store alone is not that easy. Managing it is another painful process. Thanks to WooCommerce, as this easy-to-use, flexible, and the powerful plugin has been helping many eCommerce business owners create and manage their online store effortlessly, online selling is easier than ever before.
WooCommerce makes it simple for them to employ effective content marketing strategies, address cart abandonment issues, improve the way they engage with online shoppers, and leverage analytics to optimize store performance.