Hi Guys,
This article is a combined update of all the hot features that have gone into making Smart Offers 3.1.5.
Take a look at each feature in detail and give them a run. Sure, you will love each of it.
Emailing Offers
Emails are really important and so are emailing offers. So here it is! The quickest and simplest way to email offers to your customer list using your very own Smart Offers..
Steps to email offers:
Create your Smart Offer
Spot the HTML option in the Offer Dashboard

HTML option

Copy the HTML content it provides

Copy this HTML code

Insert this content in the email and hit send.
Shortcode to show price for Simple Products
When you give a discount to customers, apart from the amazing discount percentage it is also important to flash the original price of the product. The benefit: The bigger the difference between the original price and the price after discount, the more will it compel the customer to buy the product.
This feature was internally available for Product Variations. And with this release of Smart Offers, you can use it for Simple Products too. However, there is a minor difference. You would need to write the shortcode [so_price] in your offer description.
This shortcode will generate a result like this:
Offer Price: Original Price – New Price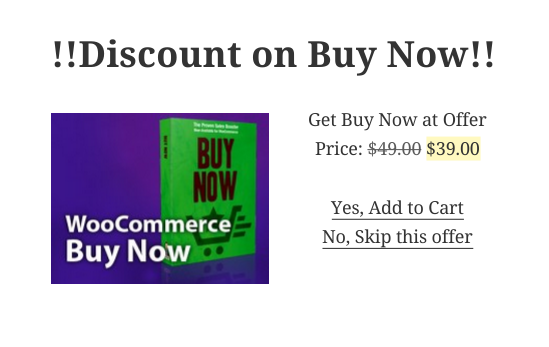 Our recommendation: If you have a Simple Product offer live or planning to put up one. Use this shortcode and display both the original and current price. You will see the increase in sales yourselves 🙂
Note: You need not to write to shortcode [so_price] if Offered product is a Variation Product as it is default included for them.
Shortcode Help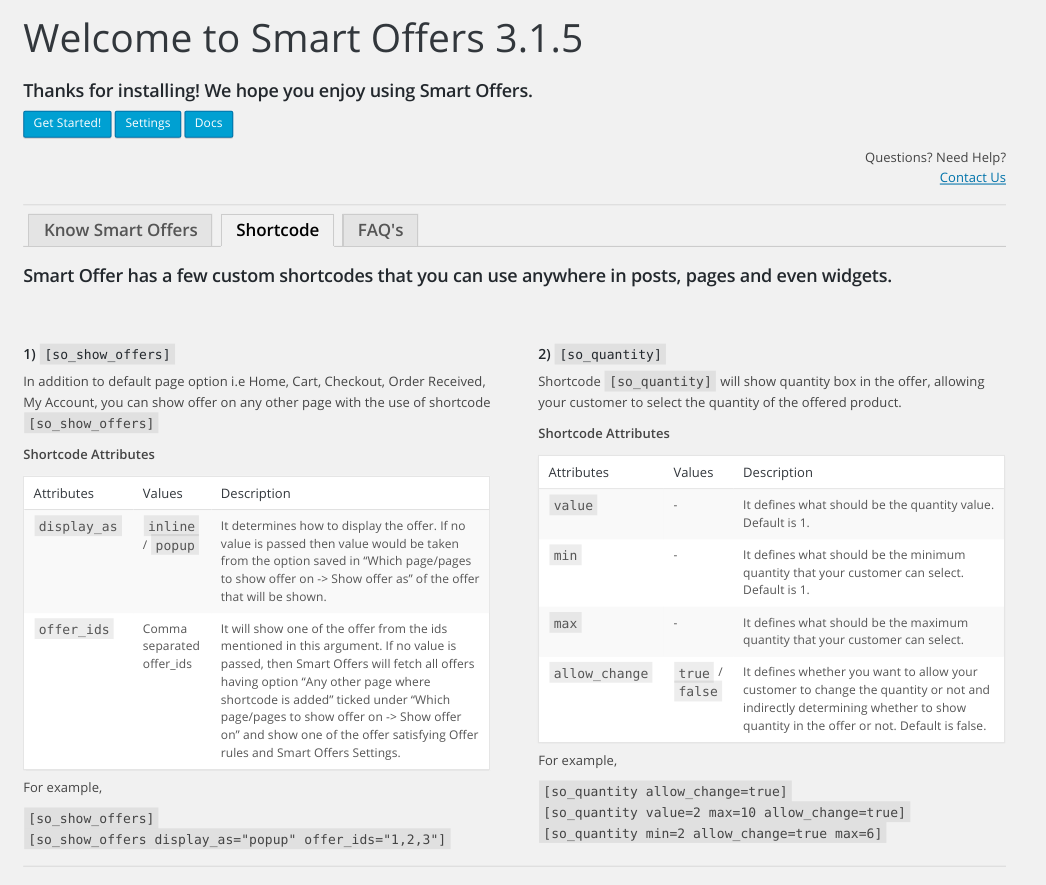 With the latest Simple Product shortcode to show price, we now have 7 shortcodes created for Smart Offers. And we wanted them to be accessible to you right from your admin panel. So we have included it right there.
You can access it from the Smart Offers Admin menu simply by clicking on the About link. Do check it out and also make full use of the wonderful shortcodes & other useful tips & FAQ's.
Minor Merge
Remember the offer options show Before checkout and show at Checkout?
We realized there is a very minute difference between what they do and thus we merged it to only one option which is now Before Checkout. This was just a mention so that you do not waste time figuring out about the one less option to choose from.
Also, it wouldn't affect any of the existing functionality if you had previously selected Checkout option as it is internally handled by Smart Offers.
Over To You
We are continuously improving Smart Offers by adding new updates. You can refer Smart Offer's changelog for a complete list of updates.
We would love some feedback. Good, Bad, Ugly- simply write in a comment and let us know!