Email Customizer For WooCommerce
Professional and elegant looking emails
to build your brand
Our WooCommerce email customizer plugin will transform your default WooCommerce order emails into unique, unmissable, fully-branded emails. Make your brand stand out, provide clear content & call-to-action.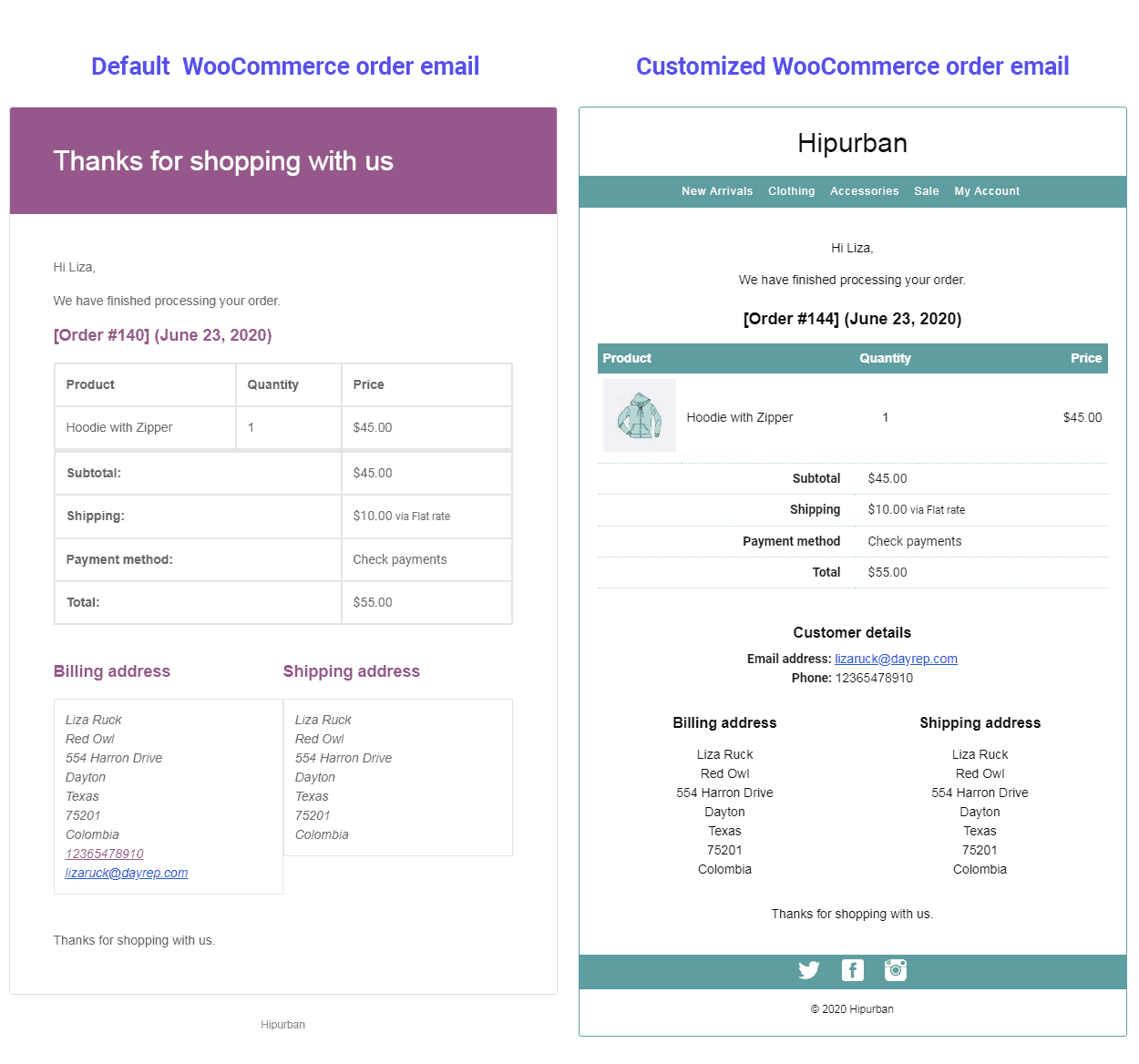 Why do you need the WooCommerce email customizer plugin?
Despite all predictions of the email being dead, it still rules conversations and conversions. Now, if you look at the default transactional WooCommerce email templates, they do their job but look heavy and repetitive. Even plain and unimpressive.
Definitely not a way to build a brand and distinct positioning. It poorly reflects on your value proposition. 7 out of 10 stores send crappy design emails and miss the opportunity to showcase their brand.
Look. Business is all about building a unique brand identity and value proposition. And that includes email marketing. So, even an email that you send to your customers should stand out. Only then people will notice and appreciate you, establishing your brand authority.
Therefore, all you need to build your brand is our WooCommerce email customizer plugin called Email Customizer For WooCommerce. The plugin allows you to easily customize WooCommerce emails – colors, header, footer, link, etc. in such a way that customers can relate to your brand and become your loyal fans. And it delivers great results!
Readymade email templates

Four stunning ready-made templates to start customizing your emails right away. Simple, user-friendly, just plug and play. No coding required whatsoever.

WordPress customizer

Why bother with drag & drop and put extra effort? We built Email Customizer For WooCommerce on top of WordPress Customizer – something all of you are familiar with.

Live preview, device responsive

A point-and-click interface with live preview to help you create perfect templates. See how your emails look like in real inboxes and different devices.

Send test emails

Send test emails before sending the final copy to see how the emails will look at the customer's end. Then, tailor your emails as required.

Add brand logo, colors, image

Design emails to match your brand. Change background colors, add your brand's logo, header footer, add a menu of links. Make your email more attractive by adding banners, featured images, etc. Full control in your hands.

Support for WooCommerce subscription emails

You can also customize WooCommerce subscriptions emails and non-WooCommerce emails using our readymade templates.
Have a look at our readymade email templates
You don't have to start from scratch. Use our ready-to-use email templates for all the WooCommerce emails.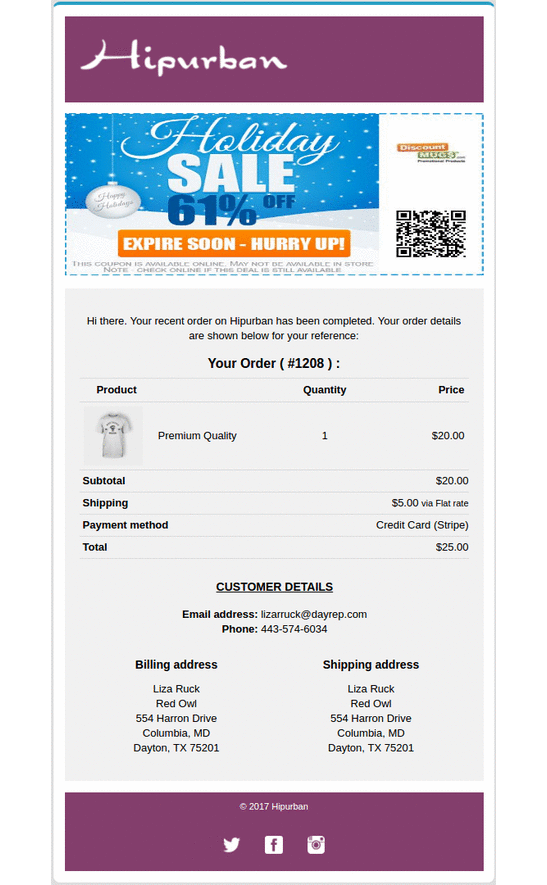 Why do users prefer our WooCommerce email customizer plugin?
When we designed Email Customizer For WooCommerce, our top priority was to create branded emails easily. We know email designs can be messy. Sending stock emails is a disservice to customers. So we have designed this plugin in such a way it can be used by all.
You will be able to customize in an advanced way the template of every email by adding, for example, your logo, custom links, a footer with tailored content, and links to social networks.
A brand's positive image and impression are built on small details and that's why our plugin provides options to style and make pretty emails.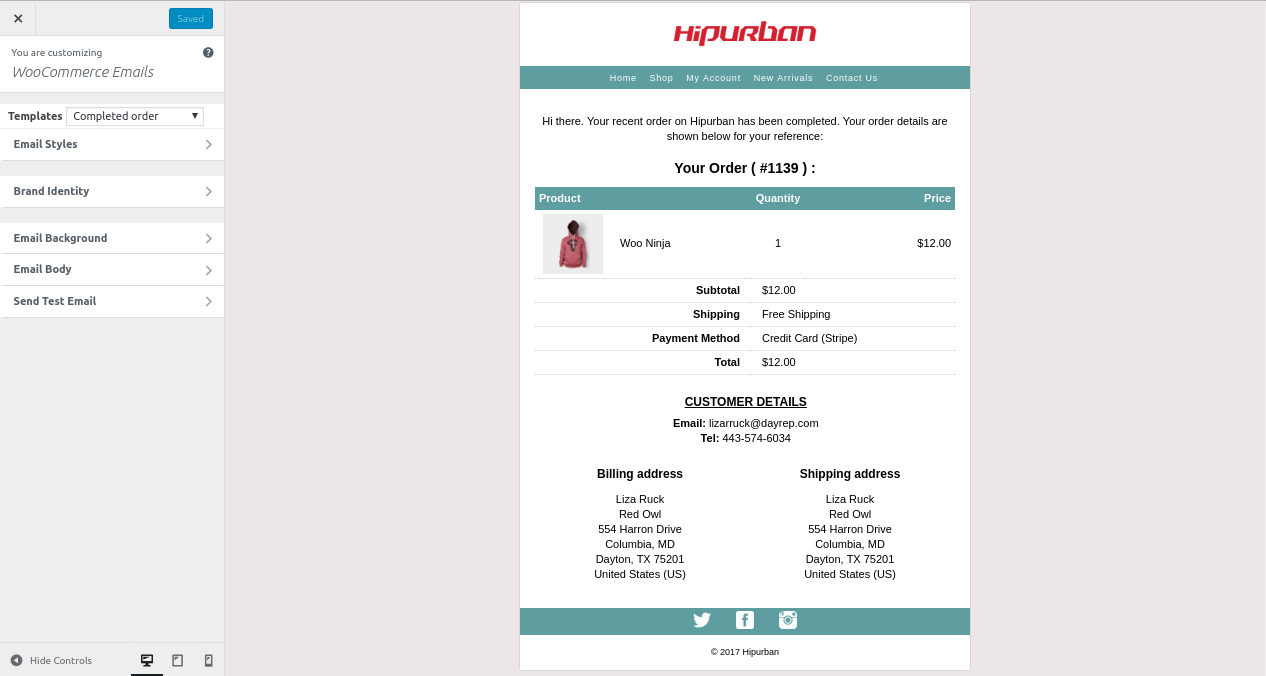 Customize all different WooCommerce emails
Order on-hold
Processing order
Completed order
Refunded order
Customer invoice / order details
Customer note
Reset password
New account
and other WooCommerce emails…
The plugin comes with built-in support for all the emails of WooCommerce subscription emails. Impress your customers by creating and sending beautifully designed subscription emails.
Styling WooCommerce email templates to build your unique brand identity
These settings will be common across all WooCommerce emails.
Header

Customize the 'Header Style' – Header Color, Header Text Color, and 'Header Text'. Further under Header Text, you can add custom text for each individual email template.

Brand logo

Add a brand logo in the header area. You can also add a featured image, banner to make your email more attractive. One of our templates allows you to add an image.

Menu bar

Show up to five custom links. This is very helpful in taking your customers to the desired page you want – offers, exclusive products, account page, etc.

Email background and body

You can customize the background color of the email. You can also change the email border color and email body color to suit your brand.

Social media icons

Showcase your social presence. Facebook, Twitter, Instagram…add your social media icons with links.

Footer

Add footer text to your emails. You can add a custom message or custom HTML in the footer text field to make it look more attractive.
Not to forget, you get a live preview of what you customize. And also send test emails to see how the email will look in your customers' inbox.
Not a purchase but a lifetime investment
You are here to grow your business and customers. And customers will return to buy from you only if you have built your brand image well.
Therefore, customized emails show how professional and committed you are.
FAQ
Can I edit WooCommerce emails' text?
Unfortunately, the plugin does not allow editing the content, but only styling the emails. However, you can add a custom text in the email header and footer.
What plugins is Email Customizer For WooCommerce compatible with?
Compatible with WooCommerce Subscriptions, Smart Coupons, and WordPress. And also with all the themes that support WooCommerce.
Does this plugin work on mobile devices?
Yes, the plugin also works on mobile and tablet devices.
Can I customize the WooCommerce email header image size?
The plugin only allows adding the logo in the header.
Can I add custom hooks to customize WooCommerce emails?
Currently, you can't add custom hooks to the templates.
Can I add custom email per product?
Unfortunately, this feature isn't available.