Saved Addresses For WooCommerce
Allow users to save (and pick from)
multiple shipping and billing addresses
Don't let your customers waste time filling shipping / billing details anymore. Use this WooCommerce multiple shipping addresses plugin to auto-fill their address and allow them to checkout instantly.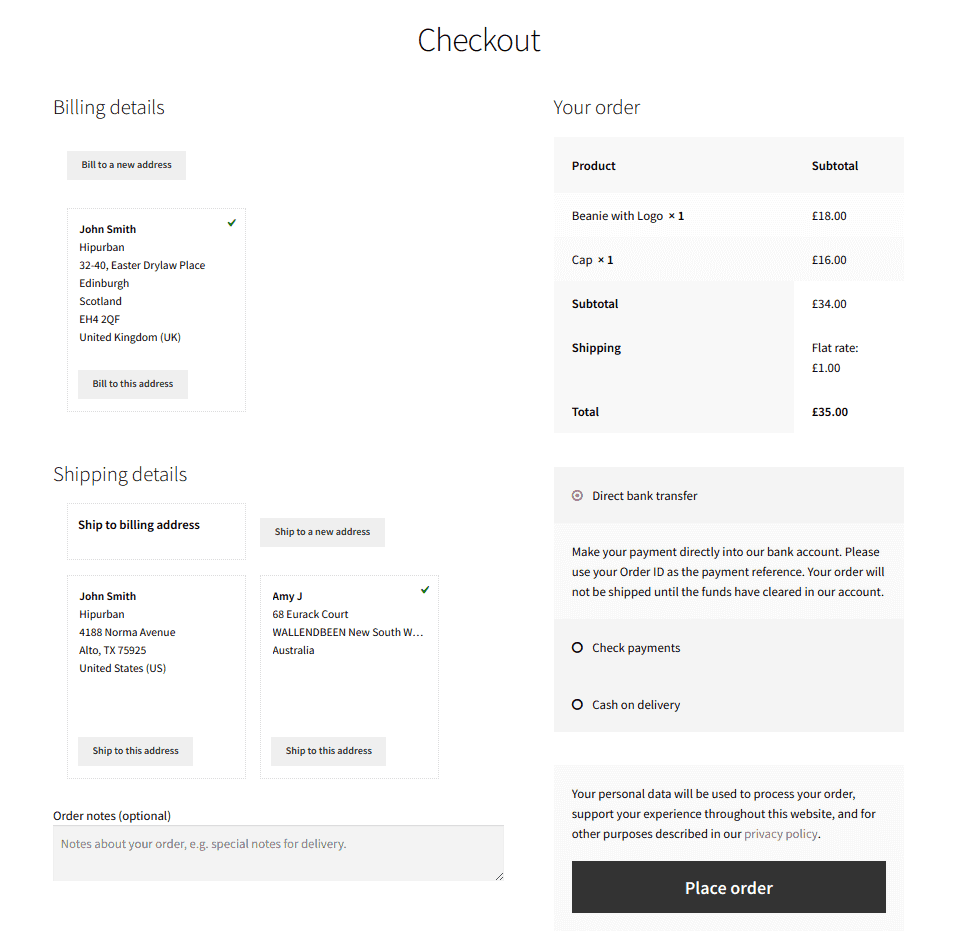 How WooCommerce multiple shipping addresses help reduce abandonment?
No one likes filling shipping and billing addresses every time they make a purchase.
WooCommerce will automatically fill in billing information if the user is logged in and has a previous order. But what about shipping location? What if people want to ship products to their parents, friends, kids and others who stay elsewhere?
Stats shows that more than 63% people just abandon their cart if there isn't a provision to save and pick from multiple addresses.
Amazon uses saved addresses which helps them in clocking higher conversions. So, if you aim for conversions like Amazon and ensure a smooth, quick checkout for your visitors, customers, use this WooCommerce multiple shipping addresses plugin, called Saved Addresses.
If the customer is logged-in, then he/she can add and save multiple addresses during check-out, or pick from their previously saved billing and shipping addresses.
Pick and manage addresses at checkout

Users can select any saved address during checkout. They can also add or delete addresses directly on the checkout page.

Manage addresses from 'My Account'

The plugin provides a special section under 'My Account'. Customers can modify or delete their addresses from here.

Auto-fill customer data

Your customers can choose a default address and it will be automatically filled at checkout. Clicking on the 'Ship to this address' option will auto-fill customer data.

Save unlimited addresses

3, 7, 10…let your users save as many addresses as they want.
Besides this, the plugin is free from customizations. You don't require any coding knowledge to use the plugin.
Upcoming features – customize the addresses look on the checkout page, address tagging, more admin controls.
Save customers' time, recover lost sales
When multiple addresses are saved, all the addresses would be displayed instantly at checkout and the user can select address of their choice, thus saving a huge amount of time.
So don't let visitors abandon the cart just because of shipping addresses. Help them make a quick checkout. Give them options to save multiple shipping addresses and recover potential leads.
FAQ
Where the user info will save?
The plugin maintains something like an address book where multiple customer addresses – billing and shipping are saved.
Can the plugin ship to multiple addresses?
Unfortunately, you can only ship to one address in one order. For multiple shipping locations, you need to place multiple orders.