10x faster WooCommerce store management
Batch manage products, variations, customers, orders, coupons and more in easy spreadsheet interface.
Stress free bulk update, export, advanced search and a lot more.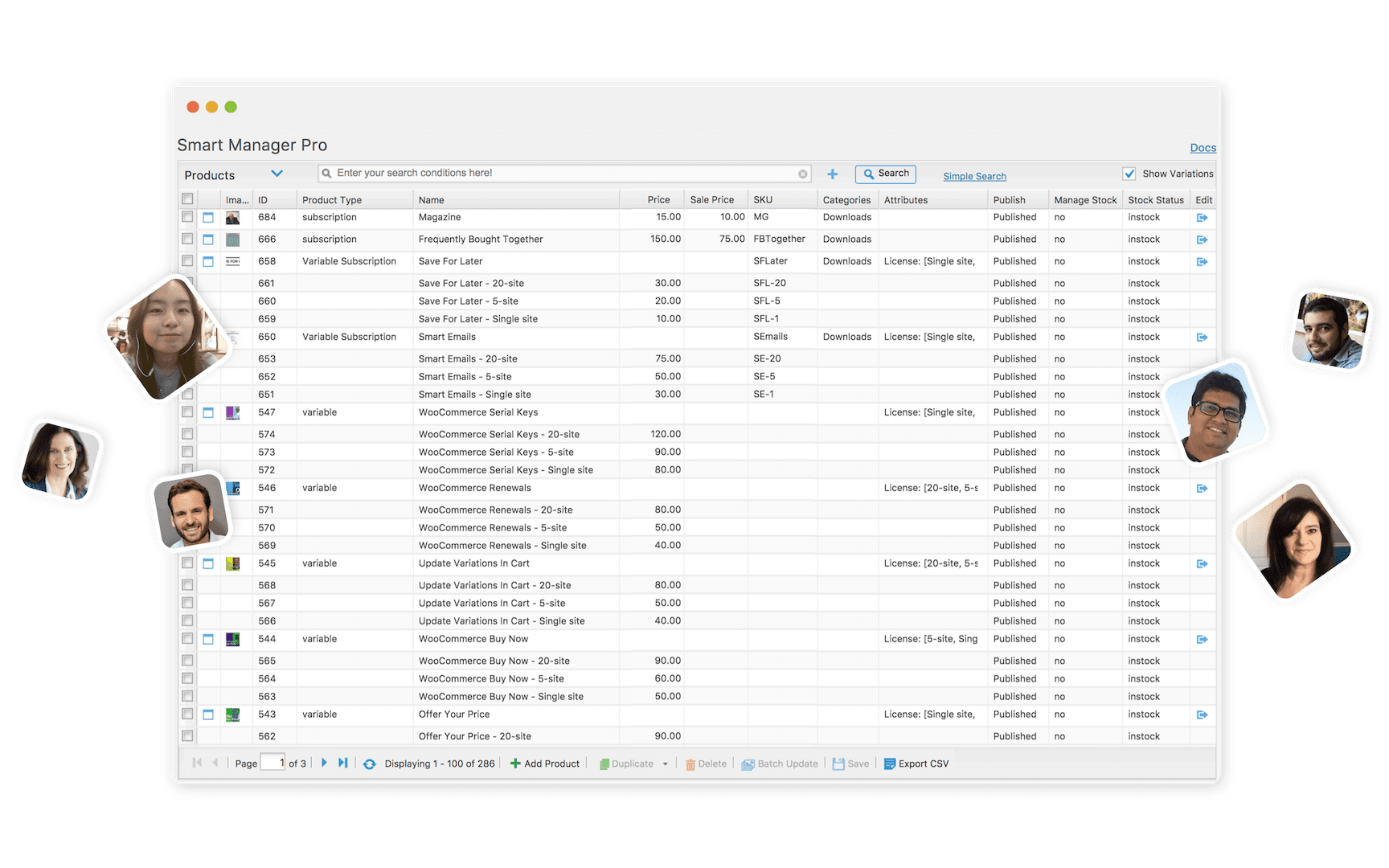 What Smart Manager will help you achieve!!
Start your day without the sucky and irritating mundane…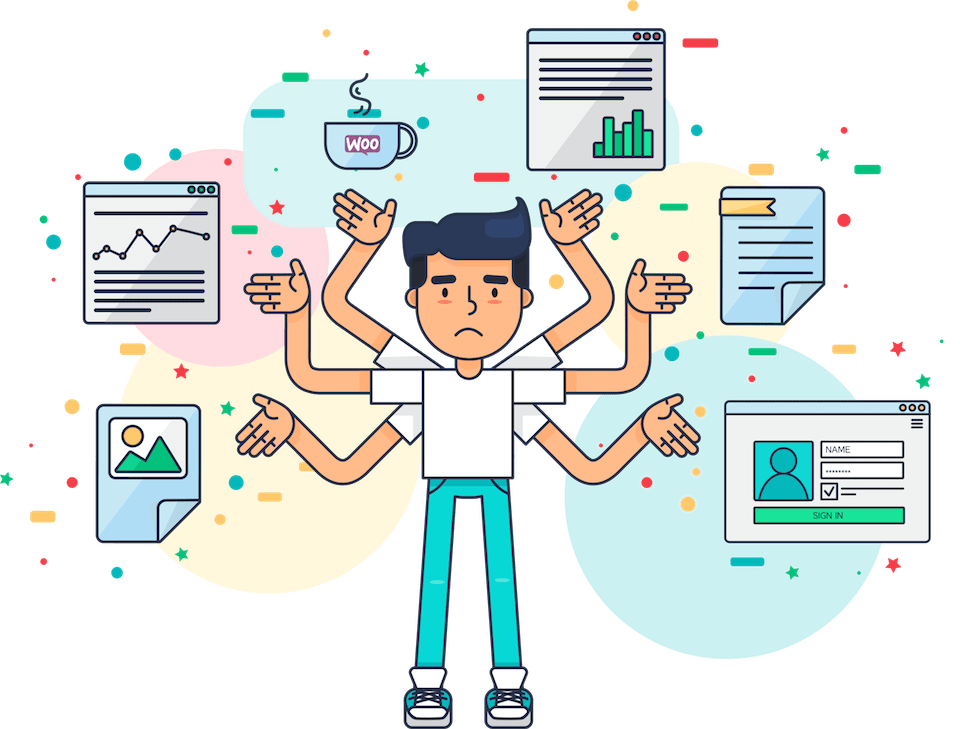 As you grow your business, you'll get sucked into the day to day chaos. Tasks like adding, updating and managing products, variations and inventory can be tiresome and extremely time-consuming . And if you have more than a handful of products, you may need to hire an assistant just to keep your WooCommerce store up to date.
Then there are those times when someone makes a mistake and correcting each item drains your motivation and direction.
Didn't you wish there was an easier way to set up sale prices and schedules across a bunch of products?
And a faster way to look at all your orders, customers or coupons?
And a better way to bulk update names, prices, categories…
As a matter of fact, wouldn't you like a better way to manage WooCommerce and WordPress?
That's what Smart Manager will help you achieve.
---
The speed you need to manage your WooCommerce store!!
Smart Manager is the easiest, fastest and most powerful solution for WooCommerce store management. It's familiar spreadsheet view, search and batch update will save you hours of repetitive work.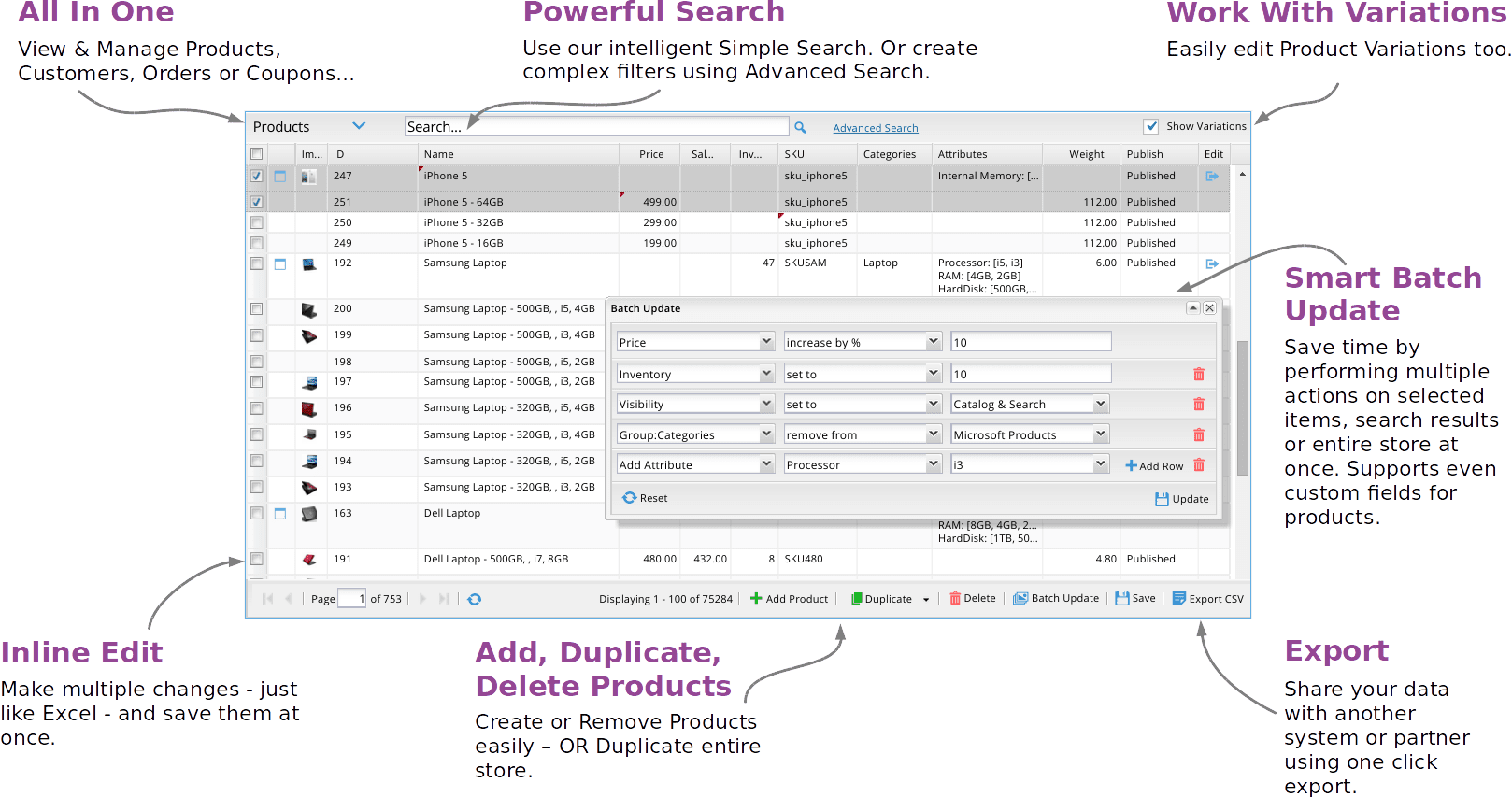 Your familiar Excel like design for instant results
Ever used Microsoft Excel? Or similar? Yes?
Then you'll feel at home with Smart Manager in a couple of minutes.
Excel like design
Smart Manager works like a spreadsheet. So making changes and navigating is fast and simple!
Single Page Interface
Manage everything – products, orders, customers, coupons – from a single window
Direct Editing
Add, delete, update multiple items at once. Customize columns and pull up custom fields.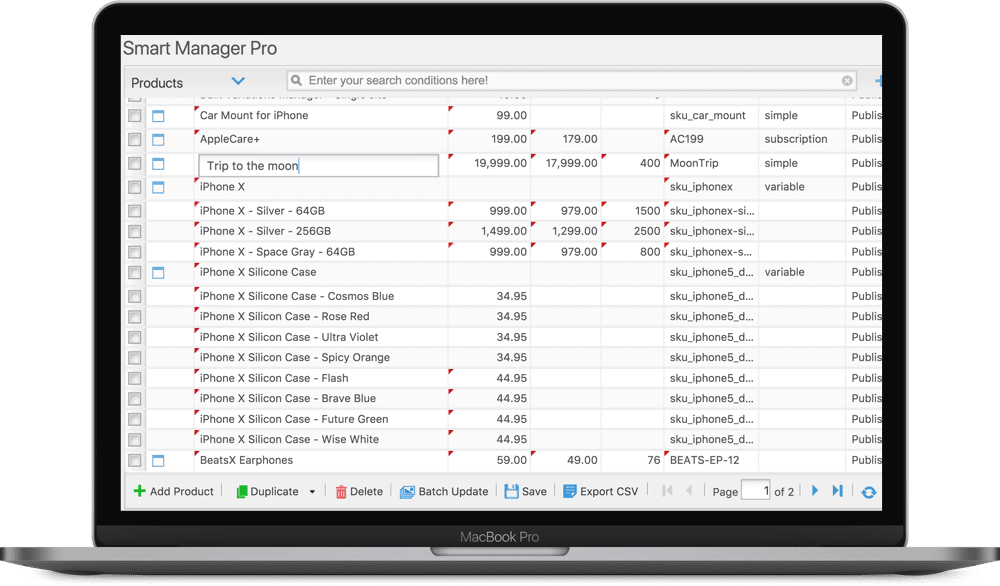 The ultimate Time Saver –
Batch update thousands of items in seconds…flawlessly!
Whether you have a 100 product store or 100,000 – you can batch update everything at once – quick and easy!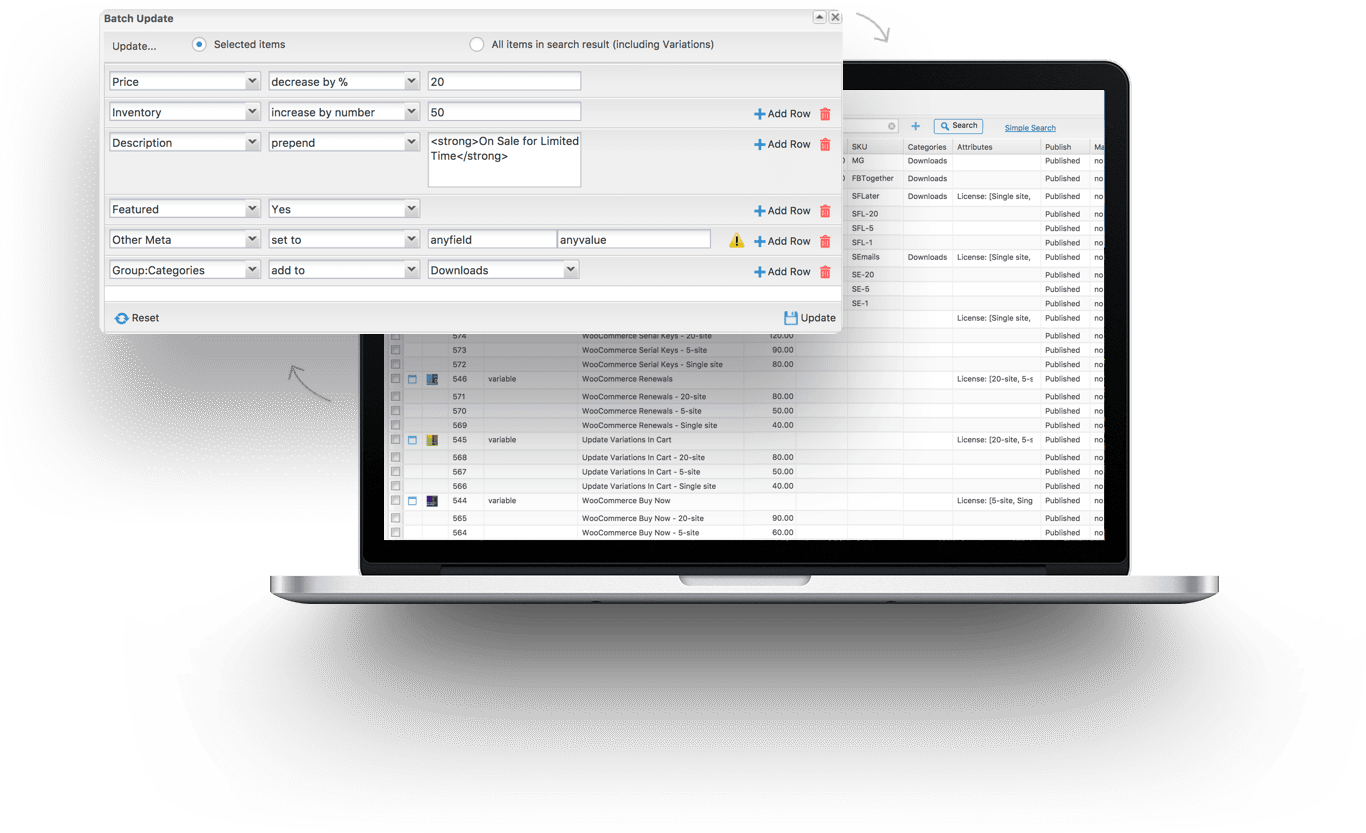 Bulk update many items at once
Select as many items you want and change any of their properties at once.
This is tremendous power and flexibility, nothing comes closer to Smart Manager here.
And BTW, you can even update all items in the store at once!
Update any number of fields
Change as many attributes / fields as you wish in a single Batch Update operation.
You can achieve complex, unlimited & cascading updates in no time with a simple point and click.
For example: Reduce price by 25%, append ** special ** to product names and increase inventory by 500 units – all updates to all selected items in one go.
Avoid human errors and miscalculations
Smart Manager takes care of boring (and erroneous) calculations in prices and stocks.
It can append or prepend text and can change product groups.
You only have to set your choices and Smart Manager will take care of all calculations in the background. We call it "smart" for a reason!
Our groundbreaking batch update technology is so good, it will make you dance!
Get what you're looking for at a blazing speed
You know what product you want to update, but it takes long time to locate anything within WooCommerce..
We've built an intuitive and powerful search system for Smart Manager. Find items by any custom parameter – or switch to simple, single field search.
And of course, you can sort columns, show or hide columns of your choice, skip showing variations…
Whatever your workflow, Smart Manager lets you quickly reach the item you need!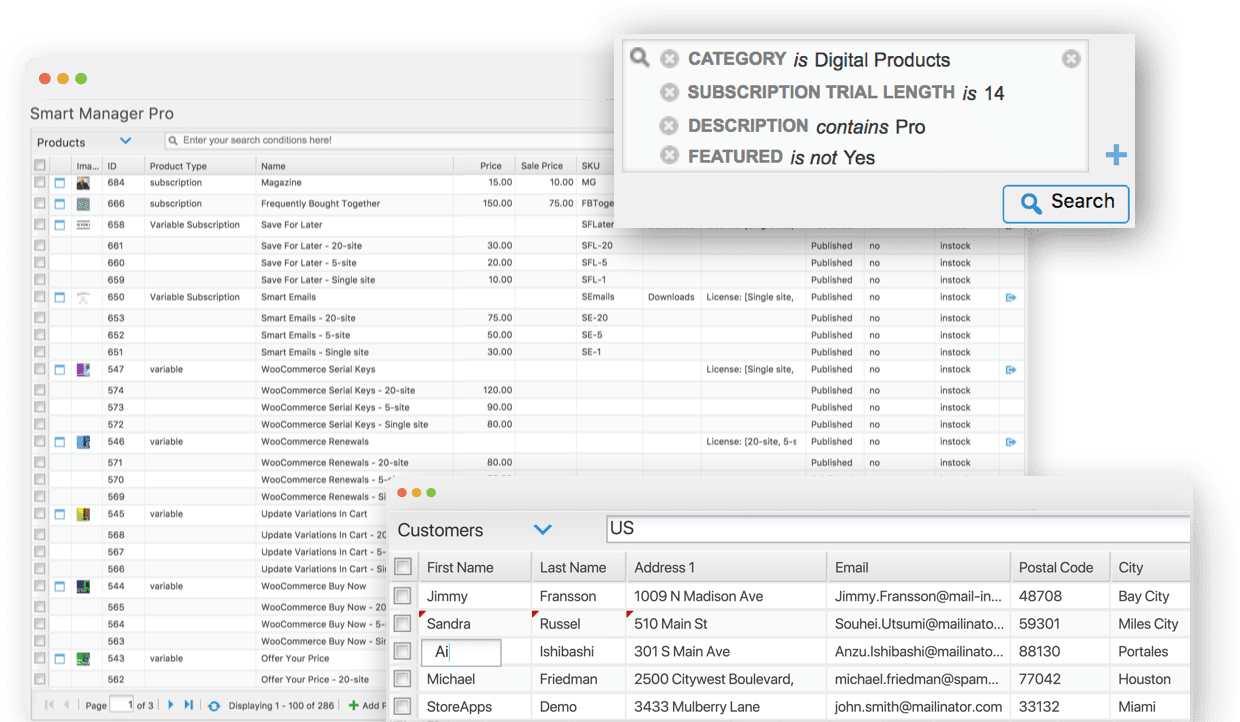 Accomplish with ease and peace all these routine tasks
Running a million dollar business, or just getting started…If you are spending your time on chores, your business is already sinking.
And only a man that wants to drown sends away the rescue party! Stop swimming against the tide.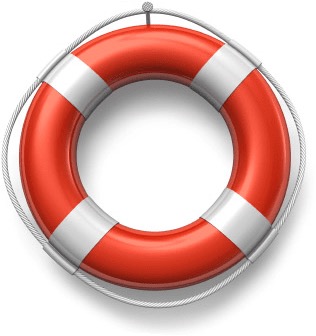 Here are the most common tasks people like you accomplish using Smart Manager – without the bad bits!
Bulk update product prices, categories and inventory
View and manage variations of a product
Look up orders and customers quickly
Set – and revert – sale prices for promotions
Export store data to CSV file without any corrupt or missing entries
Add custom meta field values
Quickly change discount rules for many coupons at once
Change product image for all products in a category
Set SEO, customer reviews, subscription and other properties
Manage WordPress user roles – change user role, change password, etc.
Change customer's email address – as well as other details
View customer's lifetime value, last order date and contact details
And a lot more…
19K+ users, 8 years track record, Battle tested for reliability
I would happily pay five times for this product!

What really sold me on this was Batch Update. My assistant does not have to do any complex math now (earlier, I always feared she would make mistakes)! With Smart Manager, she has more free time at hand, so I asked her to set up auto responder emails. The response was phenomenal. Repeat sales were up by 19.5%.

Jeff Smith, Developer

Indispensable for any store!

I have 1600 shop items in various collections and categories that often need to be moved around. Thanks to StoreApps' Smart Manager Pro I can perform this within seconds. Hands down one of the top most important plugins I recommend for any shop with a sizeable collection.

Aymee Crisbella, Founder – Crisbella Designs

– That's what our customers say.
Try the free version
Bonus: Not just WooCommerce, manage any custom post type in WordPress!
We are taking Smart Manager beyond WooCommerce! Now you can view and manage any blog post, page or custom post type in WordPress with Smart Manager.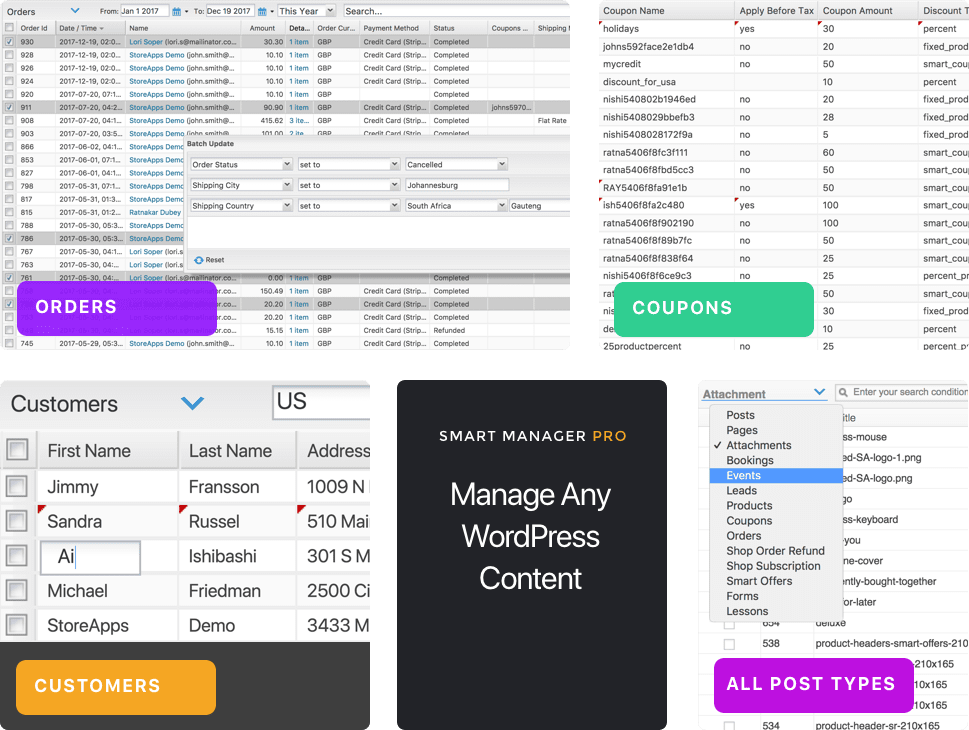 ---
So, ready to get extra holidays every month and party?
I'm sure Smart Manager will create huge value for you, your team and your business.
The way Smart Manager helps you accomplish your tasks quickly and the time it saves for you, it is almost equivalent to getting a minimum 2-3 extra holidays each month.
You can easily put that spare time to enjoy yourself with your family, friends and party. If not, then focus on other aspects of the business.
So go ahead, pick up your license and get instant access to Smart Manager.