10x faster WooCommerce store management
Smart Manager for WooCommerce
Bulk manage products, variations, customers, orders, coupons and more in easy spreadsheet interface.
Stress-free batch update, export, advanced search and a lot more. Our best-selling product.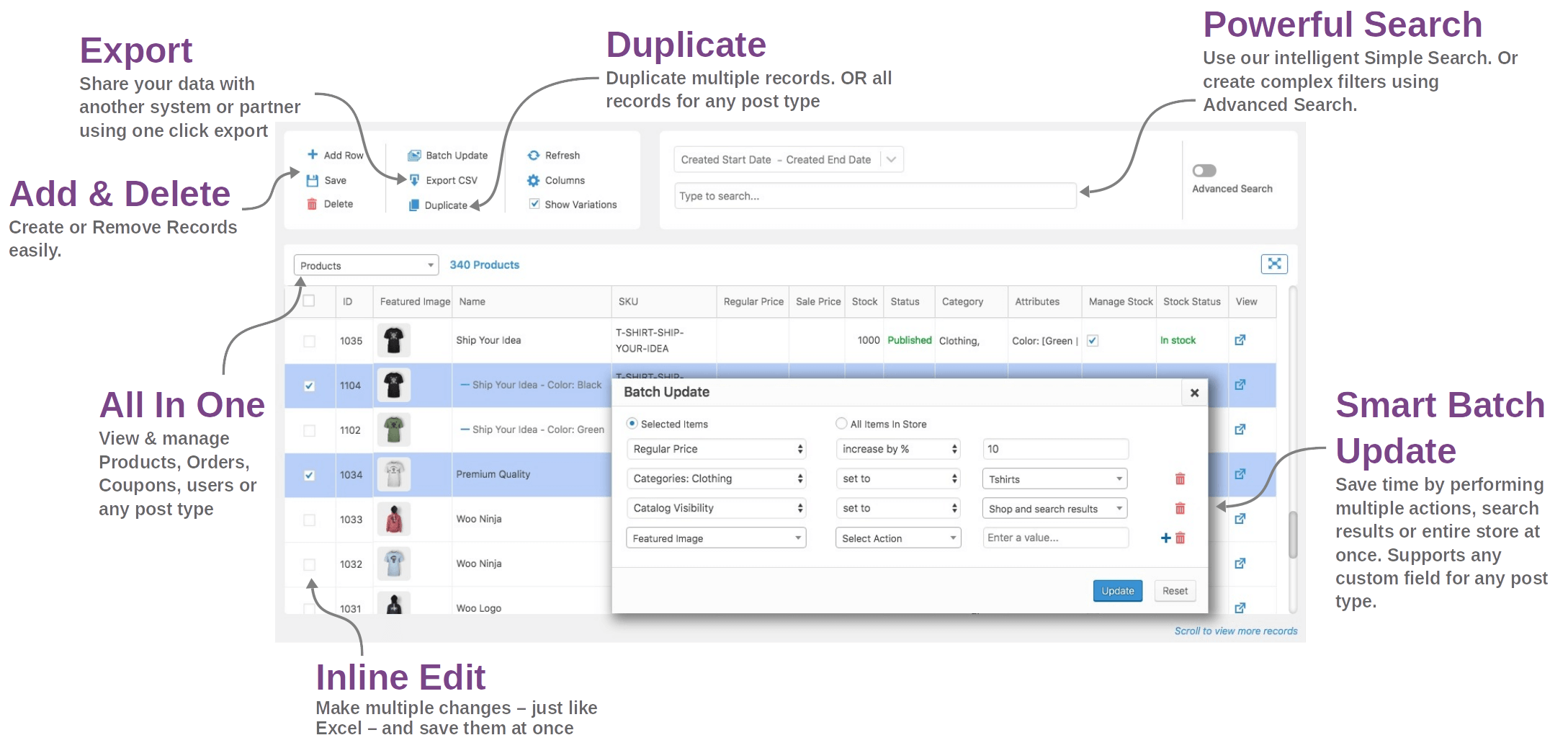 Beat the daily sucky, tiring grind
A prospect is much more likely to buy additional relevant products while they're buying one product. Amazon and every other big store smartly uses this fact with psychological triggers to maximize average customer value.
As you grow your business, you'll get sucked into the day to day chaos. Tasks like adding, updating and managing products, variations and inventory can be tiresome and extremely time-consuming . And if you have more than a handful of products, you may need to hire an assistant just to keep your WooCommerce store up to date.
Then there are those times when someone makes a mistake and correcting it drains your motivation and direction.
Didn't you wish there was an easier way to set up sale prices and schedules across a bunch of products?
And a faster way to look at all your orders, customers or coupons?
And a better way to bulk update names, prices, categories…
As a matter of fact, wouldn't you like a better way to manage WooCommerce and WordPress?
That's what Smart Manager will help you achieve.
Managing store is now 20 or 30 times quicker!

I've got over 200 products and dreaded managing them one by one. The pro version of Smart Manager plugin let's me do this so much quicker. Probably 20 or 30 times quicker. It is an absolutely invaluable tool. ~ Bryan
Administer everything from a single screen
Be it adding or deleting records, inline editing, bulk updating records or filtering them, accomplish all tasks from a single window.
Excel like design
Smart Manager works like a spreadsheet. So making changes and navigating is fast and simple!
Show / Hide data columns
Easily display or hide data columns to your existing grid. Stock status, SKU, product title, and other attributes.
Inline Editing
Add, delete, update multiple items at once. Easily jump to full page native editing screen to modify details.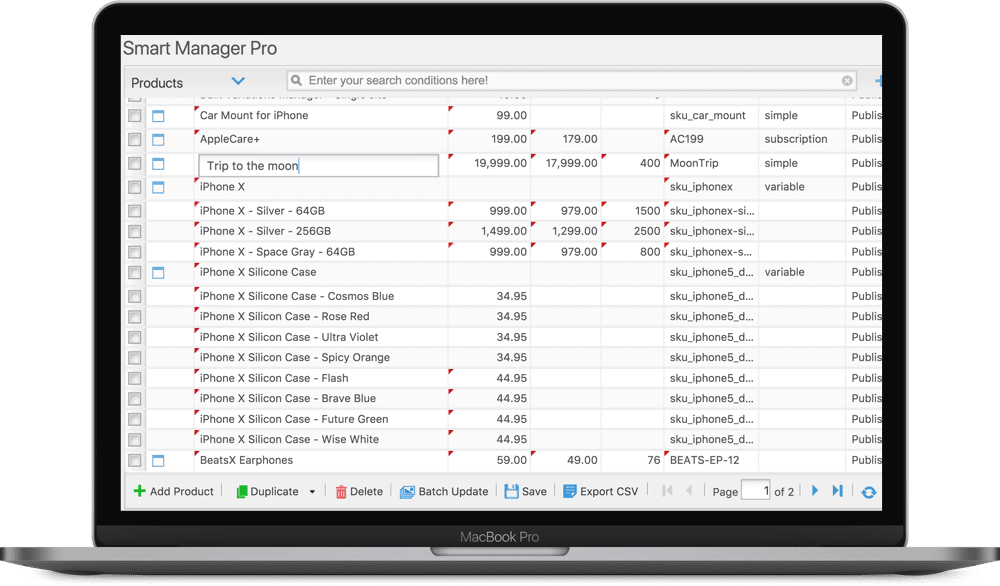 I would happily pay five times for this product!
My assistant
saved 4 hours of work every week
with Smart Manager. Plus she does not have to do any complex (error-prone) math now! With the free time, we
grew our sales by 19.5%
. ~ Jeff
The ultimate Time Saver –

Bulk edit thousands of items in seconds…

flawlessly!

Whether you have a 100 product store or 100,000 – you can update everything at once – quick and easy!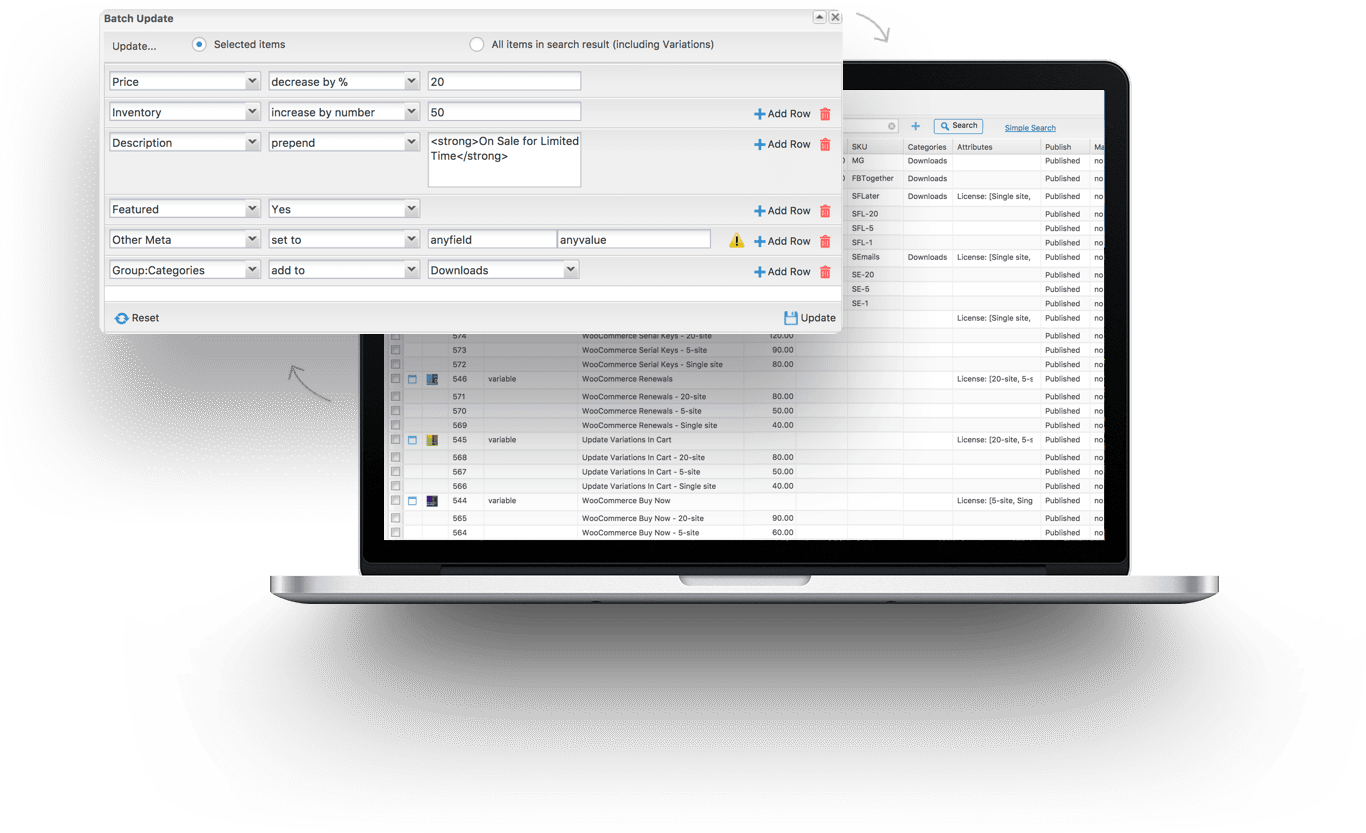 Bulk edit many / all items at once
Select as many items you want and change any of their properties at once.
This is tremendous power and flexibility, nothing comes close to Smart Manager here.
And BTW, you can even update all items in the store at once!
Update any number of fields
Change as many attributes / fields as you wish in a single Batch Update operation.
You can achieve complex, unlimited & cascading updates in no time with a simple point and click.
For example: Reduce price by 25%, append ** special ** to product names and increase inventory by 500 units – all updates to all selected items in one go.
Avoid human errors and miscalculations
Smart Manager takes care of boring (and erroneous) calculations in prices and stocks.
It can append or prepend text and can change product groups.
You only have to set your choices and Smart Manager will take care of all calculations in the background. We call it "smart" for a reason!
Watch Bulk Edit / Batch Update in action
Our groundbreaking batch update technology is so good, it will make you dance!
Great Plugin, saves time and calms nerves 🙂

This plugin keeps you calm while updating numerous products. I
recommend it to everyone
who doesn't want to constantly enter product pages to make changes on price etc. ~Vanesa
Get instant results using Simple & Advanced Search
You know what product you want to update, but it takes a long time to locate anything within WooCommerce.
We've built an intuitive and powerful search system for Smart Manager. Find items by any custom parameter – or switch to simple, single field search.
And of course, you can sort columns, show or hide columns of your choice, skip showing variations…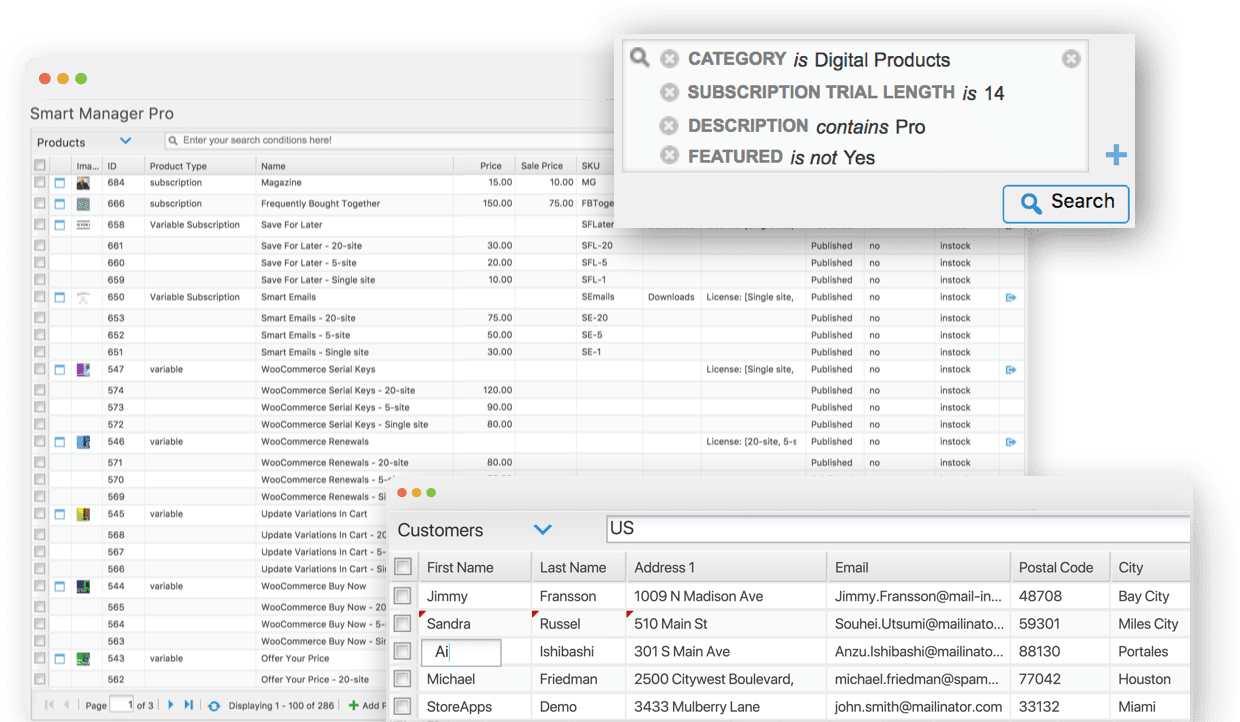 Whatever your workflow, Smart Manager lets you quickly reach the item you need!
We are on a mission to save 100 hours for you!!
Smart Manager is designed to blaze you through daily store administration tasks and help you focus on growing your business. We have been successful in what we promised and these customers are a proof of it. Most customers generate return on their investment in just a few minutes.
A must for any WooCommerce store!

Such a helpful app! I have a lot of products and this helps see things at a glance instead of one at a time. I love inline editing feature and the bulk changes. ~ Sandra
Have done a whole afternoon work in seconds!

We recommend Smart Manager Pro to everyone who is looking for an extremely multi-functional product manager. The plugin is absolutely worth it. Simply use it and do hours of work in seconds. Never again without Smart Manager. ~ Acrom
It's a Life-saver!
This has saved me HOURS (maybe even days!) of work! It makes tedious tasks really simple and quick. The support team is fantastic too. Totally worth purchasing the premium version. ~ The BBCream Girl
19K+ users, 8 years of track record…
you can't go wrong with Smart Manager.
Bonus: Not just WooCommerce, manage any custom post type in WordPress!
We are taking Smart Manager beyond WooCommerce! Now you can view and manage any blog post, page or custom post type in WordPress with Smart Manager.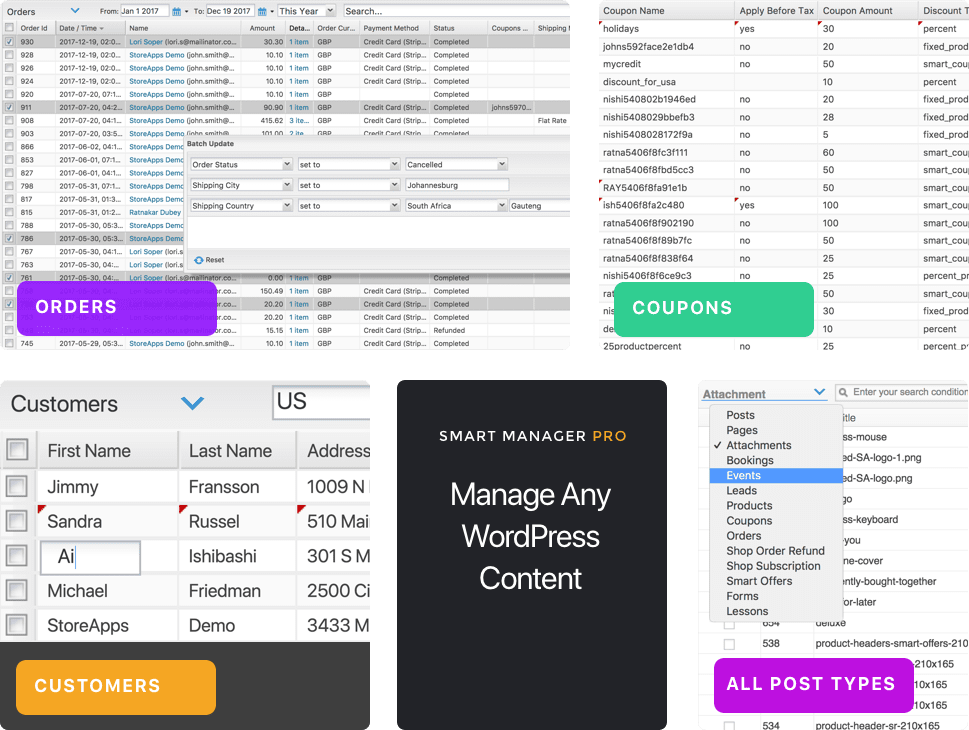 Full compatibility with top WooCommerce & SEO plugins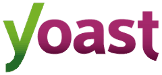 Accomplish with ease and peace all these routine tasks
Running a million-dollar business, or just getting started…If you are spending your time on chores, your business is already sinking.
And only a man that wants to drown sends away the rescue party! Stop swimming against the tide.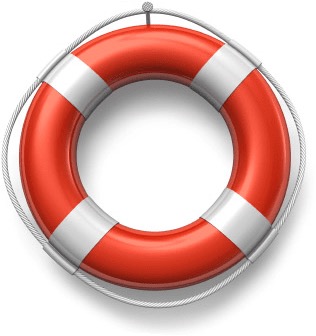 Here are the most common tasks people like you accomplish using Smart Manager – without the bad bits!
Bulk update product prices, categories and inventory
View and manage variations of a product
Look up orders and customers quickly
Set – and revert – sale prices for promotions
Export store data to CSV file

without any corrupt or missing entries

Add custom meta field values
Quickly change discount rules for many coupons at once
Change product image for all products in a category
Manage media directly – add, delete 'Product Gallery Images'
Set SEO, customer reviews, subscription and other properties
Manage WordPress user roles – change user role, change password, etc.
Change customer's email address – as well as other details
View customer's lifetime value, last order date and contact details
And a lot more…
You'll get way MORE than what you pay for!

I run a WooCommerce site with
over 10,000 products, and this tool has been invaluable
. It saves so much time, it is hard to imagine going back to life without it. Beyond that, the support has been responsive, consistent than any other theme, plugin or even hosting provider.
I highly recommend the paid version of Smart Manager.
~ Matt
So, stay tangled in store management or focus on business growth?
I'm sure Smart Manager will create huge value for you, your team and your business.
The way Smart Manager helps you accomplish your tasks quickly and the time it saves for you, it is almost equivalent to getting a minimum 2-3 extra holidays each month.
You can easily put that spare time to focus on your business, marketing, customer service. And the best, spend time with family, friends and celebrate.
So go ahead, pick up your license and get instant access to Smart Manager.