Grow your sales on autopilot
Create Powerful Sales Funnels On Your Store
Target personalized upsells, cross sells, one time offers and more throughout your WooCommerce website.
Transform your website to a
money minting machine
You probably know this already.. But a prospect is much more likely to buy another relevant product while she is completing her first purchase.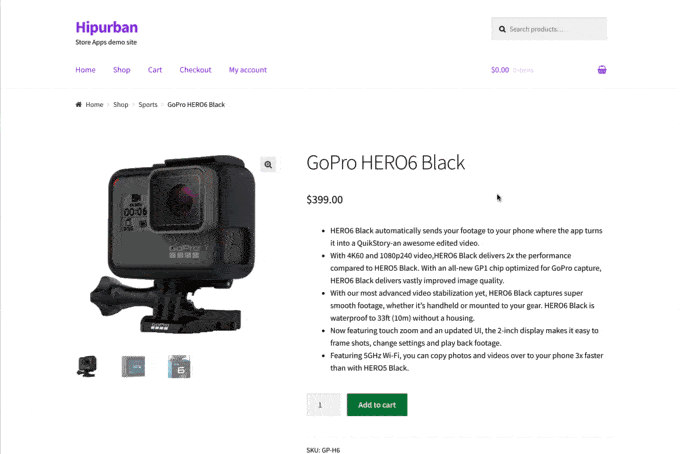 There are lots of psychological triggers working in tandem here. Scarcity, social proof, fear of missing out, greed, availability bias, mental accounting – a ton of behavioural finance principles as well.
The end result? Customers end up buying more than what they initially came in for. And this keeps on happening with every customer, automatically!
💰💰💰That's the money minting machine we're talking about.💰💰💰
---
Offers for every occasion
Smart Offers becomes your smart sales person. It guides and nudges prospects throughout the buying process.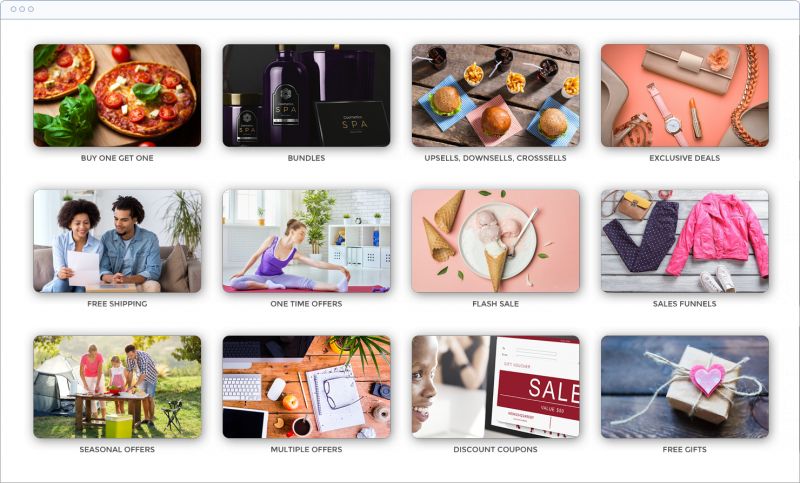 Create all kinds of offers
WooCommerce upsells
WooCommerce downsells
WooCommerce cross-sells
Email Offers
Backend offers
Flash sales / Festive discounts
One time offers
WooCommerce one-click upsells
Buy one get one offers
Bundle discounts
Best decision I ever made!
Adding Smart Offers to my e-commerce website is one of the best decisions I've ever made. I looked for ages for an one-time upsell and downsell solution and Smart Offers does both.
Customers love it and I love it because I know I'm not leaving any cash on the table and I don't have to set up any follow up emails.
If you're running any kind of online store, you need this.
– Melissa Love, Founder, Design Space.CO
---
Simple setup, ongoing results
Creating powerful sales funnels is easy with Smart Offers. And they keep giving you results ongoingly.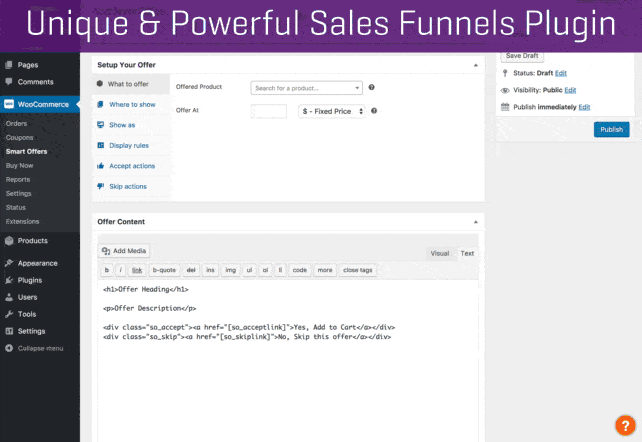 1. Create your offer
What is your special offer? How should it show up?
Powerful options to serve different needs. Smart Offers lets you create offers of your choice.
Pick a product on offer and offer price
Want to show the offer inline? As a popup?
Full HTML editor for your design freedom
Customize accept / reject buttons
2. Pick target segments
Where and when do you want to show the offer? On cart / checkout / order complete? Or anywhere else with a shortcode? Who should see it?
Smart Offers gives you laser focused targeting to amplify conversions.
Target offers based on users – whether they are registered, how long they have been customers, what products they have previously purchased, and more.
Target offers based on the cart status, contents and total value
Target offers based on the page of your website – on cart page, during checkout, on order completion, and even on the "My Account" page or any other custom page.
3. Create funnel sequences
Do you want to show another upsell when this offer is accepted? Or a downsell if it's rejected? Want to redirect to another URL? Create flexible funnel sequences.
The trick to higher sales is showing multiple offers to the prospect.
Accept / reject actions: add product to cart, remove another product from cart, apply coupons, do not show this offer again, show another offer, redirect to another page/site
Create powerful sequences / chained offers
Show different offers on cart / checkout / order complete pages
4. Measure and optimize
Yes, you only need to setup Smart Offers once. It will keep working on its own – making you more money. Just like a smart sales person!
But Smart Offers also tracks conversion metrics. You can review these reports and keep optimizing your offers.
Dashboard widget with summary stats – revenue from offers, conversion rate, offers seen, skipped, accepted, paid through.
Stats for each individual offer – so you can optimize them
Quickly review and filter all your offers and their performance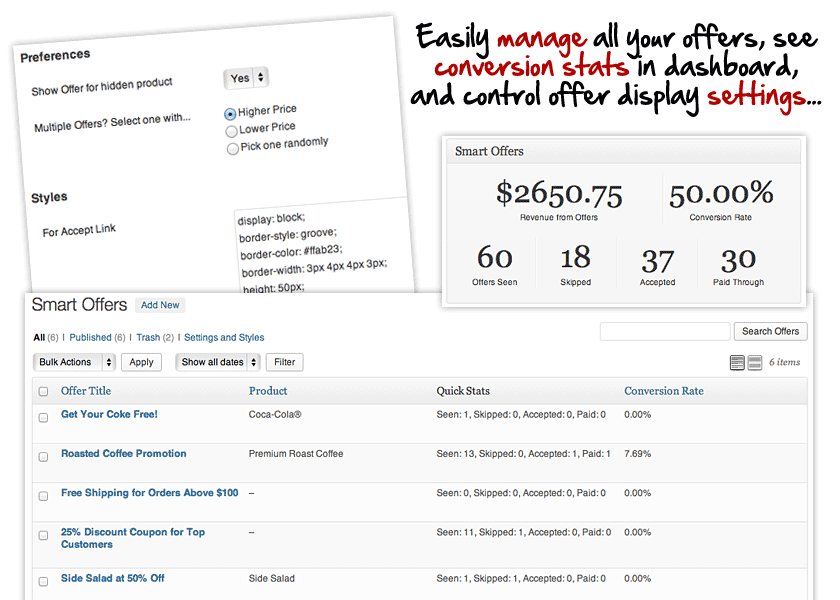 Use "Smart Offers" with other plugins…
One Click Upsells
Integrate with Buy Now and reduce cart abandonment by enabling faster checkout.
Personalized Offers
Make a last, irresistible offer using the plugin Custom Thank You Pages before the customer leaves your website.…
Email Discount Coupons
Use Smart Coupons to create and send discount coupons and offers right to customers' inbox.
High Converting Optins
Try Icegram to create elegant offer designs and show them within variety of optins.
Create Irresistible Bundles
Use Chained products and bundle relevant products and pitch them as an upsell.
Welcome Discounts
Send welcome discounts using the plugin Email Subscribers to new subscribers.
Mindblowing Power + Total Control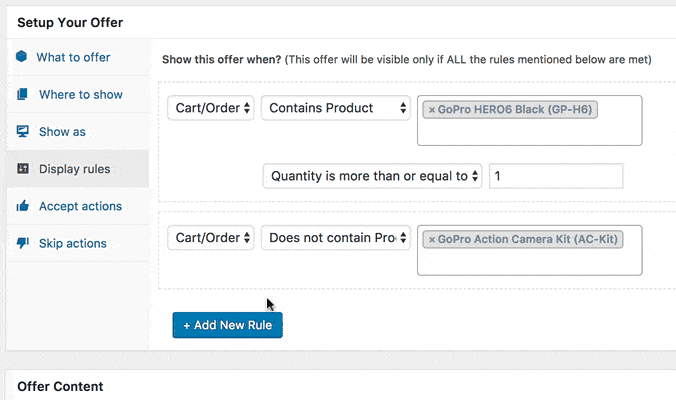 Accept Actions
Configure what the user does once he accepts an offer
Skip Actions
Similarly either show him another offer or take him to checkout once he rejects your offer
Email embeds
Easily create offers and send them via emails to your list
Shortcodes
Simple shortcodes that can be embedded anywhere on the website or within optins.
Here's What Customers Have to Say
Just after I bought Smart Offers, I had my first upsell + second upsell + downsell configured.
And right the day after, I earned my investment back.

Michel
StoreApps has the best plugin – Smart Offers – to implement your sales funnel. It's pricey but there's nothing as effective as it in WooCommerce. Highly recommended.

Naadira Burk
Changelog

2016.12.02 - version 3.2.8
 * Fix: Offer shortcode in page/post was displaying offer at the top of page/post instead of where shortcode is placed

2016.10.17 - version 3.2.7
 * Update: Moved showing offers shortcode in admin panel on publishing/saving offer
 * Update: POT file
 * Tweak: Collect offers data from order, only when required, which improves performance

2016.09.20 - version 3.2.6
 * New: New column 'Earnings' on Smart Offers Dashboard
 * Fix: When accepting offer from 'Order complete page' it shows "This offer is not valid for you"
 * Update: Added Offered product's images on Smart Offers Dashboard
 * Update: More readable Quick Stats
 * Tweak: Localization for quick stats text
 * Tweak: Removal of PHP notices & warnings

2016.08.25 - version 3.2.5
 * Fix: Fatal error when accepting offers having offered product as WooCommerce Subscriptions
 * Fix: When Offered product is Simple Subscription, discounted price was applying as 0
 * Fix: Fatal error in Smart Offers Admin panel when using with WooCommerce less than 2.5
 * Fix: All plugins getting deactivated on Smart Offers activation in some cases
 * Fix: Removal of few warnings
 * Update: Removed hardcoded http from Ajax request for Quick Help
 * Update: StoreApps Upgrade file
 * Update: POT file
 * Tweak: CSS for Skip Actions in Admin panel

2016.08.04 - version 3.2.4
 * New: Added Quick Help widget (Fastest access to documentation) - available within the plugin admin panel
 * Update: Change expiry value of cookie 'so_guest_id' to zero
 * Update: StoreApps Upgrade file
 * Update: POT file

2016.06.27 - version 3.2.3
 * Fix: Made offers mobile responsive
 * Update: POT file

2016.06.16 - version 3.2.2
 * New: Tested upto WooCommerce 2.6
 * New: Show offers shortcode in admin panel on publishing/saving offer
 * Fix: Upgrade file - Unnecessary calls for latest update on every background process
 * Update: Added compatibility files for WooCommerce 2.4, WooCommerce 2.5 & WooCommerce 2.6
 * Update: Minor jQuery change for social links styles on plugins page
 * Update: Upgrade file - Update plugin's download url if required
 * Update: Removal of PHP notices generated from upgrade file
 * Update: POT file

2016.05.06 - version 3.2.1
 * Fix: Accepting offers goes in redirect-loop in case of Accept & Show Another Offer on order complete page for Guest users when using Buy Now
 * Update: Minor change in CSS for social links on plugins page
 * Update: Removal of warnings & notices generated from Store Apps Upgrade file

2016.04.11 - version 3.2
 * New: Instantly Checkout with "WooCommerce Buy Now" (https://www.storeapps.org/product/woocommerce-buy-now/) plugin option is also available under Actions to take when offer is skipped (Buy Now version 1.9+)
 * Fix: "Header already sent" error when submitting support query form within the plugin
 * Fix: PHP notices generating from Store Apps upgrade file
 * Update: POT file
 * Tweak: Welcome page content improvements

2016.03.01 - version 3.1.9
 * Fix: Skip & Show Another Offer was not working on Before & After Checkout pages
 * Tweak: CSS tweaks for offer popup

2016.01.21 - version 3.1.8
 * New: Tested upto WooCommerce 2.5
 * Update: Updated content on Welcome Page
 * Update: POT file
 * Tweak: CSS tweaks for Admin Screen

2015.12.10 - version 3.1.7
 * Fix: Important fix related to WordPress 4.4, in Store Apps Upgrade file

2015.11.06 - version 3.1.6
 * Fix: A validation check performed after accepting an offer, was sometimes giving 'Offer Not Valid' notice
 * Fix: Sometimes offer popup was not showing due to style not applying in correct sequence
 * Fix: Only one out of multiple values was getting considered which was entered in one 'Cart/Order contains Product' rule
 * Update: Text for 'Offer Not Valid' notices
 * Update: POT file

2015.09.18 - version 3.1.5
 * New: Shortcode  to strike off original price & show offer price in offer content (for simple products)
 * Fix: Fatal error on 'get_product_title'
 * Fix: Remove offered product not removing from cart on removal of parent product
 * Update: Updated POT file
 * Update: Updated Shortcode reference on About Smart Offers page
 * Tweak: CSS tweaks for About Smart Offers page
 * Tweak: Code modification for checkout & before checkout
 * Tweak: Notice for After checkout page option on offer edit page

2015.09.06 - version 3.1.4
 * Update: Minor change in upgrade file

2015.09.01 - version 3.1.3
 * New: Generate embed code for offer
 * Update: Improvements in upgrade file
 * Fix: Removed Warnings
 
2015.08.19 - version 3.1.2
 * Update: Checkout page is now Before checkout page, as there is no difference
 * Update: Removed action 'woocommerce_before_checkout_form'
 * Fix: Pre-defined button styles not visible for sample offers

2015.08.13 - version 3.1.1
 * Update: Shortcode references on Welcome Page
 * Update: Updated POT file
 * Fix: Shortcode to show product's images in offer 'so_product_image' not working
 * Fix: Accept/Skip & Show Another Offer not working in some cases
 * Fix: 'Skip & Redirect to URL' not redirecting to external URL
 * Fix: Sometimes skipping offers goes in redirect-loop in case of Skip & Show Another Offer on order complete page
 * Tweak: Minor CSS change

2015.07.06 - version 3.1
 * New: 2 new location to show offer - Before Checkout & After Checkout
 * Update: In offer content, strike off original price & show offer price (for variable products)
 * Update: Text Domain & Language loader
 * Fix: 'Clear cart on Accept' not working when 'When to show this offer?' is not set
 * Fix: Smart Offers conflicting with original post of the page, where it is shown
 * Fix: Unable to skip offer on Order Complete Page for guest users
 * Fix: Sometimes skipping offers goes in redirect-loop
 * Fix: Set max-width for popup to prevent full-width popup
 * Fix: Minor fix related to text domain & admin notices
 * Fix: Removed Warnings

2015.06.08 - version 3.0
 * New: Rules for product quantity
 * New: Few sample offers
 * Fix: Quick stats was resetting on every bulk edit
 * Fix: Offers not visible on 'Order Complete Page' when rule is 'Cart/Order contains products from category'

2015.06.01 - version 2.9
 * New: Preview Offer
 * New: Support to clear cart before adding offered product in cart
 * Update: Use of Magnific Popup instead of ThickBox to make offers responsive
 * Fix: Minor fix related to Admin CSS

2015.05.26 - version 2.8
 * New: Pre-defined styles for Accept links

2015.05.18 - version 2.7
 * New: Welcome Page on activating Smart Offers
 * Fix: Smart Offers storewide setting "Pick one Randomnly" not picking up random offers
 * Fix: Minor fix related to text domain

2015.05.04 - version 2.6
 * New: Accept & Show Another Offer
 * Fix: 'Offered Product' field broken when WooCommerce Follow-up Email active
 * Fix: Saving categories, under offer rules not working
 * Fix: Always showing product image in offer, even if it is set "not to display"
 * Tweak: Source code, CSS, unescaped URL

2015.04.21 - version 2.5.2
 * Fix: Replace invalid character from accept link
 * Tweak: Load product's image from template
 * Tweak: Remove warnings from admin panel
 * Tweak: CSS of help tip

2015.03.05 - version 2.5.1
* Fix: 'Offered product' field under 'Whats the offer?' broken (WooCommerce 2.2.x)
* Fix: 'Search product categories' field under 'When to show this offer?' broken (WooCommerce 2.3.x)
* Fix: Shortcode 'so_product_image' shows main product's image instead of specific variation's image
* Fix: PHP Fatal error:  Call to a member function get_customer_id() on a non-object (Thanks to Nick Ivanter)
* Fix: Issue with HTML Entities in product title (Thanks to Nick Ivanter)

2015.02.25 - version 2.5
* Update: WooCommerce 2.3 ready
* Update: Moved 'Reset Quick Stats' to WordPress's 'Bulk Edit' & 'Quick Edit'
* Update: Compatible with PHP version lower than 5.3
* Update: Always show skip link in offer
* Update: Option to hold order statuses which is allowed to show offer
* Update: Removed 'global $woocommerce'
* New: Shortcode to show product's images in offer
* New: Now you can choose 'not to add product to cart' after accepting an offer
* New: Added 'Switch Subscription' action on accept, if offering already purchased subscription
* Fix: Missing argument for 'woocommerce_calculated_total' filter
* Fix: Sometimes offers doesn't show up on 'Order Complete' / 'Thank you' page
* Fix: Sometimes doesn't show offer due to JavaScript error 'jQuery not defined'
* Tweak: Count of 'Offers Seen' in stats, accepting an offer was also counted as 'Seen'

2014.12.14 - version 2.4.1
* Fix: Showing all offers by not considering offer rules

2014.12.11 - version 2.4
* New: WPML ready
* Fix: 'Reset Smart Offers' showing on pages other than Smart Offers
* Update: Improvements in offers statistics recording process
* Update: Minor update in JavaScript code of Smart Offers

2014.09.18 - version 2.3
* Update: WooCommerce 2.2 compatibility

2014.08.18 - version 2.2
* New: Rule: Cart / Order -> Does not contains Product from Category -> .....
* New: Rule: User -> Is not a -> .....
* Fix: Offered product not removing from cart, when the product, which caused that offer, is removed

2014.07.24 - version 2.1.1
* Fix: Fatal error for "Store_Apps_Upgrade" class redeclaration
* Fix: Offer does't display on incompatible themes
* Fix: Max inline offer set to '1' if it is not define 

2014.07.04 - version 2.1
* New: Rewrite code and introduce class structure

2014.06.11 - version 2.0.2
 * Fix: Displaying the offers even if the rules were not following

2014.05.23 - version 2.0.1
 * Fix: Warning on checkout & order completion page

2014.05.16 - version 2.0
 * New: Show quantity in offer with use of shortcode 
* New: Offer Rule "Cart/Order does not contains products" * New: Two new action after accepting the offer : Redirect to a URL and Apply Coupons * Fix: PHP short tag * Fix: Breaking page if target product field is empty 2014.04.16 - version 1.9.3 * Update: Important update related to 'update notification' of the plugin 2014.04.08 - version 1.9.2 * New: Show multiple offers on a page * Update: Code optimization 2014.04.04 - version 1.9.1 * Fix: Important fix related to plugin updates 2014.03.20 - version 1.9 * New: Compatibility with "WooCommerce Buy Now" (https://www.storeapps.org/product/woocommerce-buy-now/) plugin * New: Moved 'Swap' functionality, now located under 'Actions to take when offer is accepted' * Update: Backward Compatibility with WooCommerce 1.6.6 * Update: Showing up offer again if the product is removed from cart * Update: Showing up offer even if product being offered is already in cart 2014.02.14 - version 1.8 * Update: WooCommerce 2.1 compatibility * Fix: Pop up not working with Wootique theme * Fix: Showing all variation options in offer 2014.01.29 - version 1.7.1 * Fix: Offers in pop-up not working on some pages * Update: Minor update in CSS for License Key row on plugins page 2014.01.17 - version 1.7 * New: Show offer shortcode * New: Additional page option : Home, Any other page where shortcode is added * Update: Converted front end javascript to inline javascript using 'add_inline_js' of WC object * Update: Admin referer for searching product & only variations * Fix: Smart Offers not working on Multi site * Fix: Removal of offered product when there is product category based rule 2013.11.12 - version 1.6.1 * Fix: Warnings showing in Smart Offers Admin panel * Fix: Smart Offers Statistics update on order cancel, failed or refunded. * Fix: Pop up height set to auto * Update: Upgrade process 2013.09.23 - version 1.6 * New: Offer rule based on product category * Fix: Minor fixes related to Smart Offers changelog on plugins page and Support form. * Update: Redirecting to checkout page if offer accepted from page other than cart * Update: Demo link 2013.08.21 - version 1.5 * New: New offer rule to show offer between scheduled time * New: Show Offer as a Popup * Update: Changes in sending Support ticket. 2013.08.03 - version 1.4.1 * Fix: Minor jQuery issue, 'Add to cart' was visible even if the product is 'Out of Stock' 2013.08.02 - version 1.4 * New: Allow customer to choose product variation * Update: Allow dynamic price (Fixed Price, Discount on Price & Percent Discount) for offered products 2013.06.21 - version 1.3.1 * Fix: Reset Quick Stats button showing up at all pages. * Update: Use of nonce for accept & skip of offers to increase security * Update: Smart Offers Demo link added 2013.06.06 - version 1.3 * New: Resetting Smart Offers Statistics * Fix: Product searching was not happening when WooCommerce is lower than 2.0 * Update: Code optimization so that offer can be shown for first customers in Order Complete page. 2013.05.15 - version 1.2 * New: New offer rule based on User Roles * New: New offer rule to swap/replace the product in the cart * Fix: Offer's were not showing up if the stock quantity for a variation was null * Update: Removed the filter to show remove link for Offer Products in the Cart 2013.03.28 - version 1.1 * Fix: Cart updates that invalidate an offer rule, would automatically remove the offered product from the cart * Fix: Updated saving "When to show this offer?" rules * Fix: Support request failing if license key not entered * Update: Showing up only Simple Products & Product Variations in "Offered Product" in "What's the offer?" * Update: Text changes in rules * Update: Performance optimizations. 2013.03.06 - version 1.0 * Initial release