Smart Offers

for WooCommerce
Grow your sales

on autopilot
Boost sales with dynamic offers in the checkout funnel – WooCommerce one click upsells, cross-sells, one time offers, order bump, BOGO etc. Build unlimited offer flows with conditional pricing, order history etc. Allow direct checkout for customers. A complete WooCommerce upsell and checkout plugin.
Offers and funnels
Dynamic pricing and discounts
Targeting rules
WooCommerce upsell, downsell

Show more value-driven product, upgraded version of the existing item user is viewing. Like update to Pro or enterprise license. Or show a lower end version if user rejects.

WooCommerce cross-sells, one-time-offers (OTO)

Show relevant product recommendation or related products to the existing one. Like a memory card on purchase of a mobile. Run one-time-offers like 40% off during Black Friday and Cyber Monday.

WooCommerce one-click upsell

Make post-purchase offers that users can buy in one click without re-entering checkout or payment details. Orders placed instantly..

WooCommerce BOGO

Show buy one get one, buy 2 get 1 and other similar – "Buy X, Get Y" offers. Example – Buy one T-shirt, get another at 50% off or Free.

WooCommerce order bump

Use order bump on the checkout page to offer a much needed low-priced additional product as a cross-sell offer. Like an extended warranty on purchase of a TV.

WooCommerce giveaways, tripwires, backend

Offer a product for Free. Like get a protective case on purchase of iPhone 12. Run a series of low-priced offers one after the other. Plugin X at 50% off, plugin Y at 60% off. Show tailor made offers on premium products or club membership after the order is placed.

WooCommerce product bundles, free shipping offer

Create product bundles with Chained Products and upsell at a discount using Smart Offers. Example – Bundle of accessories on laptop purchase. Offer free shipping when order total exceeds an amount, say $350.

Unlimited sequence of offers in sales funnel

Create a combination of offers and show to your users based on rules – cart total, previous orders, user role, validity, etc. Upsell-downsell, upsell-cross sell, upsell-BOGO, upsell-order bump-one click upsell, etc.

Buy Now button for direct checkout

Add a quick Buy Now button or link that skips cart and redirect users to checkout / other pages and allow customers to checkout quickly.

Buy Now button for one-click checkout

No cart, checkout or payment screens. Based on customers' previous order (at least one) and saved payment details, clicking on Buy Now button or link will complete checkout in one click.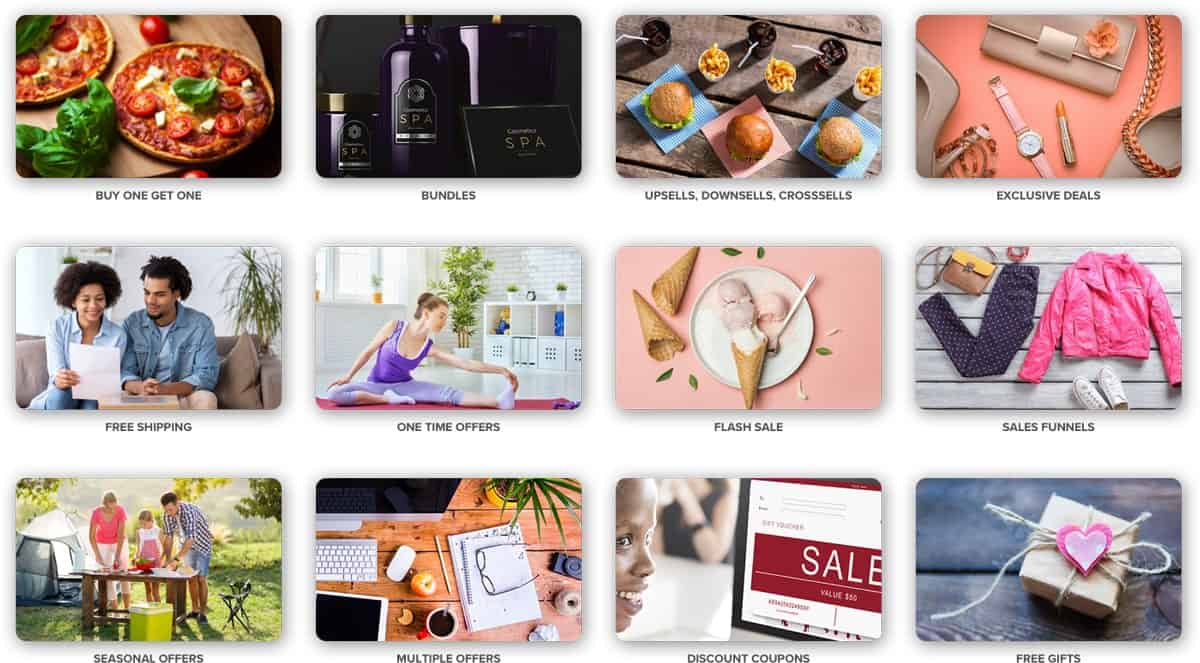 ★★★★★
Trusted by 6,700+ people like you
People ask how to do upsell with WooCommerce. Or how to target upsell, cross-sell and other offers smartly?
Smart Offers is the answer. With this WooCommerce upsell plugin, users now have the power to build and run unlimited funnels and discount offers in WooCommerce and target them to the right users.
And they're in awe with Smart Offers!
"Grossed over $20K in offers!"

My company was looking for a plug-in for our website to add an upsell pop-up. After reviewing a couple of different plug-ins, we chose Smart Offers from StoreApps and are happy we did. We purchased 1-year for $99 and in that year, our pop-ups have grossed over $20K!! It was well worth the investment. So now we upgraded to the Lifetime plan.
"Better than other popular WooCommerce upsell plugins "

I've tried several ways of doing upsells in a variety of systems (including Infusionsoft, Clickfunnels, LeadPages, and other WordPress plugins). I think I may have finally found the one in Smart Offers that I will use going forward for any WooCommerce setups. Highly customizable and great support.
"Unmatched features and power…"

Upselling and down selling a digital good like a membership in a store that sells "physical goods" can be difficult but Smart Offers makes it easy! Plugin has features better than all others and comes with quick and professional support.
Boost sales using dynamic pricing and discount rules
Creating checkout offer funnels and multi-step cart flows with Smart Offers WooCommerce plugin is very simple. You get powerful targeting rules, can create as many offers as you like, and can also chain offers to create sequenced funnels.
Setup discount offers quickly… no coding required

Select the product to offer, set the price, publish and preview.

Pick a product on offer and set offer price
Decide where do you want to show the offer and how – inline or as a popup? Or via shortcode?
Add display rules – when should the offer show up?
Pick up accept and reject actions
Fully customize offer design with HTML and custom CSS and supported page builders.
Preview and confirm everything looks great!
Personalize and segment with powerful targeting rules and actions

You get complete control over who, where, when will see your offer, and what happens if they accept or skip your offer.

Target offers based on users – whether they are registered, how long they have been customers, what products they have previously purchased and more.
Target offers based on the cart status, contents, categories, total value, product quantity, attributes.
Target offers based on your website pages – cart page, checkout, order completion, "My Account" page or any other custom page.
Schedule offers to run automatically.
No need to create multiple offers for multiple rules. Create a single offer and set up multiple rules within the same offer using AND-OR rules.
Sequence offers to create high converting funnels

Funnels are the real secret to growing sales. Funnels are essentially a sequence of offers – automatically showing based on user actions. Smart Offers make WooCommerce marketing automation simple.

Do you want to show another upsell when an offer is accepted? Or a downsell if rejected? Want to redirect to another URL? Smart Offers lets you design flexible funnel sequences.
Accept / reject actions: add or remove product from cart, apply coupons, do not show this offer again, show another offer, redirect to another page/site
Show different offers on cart / checkout / order complete pages
Show offers in a sequence using 'Offer Priority'.
Or instantly checkout with Buy Now plugin.
Preview and confirm everything looks great!
Fastest, smartest checkout for WooCommerce

Create Buy Now links clicking on which users can skip cart or checkout and complete their order quickly.

Add Buy Now links for your entire store, specific products or product categories
Convert all 'Add to Cart' buttons to 'Buy Now', or show both buttons together
Works with all WooCommerce product types – simple, variable, subscription, bundles, group…
Not just checkout, redirect users to any page using Buy Now links. Be it a custom thank you page, offers page, affiliate products or any other external links.
Quick checkout for non logged-in or guest users via popup
Embed coupons, select shipping methods to the Buy Now links
Share Buy Now links in email, social media, blog posts or other sites
Buy Now shortens checkout for all payment gateways. One-click checkout works for gateways like Stripe, PayPal and other major ones.
Track conversions, tweak offers, optimize
Smart Offers also tracks conversion metrics. So you can review these reports and optimize your offers. You can also view how much revenue Smart Offers contributes to an order.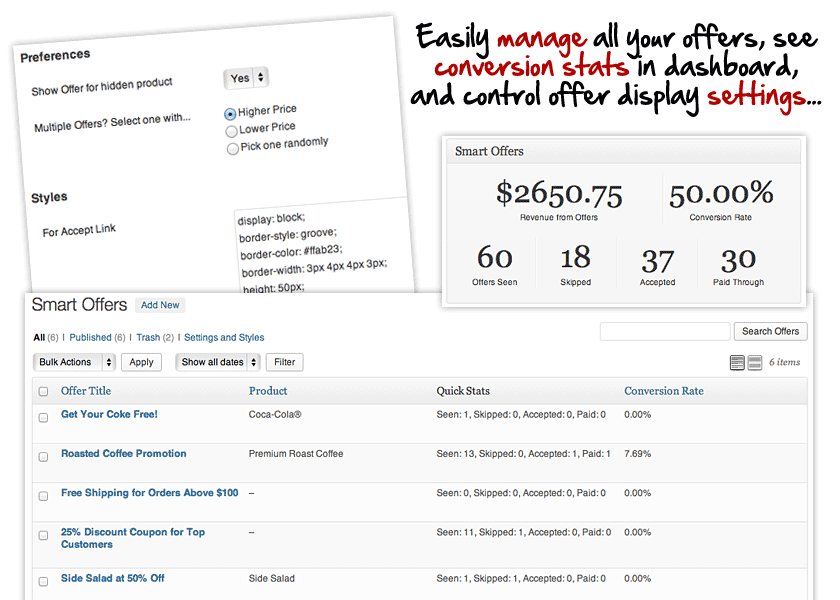 Page builders, one-click upsells, multi-lingual offers…
Compatibility with top WooCommerce and WordPress plugins and themes
Smart Offers integrates with popular WordPress page builder plugins to help you create more attractive offer templates. Being compatible with official WooCommerce Subscriptions plugin, you can show upsell, downsell, BOGO, cross-sell offers on subscription products. Smart Offers is also compatible with themes that fully declare WooCommerce support.
Turn your store into a money-minting machine

Earn more (and avoid losing potential customers)