Subscription Reports for WooCommerce provides detailed analytics and smart insights for your WooThemes WooCommerce Subscriptions in just a single click. It is the first reporting tool that analyses your WooCommerce Subscriptions and provides you intelligent insights.
Get Smart Insights in just a CLICK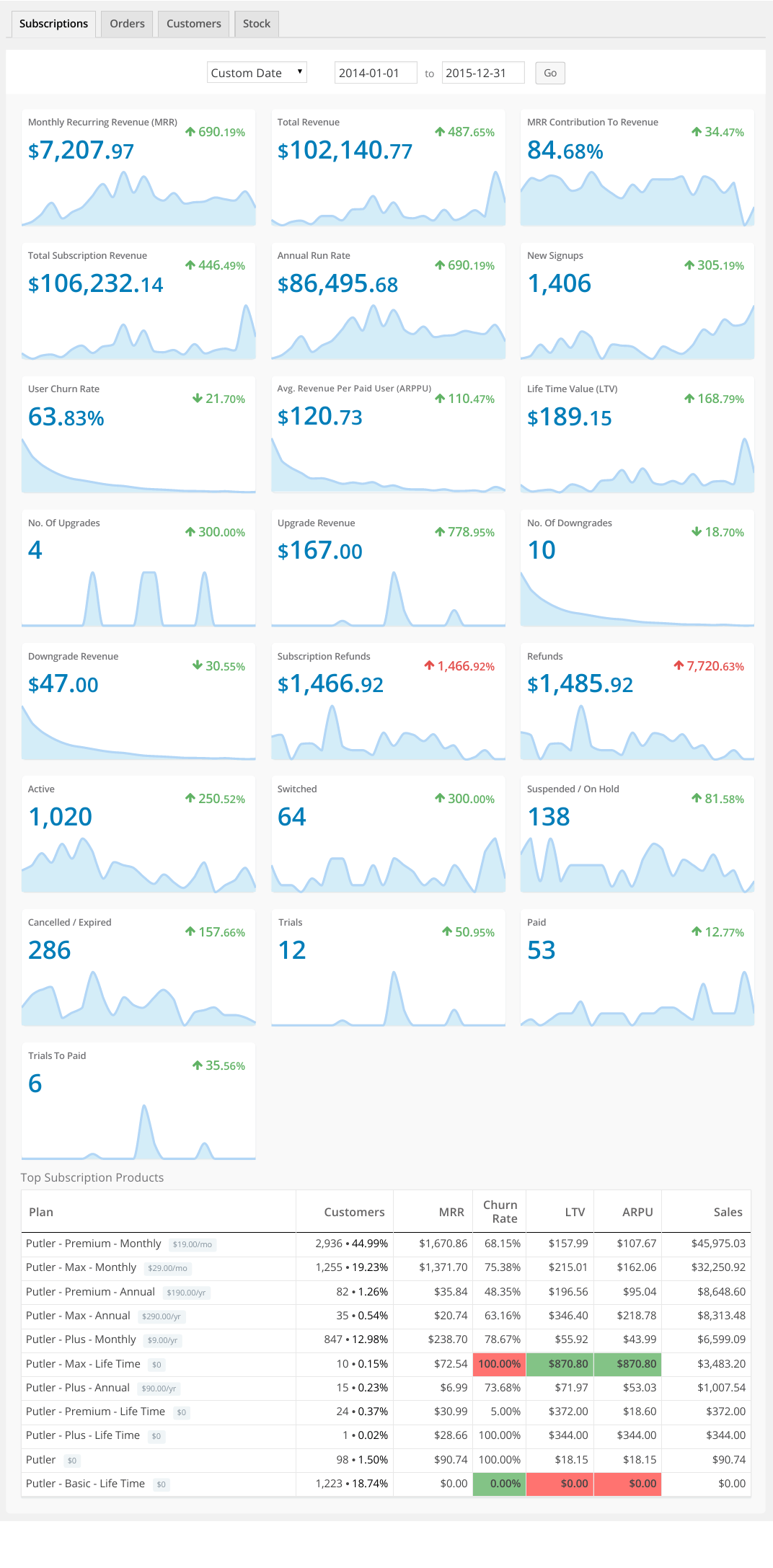 ---
Why you need a Subscription Reporting Tool?
Managing subscriptions is hectic. And analyzing them is time consuming. It's a cycle of maintaining spreadsheets, analyzing the collected data, remembering frustrating formulas, doing complex calculations and finally updating those spreadsheets. Doing this every week/month/year could cost you some serious time and not to mention loads of energy. An error in calculation only makes this process worser!
BOTTOM LINE: You can't run your subscription business by spreadsheet any longer.
With Subscription Reports for WooCommerce you can jump all these hurdles, all at once, in just a SINGLE CLICK! This product gives you every necessary insight about your WooCommerce Subscription Products. The only thing you need to do is take DECISIONS.
---
Smart Insights that Subscription Reports for WooCommerce provides
✓Monthly Recurring Revenue [MRR]
✓Net Revenue
✓Customer Churn Rate
✓Customer LifeTime Value [LTV]
✓Average Revenue Per Paid User [ARPPU]
✓Annual Run Rate [ARR]
✓Refunds
✓Upgrades
✓Downgrades
✓New Signups
✓Subscription Statuses (Active, Switched, On Hold, Cancelled, Expired, Pending Cancellation)
✓Trials and Trials To Paid
✓ Top Subscription Products …and more on the way!
Here's how it looks on mobile devices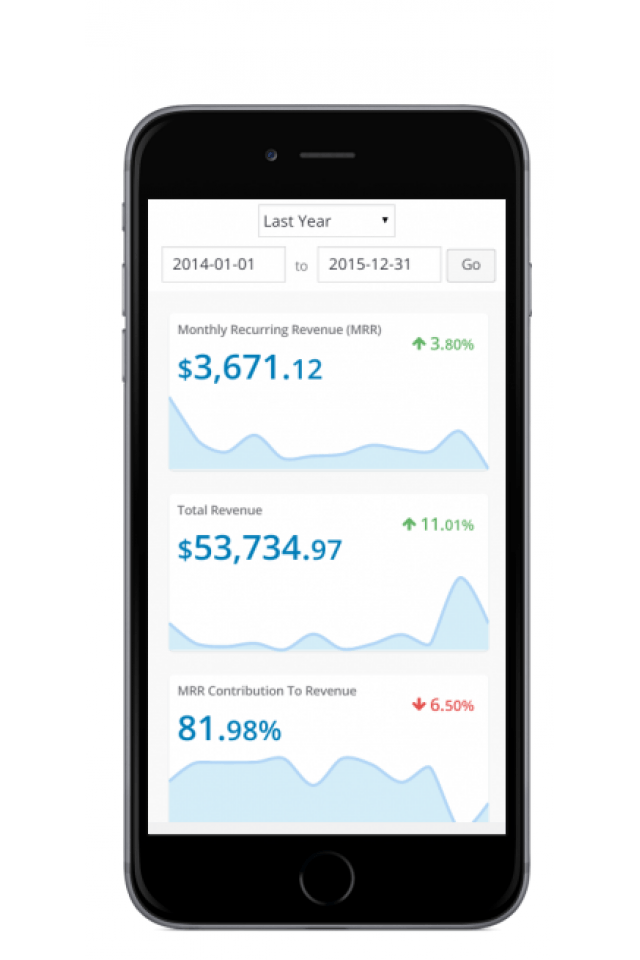 Top 4 Benefits of Subscription Reports for WooCommerce
All the important KPI's at one place
There is no need to maintain separate spreadsheets, browse through different folders etc. This reporting tool gives you a one screen dashboard that displays all the important KPI's instantly.
No manual efforts needed No manual work at all. Subscription Reports for WooCommerce analyses all the important data and gives you every key information you need to take important sales related decisions
Better decision making Ready to use intelligent insights give you ample of time to strategize and take better decisions.
No time wastage Subscription Reports for WooCommerce gives you results in just a single click thus saving loads of your precious time.
Please choose how many sites you'd like to use Subscription Reports for WooCommerce on and Order Today.
You'll get instant access to the product.

Changelog
*** WooCommerce Subscription Reports Changelog ***

2017.01.05 - version 1.7
 * Update : Compatibility with latest version of WooCommerce Subscriptions (v2.1+)
 * Fix : Mismatch in the statistics when more than one subscriptions in single order
 * Fix : Mismatch in the statistics when the order line_total > 0 and order_total = 0
 * Fix : Minor Fixes & CSS Changes

2016.11.30 - version 1.6
 * Fix : Important changes replated to MRR calculation
 * Fix : WooCommerce Subscription Reports not working properly in Multi-site environment
 * Fix : Minor Fixes & CSS Changes

2016.10.10 - version 1.5.1
 * Update : Important changes replated to automatic updates of this plugin

2016.08.04 - version 1.5
 * Update : Quick help widget related changes
 * Update : POT file

2016.07.18 - version 1.4
 * New : Quick help widget 
 * Update : POT file
 * Fix : Replaced 'die' with 'return' when checking wp_verify_nonce

2016.06.20 - version 1.3.1
 * Fix : Database Warnings when no subscription orders on activation

2016.06.16 - version 1.3
 * Update : Tested upto WooCommerce 2.6
 * Update : POT file
 * Fix : Upgrade file - Unnecessary calls for latest update on every background process

2016.04.15 - version 1.2
 * Fix: Partial Refunds not getting handled properly in calculation of some KPI's

2016.03.18 - version 1.1
 * Tweak: CSS Changes

2016.03.03 - version 1.0
 * First release