Save customers time and enhance their checkout experience. You'll boost your conversions.
And the simplest way to do both together is by using Saved Addresses for WooCommerce.
Allow your customers to save and pick from multiple shipping and billing addresses and help them checkout quickly.
How to do that and how multiple saved addresses are beneficial forms the gist of this article.
How shipping / billing addresses can cost you potential leads?
And again, Jennifer could not make it home. But somehow she sent gifts to her loved ones. First her kids, then nephews and nieces. Then her friends. However, she is frustrated.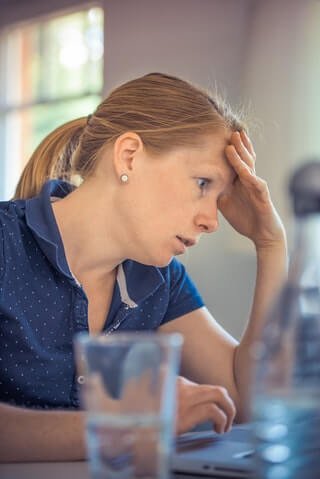 Why?
Now WooCommerce shows you the address of your previous order (friend in this example). But Jennifer wants to send gifts to her children at home first. This means she needs to write her home address again.
Frustrating. Now when she wants to send gifts to her nephews and friends, she needs to write their addresses again respectively.
Poor Jennifer! You can imagine her frustration levels. So, what am I trying to say here?
Tiresome form filling is a major contributor in increased cart abandonment.
Look, you may have so potential leads or customers like Jennifer facing the same problem. How bad would you feel if you were in Jennifer's place?
Very much! That's the reason why potential customers abandon the checkout process.
How multiple saved addresses in WooCommerce reduces cart abandonment? Doing it the Amazon way
Bid farewell to the above problem once and for all.
Let me tell you that secret formula to crack conversions. – Copy what Amazon does.
It's a known fact that Amazon is a champ when it comes to checkout.
Whenever you shop from Amazon, you have an option to choose from saved addresses.

Result, you don't have to spend a second typing or copy-pasting addresses. You are directed to payment and you make a purchase. Quick and smooth checkout experience.
Simply replicate this on your WooCommerce store.
So don't let visitors abandon the cart just because of shipping addresses. Help them make a faster checkout. Give them options to save multiple addresses (shipping and billing) on your WooCommerce store and recover a potential lead.
And what's the easiest way to do that? Using Saved Addresses for WooCommerce plugin.
Why is Saved Addresses for WooCommerce plugin the best here?
When people see their addresses during checkout, they trust the store, feel confident, and quickly complete checkout.
Saved Addresses for WooCommerce gives you everything you need to achieve that.
It works out of the box. Set-it up and you are done.
No configurations, no coding. A cakewalk.
Logged-in users can add multiple shipping and billing addresses during checkout, or pick from their previously saved addresses for both delivery and billing.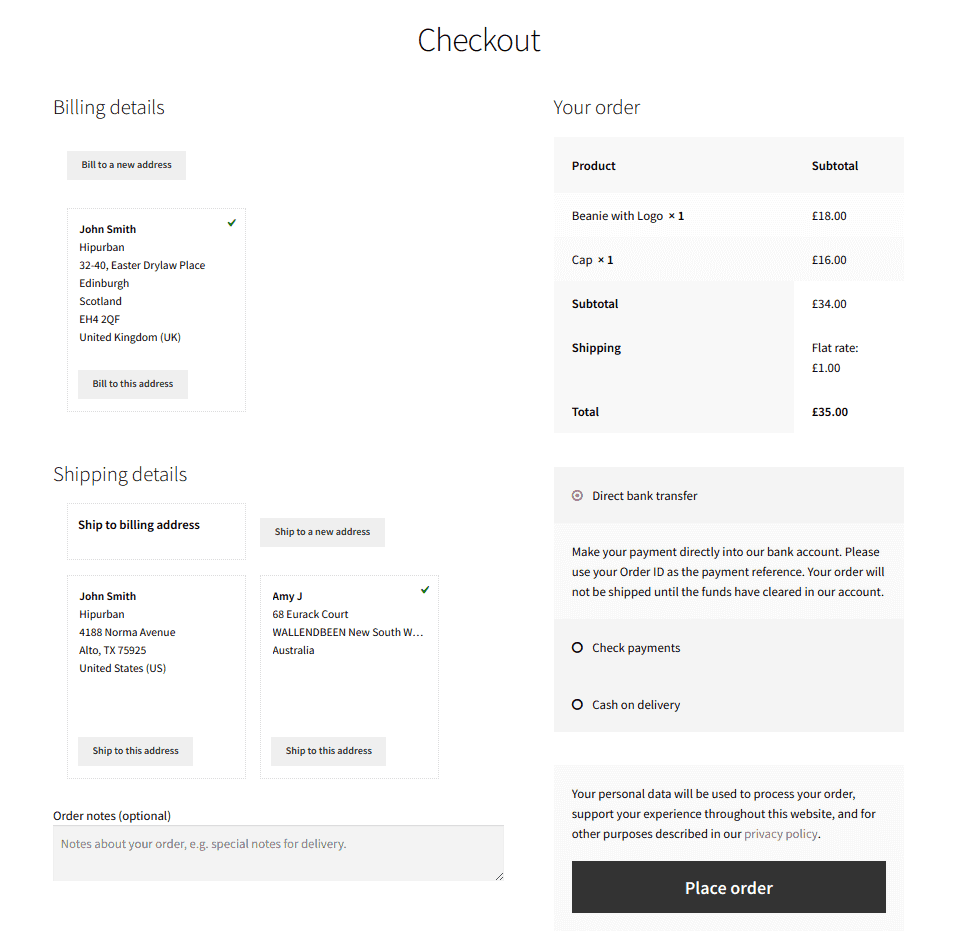 Addresses can be updated and modified quickly and easily in /my-account/or saved as part of the checkout process.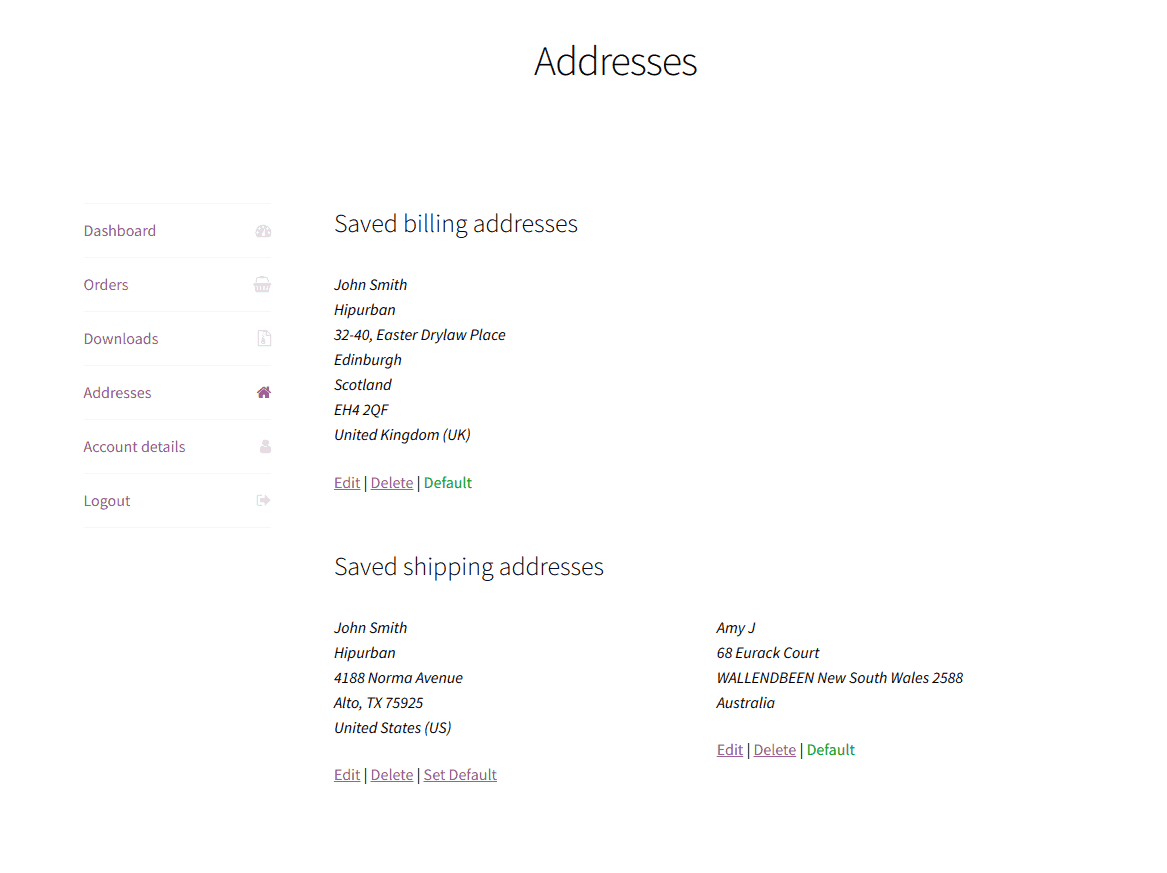 Saved Address plugin is made by one of the most reputed WooCommerce extension development teams — StoreApps.
You can purchase it from WooCommerce.com
Benefits your customers will get using Saved Addresses for WooCommerce plugin
Save default address– People use a single address more than 80% of the time. Let them choose this address as 'Default' address for billing/shipping address, and it will automatically be used in during checkout.
Manage addresses during checkout– Users can switch to any saved addresses during checkout. They can also add or delete addresses directly from the checkout page.
Save unlimited addresses– 5, 10, 20…no limits.
Modify addresses– Your customers can modify or delete their addresses from a special section under the 'My Account'.
Need more? This is on our roadmap:
Address tagging — e.g. Home, Work, etc.
Customize the addresses look on the checkout page.
More admin controls, so admins can view all saved addresses for a customer or update an address in a pending order if the customer changes their mind.
Get Saved Addresses for WooCommerce plugin
Five best applications of saved addresses
These will further boost credibility as to why use saved addresses. Remember, you can select only one address from multiple shipping and billing addresses respectively per order.
Default address (Home preferably)
As said earlier, we always save that one address where we want the majority of our orders to be delivered. That should be the default address. Whenever the customer is at the checkout stage, he/she should simply select that default address. No tiresome form filling now onwards.
Workplace & Home
Some customers want to receive orders at their workplace other than home. They frequently switch from home and work addresses. OR some customers choose workplace address for shipping and home address for billing. Saving both the addresses is a smart option for quick checkout.
Gifts during Christmas or other occasions
People want to send gifts to their parents, children working in other cities, etc. Or they shop for their parents or friends online and deliver goods at their respective places.
Another thing is that in some countries, especially rural areas, people are not much into online shopping. They want delivery at their address but someone else purchases on their behalf.
Now this involves so many addresses. Simply use Saved Addresses for WooCommerce plugin. Allow users to save unlimited addresses and pick the desired one each time.
Distributors and Suppliers
Distributors and suppliers purchase from your WooCommerce store and deliver to different vendors or retailers as and when required. No doubt, they have a long list of addresses. Allow them to save addresses of these end locations and pick the required ones. One address per order.
Managers and Accountants
They order goods for different warehouses. They need multiple billing addresses for the invoices. These people are a good candidate to use saved addresses.
Ready to get more conversions?
If you need more conversions, save customers time, the necessity of saving multiple addresses is a must.
And Saved Addresses for WooCommerce plugin helps you achieve that. A checkout process your customers will love.
Any questions or feedback? Share your thoughts in the box below.