Increase Sales by Letting Customers Save Products for Later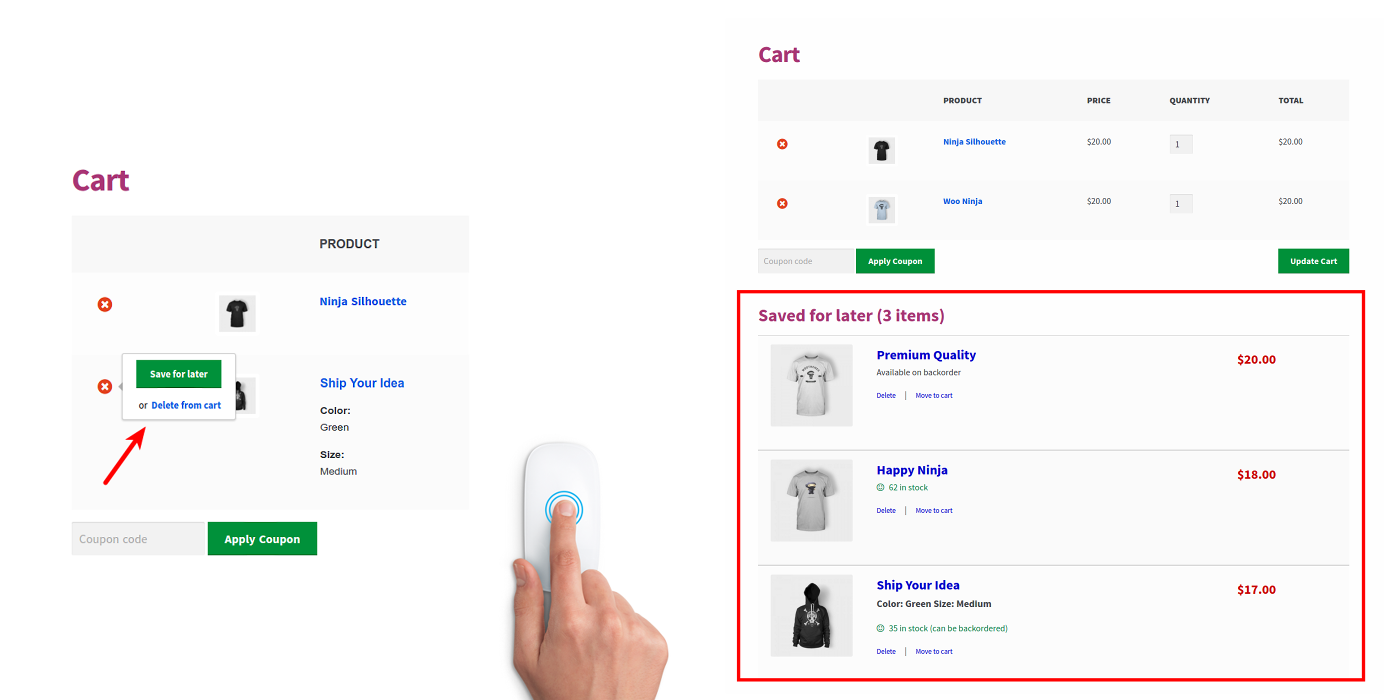 How Save for Later Works?
Allow guests as well as logged in customers to save products for later on the Cart Page. Show them these products the next time they visit the Cart Page and increase your chances of selling these products.
Proven Technique
Studies have shown that allowing your customers to save and manage their own Wishlist/ Dream List can increase sales and improve conversions by a whooping 45%.
Used by Online Giants
Big stores like Ebay and Amazon have been encashing on this clever marketing feature for years now. Save for Later acts like advanced reminder service which reminds customers the products they have saved previously.  Thus, propelling them to go ahead and buy the products.
No Login Required
The biggest advantage of this feature is the customer need not LOGIN. Save for Later appears on the Cart Page irrespective if it's a logged in customer or a just a guest who isn't logged in.
Shown Strategically on Cart Page
The Cart page is the most strategic page to close the deal. Save for Later shows the saved products on the cart page as the customer is the most vulnerable here and a little reminder of previous saved products will make him purchase them right away.
Fact: Saved for Later will show the Saved Products irrespective if the Cart is full or empty. Thus doubling the chances of the customer closing the deal.
Shows Saved Products – When Cart is Empty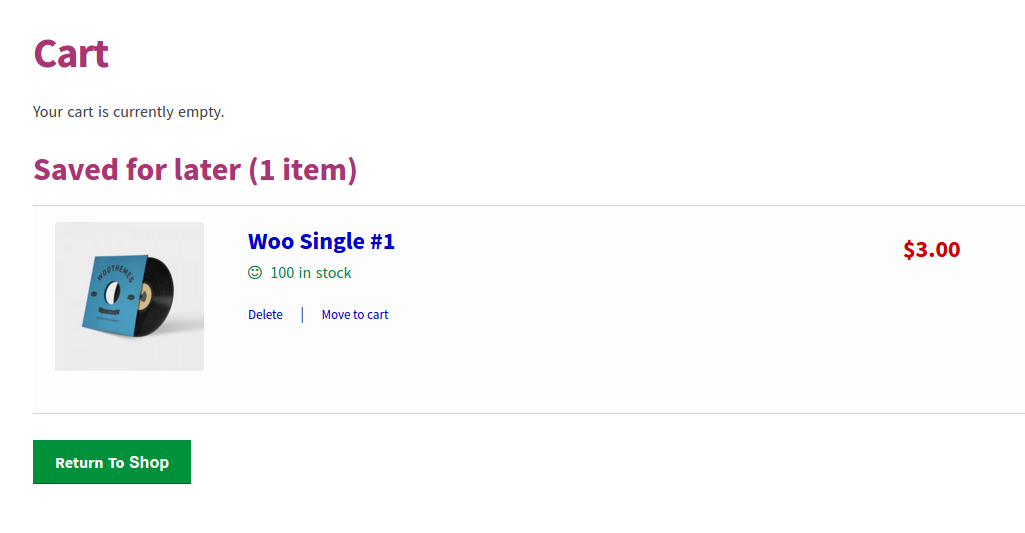 Shows Saved Products – When Cart is Full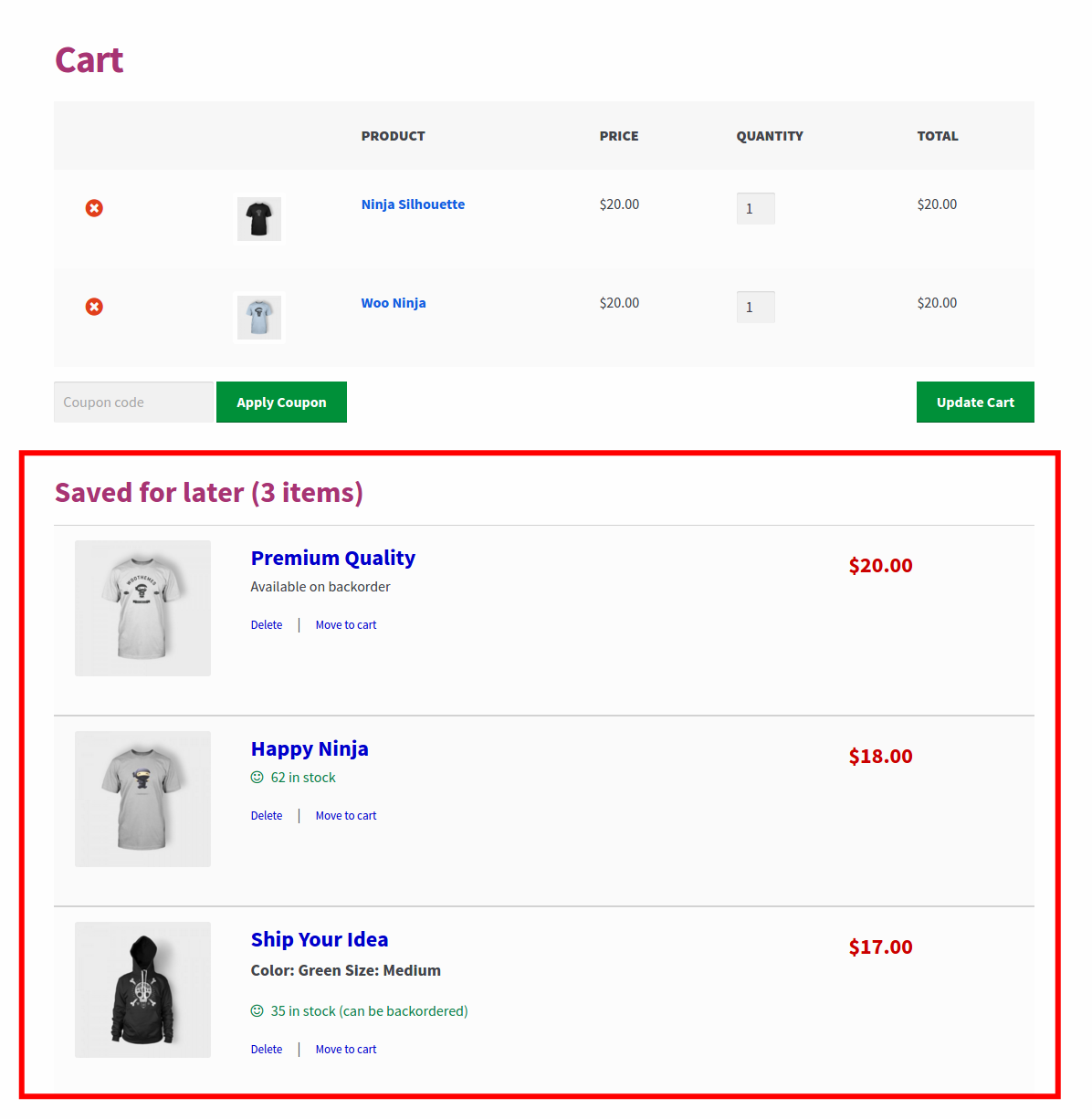 Top Features that make Save For Later a Must for your WooCommerce Store

Let guest/ customers save unlimited products
Absolutely no login required
View saved items right before you make a purchase i.e Cart Page
Buy your desired products anytime
Move/Delete products on your Save for Later list
Let customers view current stock status and price of saved products
Remind them of their previous favorites
Don't Let Your  Sales Suffer…
Download this High Converting Marketing Plugin Now!
(Prices may shoot up soon.)
Please choose how many sites you'd like to use Save For Later for WooCommerce on and Order Today.
You'll get instant access to the product.

Changelog
*** Save For Later For WooCommerce ***

2016.10.10 - version 1.0.2
 * Update: Important changes replated to automatic updates of this plugin
 * Update: Minor change in CSS

2016.06.16 - version 1.0.1
 * Update: Show "Save For Later" action in touch devices
 * Update: Tested with WooCommerce 2.6
 * Update: Change in logic for saving products in cookie & retrieving as well
 * Update: Option for modifying life of cookie
 * Update: Responsive
 * Tweak: Code cleanup

2016.05.25 - version 1.0.0
 * First release