Want to make profits the easy way without pitching offers???
Here's how…
Making profits without pitching offers is a technique used by the big guys like Amazon, E-bay. It's a a very simple and smart tactic which majority of us have came across but may have never implemented in on our stores. That is what the Frequently Bought Together for Woocommerce plugin provides to store owners.
Why Frequently Bought Together for Woocommerce is Effective?
Studies reveal that more than 62% people tend to make a purchase when complementary products are pitched along with the products they view or are eager to purchase.
Be it a mobile, laptop, clothing or any product, there's always a need of a complementary product. For example, a mobile buyer will look for screen protector and back panel; buyer of clothes may look for belts, shoes, and other matching accessories.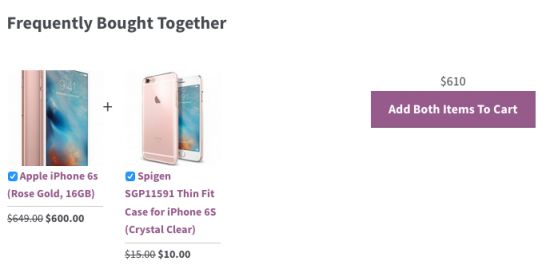 Awesome Benefits of Frequently Bought Together for Woocommerce
Quick Time Saver
When complementary products are pitched together, the visitors won't need to search for them. They can easily add them to the cart along with their products and save a lot of time.

---

Smart Trigger
Showing the complementary products triggers a curiosity among the users that they need that particular products. It encourages them to make a purchase.
---
Conversions booster
Customers may already be interested in complementary products and when you show it before they look for it, they are converted there itself. You have delighted the customer already and increased your conversion rate drastically.
---

Flexible Cart addition
Frequently bought together gives the flexibility to add products that can go well along with the desired product on purchase.
---
One Click Sale
No need to go to each product separately and add to cart. Frequently bought together makes it easy to add all needed products together in a single click. Make a purchase and complete the checkout quickly.

---

Smart Seller
Users buy more than one product that ultimately makes your sales increase along with clearing your stock and creating provisions for new stock replenishment. Thus, it's a double advantage-customers get their products without much effort and store owner get the desired profits.
---
Boost conversions and increase sales like never before
Don't miss out on this amazing plugin for your store
Please choose how many sites you'd like to use Frequently Bought Together For WooCommerce on and Order Today.
You'll get instant access to the product.

Changelog
*** Frequently Bought Together For Woo Changelog ***

2017.02.06 - version 1.2.3
 * Fix: Parent product showing up instead of variation.
 * Fix: Total price of selected products is rounding.  
 
2016.12.15 - version 1.2.2
 * Fix: Instead of variable product, parent product displayed in frequently bought together suggestion.
 * Fix: Fractional part of a price got round of. Now, showing actual price (with fractional part)

2016.10.10 - version 1.2.1
 * Update: Important changes related to Automatic Updates of this plugin
 * Update: POT file

2016.08.19 - version 1.2
 * Fix: Not able to click on "Add To Cart" button for variable product
 * Update: Added variation product name and link instead of a parent product link
 * Update: Removed hardcoded http from Ajax request for Quick Help
 * Update: POT file

2016.08.04 - version 1.1
 * New: Added Quick Help widget (Fastest access to documentation) - available within the plugin admin panel
 * Fix: Handling with Variable Products
 * Update: StoreApps Upgrade file
 * Update: POT file

2016.07.01 - version 1.0.0
 * First Release