WooCommerce
Frequently Bought Together

Plugin
Increase sales and average order value

using cross-selling strategy
Use WooCommerce Frequently Bought Together plugin to automatically show users related products / product recommendations to the product they are already viewing, nudging them to buy together those products.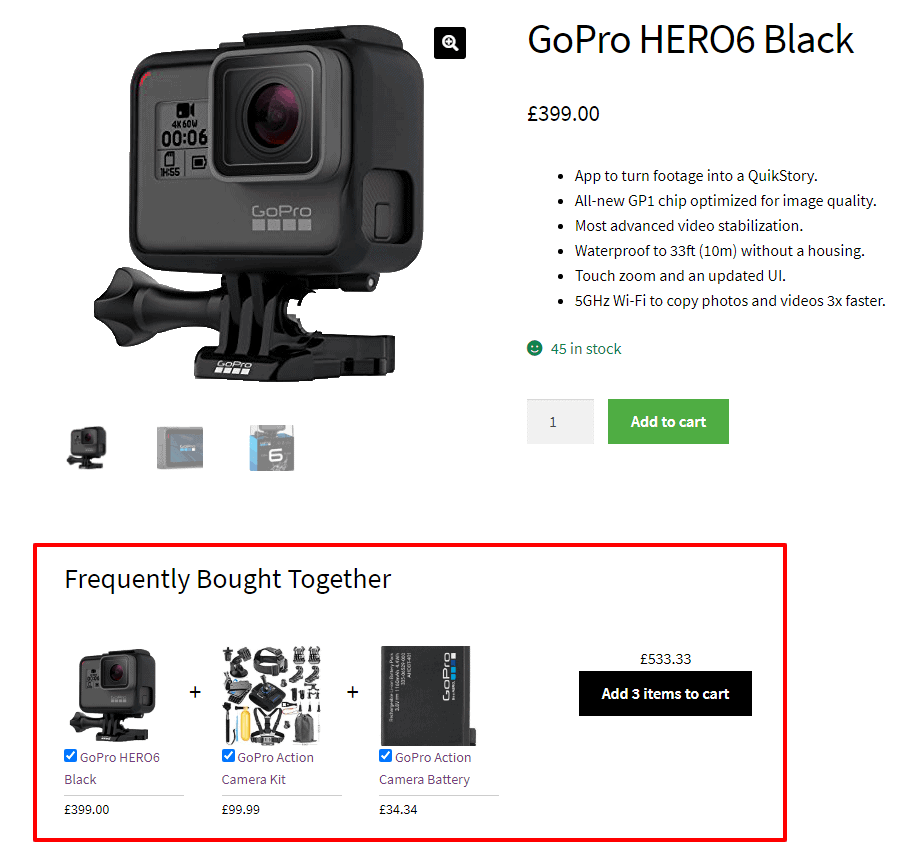 Replicating Amazon frequently bought together on your WooCommerce store
It is proven that showing related products to consumers is one of the most effective sales strategies. Be it a mobile, laptop, fashion item, or any product, there's always a need for a related product. For instance, a mobile buyer may look for a back case for their device.
Why is it so? It is because the product's value/usability is enhanced by frequently bought together recommendations. It also serves as a social proof because other customers also bought these products. Therefore, the visitors already looking out for these related products will be tempting to buy them as well. This way, conversion rates are really high.
Since Amazon has been using this feature for many years, the company has generated a significant amount of extra income, around 35% as per recent stats. It intelligently recommends products based on the main products visitors are interested in buying. Remember the 'Customer who viewed this item also bought' section?
Don't you think you can reach such sales as quickly as Amazon? StoreApps Frequently Bought Together for WooCommerce is a highly effective plugin for your store in improving online sales and profits through the cross-selling marketing strategy.
Smart product recommendation engine

Our plugin intelligently assigns a product as frequently bought together to the main product based on your previous orders, as an automatic cross-sell. Example: If users buy a black case with iPhone 14, the plugin will automatically recommend a black case to users viewing iPhone 14.

Show the best related products

You can also assign each product manually as frequently bought together. But with this method, the recommendations are set by you and you know the best products to recommend. Frequently bought items will be shown at the bottom of the single product description page.

Simplest plugin, free from customizations

Too many features bloat the plugin. We don't want you to mess with any technical code, so we made our plugin the easiest to use. It provides the most important features.

Avoid confusion, convert visitors straightaway

Too many choices are a big distraction. Our plugin enables you to show maximum two suggested products so that visitors get the best options and buy without any resistance.

Assign product bundles and product variations

You can assign any product variant or a bundled product as frequently bought together. In terms of images, you can set a parent image if the image for individual variation is not available.

Flexibility to your customers

Your customers can directly select or deselect the items and add to the cart only the products they want, among those suggested. This eliminates the need to add each product individually.
Zero-configuration plugin
Install and activate the plugin. The plugin will automatically assign frequently bought together to products based on previous orders on your store. You can also assign manually to each product a frequently bought together. In this example, we assigned GoPro Action Camera Battery and Kit as frequently bought together to GoPro Hero 6.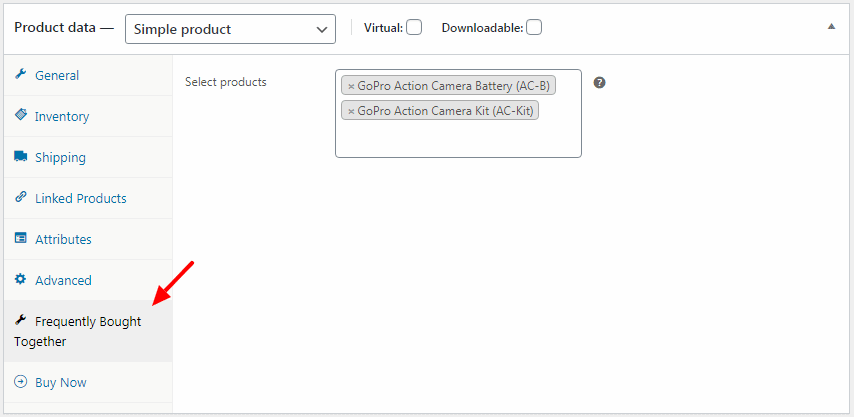 After you activate the plugin and assign products, the frequently bought together section will display automatically on product pages. And your customers will be able to buy them right away.
It is also possible to offer recommended products at a discount. You just need to set it up individually for each product.
The frequently bought together feature is an indirect way of showing upsell / cross-sell offers in WooCommerce. When you offer a product bundle instead of a single product, you are upselling. When you offer a product that is complimentary, it is a cross-sell.
Best uses of WooCommerce related products / frequently bought together
This plugin offers a way for WooCommerce store owners to put any simple product, variation, or bundle together for an irresistible price.
Recommend a perfume at 30% off on the purchase of a branded watch.
Suggest an accessories kit on the purchase of a laptop.
Recommend a tie that matches well with the stylish shirt being considered.
Include a clutch when purchasing a designer bag.
Buy one get one (BOGO) – Provide the same shade or a different shade of lipstick from the same brand.
To complement the bread, suggest a slice of cheese.
Choose another book in the same genre written by the same author.
Offer a discount on three products. For example – Shaving razors at 30% off, blades and brushes at 10% off each. (You need to set prices individually for each product)
When it comes to digital products, related products that accomplish a specific task tend to sell very well. Example – Get our Bulk Variations Manager and Smart Manager plugins to create thousands of variations within minutes and manage or bulk edit them.
And the list goes on. You got the idea right!!!
Awesome benefits of showing product recommendations
Convert non-potential leads – People who browse the shop for fun eventually end up buying a bunch of things if they see the recommended products deal is great and the price seems justified.
Quick-time saver – When related products are pitched, the visitors won't need to search for them, saving them a lot of time.
More sales – Of course, users buying more increases sales, clears your stock and boosts average order value.
Drive sales for slow-moving products – You can easily recommend slow-moving products at a discount to the main product. And if the deal is good, people will surely buy them.
SEO benefits – Offering product recommendations make visitors stay on your site longer, showcasing more products from your portfolio, thus decreasing the bounce rate. And if a customer is hesitant to buy, they might probably come back later. Thus bringing more organic traffic.
The right choice of product suggestions at an optimum price can speed up the decision-making process for customers and give you really high conversions. The key is to show value and benefits to the customers via those products.
So, grab this WooCommerce Frequently Bought Together plugin license today and start earning more profits!
Need to set-up WooCommerce upsell, order bump, BOGO and other offers on your store?
(that too with powerful targeting rules and without coding?)
FAQ
Do I need any technical person / code to use the plugin?
Not at all. Anyone can use the plugin.
How does the plugin show WooCommerce related products automatically?
Say you have a product X (main) and products A, B and C. Out of these, if A had been sold the most with X, it will be shown as frequently bought together.
Does this plugin support variable products?
Yes. But you can't add a parent variable product. You can add any variant of that variable product.
Can I show frequently bought together products on the cart page or other pages?
Yes. You can show frequently bought together items on your product pages and cart page.
Can I customize the frequently bought together section – image size, button, etc?
As mentioned, our plugin is simply plug-and-play. So you can't customize anything currently.
Is it possible to set the quantity of each specific frequently bought together item(s)?
No. Only 1 quantity of each frequently bought together item can be set.