Frequently Bought Together For WooCommerce
Increase cross-selling and average order value
Use Frequently Bought Together For Woocommerce plugin to show the complimentary or related products to visitors that matches with the products they already have selected to buy or added to cart.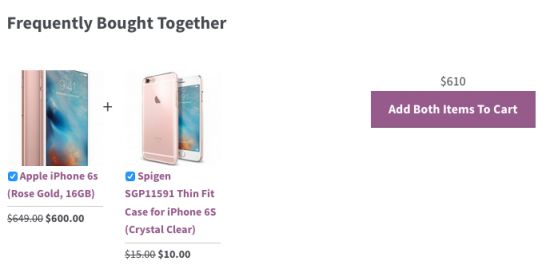 Why Frequently Bought Together For Woocommerce plugin is so effective?
Studies reveal that more than 62% people tend to make a purchase when complimentary products are pitched along with the products they view or are eager to purchase.
Be it a mobile, laptop, clothing or any product, there's always a need for a complimentary product. For example, a mobile buyer will look for a screen protector and back panel; the buyer of clothes may look for belts, shoes, and other matching accessories.
Making profits without pitching offers is a technique used by the big guys like Amazon, E-bay. It's a very simple and smart tactic which majority of us have come across but may have never implemented it on our WooCommerce stores. That is where the Frequently Bought Together For Woocommerce plugin becomes a must-have for you.
Awesome benefits of Frequently Bought Together For Woocommerce plugin
Quick-time Saver


When complimentary products are pitched together, the visitors won't need to search for them, saving huge amount of visitor's time.
Smart Trigger


Showing the complimentary products triggers a curiosity among the users that they need that particular products.
Sales Booster

Customers may already be looking for related products and when you show it before-hand, you have converted them.
Product Flexibility


Frequently bought together gives the flexibility to add products that can go well along with the desired product on purchase.
One-Click Sale


No need to go to each product separately and add to cart. Easily add all needed products together in a single click.
Smart Seller


Users buying more than one product increases sales, clears your stock and creates provisions for new stock replenishment.