Recently Viewed Products For WooCommerce
Boost conversions
by showing visitors their desired products
Our WooCommerce Recently Viewed Products plugin shows your visitors the products they were already interested in, nudging them to buy those products and boost your sales.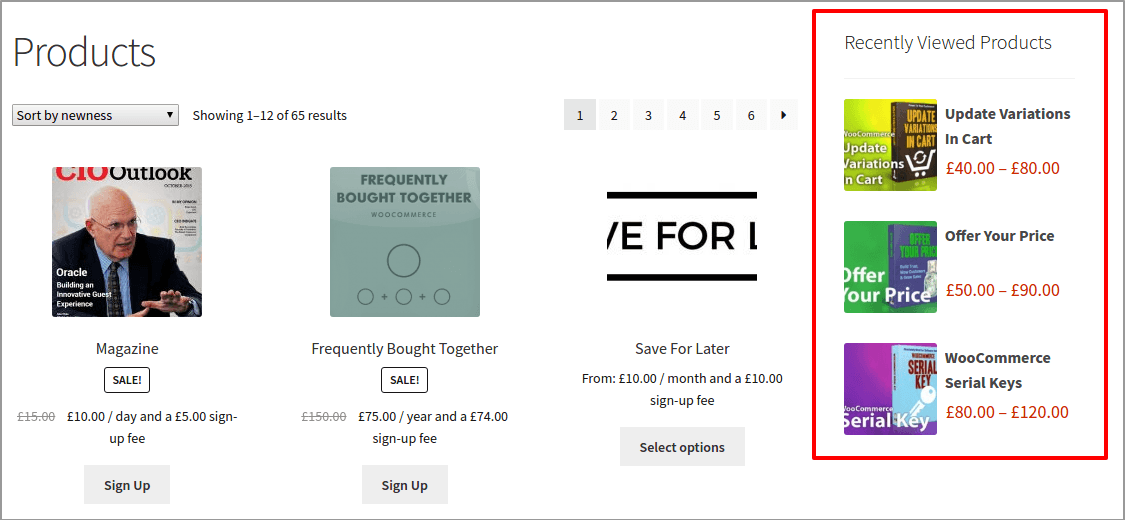 Amazon shows recently viewed products to grow sales…now it's your turn
Customers browse through multiple products on your WooCommerce store, add them to their cart but then abandon them. Some even navigate away without adding products to the cart. The best reasons are known to them. Thus ending in a lost sale and a lost customer.
Amazon, eBay, and other big giants faced the same thing. Therefore to regain those potential leads, they show visitors their recently viewed items when they are navigating through the website.
This strikes an immediate interest in the visitor's mind to make a quick purchase of their desired products.
Recent studies show that more than 55% of visitors are likely to visit their desired products again and ultimately buy them. And this WooCommerce Recently Viewed Products plugin helps achieve it with the minimum effort.
Get started immediately

No additional settings are required. Once activated, the plugin will start showing recently viewed products in a slider bar.

No login or account required

Login / account is not necessary for both visitors & customers to view their desired products.

Show products using shortcodes, widget

Be it any page or post, you can display recently viewed products using a shortcode and boost your conversions. You can also add recently viewed products as a widget.

Show unlimited products

Store and show any number of recently viewed items. This prevents your customer from repeating the browsing procedure again.
WooCommerce Recently Viewed Products Shortcode and Widget
The recently viewed products are shown using a shortcode [sa_recently_viewed_proucts].
Using the shortcode attributes, you can:
Set the number of products to show in the list
Set the order of display
Enable/disable the slider
Set predefined templates
Set which products to be displayed
and many other things…

Have a good converting blog post on your site? Or have an engaging page? Use shortcodes to show recently viewed products on these posts or pages where more visitors land on your website, thereby increasing your chances of selling.
Not just shortcode, but the Recently Viewed Products plugin also provides a widget. Simply drag-n-drop the widget in the area you want to display the recently viewed products.
Start converting potential leads today
It's a simple tactic that has given Amazon huge success. Then why WooCommerce stores like yours are left behind?
Get our WooCommerce Recently Viewed Products plugin today to start converting potential customers and earning more profits!
FAQ
So are recently viewed products the same as upsell?
No. Not at all. But both encourage visitors to buy more.
What types of WooCommerce products can be shown as recently viewed items?
You can show all product types as recently viewed – simple, product variations, subscriptions, bundles…
Want more plugins having Amazon-like functionality?
(that automatically works on activation and gets you more conversions?)