Express Checkout For WooCommerce
Enable quick checkout

for virtual and downloadable products
Use this popular WooCommerce digital downloads plugin to eliminate shipping / billing details for virtual and downloadable products & ensure a quick checkout for your customers.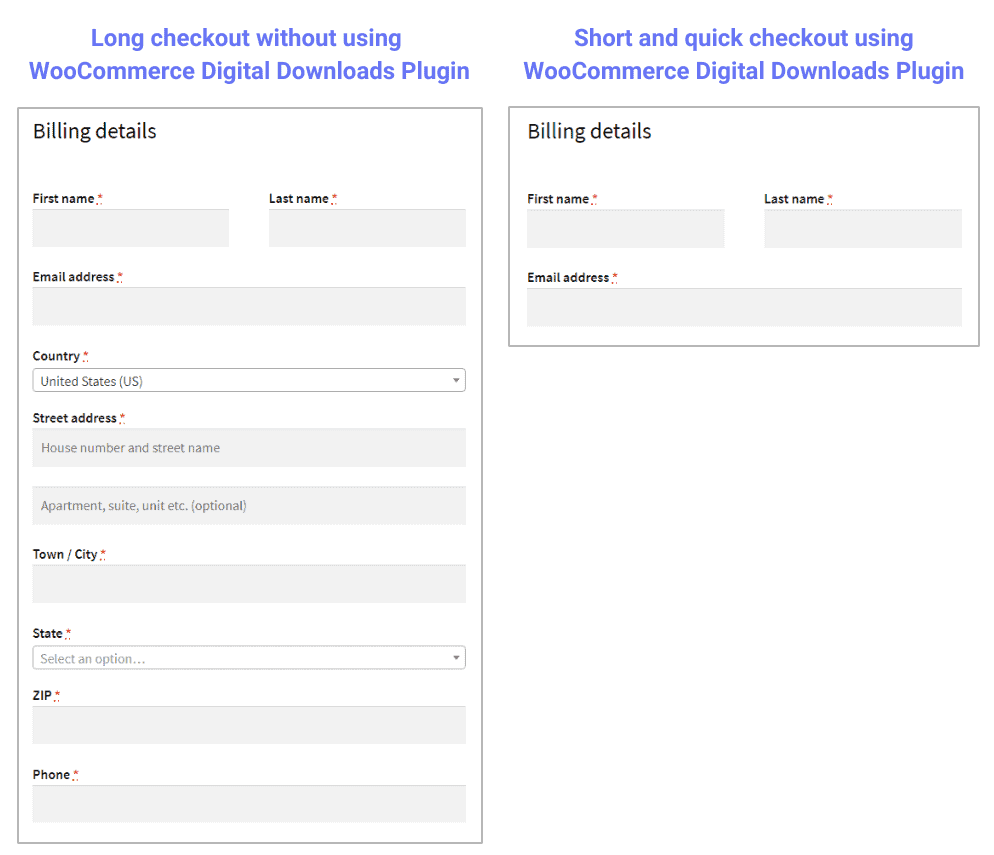 Eliminate redundant steps in WooCommerce digital downloads checkout
Consider you found your favorite E-book and you are fully sure of purchasing it. Being a digital download, you are very excited as you will instantly get access to the product after payment. You click the Buy button and land on the checkout page.
But then you see something that sets you off and you abandon the checkout. Why? You were asked for the shipping address. Why do the sellers need such details for a download?
Now imagine what if your customer is in the same place as you! Won't he/she get frustrated and abandon checkout?
Look, for physical products, you can't avoid shipping details but can reduce the checkout steps. However, for WooCommerce virtual and downloadable products, there is no need to get the shipping / billing address of customers as the products are instantly available after checkout.
So don't drive away your customers by asking for information that isn't needed. Use this WooCommerce Digital Downloads plugin called Express Checkout For WooCommerce to skip the unnecessary details and close the deal faster.
Instant and automated

This WooCommerce digital downloads plugin works directly on activation. No additional settings or configuration required.

Quick checkout with name and email

By default when purchasing a virtual and downloadable product, if the plugin is activated, then only name and email fields will be shown on the checkout page to fill.

Works will all product types

As long as the products marked are virtual and downloadable, the plugin will work with all WooCommerce product types. Simple, variable subscription, bundles, etc.

Full control of the checkout fields

Customize the default WooCommerce checkout page fields. You can choose what parameters you want your customers to see on your checkout page.
Customize the checkout page based on what you sell
As mentioned, the plugin allows you to control what to show and hide on the checkout page.
Based on what you sell; E-books, PDF's, audio files, video courses, apps, WooCommerce plugins, photos, PPT's, sheets, video games…for all WooCommerce products marked virtual and downloadable products, you can show or hide the required fields.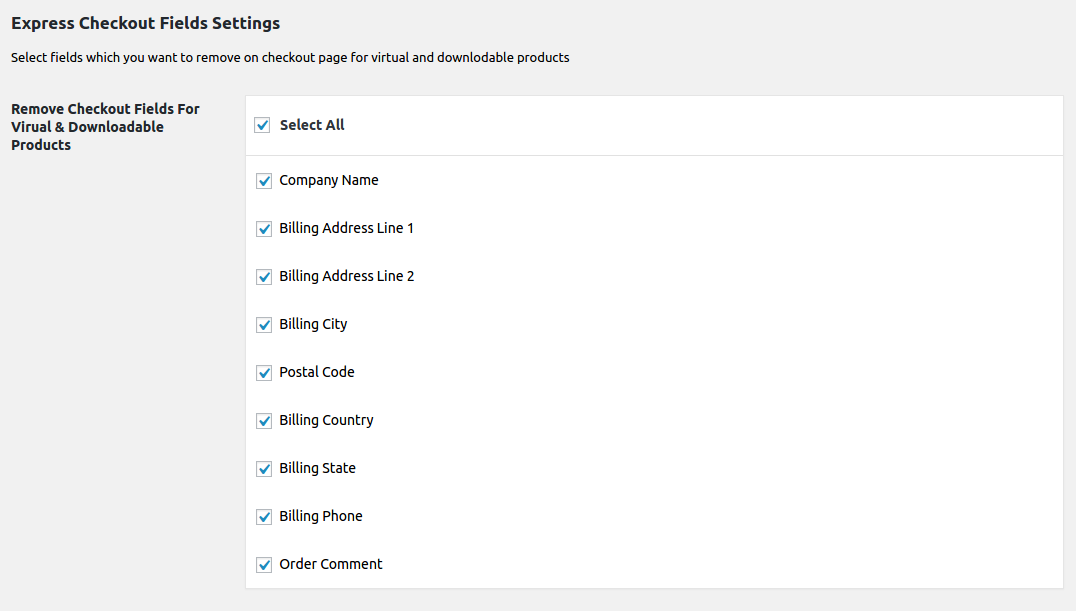 WooCommerce disable billing details for free virtual products
For example – If you are just allowing users to download your virtual product for free, then billing details like billing address, billing state, billing phone number, etc. are not required. All could be excluded in this case.
Enable billing details for paid virtual products like subscriptions, games, etc.
On the other hand, you may need billing details if the user purchases a paid product. This is a great example of subscription downloads. First, you offer a free trial and collect payment details and after the trial, the subscription starts automatically so the customer need not enter the details again.
By default, all marked fields are removed from the checkout page. Uncheck the fields you want to show on the checkout page and click on Save changes.
Go to WooCommerce -> Settings -> Checkout tab -> Express Checkout Fields Settings
Disable order notes / order comment for PDF's, free audio, etc.
For physical products, sometimes order notes are kept on the checkout page to take feedback or other information. But in case of digital downloads, it's an irritating step that invites abandonment. Simply disable it using the plugin.
It's all about conversions and better user experience. Sure, it will make them happy!
Best applications of Express Checkout For WooCommerce
Giveaway – PDF's, resources to build brand awareness
List building – Apps, plugins. Ask for an email in exchange for a product.
Freemium models – Free trial and then a paid subscription like video courses
New product launch – E-books, new songs, video games, etc.
Awesome benefits of using WooCommerce digital downloads plugin
Massive time-savings – As shipping/billing address fields are eliminated, customers can checkout faster. Thus adding to their delight by saving their precious time.
More conversions – A shorter checkout process encourages more customers to buy products rather than just abandon them.
Quick delivery – Being virtual and downloadable products, customers are able to get their desired product instantly.
Increased sales – No doubt, shorter the checkout process, lesser are the chances of abandonment. Thus, higher the chances of increased sales.
WooCommerce direct checkout – Skip cart, double the conversion speed
Want your digital products even quicker? Use our WooCommerce Buy Now plugin to place Buy Now links for your digital downloads. Clicking on it will skip cart and redirect users to checkout. And on checkout, you'll already have Express Checkout plugin configured.
WooCommerce subscriptions downloads
As long as the products marked are virtual and downloadable, the plugin will work for products created using WooCommerce Subscriptions plugin.
Buy Express Checkout plugin now and unlock higher sales for your WooCommerce digital downloads.
FAQ
Which fields plugin can be enabled/disabled from the checkout page?

Company Name
Billing Address line 1
Billing Address line 2
City
State
Country
Postcode / ZIP code
Phone
Order Comment
Can the plugin detect digital goods on my WooCommerce store?
Yes. For all your products marked as virtual and downloadable, the checkout page will contain minimum details if the plugin is activated.
Can I use this plugin for other product types than digital to hide the checkout fields?
No. The plugin is specifically designed for digital products marked as virtual and downloadable products only.
What happens if I add both digital and physical products together?
Since physical products require shipping details, you can't escape those fields. So both physical and digital products will be checked out normally.
Will the plugin work with PayPal Checkout, Stripe etc.?
Yes. It will work with all WooCommerce supported payment gateways.