WooCommerce Buy Now
The smartest, fastest checkout in the universe for WooCommerce
Our Buy Now plugin is modeled after Amazon's patented 1-Click Purchase system. With supported gateways (Stripe, Braintree, Auth.net) it can complete the order in just one click – no cart, no checkout, no credit card screens..
Buy Now will smartly complete as many purchase steps as possible.
Clicking on Buy Now button skips the cart and jumps to checkout.
If user is logged in, it will autofill billing and shipping information, pick up the last payment gateway, and redirect to payment gateway to complete purchase.
Enable Buy Now for the entire store, or create special buy now links for products of your choice. You can even embed coupons, choose shipping and redirect to a page of your choice with Buy Now links.
There are other free and premium plugins that try to do something similar. Buy Now is the original and still the most popular, most powerful instant checkout plugin for WooCommerce.
Leaky sales funnel – fix those cart abandonments…
Statistic say 67.45% carts are abandoned on average…
That's after all the hard work you've done on your site, inbound marketing, copywriting, design, product images and everything else..
You got them to add the product to the cart.. But in the long checkout process, people will drop off.
That's like a zero score on a big league match.
So what if you could complete the purchase in just one or two steps? From desire to order within a minute? Yes, certainly possible.
With the WooCommerce Buy Now extension!
This is how it works!
I knew bypassing cart and simplifying checkout will improve conversion rates and reduce cart abandonment. But 34% higher sales? That was like a jackpot.. Honestly, I never expected such awesome results from the plugin I built!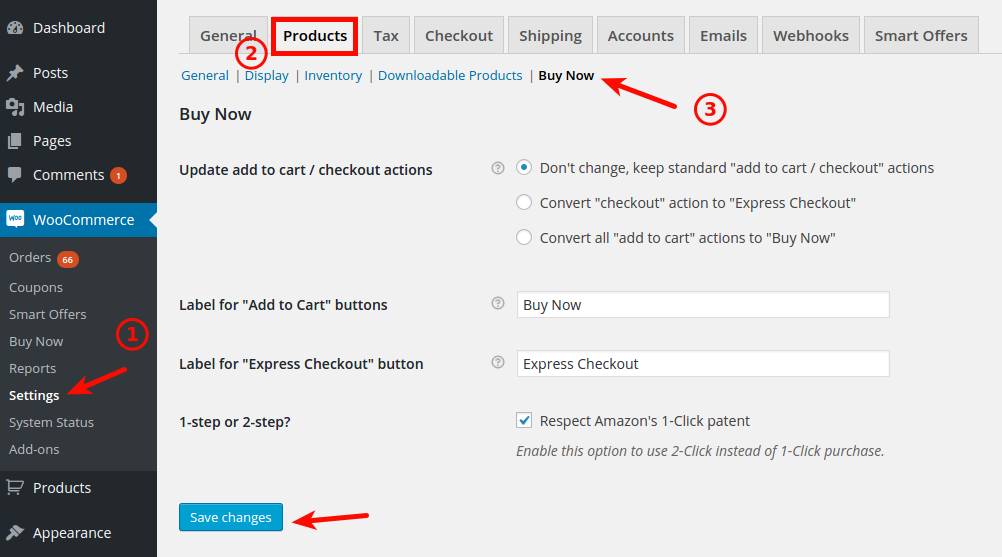 But then, a lot of customers have reported amazing results:
Faster checkouts
Lower cart abandonments
Ability to run one click upsells and downsells
Happier customers
And of course, more sales, more money, more profits!
Buy Now can cut down 7 step purchase process to a single step. Something that could take 4-5 minutes can now be done in a few seconds.
I'm pretty proud of this 😉
I'm sure it will improve results for you as well.
Akash D, Buy Now Developer, StoreApps
1-Click purchases with…

Buy Now links for emails, social media and anywhere else…
Not only can you turn your Add to Cart buttons to Buy Now (or Express Checkout), you can easily create special Buy Now links and share them over email / social media or use on your site.
Here's how: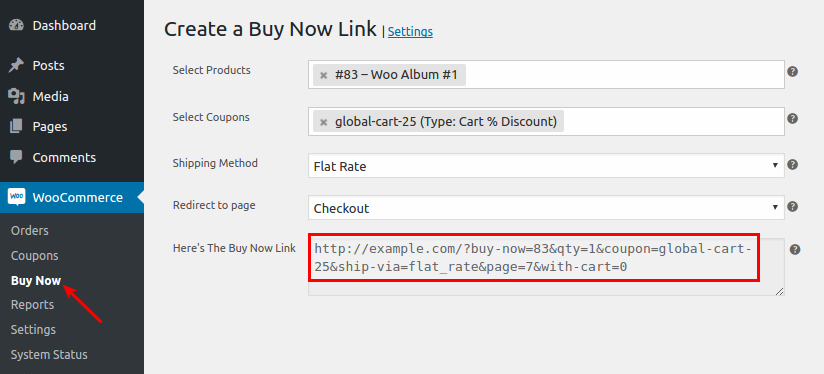 Give your customers a head start, shorten the checkout and reduce cart abandonment.
Faster Transactions + Happier Customers + Delighted You!
It's a win-win for all. Buy Now will make things easier and faster.
And you will most likely recover its cost in the first sale itself!
So, get WooCommerce Buy Now today!
Changelog

2017.07.24 - version 2.0.3
 * Fix: Made one click upsell code related to Authorize.net CIM compatible with latest version of WooCommerce and Authorize.net CIM
 * Update: POT file

2017.07.13 - version 2.0.2
 * Fix: Removed unused code related to Stripe which was causing fatal error
 * Fix: Compatibility issue with WooCommerce 3.1.0

2017.06.23 - version 2.0.1
 * Fix: Fatal error when used with WooCommerce version lower than 3.0
 * Update: Compatibility files

2017.06.22 - version 2.0.0
 * New: One click Buy Now support for WooCommerce Paypal Powered by Braintree
 * Fix: Label for Add to Cart button not updating for a variable product
 * Update: StoreApps Upgrade file
 * Update: POT file

2017.04.10 - version 1.9.6
 * New: WooCommerce 3.0 compatible
 * New: Click to copy Buy Now URL while creating a Buy Now link
 * Update: Will now support only WooCommerce 2.5+
 * Update: Stripe library
 * Update: POT file

2016.10.10 - version 1.9.5
 * Fix: Uncaught ReferenceError: sa_buy_now_select_params is not defined when any Yith plugin is activated
 * Update: Important changes related to Automatic Updates of this plugin
 * Update: POT file

2016.08.18 - version 1.9.4
* Fix: Fatal error in Buy Now page in admin panel when using with WooCommere less than 2.5
* Update: Removed hardcoded http from Ajax request for Quick Help

2016.08.04 - version 1.9.3
 * New: Added Quick Help widget (Fastest access to documentation) - available within the plugin admin panel
 * Fix: Shipping method names were not visible in Shipping method dropdown while creating a Buy Now link
 * Fix : Removed the duplicate documentation link
 * Update : StoreApps Upgrade file
 * Update: POT file

2016.06.30 - version 1.9.2
 * Fix: Redirect loop when a payment gateway which was used in previous order is disabled/deleted
 * Update: Use shipping method only when shipping is needed
 * Update: Provision to pass shipping method in Buy Now link
 * Update: Only 1 order is required now to enable 1-click Buy Now for a customer [WooCommerce Stripe v2.6.8+]
 * Update: Stripe library to version 3.14.2
 * Update: POT file

2016.06.16 - version 1.9.1
 * Update : Compatibility with WooCommerce 2.6
 * Update: POT file
 * Fix : Upgrade file - Unnecessary calls for latest update on every background process

2016.04.04 - version 1.9
 * New: Shortcode 
 * New: Filter to generate Buy Now link
 * Fix: When customer's address fields are empty, many error messages appear on checkout page, on clicking Buy Now button by customer
 * Fix: When Buy Now button is clicked from shop page, it is resulting in "Too many redirects" error
 * Fix: "Header already sent" error when submitting support query from within the plugin
 * Fix: PHP notices generating from StoreApps upgrade file
 * Update: WooCommerce 2.3 compatible hook for 'add_to_cart_redirect'

2016.01.27 - version 1.8.4
 * Fix: Fatal error: Can't use method return value in write context

2016.01.21 - version 1.8.3
 * New: Tested up to WooCommerce 2.5
 * New: Text Domain & Language Loader

2015.12.10 - version 1.8.2
 * Fix: Important fix related to WordPress 4.4, in StoreApps Upgrade file
 * Update: Maintain redirect URL arguments after buy now process

2015.08.13 - version 1.8.1
 * Update: Restore cart after Buy Now, was not working some time

2015.06.04 - version 1.8
 * New: 1-click Buy Now support for WooCommerce Authorize.Net CIM

2015.04.29 - version 1.7
 * New: Generate 1-click Buy Now link for payment through Stripe (works with only WooCommerce Stripe & Stripe For WooCommerce)
 * Fix: Unnecessary warning 'Coupon already exists' when Buy Now link having coupon clicked twice
 * Update: Easily accessible Buy Now storewide settings
 * Tweak: Additional option in Buy Now link for whether to restore previous cart, after completion of Buy Now

2015.03.18 - version 1.6.1
 * Fix: Buy Now link not generating due to 'wc_select_params' not defined

2015.02.25 - version 1.6
 * Update: WooCommerce 2.3 compatible
 * Update: Support for PHP version lower than 5.3

2014.09.19 - version 1.5
 * Update: WooCommerce 2.2 compatible

2014.07.24 - version 1.4.3
 * Fix: Wrong price set for "Sold individually product" when added in cart multiple times

2014.04.16 - version 1.4.2
 * Update: Important update related to 'update notification' of the plugin

2014.04.04 - version 1.4.1
 * Fix: Important fix related to plugin updates

2014.02.24 - version 1.4
 * Fix: WC nonce not passed to checkout process
 * Fix: Minor fixes for compatibility with WC 2.1.x

2014.02.14 - version 1.3
 * Update: WooCommerce 2.1 compatible
 * Update: Made 'Redirect to page' optional, while creating 'Buy Now' link

2014.01.08 - version 1.2
 * Update: Option to redirect on a page after clicking Buy Now button

2013.11.16 - version 1.1
 * New: Express Checkout from cart page
 * Update: Upgrade process

2013.10.19 - version 1.0
 * First release