Quicker, Buy Now Checkout is finally here for WooCommerce!
Simpler – Better – Quicker
Statistic says 67.45% Carts are abandoned on an average…
And a big reason for that is endless, time consuming buying process that goes like….
Choose product and quantity, Add items to cart, Review cart page, Enter billing / shipping address and details on Check out page, Wait for payment process to start, Enter credit card / PayPal details, Complete purchase
What if we could cut down on those steps?
It will surely increase conversions, make the process smoother and have less drop outs.
Introducing Buy Now extension for WooCommerce.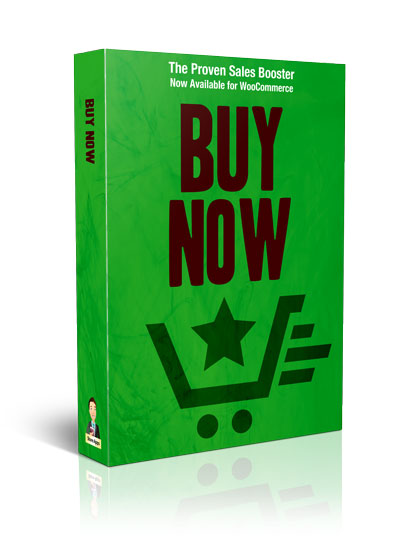 WooCommerce Buy Now extension gives customers a headstart, shortens the purchase process and reduces cart abandonment.
Create Buy Now button links, take users directly to checkout or payment page, pre-fill checkout information from past orders and much more…
WooCommerce Buy Now reduces steps in purchase process. It figures out the shortest path to payment by analyzing past orders. This extension lets you generate special "Buy Now" links to pass to customers. You can enable Buy Now feature for your entire store if you wish.
---
Buy Now Integrates With

More integrations coming soon…
---
How Buy Now Works?
Buy Now Settings in WooCommerce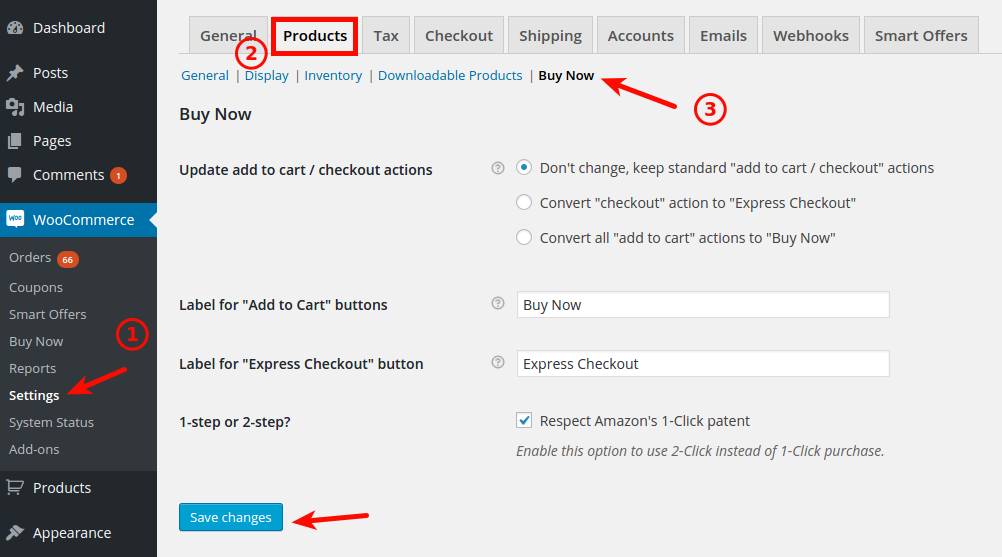 Create a Buy Now Link for product specific buy now…
How Does It Work?
Here's what happens when someone uses a Buy Now link…
Buy Nows links include IDs of the products to purchase and their quantities. This eliminates the first step of purchase!
When someone visit your site with a "Buy Now" link, your chosen products will automatically be added to cart.
The extension looks up the latest order of this customer if customer is logged in. If an order is found, billing and payment choices will be copied to the new order for if customer is logged in and transacted on the store earlier, Buy Now picks up address details and payment preferences automatically and takes user to the payment gateway directly. No cart, no checkout. Directly to payment!
If all details are not available, Buy Now will take user as far as possible in purchase process. If payment preferences are not available, it will stop at checkout. If shipping / billing details are not available, it will stop at checkout. If user is not logged in, process will wait for user to login..
What's The End Result?
Faster Transactions + Happier Customers + Delighted You!
It's a win-win for all. Buy Now will make things easier and faster. You will most likely recover its cost in the first sale itself!
Documentation
You can find documentation for WooCommerce Buy Now here.
Please choose how many sites you'd like to use Buy Now on
and Order Today.
You'll get instant access to the product.

Changelog

2017.07.24 - version 2.0.3
 * Fix: Made one click upsell code related to Authorize.net CIM compatible with latest version of WooCommerce and Authorize.net CIM
 * Update: POT file

2017.07.13 - version 2.0.2
 * Fix: Removed unused code related to Stripe which was causing fatal error
 * Fix: Compatibility issue with WooCommerce 3.1.0

2017.06.23 - version 2.0.1
 * Fix: Fatal error when used with WooCommerce version lower than 3.0
 * Update: Compatibility files

2017.06.22 - version 2.0.0
 * New: One click Buy Now support for WooCommerce Paypal Powered by Braintree
 * Fix: Label for Add to Cart button not updating for a variable product
 * Update: StoreApps Upgrade file
 * Update: POT file

2017.04.10 - version 1.9.6
 * New: WooCommerce 3.0 compatible
 * New: Click to copy Buy Now URL while creating a Buy Now link
 * Update: Will now support only WooCommerce 2.5+
 * Update: Stripe library
 * Update: POT file

2016.10.10 - version 1.9.5
 * Fix: Uncaught ReferenceError: sa_buy_now_select_params is not defined when any Yith plugin is activated
 * Update: Important changes related to Automatic Updates of this plugin
 * Update: POT file

2016.08.18 - version 1.9.4
* Fix: Fatal error in Buy Now page in admin panel when using with WooCommere less than 2.5
* Update: Removed hardcoded http from Ajax request for Quick Help

2016.08.04 - version 1.9.3
 * New: Added Quick Help widget (Fastest access to documentation) - available within the plugin admin panel
 * Fix: Shipping method names were not visible in Shipping method dropdown while creating a Buy Now link
 * Fix : Removed the duplicate documentation link
 * Update : StoreApps Upgrade file
 * Update: POT file

2016.06.30 - version 1.9.2
 * Fix: Redirect loop when a payment gateway which was used in previous order is disabled/deleted
 * Update: Use shipping method only when shipping is needed
 * Update: Provision to pass shipping method in Buy Now link
 * Update: Only 1 order is required now to enable 1-click Buy Now for a customer [WooCommerce Stripe v2.6.8+]
 * Update: Stripe library to version 3.14.2
 * Update: POT file

2016.06.16 - version 1.9.1
 * Update : Compatibility with WooCommerce 2.6
 * Update: POT file
 * Fix : Upgrade file - Unnecessary calls for latest update on every background process

2016.04.04 - version 1.9
 * New: Shortcode 
 * New: Filter to generate Buy Now link
 * Fix: When customer's address fields are empty, many error messages appear on checkout page, on clicking Buy Now button by customer
 * Fix: When Buy Now button is clicked from shop page, it is resulting in "Too many redirects" error
 * Fix: "Header already sent" error when submitting support query from within the plugin
 * Fix: PHP notices generating from StoreApps upgrade file
 * Update: WooCommerce 2.3 compatible hook for 'add_to_cart_redirect'

2016.01.27 - version 1.8.4
 * Fix: Fatal error: Can't use method return value in write context

2016.01.21 - version 1.8.3
 * New: Tested up to WooCommerce 2.5
 * New: Text Domain & Language Loader

2015.12.10 - version 1.8.2
 * Fix: Important fix related to WordPress 4.4, in StoreApps Upgrade file
 * Update: Maintain redirect URL arguments after buy now process

2015.08.13 - version 1.8.1
 * Update: Restore cart after Buy Now, was not working some time

2015.06.04 - version 1.8
 * New: 1-click Buy Now support for WooCommerce Authorize.Net CIM

2015.04.29 - version 1.7
 * New: Generate 1-click Buy Now link for payment through Stripe (works with only WooCommerce Stripe & Stripe For WooCommerce)
 * Fix: Unnecessary warning 'Coupon already exists' when Buy Now link having coupon clicked twice
 * Update: Easily accessible Buy Now storewide settings
 * Tweak: Additional option in Buy Now link for whether to restore previous cart, after completion of Buy Now

2015.03.18 - version 1.6.1
 * Fix: Buy Now link not generating due to 'wc_select_params' not defined

2015.02.25 - version 1.6
 * Update: WooCommerce 2.3 compatible
 * Update: Support for PHP version lower than 5.3

2014.09.19 - version 1.5
 * Update: WooCommerce 2.2 compatible

2014.07.24 - version 1.4.3
 * Fix: Wrong price set for "Sold individually product" when added in cart multiple times

2014.04.16 - version 1.4.2
 * Update: Important update related to 'update notification' of the plugin

2014.04.04 - version 1.4.1
 * Fix: Important fix related to plugin updates

2014.02.24 - version 1.4
 * Fix: WC nonce not passed to checkout process
 * Fix: Minor fixes for compatibility with WC 2.1.x

2014.02.14 - version 1.3
 * Update: WooCommerce 2.1 compatible
 * Update: Made 'Redirect to page' optional, while creating 'Buy Now' link

2014.01.08 - version 1.2
 * Update: Option to redirect on a page after clicking Buy Now button

2013.11.16 - version 1.1
 * New: Express Checkout from cart page
 * Update: Upgrade process

2013.10.19 - version 1.0
 * First release