WooCommerce Buy Now
The smartest, fastest,
one-click checkout for WooCommerce
This WooCommerce Buy Now button plugin provides the flexibility to add a quick buy button that skips cart and redirect users to checkout / other pages (direct checkout) or complete the order in one-click without the need for payment details.
Buy Now + WooCommerce one-click upsells, BOGO, order bump…
Buy Now plugin is now a part of our best-selling Smart Offers plugin. When you purchase Smart Offers, you get Buy Now plugin along with these powerful Smart Offers features:
Upsells, downsells, cross-sells, one-time-offers, giveaways…multiple offers in the sales funnel
Powerful targeting rules to show offers based on users, cart status, categories, total value, product quantity, attributes.
Compatible with popular themes, WordPress page builders and currency converter plugins
Monitor each offer performance and optimize them
Buy Now + Checkout field editor + One page checkout
Buy Now plugin is also a part of our Cashier plugin and you can purchase it from the WooCommerce marketplace. Cashier includes all Buy Now features, one page checkout, automatic product recommendations, checkout field editor, side cart, add to cart redirect, cart notices and min-max quantities…at an unbelievable price.
Why you lose hot prospects…and how to avoid it using WooCommerce Buy Now button plugin?
Statistics say 67.45% of carts are abandoned on average. That's after all the hard work you've done on your site – inbound marketing, copywriting, design, incentives, social proof, and everything else…
You got them to add products to the cart…but people drop off in the long checkout process. Why? Because they want their products quickly. They don't want that complex checkout screen and forms.
Just think about what if you are going through a similar situation. Adding personal information, shipping and billing info, payment details again and again. Quite exhausting, right?
So what if you could complete the purchase in just one or two steps? That's what StoreApps' WooCommerce Buy Now button extension does – from desire to order within a minute!!
A simple quick buy or buy now button and the purchase will be immediately completed without any other steps or waste of time. Exactly what your customers wish and you'll provide them with this plugin.
Enable Buy Now links storewide /per product / categories

The plugin provides you the flexibility to add Buy Now button links for your entire store. Or only to specific products you wish to. Not just to specific products, but also to product categories.

Convert all 'Add to cart' links to 'Buy Now'

If enabled, the plugin will convert all "Add to Cart" links to behave as "Buy Now" links. Clicking on the button will try to take the customer to the final step including payments. You can also show the Add to cart button on the product page along with the Buy Now button.

Works with all WooCommerce product types

You can add the Buy Now button to all product types and let customers checkout instantly. Simple, variable, subscription, bundles, group…

Works with all payment gateways

Buy Now shortens checkout for all payment gateways. But for gateways like Stripe, PayPal and others, the plugin will complete the payment in one click for customers with at least one previous order.

Redirect to any page

Not just checkout, you can redirect users to any page using Buy Now links. Be it a custom thank you page, offers page, affiliate products or any other external links. You can also customize the purchase button text. Name it Quick Buy, Proceed to Payment, etc.

Embed coupons, choose a shipping method

You can also embed a coupon using the Buy Now plugin. Clicking the Buy Now button will automatically apply the discount. You can also choose the preferred shipping method for which you have embedded the Buy Now links.
Skip cart, skip checkout…enable Direct Checkout or One-Click Checkout with this WooCommerce Buy Now button plugin

WooCommerce Buy Now button plugin will smartly complete as many purchase steps as possible. It is modeled on Amazon's patented one-click purchase.
Clicking on the "Buy Now" button will allow customers to skip the cart and go straight to checkout.
If the user is logged in, Buy Now will auto-fill billing and shipping information from their last order, pick up their last used payment gateway, and redirect to payment gateway to complete the purchase.
Buy Now shortens checkout for all payment gateways
When you use Stripe, Braintree, Authorize.Net, PayPal, Direct Bank Transfer, Cash on Delivery or Cheque Payments, Buy Now can complete the payment also in just one click, thus enabling one-click checkout for customers with at least one previous order.

There are other free and premium plugins that try to do something similar. But WooCommerce Buy Now is the original and still the most successful, most powerful immediate checkout plugin. You can also call it a quick sell plugin as it allows you to sell items faster.
Quick checkout for new and guest users too!
With the Quick Checkout mode in Buy Now, even non-logged-in customers or guest customers can check out faster.
When the user clicks Buy Now, it will bypass the cart and show a popup with a checkout form. The user can quickly fill in their details and checkout inline.
Of course, if they were logged in, the 1-click purchase mode would kick in! Watch the video below to see how WooCommerce quick checkout works for new users:
Use Buy Now links in emails, social media and anywhere else…
Redirect users to third-party marketplaces with buttons that specify "Buy from Amazon," "Buy from eBay," or any other affiliate sites or deal sites. You can change the button label and ensure that each product sends visitors to the right product pages.
You can also place Buy Now links anywhere on your website. Be it blog posts, offer pages or anywhere else, full flexibility to you.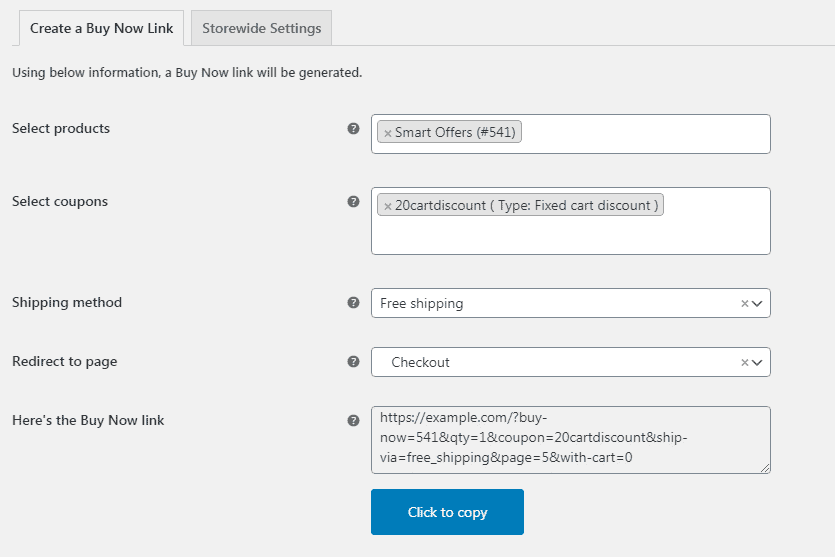 Not only can you turn your Add to Cart buttons to Buy Now (or Express Checkout), you can easily create special Buy Now links and share them over email / social media or use on your site.
Want your customers to directly buy your product from the email? Send a Buy Now link in the email.
Want your social media visitors to land upon your exclusive product page via Facebook Ad, YouTube video link or via any other social promotion? Use Buy Now links.
Show "Buy Now" and "Add to Cart" buttons together
The presence of both the "Buy Now" and "Add to Cart" buttons encourages customers to checkout instantly.
For a single product / limited memberships or subscription plans, "Buy Now" button is the best option to enable a direct checkout ASAP.
But for multiple products and to nudge the customer to buy more, also show Add to Cart along with Buy Now.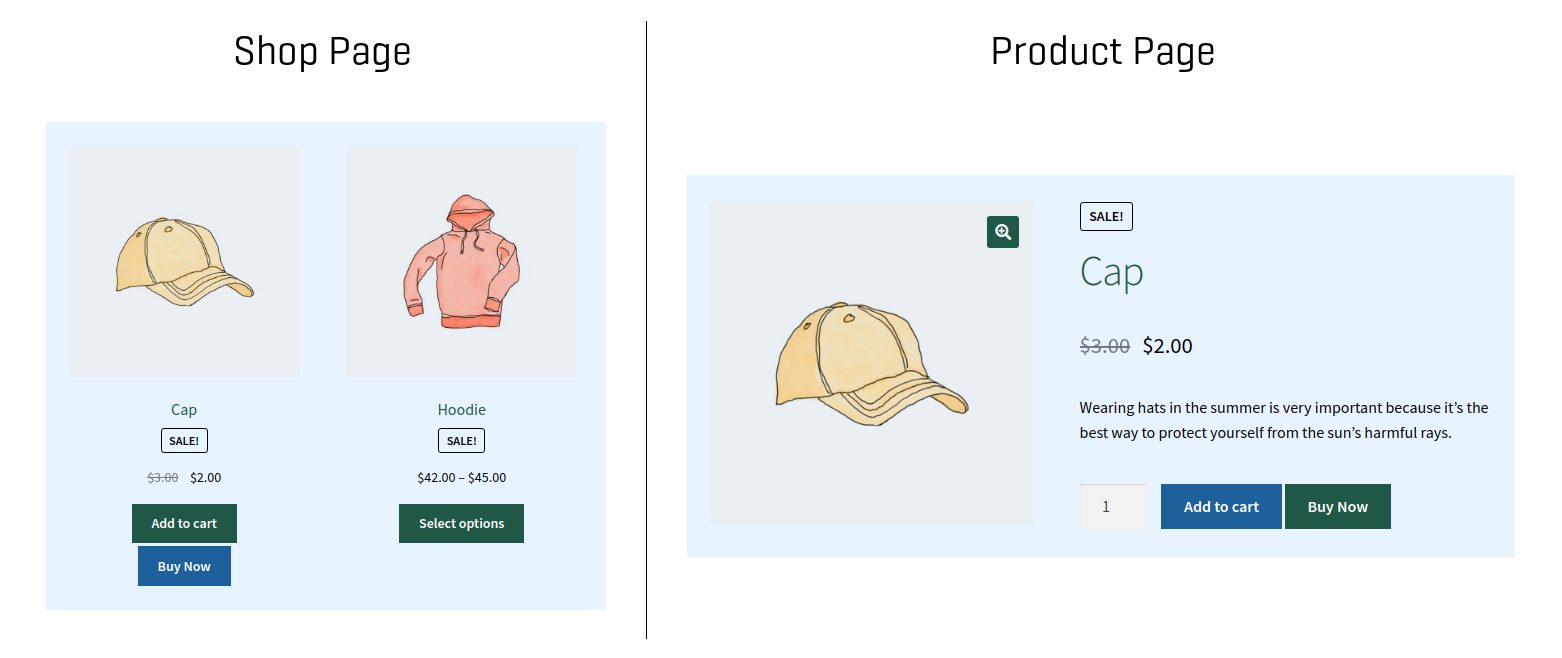 Everyone reports amazing results with Buy Now!
We knew bypassing cart and simplifying checkout will improve conversion rates. But 36% higher sales? That was like a jackpot. Honestly, we never expected such awesome results from the plugin we built!
But customers keep telling us about their breakthrough results… Faster checkouts + Lower cart abandonments + Happier customers. And of course, more sales, more money, more profits!
We are pretty proud of this. And we are sure it will improve results for you as well.
FAQ
How to add a Buy Now button for all products in WooCommerce?
The Buy Now button plugin provides you a setting wherein you need to simply check the box and all products on your WooCommerce store will be powered with Buy Now button links.
What payment methods are supported by the plugin?
The plugin works with all payment gateways that WooCommerce supports. For one-click purchase, (automatic payment), the plugin works with seven payment gateways mentioned in the page. While for rest all, the plugin will smartly complete as many steps and redirect to checkout or payment page.
Is WooCommerce Buy Now button plugin compatible with WooCommerce Subscriptions?
Yes. It is compatible with WooCommerce Subscriptions plugin.
What other plugins is WooCommerce Buy Now compatible with?
The plugin is also compatible with these popular WooCommerce plugins – Smart Coupons, Custom Thank You Page For WooCommerce.
Can Buy Now work with custom checkout fields?
Yes. A small code needs to be added. Here's how