WooCommerce Conditional Payment Methods
Reduce abandonment
by showing preferred payment methods
WooCommerce Conditional Payment Methods plugin helps you show / hide payment methods at checkout based on customer's billing or shipping address, or cart subtotal.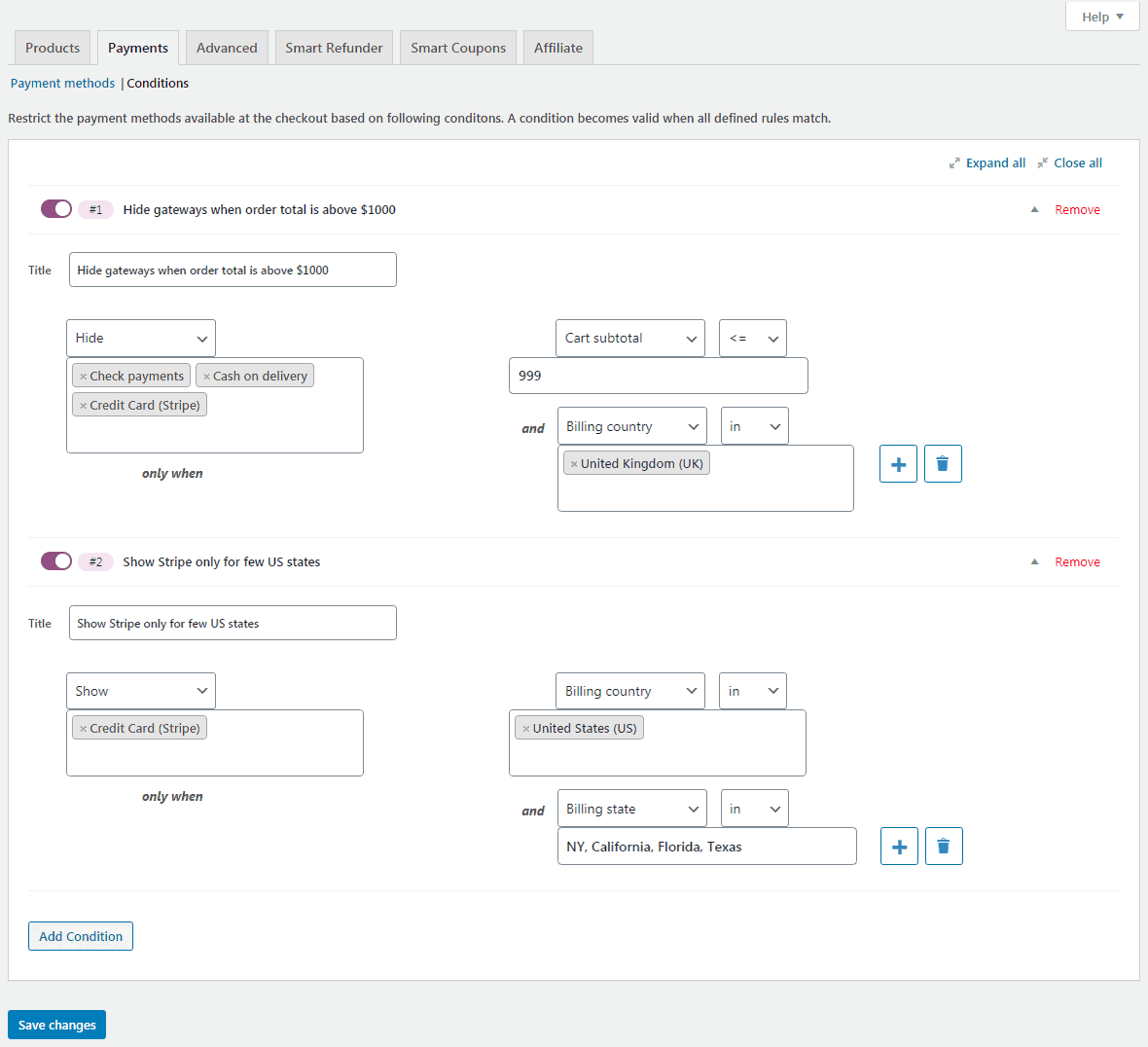 How restricting payment methods helps cut down on risks and fraud?
Every country has its own tax rate, fees, billing infrastructure, currency, local support or preferences for a particular payment method.
Some payment methods are only specific to a single country and not worldwide. Some are worldwide and prefer by a majority – PayPal, Stripe. While in local places, people prefer Cash on Delivery.
Some gateways charge high fees for overseas transactions. While some countries are known for frauds and chargebacks. Thus hurting your profit margins.
Whatever be the case, customers prefer and trust known payment methods, limited choices and which are not heavy on their pocket. If they see some new or unknown payment method, the credibility issues pop up, leading to increased abandonment rate.
It is advisable to show a payment method that provides maximum anti-fraud protection, less fees, costs you less and reduces risks. And WooCommerce Conditional Payments plugin helps achieve just that.
Restrict payment methods by shipping or billing address

Increase conversions by showing familiar, local payment gateways to the customer based on their shipping or billing address – country, state, city and postal code.

Restrict payment methods by cart subtotal

Not just shipping address, you can also show / hide payment methods based on the customer's cart subtotal. Like show Direct Bank Transfer only on cart subtotal above $1000.

Manage everything from one screen

Set up all conditions with a simple screen within WooCommerce, so there's no need to hire a developer or work with custom code.

Works for all payment methods, countries

By default, an active gateway is available in all countries. You can select multiple countries and set availability rules for all your payment methods.
Upcoming features – Restrict payment methods based on products in cart – recurring subscriptions / virtual products etc, conditional rules based on customer's "geolocation" based on IP address.
Best use-cases of restricting payment methods
Have two major and popular payment methods if you are selling worldwide. Can be PayPal & Stripe or PayPal & Authorize.Net along with other low cost options.
Enabling Apple Pay is also a good choice if you have high-end customers and sell worldwide.
SagePay is a widely used payment gateway in the United Kingdom along with other popular ones. Enable it if you sell majorly there.
If you get maximum paying customers from Australia, Canada, Japan, UK and the United States, enable Square payment gateway.
For selling subscriptions, show Square, Stripe, PayPal that supports automatic recurring payments.
Increase trust and credibility, reduce fraud
Showing known payment gateways makes users feel safe and secure. Moreover, with less transaction fees, reduced fraud risk, users will surely convert and trust your brand more.
So, don't give another thought. Get this WooCommerce Conditional Payments plugin today and boost your conversions.
Want to restrict coupons based on payment methods?
(and also based on shipping methods, user role, location?)