Spending time switching orders from "Processing" to "Completed"??
WooCommerce can automatically mark orders as complete if they only contain downloadable products. But if your order contains only virtual products, it leaves order status as "processing" after the payment is received.
In a lot of situation, this is not the desired behavior. You'd need to manually mark each order as completed – and that's too time consuming.
We faced the same problem, so created a WooCommerce extension to solve this problem.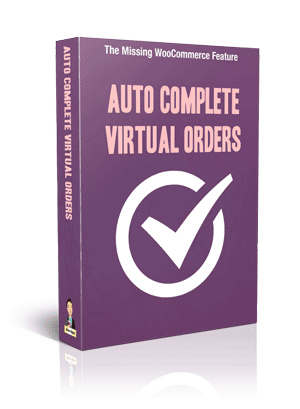 This is a Zero-configuration plugin. Just install it, and it will start marking orders with only virtual or downloadable items as completed, instead of processing.
Just five minutes of buying and installing this plugin can save you from manually reviewing and completing those pesky processing orders 😉
Please choose how many sites you'd like to use WooCommerce Auto Complete Virtual Orders on and Order Today.
You'll get instant access to the product.

Changelog
=== WooCommerce Auto Complete Virtual Orders Changelog ===

2016.10.10 - version 1.2.6
 * Update: Important changes related to Automatic Updates of this plugin

2016.06.20 - version 1.2.5
 * New: Tested up to WooCommerce 2.6 & WordPress 4.5.2
 * Update: Support for auto-completion of orders for downloadable/digital product as well
 * Update: Store Apps Upgrade file - many requests generating even in background processes

2016.02.03 - version 1.2.4
 * New: Tested up to WooCommerce 2.5

2015.12.10 - version 1.2.3
 * Fix: Important fix related to WordPress 4.4, in Store Apps Upgrade file

2014.04.16 - version 1.2.2
 * Update: Important update related to 'update notification' of the plugin

2014.04.04 - version 1.2.1
 * Fix: Important fix related to plugin updates

2014.02.14 - version 1.2
 * Update: Minor update

version 1.1
 * Update: Minor update

version 1.0
 * New: Initial release