WooCommerce Renewals
Provide a simple, manual renewal system to your customers
Simple Solution for Recurring Orders
Special Renewal Price + Expiration Prompts + Manual Payments
Don't want a complicated subscription setup?
Do you want to offer a simple, non-automated, renewal system to your customers?
Do you want to give special prices for ordering a product again?
WooCommerce Renewals is the solution!
What WooCommerce Renewals 'Does'?
Allows reordering any product at a special renewal price
Shows expiry notice under My Downloads section
Works with expiry in number of days and number of times
A full order can be reordered – renewal prices for all products will be applied
Renewal / Reorder payments are made manually – just like normal payments
Customer initiates renewals / reorders from My Account section
Simple solution for subscriptions, renewals and recurring orders
Works with all payment gateways, all product types
Works with Chained Products, Buy Now and other extensions
What WooCommerce Renewals 'Does NOT'?
Handle automated subscription billing
Need complicated configuration / setup
Require subscription support in payment gateway
Automatically create renewal orders
Send notifications about expiry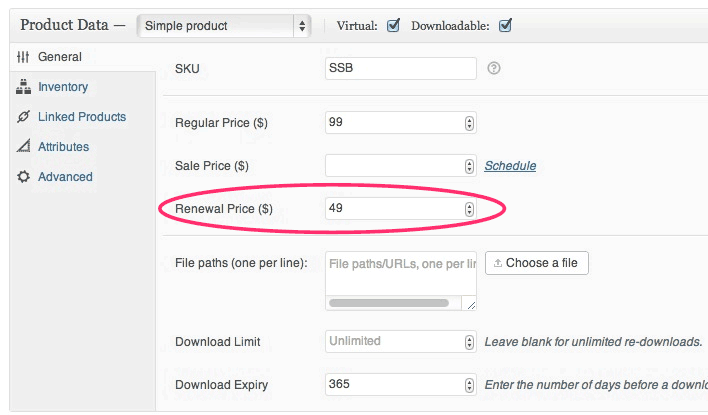 Renewals can be used in a variety of cases
Give special price to people who've bought a product earlier – prompting repeat purchases.
Offer a simple subscription solution where customers make renewal payments manually.
Prompt customers of expiring digital products on My Account page and encourage them to renew.
Allow people to re-place an entire order – you choose what products get special pricing.
Especially useful when you offer digital downloads.