WooCommerce Serial Key lets you generate, distribute and validate serial keys for your downloadable products.
If you are selling software, or other downloadable products, this extension lets you manage the complete licensing system easily. When someone purchases your product, a serial key will be issued. A simple API allows integrating serial key validation routines in your software (examples available with the product). If you've set an expiry for the product (number of days or downloads), the license key will stop validating once access to the product expires.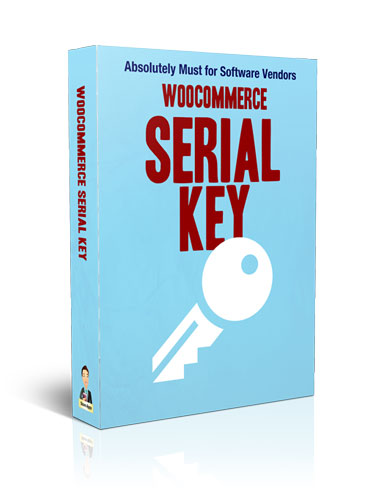 Feature Highlights
No complicated steps. No confusing screens. Full integration with WooCommerce.
Simple, easy to configure setup
Generate unique serial key for each purchased products
Import Serial Keys to be issued
Enable on individual downloadable product or store wide
Increase security for your digital products
Limit number of times a serial key can be used
Included validation process
Template for including serial key in invoice / order
Serial Key visible on My Account
Separate page for your customer to manage their serial key
Also checks download limit & expired downloads
Applicable for both simple & variable downloadable products
Filter orders using serial key
Documentation
Follow this link : WooCommerce Serial Key – Documentation
Screenshots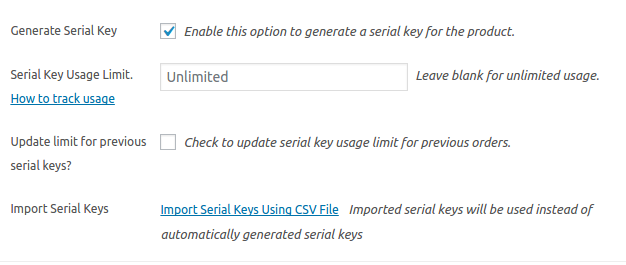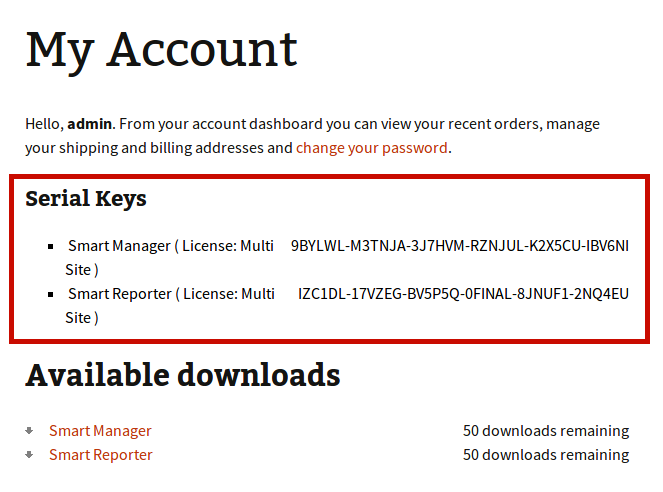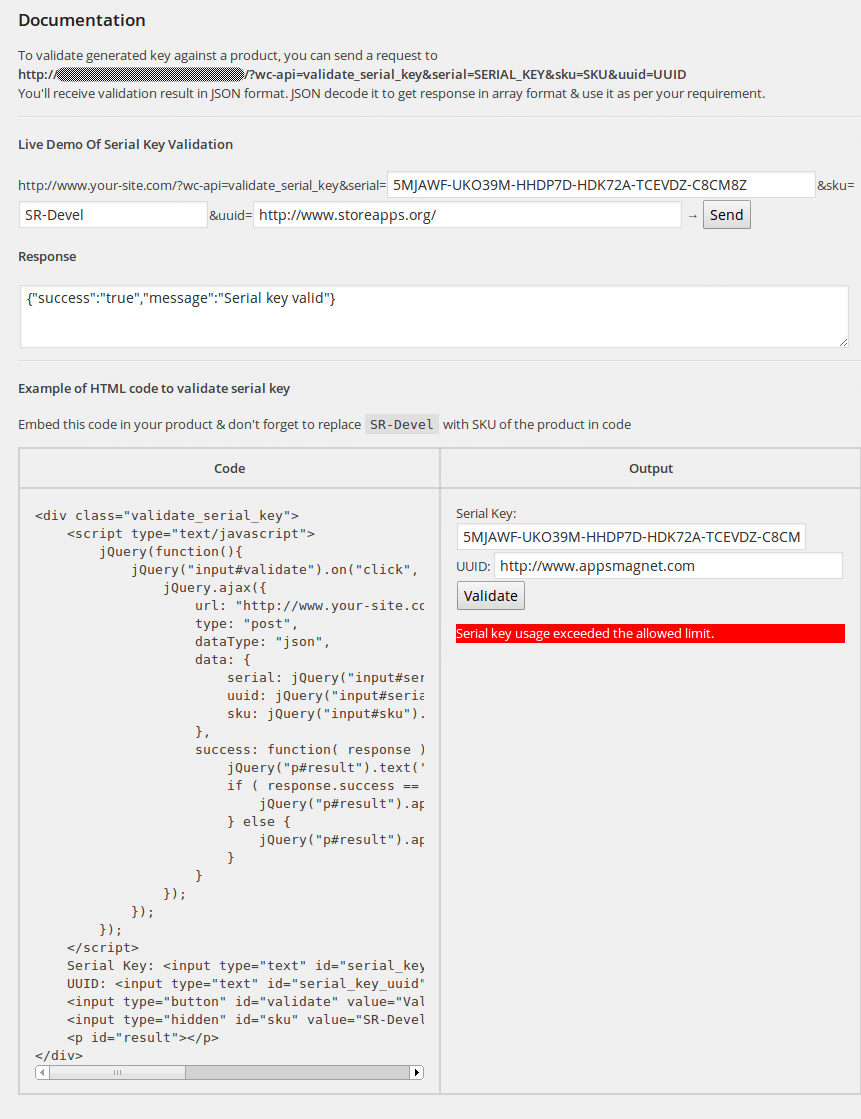 Please choose how many sites you'd like to use WooCommerce Serial Key on and Order Today.
You'll get instant access to the product.

Changelog
2016.12.26 - version 1.7.9
 * Fix: Serial Keys not visible on Downloads Tab on My Account page for WooCommerce Subscriptions products (version 2.0+)
 * Update: POT file

2016.11.14 - version 1.7.8
 * Fix: Serial Keys not visible on Downloads Tab on My Account page if WooCommerce version is 2.6.5+
 * Update: POT file

2016.10.10 - version 1.7.7
 * Update: Important changes related to Automatic Updates of this plugin
 * Update: POT file

2016.08.04 - version 1.7.6
 * New: Fastest access to documentation in admin panel through Quick Help widget
 * Fix: Showing error "Download has expired" for valid serial key as well
 * Update: Carry forward UUIDs from previous orders to new order
 * Update: During serial key validation, consider all previous UUIDs as well

2016.06.20 - version 1.7.5
 * New: Tested upto WooCommerce 2.6+
 * Update: Serial Keys are now visible on Downloads Tab on My Account Page (WooCommerce 2.6+)
 * Update: Added compatibility files for WooCommerce 2.5 & WooCommerce 2.6
 * Update: Minor changes in upgrade file
 * Update: Changes on Welcome Page
 * Update: POT file

2016.05.26 - version 1.7.4
 * Fix: Upgrade file - Un-necessary calls for latest update on every background process
 * Update: Minor jQuery change for social links styles on plugins page
 * Update: Upgrade file - Update plugin's download url if required
 * Update: Removal of PHP notices generated from upgrade file
 * Update: Additional filter for modifying validation response

2016.01.27 - version 1.7.3
 * New: Tested up to WooCommerce 2.5
 * New: Sample CSV file for importing Serial Keys
 * Update: CSS tweaks for Welcome Page
 * Update: POT file

2015.12.10 - version 1.7.2
 * Fix: Important fix related to WordPress 4.4, in StoreApps Upgrade file

2015.08.13 - version 1.7.1
 * New: WooCommerce 2.4 compatible
 * Fix: Generating a new serial key for every completion of same order
 * Fix: Not generating a new serial key for previously created orders
 * Fix: Not showing count of remaining serial keys in email notification
 * Update: Updated POT file

2015.08.01 - version 1.7
 * New: Import CSV file containing predefined Serial Keys
 * New: Welcome Page
 * New: Text Domain & Language loader
 * Fix: Fatal error: Call to undefined function get_status() on non-object

2015.02.20 - version 1.6
 * Update: WooCommerce 2.3 Compatible
 * Update: Made meta data protected which are added from Serial Key
 * Fix: Removed unnecessary warnings from 'Manage Serial Key' page

2015.01.02 - version 1.5
 * New: Easily generate serial key from within Order admin page, if not generated already
 * New: Update existing serial key from Order admin page

2014.11.10 - version 1.4.1
 * Fix: Error message on My Account & Order completed page when there is no serial key

2014.09.22 - version 1.4
 * Update: WooCommerce 2.2 Compatible
 * Fix: Minor fix related to Serial Key usage limit

2014.05.15 - version 1.3.4
 * Fix: Serial key validating for any sku

2014.04.16 - version 1.3.3
 * Update: Important update related to 'update notification' of the plugin

2014.04.10 - version 1.3.2
 * Fix: Minor fix related to non-generation of serial key

2014.04.04 - version 1.3.1
 * Fix: Important fix related to plugin updates

2014.03.18 - version 1.3
* New: Feature to track & limit serial key usage

2014.02.14 - version 1.2
* Update: WooCommerce 2.1 compatibility

2013.12.18 - version 1.1
* Update: Set expiry of Serial Key based on order completion date & product's download expiry setting

2013.10.30 - version 1.0
* First Release