WooCommerce Update Variations In Cart
Let your users change product variation directly from the cart
WooCommerce Update Variations In Cart is an amazing extension that allows customers to change product variation attributes in cart itself.For example, customer buying a t-shirt can change the colour, size, pattern or any other attribute right from the cart – without disrupting the flow!

If you don't have this extension and your customer wants to purchase a different variant of a product, then he will have to go through this procedure-
First remove that product from cart
Then again visit that product's page
Select desired variant
Add it to cart again
This above process is tedious, time consuming and might just lose a sale for you.
WooCommerce Update Variations In Cart, is here to make your customer's life a lot easier. Add this great add-on to your WooCommerce store & give your customer 'power to change variation in cart'.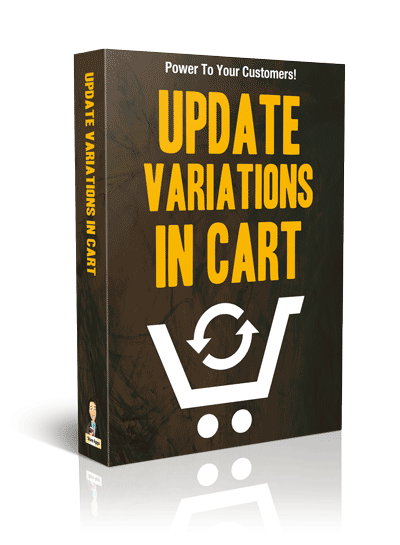 It's a powerful add-on for your WooCommerce powered store, as it allows your customer to change variations of multiple products in cart on click of a link.
---
Feature Highlights
Easier in installation, no additional settings, just install and activate.
Automatically enable 'update variation' to all existing or new product variations
Powerful add-on as it allows changing variations of multiple products in cart with just one click.
Makes your customer's purchasing experience easier.
– like if a user has added a single year license and wants to change it to 5 years, he can do it from the cart itself.
Documentation
Follow this link: WooCommerce Update Variations In Cart – Documentation
Live Demo
Click on the button to visit live demo page:
---
Screenshots