WooCommerce Update Variations In Cart
Let your users change product variation directly from the cart
WooCommerce Update Variations In Cart plugin allows users to change attributes – be it for simple or variable subscription product from the cart itself without disrupting the user flow.
Update variations in cart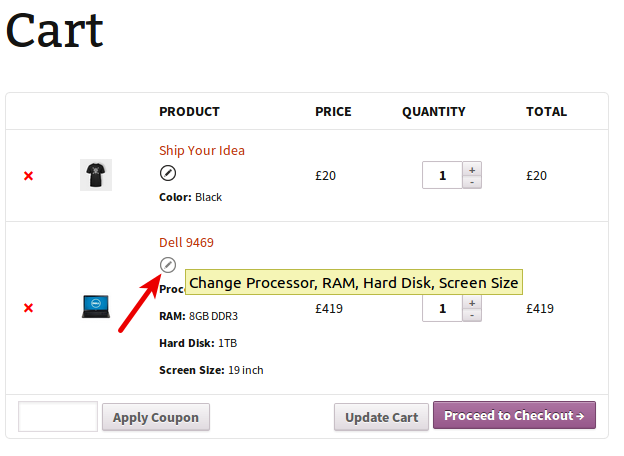 Variations updated in cart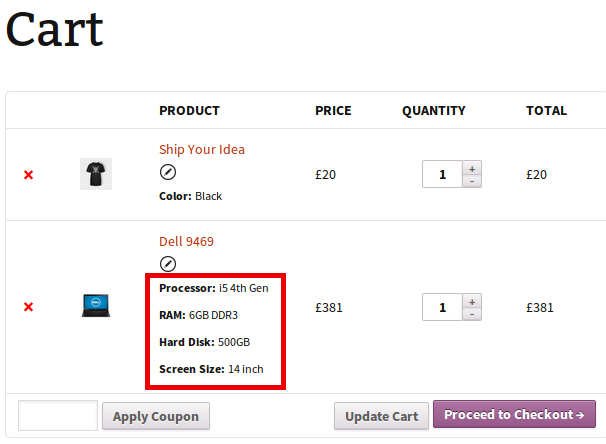 Never repeat this frustrating procedure for your visitors again
Customers are not sure of their purchase. They want to pick another color or size. They want to change their laptop processor or memory. Or they want to choose a multi-site subscription license instead of a single site. Infinite possibilities.
Now, if you don't have this WooCommerce Update Variations In Cart extension, your customer looking out for different product variant will have to go through this procedure-
First remove that product from cart
Then again visit that product page
Select the desired variant
Add it to cart again
Repeat the above steps if not satisfied
This above process is tedious, time consuming and might
This is also one major factor that contributes to cart abandonment.
WooCommerce Update Variations In Cart is here to make your customer's life a lot easier. It eliminates this tedious process and gives your customers the 'power to change variation in cart on click of a link'. Thus enhancing customer's shopping experience.
Feature Highlights
Easier in installation, no additional settings, just install and activate.
Automatically enable 'update variation' to all existing or new product variations.
Change variations of multiple products in cart with just one click.
– like if a user has added a single year license and wants to change it to five years, he can do it from the cart itself.
Documentation
Follow this link: WooCommerce Update Variations In Cart – Documentation