Create & Price WooCommerce Variations in Bulk
WooCommerce Bulk Variations Manager lets you create thousands of product variations and set differential prices based on attributes. It puts time and peace back in your life!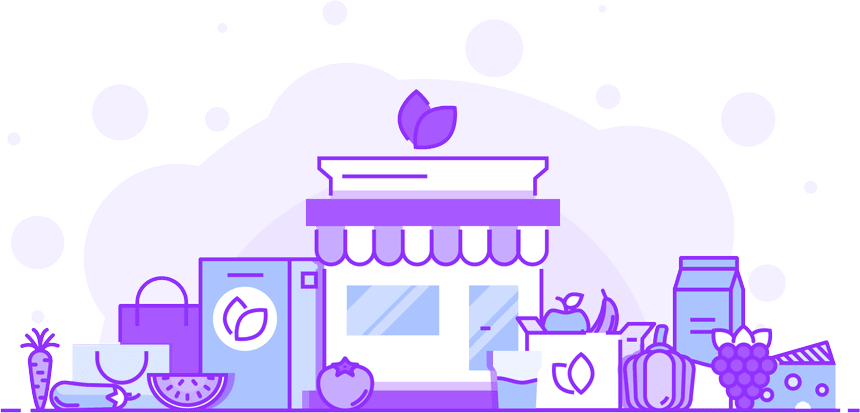 Creating and managing product variations is a complex and time consuming process! WooCommerce can create variations from product attributes, but the process is slow, and you still have to set prices one by one.

Bulk Variations Manager for WooCommerce simplifies the process, speeds it up and takes away burden of your shoulders.

If you want to create product variations based on a set of attributes using differential pricing or update prices across all variations, this is going to be a life saver for you!
---
See it in action…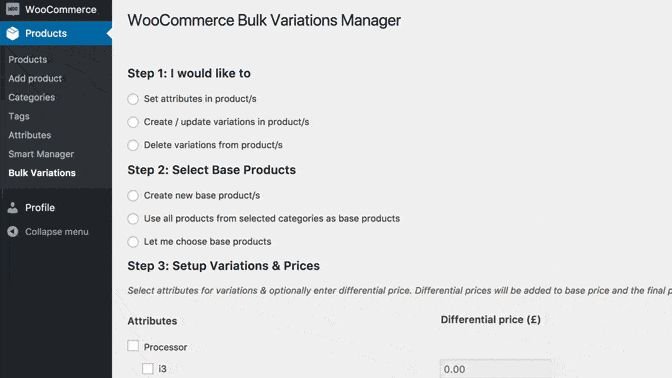 Here's what you get…
Quickly create new products and their variations in WooCommerce
Use differential pricing – for example, set base price to be $14.50, add $3.50 for Medium size, reduce $0.50 for white color…
Update prices and variation combinations for multiple products at once
Simple and that even non techies can use!!
Can create / apply variations on entire categories or selected products
Add or set attributes in variation products
Delete variations from products based on attributes
---
Try Live Demo or Read the documentation to learn more.
---
Thousands of WooCommerce product variations in minutes, hours of saved efforts…
Huge time savings – you can create thousands of variations quickly with this plugin. Nothing comes even close to such time savings.
Mass update variation prices with accurate calculations – use differential pricing to change variation prices in bulk. Say goodbye to calculation mistakes and errors
Ongoing use – this plugin not only creates product variations, it can also change their prices – or delete variations.
---
Saved me hours upon hours of time in creating products and variations
I've been using Bulk Variations Manager for the past year and a half and it's saved me hours upon hours of time in creating products and variations for my shop. In the few times that I've run into problems, Ratnakar responded very quickly and was always willing to go the extra distance required to get things up and running again. I would recommend the BVM plugin without hesitation. Thanks!
Changelog
*** Bulk Variations Manager Changelog ***

2017.01.12 - version 2.2.6
 * Fix: Un-neccessary error "No attributes found" due to unmatched column collation

2016.10.10 - version 2.2.5
 * Update: Important changes replated to automatic updates of this plugin

2016.08.05 - version 2.2.4
 * Update: Improvements in Quick Help

2016.07.18 - version 2.2.3
 * Fix: Sometimes created product variations shows "This product is currently out of stock and unavailable"
 * New: Inline Quick Help available when you are working with the plugin

2016.06.16 - version 2.2.2
 * Fix: Remove 'New product row' button not working
 * Fix: StoreApps Upgrade file - many unwanted requests generating even in background process
 * Update: Tested for WooCommerce 2.6
 * Update: Minor change in help tip for products field under "Let me choose base products"

2016.05.06 - version 2.2.1
 * Fix: Fatal error - 'continue' is not used inside loop
 * Update: Minor change in CSS for social links on plugins page
 * Update: Removal of warnings & notices generated from StoreApps Upgrade file

2016.03.25 - version 2.2
 * New: Feature to check compatibility for high speed method
 * Update: Show product count in each category
 * Update: Improvements in Welcome page
 * Update: FAQs

2015.12.10 - version 2.1.2
 * Fix: Important fix related to WordPress 4.4, in StoreApps Upgrade file

2015.10.06 - version 2.1.1
 * Update: Compatibility with variation price caching of WooCommerce 2.4.7

2015.09.21 - version 2.1
 * New: Text Domain & Language loader
 * New: Filter to load required attribute
 * Fix: Synchronization of progress bar with actual process (Earlier method)
 * Fix: Sometimes unable to create backup file (Default method)
 * Update: Make texts translatable
 * Tweak: Security improvements

2015.08.13 - version 2.0.1
 * Update: WooCommerce 2.4 compatible

2015.06.04 - version 2.0
 * New: Add, Update or Remove attributes from product
 * New: Delete variations
 * New: Select & deselect all categories
 * New: Welcome page to know more about Bulk Variations Manager
 * Update: Setting to make stable version 'default'

2015.02.25 - version 1.9
 * Update: WooCommerce 2.3 compatible
 * Update: Support for PHP version lower than 5.3

2014.10.25 - version 1.8
 * Fix: Variations not creating, giving warnings 'Syntax error' or 'Undefined variable'
 * Update: Search for even draft product under 'Let me choose Base Products'

2014.09.25 - version 1.7
 * Update: WooCommerce 2.2 compatible

2014.06.19 - version 1.6
 * Update: UI & Performance improvement

2014.04.16 - version 1.5.2
 * Update: Important update related to 'update notification' of the plugin

2014.04.04 - version 1.5.1
 * Fix: Important fix related to plugin updates

2014.02.14 - version 1.5
 * Update: WooCommerce 2.1+ compatible

2013.12.25 - version 1.4
 * Update: Reduced CPU consumption by 50%
 * Update: Moved progress in page title

2013.12.02 - version 1.3
 * Update: Added progress bar
 * Update: Improved performance
 * Update: New class for upgrade

2013.09.06 - version 1.2
 * Fix: Update variation not working correctly

2013.09.04 - version 1.1
 * New: Inherit access privilege from Smart Manager
 * New: Links for Demo & form to contact us directly
 * Update: Notifications from the plugin

2013.08.28 - version 1.0.1
 * Fix: Price fields doesn't allow decimal value

2013.08.15 - version 1.0
 * First release