Create & Price WooCommerce Variations in Bulk
WooCommerce Bulk Variations Manager lets you create thousands of product variations and set differential prices based on attributes. It puts time and peace back in your life!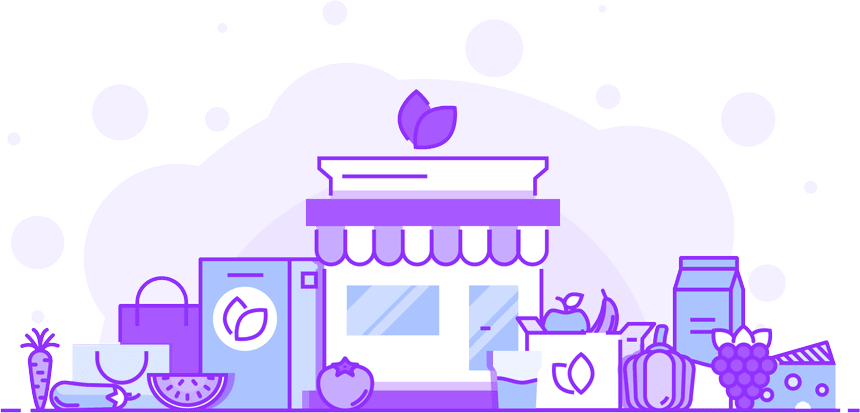 Creating and managing product variations is a complex and time consuming process! WooCommerce can create variations from product attributes, but the process is slow, and you still have to set prices one by one.
Bulk Variations Manager for WooCommerce simplifies the process, speeds it up and takes away burden of your shoulders.
If you want to create product variations based on a set of attributes using differential pricing or update prices across all variations, this is going to be a life saver for you!
---
See it in action…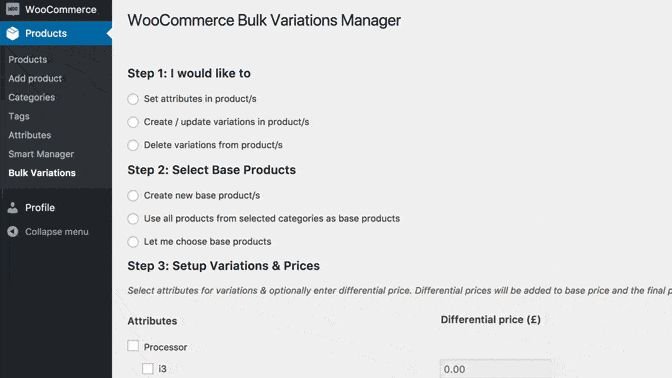 Here's what you get…
Quickly create new products and their variations in WooCommerce
Use differential pricing – for example, set base price to be $14.50, add $3.50 for Medium size, reduce $0.50 for white color…
Update prices and variation combinations for multiple products at once
Simple and that even non techies can use!!
Can create / apply variations on entire categories or selected products
Add or set attributes in variation products
Delete variations from products based on attributes
---
Try Live Demo or Read the documentation to learn more.
---
Thousands of WooCommerce product variations in minutes, hours of saved efforts…
Huge time savings – you can create thousands of variations quickly with this plugin. Nothing comes even close to such time savings.
Mass update variation prices with accurate calculations – use differential pricing to change variation prices in bulk. Say goodbye to calculation mistakes and errors
Ongoing use – this plugin not only creates product variations, it can also change their prices – or delete variations.
---
Genius contribution to create high number of variations in WooCommerce
My client carries business cards with high variations that result in 2000 combinations of variation for each product. It was literally impossible to use all variations on the website without Bulk Variation Manager Plugin! I appreciate StoreApps Genius team contribution to that.
The support team is very thoughtful and considerate. Ratnakar, a very friendly member of the team, was working remotely with me after their working hours to help me solve my problem.
Mona Salehi
Freelance Web developer
Lots of Variations? – Must Have Plugin – Bulk Variations Manager

My Company was started in 2009 and has grown over the years. Using WordPress/WooCommerce I built the website. The one issue I had is that, being 'Custom Made' products I needed to give my customers lots of options/variations. Some products having over 1500 variations/combinations. Within WooCommerce, although allowing the regular price to be set, all additional attributes/prices had to be added manually. As you can imagine this took hours to add each combination with its own price for each product. I then found the Bulk Variations Manager WordPress plugin by StoreApps which allows you to set the regular price, add an additional price for each attribute and at the click of a button all the prices for variations/combinations are calculated automatically. This saves hours and hours of work.
After using the plugin Bulk Variations Manager for a few years it suddenly stopped working. I contacted Support and they were very patient with me and realized how important this plugin was to the smooth running of my website and allowing me to add new products. After trial and error, it was found that certain settings needed to be upgraded in PHP, particularly the php_max_vars_input setting. It is now working brilliantly and it is much faster than previously when you add variations from all attributes.
Thank you to the team at StoreApps for helping to ensure Bulk Variations Manager is now working smoothly and I really don't know how I could continue with my business without it.
Helpful
Ratnakar has helped with multiple issues that I was facing.
He made completion of my product possible.
Top notch plugins & support
The StoreApps plugin and support are top notch. Great response time and a great product.
Saved me hours upon hours of time in creating products and variations
I've been using Bulk Variations Manager for the past year and a half and it's saved me hours upon hours of time in creating products and variations for my shop. In the few times that I've run into problems, Ratnakar responded very quickly and was always willing to go the extra distance required to get things up and running again. I would recommend the BVM plugin without hesitation. Thanks!
Really fast generating multiple attributes and variations in few seconds
We bought Bulk Variations Manager for our client who sells highly customizable ergonomic chairs. The plugin was really fast generating the multiple attributes and variations for these chairs. Additionally the StoreApps support was great as there was some compatibilty issue between the plugin and our database configuration. The staff at StoreApps quickly found a work around. I highly recommend this plugin if you need to manage products with multiple attributes and variations. Bulk Variation Manager generated 200+ variations in a few seconds.
Recommended for anyone wanting to sell complex variable products on WooCommerce
If you're selling shirts with a few different colours and sizes, WooCommerce's variations feature will be fine, but we're selling PCs with a list of attributes that results in over 12,000 possible combinations. We had to do a bit of tweaking to our web server's memory limits, but the Bulk Variations Manager has enabled us to create and maintain as many combinations as we want and apply different attributes to different products. We would recommend this plugin to anyone wanting to sell complex variable products on WooCommerce.
WooCommerce Bulk Variations Manager is an Awesome plugin
WooCommerce Bulk Variations Manager is an awesome plugin! I highly recommend it to anybody who has over 50 variations per product. Originally my copy of the plugin didn't work, but the Store Apps support is
amazing and they had the problem fixed within a week and now it works awesome!
Bulk Variations Manager – Wonderful Plugin, Huge Time Saver
We were able to import multiple product attributes on hundreds of products at once and in a matter of minutes. When we had questions, support responded in less than 24 hours in a very kind and helpful way. We definitely recommend this plugin as it just works and it does what is says it does 🙂 Big thanks to the people behind this team!
Can easily create thousands of variations during few minutes

The support we have received from Store Apps has been outstanding.
We faced an issue with creating a huge amount of variations using their "Bulk Variations Manager" plugin. They offered us to look through our administrations settings and they send several detailed instructions with screen shots etc. Together we solved the issue and we couldn't have asked for a better support. The "Bulk Variations Manager" plugin is by the way, a fantastic addition to WooCommerce and we can easily create thousands of variations during few minutes
Incredible Resource – Bulk Variations Manager

I have found Ratnakar at Storeapps an incredible helpful resource. I wasstruggling with complex Woocommerce variations which he trialed and tested and showed me step by step with graphics. I will most definitely be purchasing the Bulk Variations Manager Plugin. It is not often that you find both an excellent product AND superb customer service. I can recommend them to anyone