Express Login For WordPress
Create secure, auto-login URLs

for WordPress & WooCommerce
This WordPress login plugin allows you to create secure, auto-login links for any user, without the need for a username and password and redirect them to the page you want.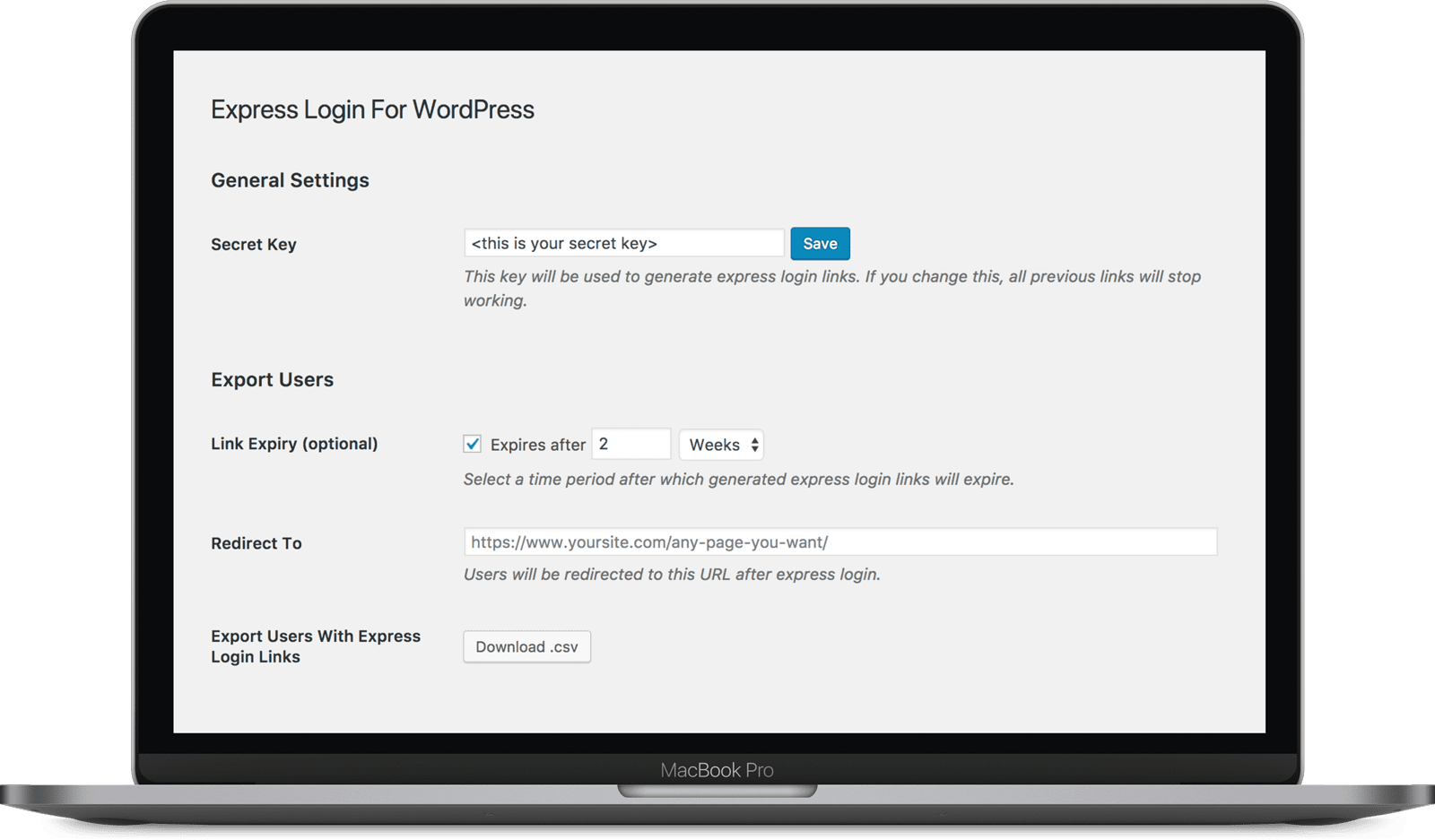 Friction-free WordPress login without username and password…in just one-click
Keeping track of so many usernames and passwords can be frustrating for anyone. Not to mention entering those details each time you log in.
Moreover, if the user forgets the password, it's a nightmare to reset it. There are a lot of hassles associated with password creation criteria and password breaches.
Now, this is not users fault as well. It's the digital era and we are subscribed to or using so many digital products – net banking, web development, etc. It's impossible to remember so many usernames and passwords. And of course, the login is the main medium to your website's admin area. You need to make it secure while making it easy for users to log in.
So what if this entire complicated process gets replaced using a very simple process? Instant, automated and in one-click?
That's what StoreApps' WordPress login plugin called Express Login helps you achieve. The plugin lets you generate a secret link that users can click on to log into your WordPress or WooCommerce site automatically. They'll never have to remember their username or password again! Simple and easy-to-use WooCommerce URL-based login plugin.
Secret key to generate login URLs

The plugin allows you to set a secret key using which it generates secure WordPress login URLs for the customers to log in.

Take full control of the login

You can set a validity period for these auto login URLs so they will automatically expire after the time lapses.

Redirect after login to any page on WordPress / WooCommerce

Not just one-click login, but you can also redirect users to any page you want using the login links. Be it a blog post, WooCommerce product page or other pages, the process is seamless.

Export links and use them in your email service

Export a CSV file of all or selected users with their login links and send those links via email. Use your favorite email/newsletter service if you wish, and merge the express login link wherever you want.
Simple to use WordPress login plugin
Using this WordPress login plugin is a cakewalk. Install and activate the plugin and you are good to go. No coding required whatsoever. Generate secret key, set expiry, enter redirect URL, select users and export. That's it.
Redirect after login to page, post, checkout…wherever you want
As said, be it any page, post on your WordPress site or WooCommerce store, you can redirect users using the auto-login URLs. For example – If you want to redirect users to 'My Account' page, simply enter https://www.yoursite.com/my-account/ in the plugin settings . Just one click and they are on!
Redirect to cart or checkout for immediate payment with coupon applied
Your users know about your product and they are simply waiting for the discount. They come to your product page, add them to the cart, then apply the coupon. Why follow this tedious procedure?
Instead, use the Express Login plugin to directly redirect users to the checkout page with the coupon applied so that they directly pay for the product. Simple and efficient. The plugin allows you to place a 'Buy Now' link with a coupon. For example – https://www.yoursite.com/checkout/?coupon-bfcm
To enable the above functionality, you need to use our WooCommerce Buy Now plugin.
Redirect to hidden areas on your WooCommerce store or WordPress site
Allow customers to click on a URL to instantly log into a hidden page of your website that no one else can see. This is perfect for directly redirecting a user to an exclusive product page, theme or plugin.
Note – This plugin won't restrict users from accessing other pages based on their roles.
The fastest method to login into your customers' account
You can quickly login into your customer's account and see how your product or website is performing. Example – If you simply need to check how a new feature is performing for a user, simply click on the 'Copy' option. Open this copied link in either the private mode of the browser or open it in another browser to log into your customer's account.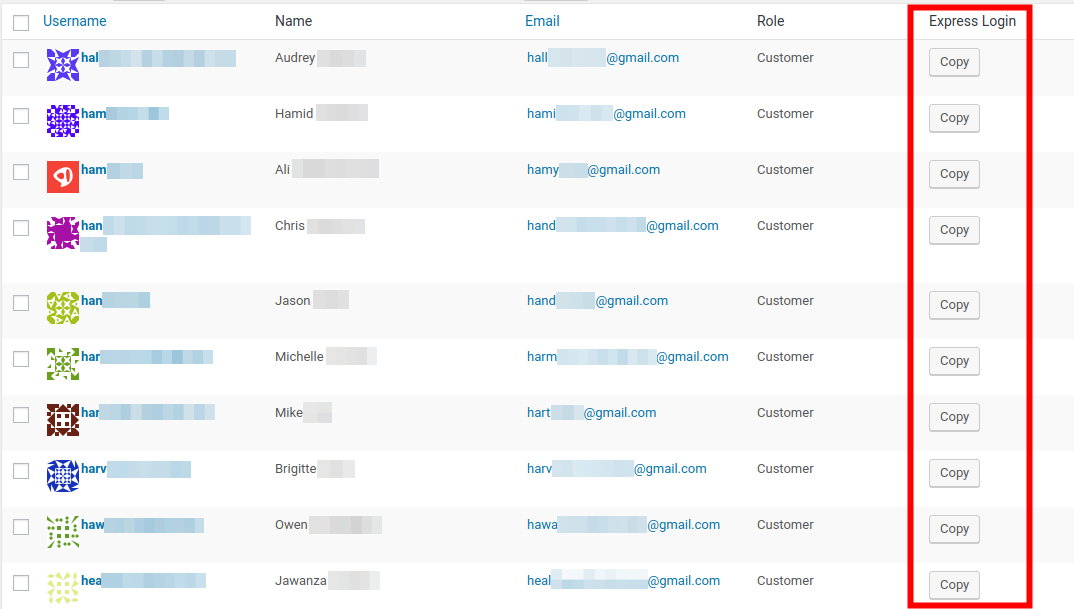 Direct integration with MailPoet
Our plugin directly integrates with MailPoet email marketing service. This will enable MailPoet customers' customers to directly log in to a particular page from the link in the newsletter or email without the need of a username and password.
Best use cases of WordPress Login links – Who needs the most
Redirect users after successful logins with this plugin. Be it members, clients or any other user role, the plugin is flexible to meet all ends.
Administrator / Developer – A handful of websites hire developers to perform changes on their websites. They need access to your admin area. So, you can create a login link for them and redirect them to plugins/themes, etc. Set an expiry time so that the account is disabled when the job is done.
Shop Manager – A shop manager needs to track the daily activities of your WooCommerce store. You can redirect them to inventory/stock management pages directly.
Subscriber / Customer – A subscriber/customer can need help anytime from you if they get stuck or are in search of some updates. Let them get redirected to the support page or the 'My Account' page.
Author / Editor – You may need to hire an author to write a blog article for your site or an editor to review your work done. Redirect them to blog posts or pages.
So don't let users scratch their heads for usernames and passwords. And don't fear security issues. This plugin is safe and secure and uses WordPress' best coding practices. Buy the plugin now!
FAQ
Is WooCommerce required to use this plugin for WordPress sites?
Not at all. You can use this for plugin on your WordPress sites without installing WooCommerce. The plugin works for both WordPress sites and WooCommerce stores.
Can I use the plugin to log users into a hidden WooCommerce page or product?
Yes. The plugin creates an auto-login URL that allow users to directly log in to the hidden pages or products.
Does the plugin have a feature to choose multiple login URLs for each user in one go?
No. The plugin provides you an option to generate the same redirect link for multiple users in one shot. For multiple redirect links for the same user, you need to repeat the process.
How secure are auto-login URLs?
As you are allowing specific users to click a link to automatically login to their account on your WooCommerce website, it seems a safe option. However if you find someone misusing it, just change the secret key. But this will disable all previously generated express login links.
What plugins is Express Login compatible with?
Compatible with top WooCommerce and WordPress plugins. Should not face any conflict because it follows the strict WordPress & WooCommerce guidelines.
Does this WordPress login plugin provide limited access to users based on their roles?
No. The plugin will redirect users to a link but they will have access to other pages based on their user role.