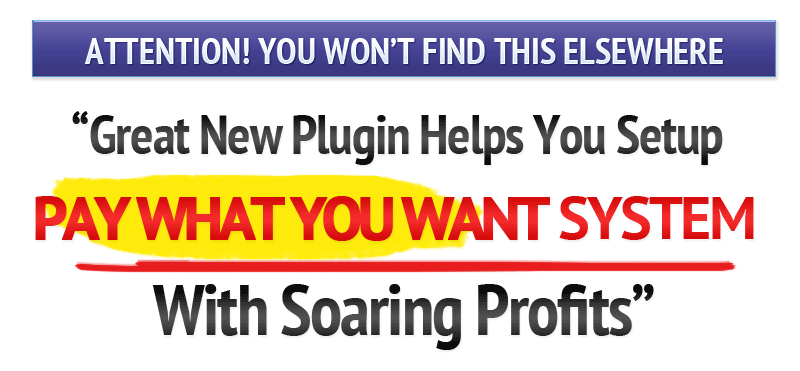 Everyone loves a good deal. And when you have the freedom to choose what to pay for a product, things get even better! Offer Your Price lets you create a "pay what you want", "name your own price" or "donation based" pricing system. Customers can either buy at the listed price or make an offer. If offered price is higher than the minimum bidding price threshold you've set, offer is accepted and customer is emailed a coupon immediately. If not, a counter offer is sent to the customer. Everything is instant and automated. Set it once and let the cash registers roll!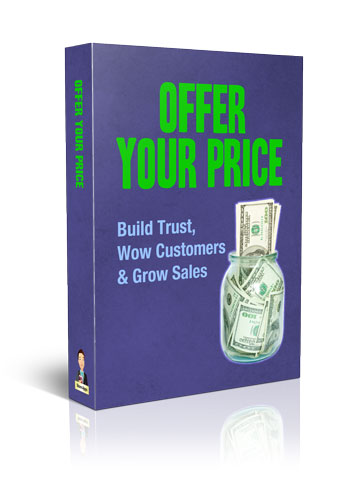 Use "Offer Your Price" to
Grow Sales
The opportunity to get a desired product at lower price triggers instinctive actionStay Profitable
Unlike typical "Pay What You Want" systems, Offer Your Price lets you set a hidden minimum price. This removes your risk of making losses…
Make Customers Happy
Eliminate fear and buyer's remorse, let customers feel in control

Build Trust
Participative pricing and instant response and coupon deliver instant gratification to customersTest and Validate Pricing
You'll immediately find out what price customers are willing to pay. You can then decide final pricing based on actual data – rather than a hunch!Accept Donations / Charity
Members can contribute any amount they want, as long as it's higher than your set minimum

Crowdfunding
Let people fund your new idea – Offer Your Price does not offer all the bells and whistles of a full blown crowd funding system, but can still be used as a simple alternativeBest Price
If a customer offers a price that is too low, he is automatically given the lowest price as counter offer.Stop Nosy Negotiators
A customer may make only one offer for the product. If he tries to make another offer, he will be sent the result of the original offer itself.
"Offer Your Price" in action
[slideshow]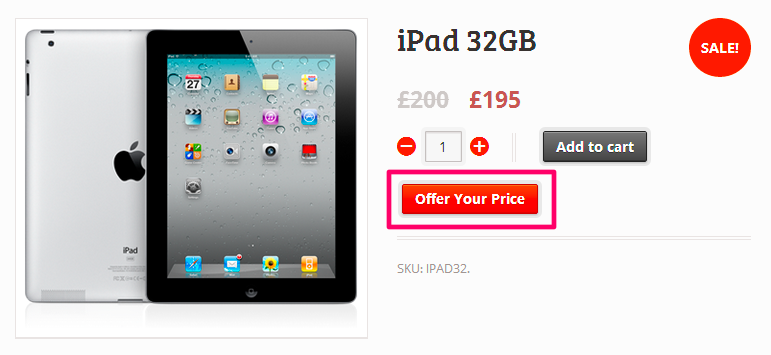 Customer comes to the product page, likes the product, but does not want to pay the listed price. He clicks on the 'Offer You Price' button.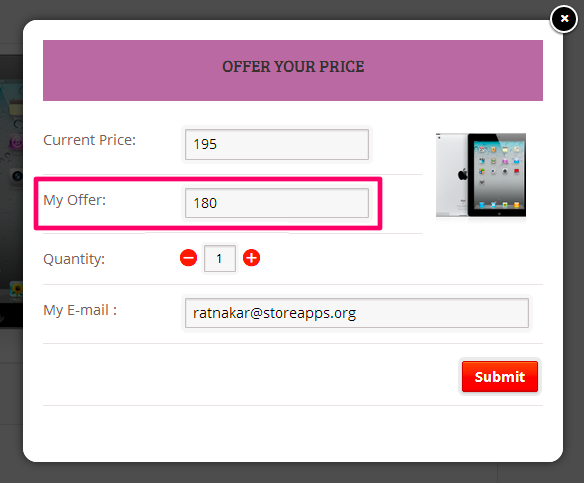 Customer sees the popup and enters his price in 'My Offer' field.

An acknowledgement message is shown.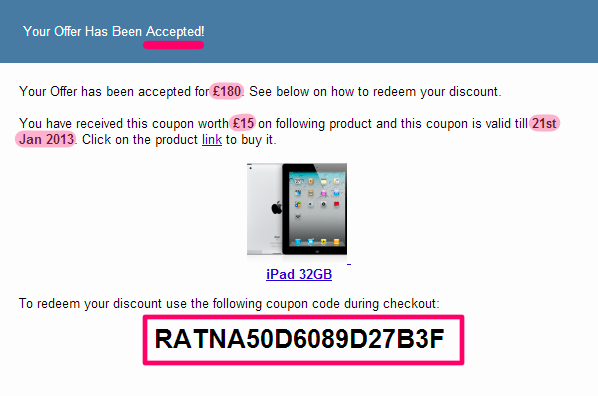 Offer Your Price processes the offer and instantly sends an acceptance email with coupon code to the customer.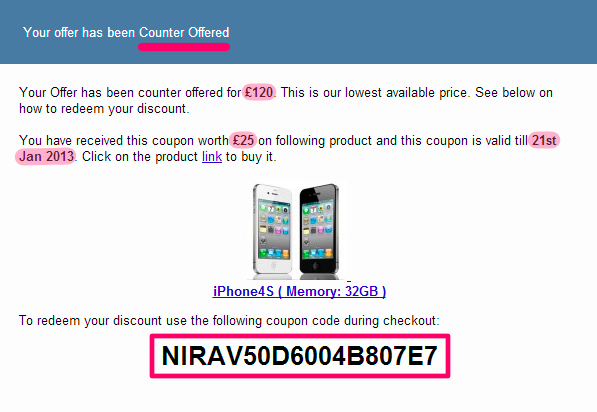 If the price was below minimum price, a counter offer is sent to the customer.[/slideshow]


Here's what Wikipedia
has to say about Pay What You Want systems:
Pay What You Want (PWYW) is a pricing system where buyers pay any desired amount for a given commodity, sometimes including zero. In some cases, a minimum (floor) price may be set, and/or a suggested price may be indicated as guidance for the buyer. In cases, the buyer can also select an amount higher than the standard price for the commodity.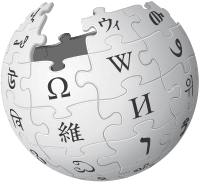 Giving buyers the freedom to pay what you want may seem to not make much sense for a seller, but in some situations it can be very successful. This is because it eliminates many disadvantages of conventional pricing. It is obviously attractive to buyers to be able to pay whatever they want, for reasons that include eliminating fear of whether a product is worthwhile at a given set price and the related risk of disappointment or "buyer's remorse". For sellers it obviates the challenging and sometimes costly task of setting the "right" price (which may vary for different market segments).
Pay What You Want changes an adversarial conflict between seller and buyer into a friendly exchange, and addresses the fact that value perceptions and price sensitivities can vary widely among buyers.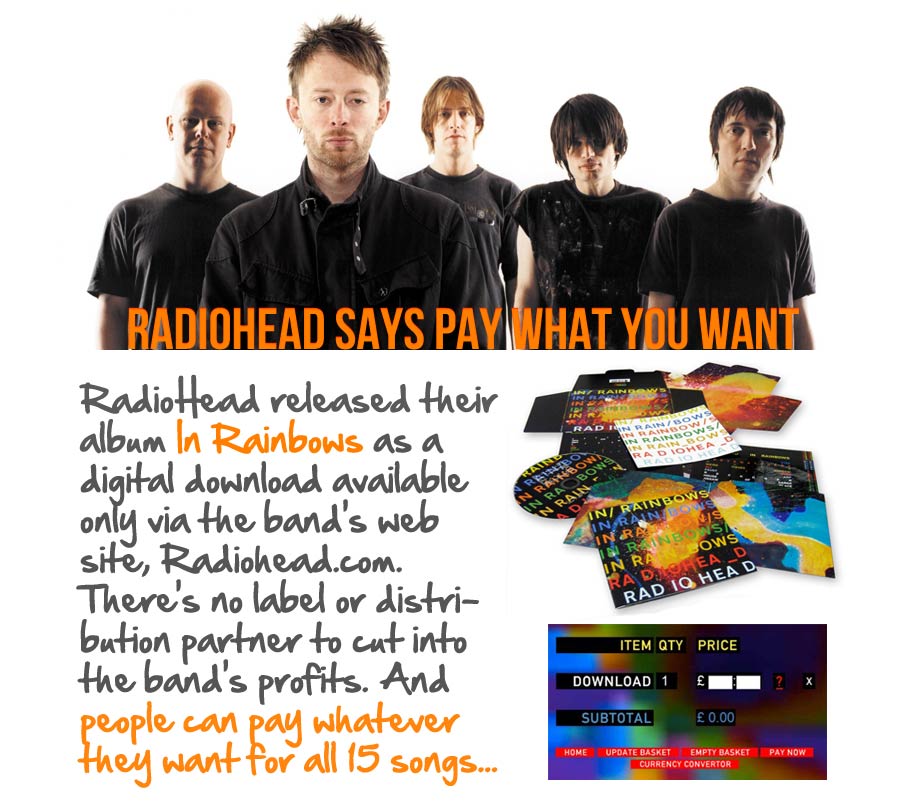 This pricing strategy may also be referred as pay as you wish, participative pricing, service pricing or voluntary contributions.

Features
Flexible pricing system
Allows you to set a minimum amount that you are willing to accept
Link Offer Your Price to any product type
Minimum amount is hidden from customers
Accepts customer offer or makes counter offer via email automatically
Generates coupon with discount amount (product price minus offer price) automatically
Customize the text of the "Offer Your Price" button
Add a validity period for the coupon being generated
Set rules to offer varying discount rates for different product price ranges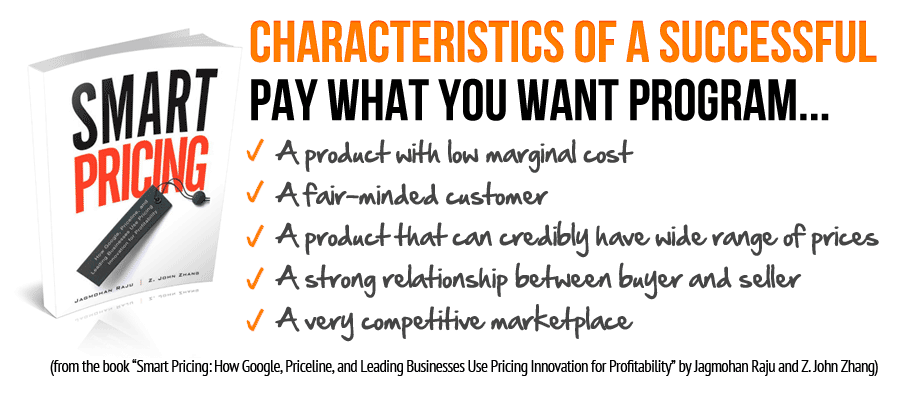 Documentation
Click here to view the documentation and get answers to frequently asked questions.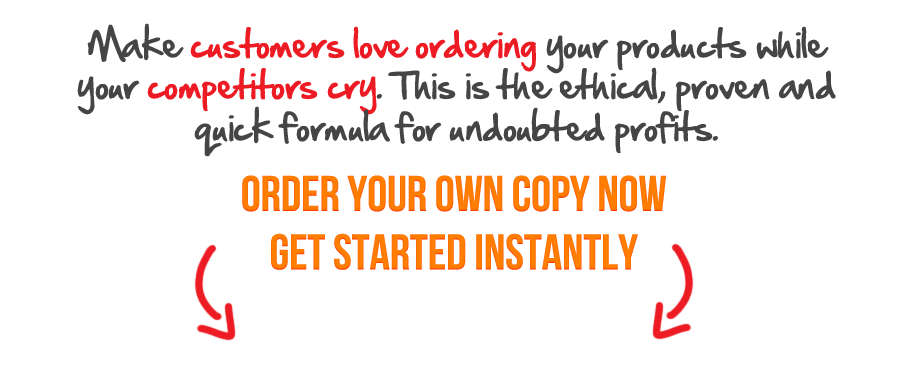 Changelog
*** Offer Your Price Changelog ***

2016.10.10 - version 2.9.10
 * Update: Important changes replated to automatic updates of this plugin

2016.08.05 - version 2.9.9
 * New: Fastest access to documentation in admin panel through Quick Help widget

2016.06.20 - version 2.9.8
 * New: Tested upto WooCommerce 2.6+
 * Fix: Upgrade file - Unnecessary calls for latest update on every background process
 * Fix: Incorrect toggle of offer your price checkbox was checked for variable products
 * Update: Added compatibility files for WooCommerce 2.5 & WooCommerce 2.6
 * Update: Minor jQuery change for social links styles on plugins page
 * Update: Upgrade file - Update plugin's download url if required
 * Update: Removal of PHP notices generated from upgrade file
 * Update: Text correction in few places
 * Update: POT file

2016.02.02 - version 2.9.7
 * New: Tested up to WooCommerce 2.5
 * Update: POT file

2015.12.10 - version 2.9.6
 * Fix: Important fix related to WordPress 4.4, in StoreApps Upgrade file

2015.09.06 - version 2.9.5
* Update: Minor change in upgrade file

2015.08.31 - version 2.9.4
* Fix: Selected variation name not displaying in Offer Your Price form.

2015.08.17 - version 2.9.3
* Fix: Fatal error when updating the plugin

2015.08.13 - version 2.9.2
* Update: WooCommerce 2.4 compatible
* New: Text Domain & Language loader
* Fix: Does not allow to store empty values for storewide Discount Rules.
* Tweak: Minor changes in css

2015.05.27 - version 2.9.1
 * Update: Support for overriding form template of Offer Your Price
 * Update: Link for Offer Your Price settings on plugins page

2015.04.03 - version 2.9
 * Fix: Incorrect expiry date for coupons & in email
 * Update: Replaced FancyBox Popup library with Magnific Popup library
 * Tweak: Change validation logic for the "Sold Individually" products 
 * Tweak: JavaScript

2015.02.26 - version 2.8
 * Update: WooCommerce 2.3 compatible
 * Update: Minor changes in javascript

2015.01.22 - version 2.7
 * Update: Support for PHP version lower than 5.3
 * Update: Changed global name of Offer Your Price from $offer_your_price_coupon to $offer_your_price
 * Fix: Sometimes default quantity in Offer Your Price from is zero (create quantity field based on stock)

2014.12.24 - version 2.6
 * Update: Changes in User Interface
 * Update: Minor changes in javascript
 * Update: Hide Offer Your Price custom fields from product admin page
 * Fix: Sometimes accepting offers even when rules were not found
 
2014.11.17 - version 2.5
 * Fix: 'Enable storewide?' not working even when it is set
 * Fix: Sometimes storewide Discount Rules not saving
 * Fix: Offer from customer is getting accepted even when there is no minimum value set
 
2014.10.16 - version 2.4
 * Fix: Offer actions for products which are either out of stock or doesn't exists
 * Fix: Product title of variations
 * New: Option to enable 'Offer Your Price' storewide i.e. on all simple & variable products
 * Update: Allow offered price to be more than product price

2014.09.25 - version 2.3
 * Update: WooCommerce 2.2 compatible

2014.07.15 - version 2.2.2
 * New: "Offer!" tag on offered products

2014.07.03 - version 2.2.1
 * Fix: Updates in Fancybox. It was conflicting with other Fancybox

2014.05.26 - version 2.2
 * New: Offers Received dashboard to manage duplicate and counter offers

2014.05.16 - version 2.1
 * Update: Offer Your Price popup now mobile compatible

2014.04.16 - version 2.0.3
 * Update: Important update related to 'update notification' of the plugin

2014.04.04 - version 2.0.2
 * Fix: Important fix related to plugin updates

2014.02.14 - version 2.0.1
 * Fix: Remove quantity field in offer popup for the "Sold Individually" products

2014.02.14 - version 2.0
 * Update: WooCommerce 2.1 compatible

2013.10.31 - version 1.2
 * Fix: Comatibility issue with WooCommerce Radio Buttons plugin
 * Added: Localization for Romanian language (Thanks to Balanean Corneliu)
 * Added: Class for plugin updates

2013.09.21 - version 1.1
 * Update: Compatibility with WordPress 3.6+
 * Update: Validation of Offer Your Price field, allow any amount including decimal points

2013.07.11 - version 1.0.2
 * Fix: Unexpected character generated while activating the plugin
 * Fix: Restricted 'Offer Your Price' button to product page
 * Fix: Removed unexpected php tag

2013.06.21 - version 1.0.1
 * Fix: Many fixes related to display & hide 'Offer Your Price' button for product variations
 * Fix: Removal of discount rule not working in global setting

2013.05.06 - version 1.0
 * First release