Save For Later For WooCommerce
Boost sales by
reminding visitors about their desired products
WooCommerce Save for Later plugin allows both guests and logged-in users to save items in their cart, persuading them to make an instant purchase.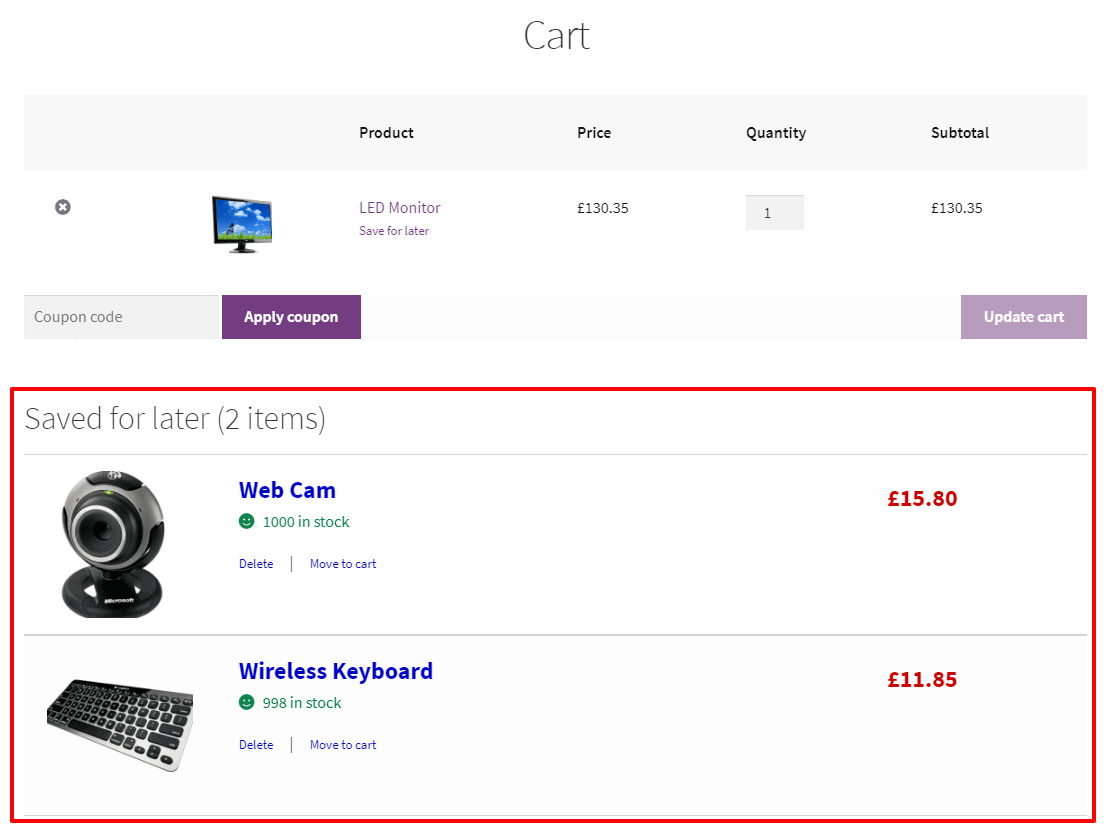 Boost conversions on your WooCommerce store using Amazon's Save for Later strategy
Visitors find their desired products on the site, add them to the shopping cart but don't complete the checkout.
Why? Look, they need that product. But they may either fall short of cash or they may want to review and compare prices with the competitors.
Many users abandon the cart this way and never return. That's a lost sale. But for those who return, why let them repeat the tedious browsing procedure again and invite further abandonment?
Amazon and other big sites, facing the same dilemma, devised an excellent strategy. They allow visitors to save cart products for later, thus preventing users from repeating the entire shopping procedure. All their saved items are already shown on the cart page, encouraging them to make a purchase immediately. A big conversion booster.
Therefore like Amazon, our WooCommerce Save for Later plugin helps you convert these visitors, giving them further opportunities to buy their desired items.
Instant and automated

Install the plugin and Save for Later will automatically get enabled on your WooCommerce store. No settings, no coding, no login / account required.

Use cart page like a wishlist

Guests and logged-in users can add / move / delete products from their cart to the Save for Later list and vice-versa…all from the cart page.

Save unlimited items for unlimited time

Visitors/customers can save any number of items, anytime. Even if they return after weeks or months, they will find their saved items.

Show saved items on an empty cart

Visitors and customers can see their saved items on the cart page even if it is empty. More so, they can also share saved items on social media.
How to use WooCommerce Save For Later plugin to reduce abandonment?
The plugin provides the easiest and most efficient way to let your users manage products in the cart. Save it for later or save now buy later.
The user, instead of deleting the product from their cart, can move it to a 'Save for Later' list by clicking the 'Save for Later' link, available right below the product title on the cart page. Thus saving their time in browsing the products again. Cart optimization you see!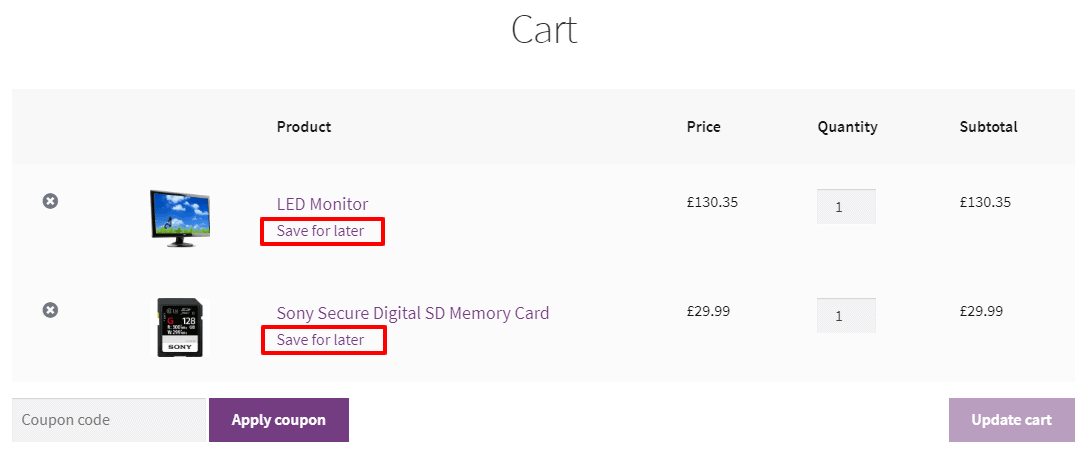 The cart page is also the most strategic page to close the deal. Therefore, the plugin shows the saved list just below the products in the cart. The benefit here is that the saved items by the customer/visitor will always be visible whenever he/she is purchasing another product. This acts like a little reminder of previously saved products, an unmissable "call to action" and converts them right away.
WooCommerce wishlist v/s Save for later – Why Save for Later has an upper edge?
A wishlist is basically a shopping bag in which customers store items they like. But don't want to buy them at the same time. Also, the users need to register to store items on the wishlist.
On the other hand, using Save for Later doesn't require pre-registration. Everything happens on the cart, nudging visitors continuously to buy saved items. Save for later also lets visitors save items in quantity.
Ready to boost your revenue 2X?
This is just another way for you to give your customers a better shopping experience and optimize the cart page. So don't let qualified visitors bounce off your website. Buy this WooCommerce Save For Later plugin today and see your sales soar.
FAQ
Can the plugin save cart for later?
Unfortunately, the plugin only saves items in cart and not the cart. However, users can manage their saved products from the cart itself – adding, moving, deleting to and from Saved list / cart.
Does this work with product variations and subscriptions?
Yes. The plugin works with product variations and also with simple and variable WooCommerce Subscription products.
Is Save For Later for WoCommerce plugin mobile responsive?
Yes. The plugin is mobile responsive.
Can the save for later option also show on the checkout page or product page?
No, the Save for Later link can only be displayed on the cart page.
Want more plugins having Amazon-like functionality?
(that automatically works on activation and boosts your conversions?)