Encourage visitors buy their desired products
Save For Later for WooCommerce
Use this WooCommerce Save For Later plugin to show visitors their saved items in cart persuading them to make an immediate purchase.
Using Amazon Save For Later strategy on your WooCommerce store
Visitors find their desired products on the site, add them to the shopping cart but don't complete the checkout.
Why?
They may either fall short of cash
They may want to review and compare prices with the competitors.
A product removed from cart or checkout, or visitor abandoning your WooCommerce store is a failed conversion.
The same happens on Amazon and other big e-commerce sites. So to convert these visitors, Amazon allows them to save their products for later in the cart.
Therefore, the next time visitor lands on the cart page, their favourite products are already shown to them as saved items, encouraging them to make an immediate purchase.
And to help you achieve conversions like Amazon, our WooCommerce Save For Later plugin is your best bet.
Why Save For Later For WooCommerce is your preferred bait to convert abandoning visitors?
StoreApps' Save For Later For WooCommerce plugin allows guests as well as logged in customers to remove product/products from cart and save it for later.
Visitors can easily move items from cart to saved list and from saved list to the cart. Thus saving customers time in browsing the products again.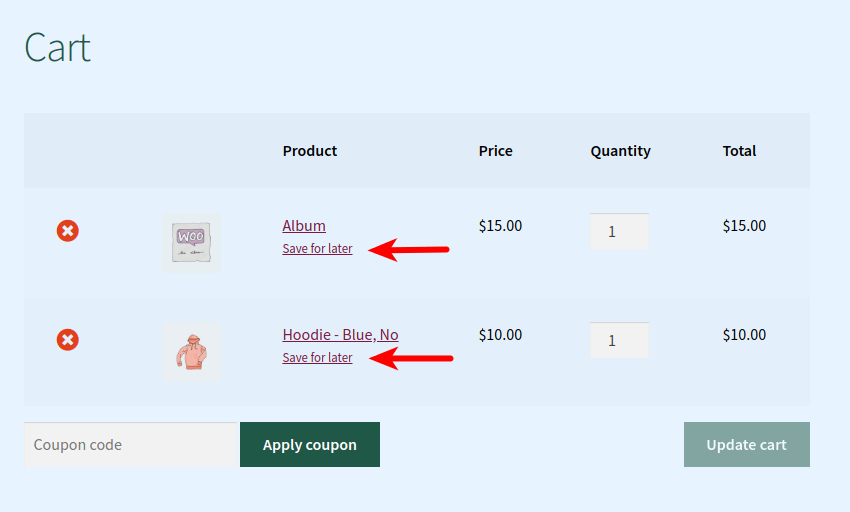 The user, instead of deleting the product from their cart, can move it to a 'Save For Later' list by clicking the "Save for Later" link which is available below the product title in the cart page.
The cart page is the most strategic page to close the deal. This plugin shows the saved products on the cart page as the customers are the most vulnerable here. A little reminder of previously saved products converts them right away.
Save For later vs wishlist – Why Save For Later has an upper edge?
Wishlist is basically a shopping bag which helps to store items which customer likes but don't want to buy at the same time. Also users need to register to store items to Wishlist.
On the other hand, using Save For Later doesn't require pre-registration. Everything happens on the cart, nudging visitors continuously to buy saved items. Save For later also lets visitors save items in quantity.
Powerful features
Guests as well as logged-in users can save unlimited products.
Absolutely no login required
No settings needed, instantly enabled on store.
Customers can buy their favourite products anytime
Move/Delete products from 'Save For Later' list
View current stock status and price of saved products
Send coupons from dashboard to encourage purchase of saved items.
Asks visitor for their email, when they are leaving, to informing about any offers in future.
Creates list of customer who have entered their email
Export list of visitors along with saved item
Dashboard for store admin to see interest of visitors
Reminder to store admin about status of saved items
Share saved items on social media
Show saved items on My Account page
Show save products even if the cart is empty
Mobile Responsive
Ready to boost your revenue 2X?
This feature gets enabled on your store instantly as soon as you activate the plugin. So don't let qualified visitors bounce off your website. Buy Save For Later For WooCommerce plugin today and see your sales soar.