Save For Later For WooCommerce
Reduce abandonment by encouraging visitors buy their favourite products
Don't let qualified visitors bounce off from your store.
Show them their saved products in cart persuading them to make an immediate purchase.
Why visitors slip just before making a purchase – The ugly truth
Visitors find their desired products on your WooCommerce site, add them to the shopping cart but don't complete the checkout.
After-all, no one want to repeat the entire browsing procedure. Thus, an unhappy visitor is a failed conversion.
Hence, if you don't have any provision on your store to save products for visitors that encourage them to purchase, you have lost them even if they return.

---
Why Save For Later For WooCommerce is your only bait to convert abandoning visitors?
StoreApps' 'Save For Later For WooCommerce' is the best WooCommerce save for later plugin. It allows guests as well as logged in customers to save products for a later purchase on the Cart page.
The Cart page is the most strategic page to close the deal. This WooCommerce save For later plugin shows the saved products on the cart page as the customer is the most vulnerable here. A little reminder of previously saved products converts him right away.
---
Show 'Save For Later' links like Amazon to nudge customers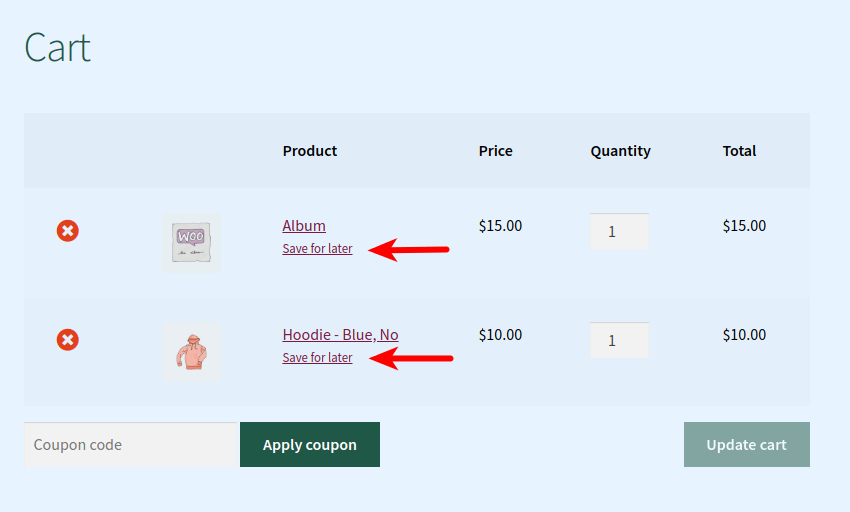 Amazon, eBay and others have been encashing on this clever marketing feature for years now.
How many times you have been on Amazon and save products for a later purchase?
This WooCommerce Save For Later plugin enables you to show the 'Save for later' link alongside the product, the same way how Amazon does.
So, if a customer resists himself from purchasing his desired product anytime, the 'Save for later' link compels him to save the product for a future purchase.
---
Awesome benefits of
Save For Later For Woocommerce
Add Unlimited Products


Allow your customers to save and manage their own 'save for later' list. They can add or remove unlimited products from their 'save for later' list or cart.
Buy Desired Products Anytime


Even if your visitor comes after an hour, a day or even after months, they can readily view their saved products in cart and complete their purchase.
Absolutely No Login Required


Customer does not need to LOGIN. Save for Later appears on the Cart page irrespective of whether he's a logged in customer or a just a guest who isn't logged in.
Works Irrespective of Cart Status


Saved for Later will show the saved products irrespective if the Cart is full or empty. Thus doubling the chances of the customer closing the deal.
---