Don't let visitors bounce off from your store.
Show them their saved products in cart persuading them to make an immediate purchase.
Why Visitors Slip Just Before Making a Purchase – The Ugly Truth
Visitors find their desired products on your WooCommerce site, add them to the shopping cart but don't complete the checkout.
Why?
They may either fall short of funds
They may want to review and compare prices with the competitors.
So, the next time visitor lands on your website and doesn't find his favourite products immediately, he may abandon your site in frustration. 
After-all, no one want to repeat the entire browsing procedure. Thus, an unhappy visitor is a failed conversion.
Hence, if you don't have any provision on your store to save cart for visitors that encourage them to purchase, you have lost them even if they return.
---
Why Save For Later WooCommerce is Your Only Bait to Convert Abandoning Visitors?
StoreApps' 'Save for Later For WooCommerce' is the best WooCommerce save for later plugin. It allows guests as well as logged in customers to save products for a later purchase in their wishlist on the Cart page.
Therefore, next time visitors land on the Cart page, be it the next day or after months; their favourite products are already displayed to them. This encourages visitors to go ahead and place an order. Thus increasing your chances of selling those products.
The Cart page is the most strategic page to close the deal. This WooCommerce save cart plugin shows the saved products on the cart page as the customer is the most vulnerable here. A little reminder of previous saved products here converts him right away.
---
Using Save For Later The Amazon Way
Big stores like Amazon, eBay and others have been encashing on this clever marketing feature for years now.
How many times you have been on Amazon and saved products for a later purchase?
The same tactic you can implement on your WooCommerce store. Save for Later For WooCommerce acts like advanced reminder service which reminds customers the products they have saved previously.  Thus, propelling them to go ahead and buy the products.
---
15 Features Of Save For Later That Increase Sales 2X
Guests as well as logged-in users can save unlimited products
Absolutely no login required
No settings needed, instantly enabled on store
Customers can buy their favourite products anytime
Move/Delete products from Save for Later list
View current stock status and price of saved products
Send coupons from dashboard to encourage purchase of saved item
Asks visitor for their email, when they are leaving, to informing about any offers in future
Creates list of customer who have entered their email
Export list of visitors along with saved item
Dashboard for store admin to see interest of visitors
Reminder to store admin about status of saved items
Share saved items on social media
Show saved items on My Account page
Mobile Responsive
---
Awesome Benefits of
Save For Later For Woocommerce
Add Unlimited Products to Wishlist
Allow your customers to save and manage their own WooCommerce wishlist. This encourages sales by a whopping 45%. They can add or remove unlimited products from their wishlist or cart.


Buy Desired Products Anytime
Even if your visitor comes after an hour, a day or even after months, they can readily view their WooCommerce saved carts and complete their purchase.
Absolutely No Login Required
Another advantage of this feature is the customer need not LOGIN. Save for Later appears on the Cart page irrespective of whether he's a logged in customer or a just a guest who isn't logged in.


Works Irrespective of Cart Status
Saved for Later will show the saved products irrespective if the Cart is full or empty. Thus doubling the chances of the customer closing the deal.
---
Shows Saved Products – When Cart is Empty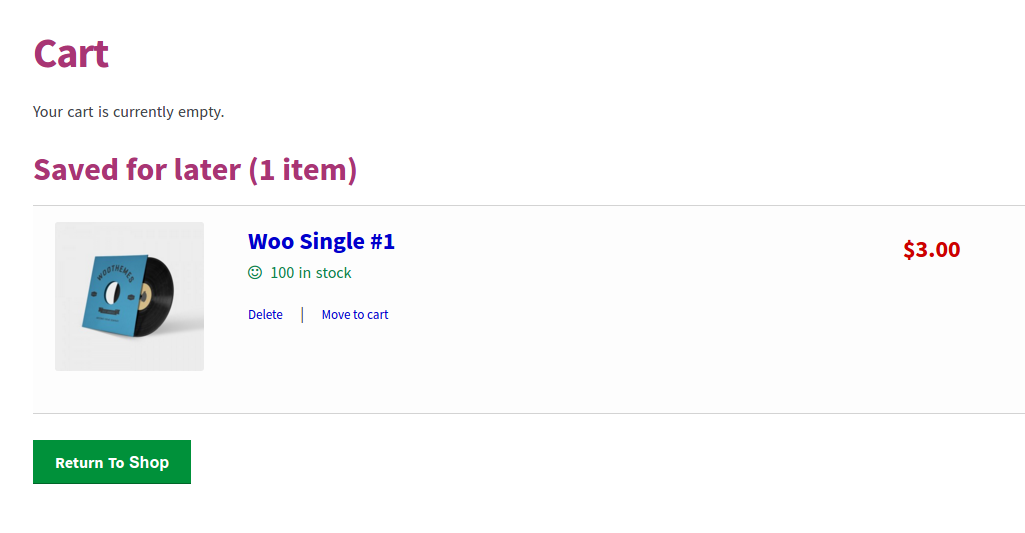 Shows Saved Products – When Cart is Full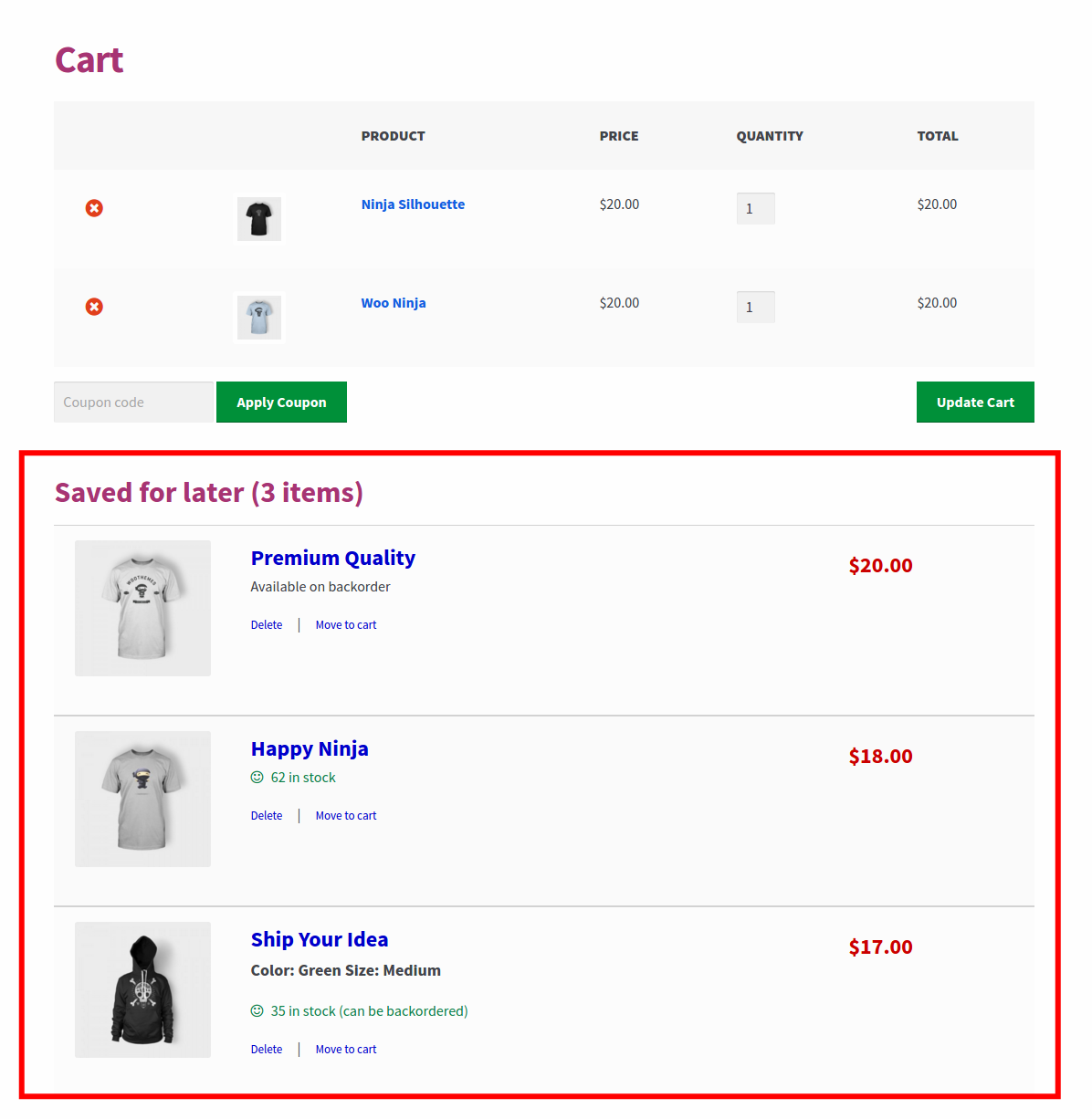 ---
Still Not Convinced? Try a Live Demo!!
Want to try out Save For Later For WooCommerce in action before buying?
We've setup an online demo of Save For Later For WooCommerce with some dummy data.
You can explore different features to understand how it may help you.
Click here to launch the live demo
---
Don't Let Your  Sales Suffer…
Download this High Converting Marketing Plugin Now!
(Prices may shoot up soon.)
Please choose how many sites you'd like to use Save For Later For WooCommerce on and Order Today.
You'll get instant access to the product.

Changelog
*** Save For Later For WooCommerce ***

2016.10.10 - version 1.0.2
 * Update: Important changes replated to automatic updates of this plugin
 * Update: Minor change in CSS

2016.06.16 - version 1.0.1
 * Update: Show "Save For Later" action in touch devices
 * Update: Tested with WooCommerce 2.6
 * Update: Change in logic for saving products in cookie & retrieving as well
 * Update: Option for modifying life of cookie
 * Update: Responsive
 * Tweak: Code cleanup

2016.05.25 - version 1.0.0
 * First release