WooCommerce Sold Individually let's you restrict the number of products that can be added to the cart per order.
Single Item Purchases Only – One Product Per Order
WooCommerce Sold Individually extension lets you quickly set all products to be sold individually – that is the customer can choose only one product in one order – let's say product A in one order from your store. If customer wishes to buy another product (Product B) from your store, then customer will need to create another order.
Single Quantity Per Product – One Quantity of a Product Per Order
This is a hidden feature. Once it is enabled it will allow the customer to add only one quantity of a particular product per order. That is, customer can add one quantity of product A and one quantity of product B in the same order.
How to enable that feature? – Refer steps from here – Buy Multiple products in same order
How it works?
Just install the plugin and it will hide quantity selection controls from all Add to Cart buttons / cart page. This way customers can only buy one quantity of the item at a time. The plugin works on all products in your store and you don't need to go and edit each product to sell it individually. Irrespective of the choice under Inventory settings for your WooCommerce product, as long as this plugin is active, all products in the store will be sold individually!
Is it for me?
This product is great –
When you are selling services, digital products where one copy is enough
When you are low on stock
When you want to keep your products exclusive…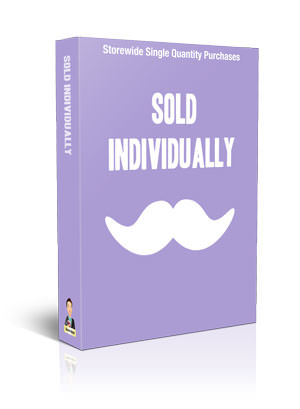 Save time for yourself and keep things simple for your customers.
Please choose how many sites you'd like to use WooCommerce Sold Individually on and Order Today.
You'll get instant access to the product.

Changelog
*** WooCommerce Sold Individually Changelog ***

2016.10.10 - version 1.1.6
 * Update: Important changes related to Automatic Updates of this plugin

2016.06.20 - version 1.1.5
 * New: Tested up to WooCommerce 2.6 & WordPress 4.5.2
 * Update: Enabled "1 product with 1 quantity" feature by default
 * Update: Store Apps Upgrade file - many requests generating even in background processes

2016.02.03 - version 1.1.4
 * New: Tested up to WooCommerce 2.5

2015.12.10 - version 1.1.3
 * Fix: Important fix related to WordPress 4.4, in Store Apps Upgrade file

2014.04.16 - version 1.1.2
 * Update: Important update related to 'update notification' of the plugin

2014.04.04 - version 1.1.1
 * Fix: Important fix related to plugin updates

2014.02.14 - version 1.1
 * Update: Minor update

2013.11.27 - version 1.0
 * First release