When you run an affiliate program on your WooCommerce store, you set a default commission rate.
Now, some of your affiliates turn out to be extremely good at marketing products. So more purchases happen (customers buy more than one product) and you shed out more commissions which is not a good sign.
So, how can you manage to restrict commission only on the first product to specific affiliates? That too quickly and easily? Let's find out.
Steps to assign commission only on the first product to specific affiliates
Setting up the right affiliate commissions is a crucial step in your affiliate program.
Affiliate for WooCommerce plugin provides you the flexibility to set it up along with different types of commission plans. Plans based on the product, product type, affiliate tags, number of orders and referrals, product price, quantity, taxonomy.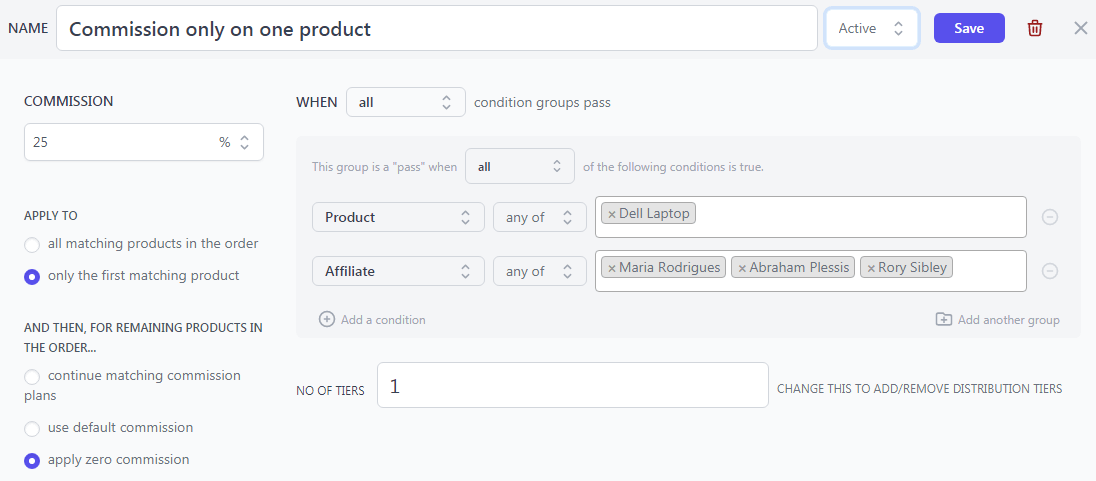 Go to WordPress Admin panel and click on WooCommerce > Affiliates > Plans.
Click on Add a plan and enter your commission plan name.
Set the commission percentage or commission amount under the COMMISSION tab.
Under WHEN rule, select all from the dropdown.
In the rule group, under This group is a pass when, select all from the dropdown.
Now, in the rule group, select Product from the dropdown. Select any of, search and enter the product.
Click on Add a condition.
In the rule group, select Affiliate from the dropdown. Select any of, search and enter for the affiliates.
On the left-hand side, under APPLY TO, select only the first matching product.
Under AND THEN, FOR REMAINING PRODUCTS IN THE ORDER...select apply zero commission.
Make your commission plan Active using the dropdown on the top and click on Save.
That's all.
You can also set the first product commission to specific affiliates based on the product category. In the Product rule above, select Product Category from the dropdown and enter the desired category.
Keep other things the same.
So, if one or multiple products from that category is present in the successful referral, only one or the first product from the selected category in the order will be eligible for a commission.
Other benefits of Affiliate for WooCommerce plugin
Apart from commission plans, Affiliate for WooCommerce is packed with all the features you need for running a successful WooCommerce affiliate program.
Allow people to sign up as your affiliates. Approve them and set them up to receive commissions.
Track visitors, conversions, commissions, and payouts
Set up a multi-tier affiliate program
Use coupons for tracking referrals
Track product and customer level performance
Create affiliate marketing campaigns
Make payouts via PayPal
Export affiliates data as CSV
and a lot more…
Get Affiliate for WooCommerce plugin
Benefits of one product commission
More sales for you
With some special commission on specific products, affiliates tend to put effort and market it better. This means more conversions for your products, both the best and poor-selling ones.
Long-time customers
When customers buy your best-selling products and feel happy about them, they are prone to convert next time when an offer is thrown to them.
Avoid overspending on commissions
If multiple products present in a customer order are eligible for commission, you need to payout commission for each product. So, you'll feel you have spent more than earned.
Conclusion
Not just products, you can also assign commissions based on affiliates, tags, and others. Affiliate for WooCommerce plugin is the most simple-to-use plugin and set up your own affiliate program.
So, make the most out of your affiliate program, earn without working too hard and take your brand to the next level with Affiliate for WooCommerce.