The easiest way to allow customers to pay what they want, get donations, crowdfunding, and boost sales – using WooCommerce name your price plugins.
But people are confused as to which one of the WooCommerce name your price plugins will fit their needs.
If you are among them, let us help you out.
Give customers the freedom to pay their price, they'll give you sales
Even an excellent business with best-in-class products, appealing UI, a top-notch marketing strategy may experience a high bounce rate & cart abandonment rate. Not optimizing the price of the products is one of the major reasons.
Customers emotionally get attached to the products they want to buy. But the price makes them stay away from buying.
Recent studies have revealed that customers are more likely to make a purchase given that they have the freedom to set their prices. Even though this might seem a bit weird but in reality, enabling customers to set their prices is one of the successful marketing tactics. Like a virtual bargain. Customers feel you trust them.
This is where the idea of WooCommerce Name Your Price Plugins enters into the picture.
Unlike the traditional WooCommerce stores that have a standard price for every product, the next-gen stores bestow buyers with the flexibility to pay what they want. The amount paid can be anything starting with the minimum price. This kind of pricing system is also known as a "donation-based pricing system".
Advantages of name your price functionality
Full freedom for customers to pay at their price, but ultimate control in your hands
Avoid losses by setting up a minimum acceptable price
Helps to understand how much customers are willing to pay for a specific product
Accept donations for a good cause, set-up a crowdfunding
Boost sales of low selling products
Improves overall customer experience
Top 5 WooCommerce Name Your Price Plugins
There are multiple plugins available over the web, facilitating the integration of the name your price feature in the WooCommerce store.
WooCommerce Offer Your Price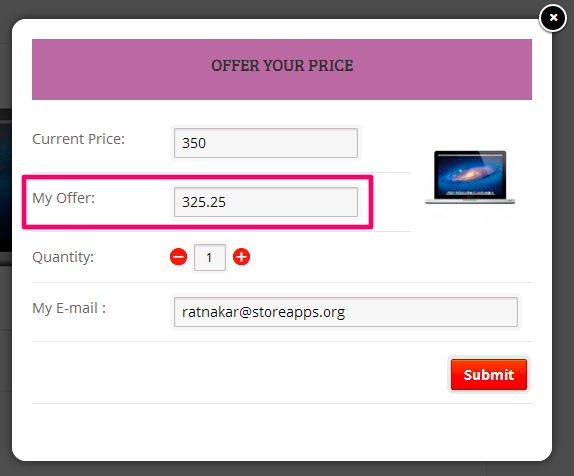 An excellent way to give your customers the ease to pay what they want, the WooCommerce Offer Your Price plugin from StoreApps is your best bet. Accept WooCommerce donations, suggest a price to your customers and optionally enforce a minimum acceptable price, or leave it entirely in the hands of the customer. This way, both the store owner and the customer remain satisfied with the purchase.
Top features:
Set a minimum price for the customer to avoid facing losses
Can be used as a simple alternative for crowdfunding
Allow donations from the customers as long as the price exceeds the minimum value.
Collect data from customers and then set prices.
Rename the pricing button to 'set your price', 'name your price, 'pay your price', etc.
Set rules to offer varying discount rates for different product price ranges. Very useful to avoid price overlap.
Pricing: $49
WooCommerce Name Your Price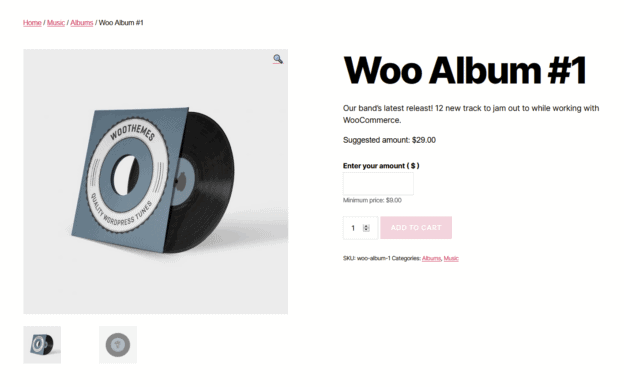 This plugin is available on WooCommerce.com. The plugin works in multiple ways as it allows you to accept donations for a product or even ask users to specify the amount which can then be set as the standard price. However, the price paid must satisfy the threshold value set by the store manager.
Top features:
Easily collect donations, sell gift certificates and gift cards (digital or printable).
Collect payments, allow customers to pay invoices and custom amounts.
Gather user data on what price must be set for the products or the preferable price for the same.
Works with a variety of product types – simple, variable, grouped, bundles…
Compatible with other popular products like WooCommerce Subscriptions, WooCommerce Product Add-Ons, etc.
Pricing: $49
YITH WooCommerce Name Your Price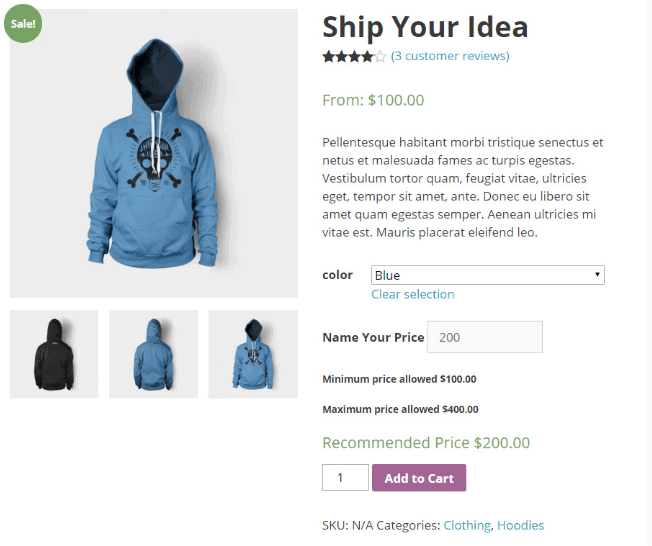 The YITH WooCommerce Name Your Price Plugin works with simple, variable, and grouped products. Besides, the plugin has an option to set maximum and minimum values of the product so that the customers can pay any specific amount in the given range.
Top features:
Accept donations
Allow users to purchase your "Name Your Price" product for free
Set rules about open prices for each product category
Set and customize the text and the label displayed on the product page.
Renders support for multiple languages and different currencies.
Pricing: $55
Get YITH Name Your Price plugin
WooCommerce Pay Your Price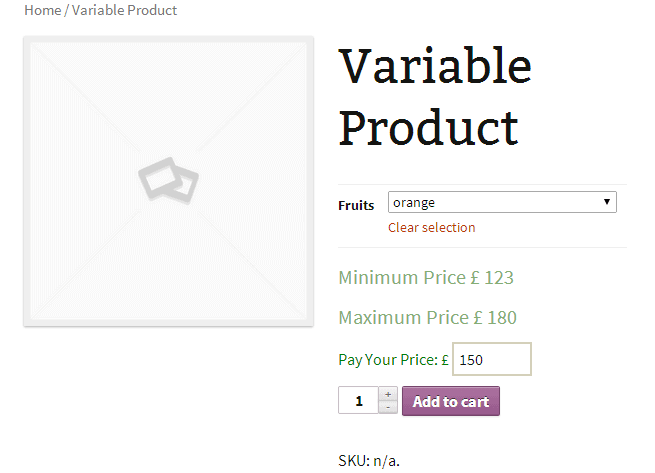 WooCommerce Pay Your Price plugin allows customers to select their own price and pay as per their wishes within a range by setting a minimum and maximum price. And also without setting a minimum and maximum price.
Top features:
The plugin works with simple products, variable products, and simple subscription products.
Test market rates by asking users to enter their prices.
Select products for which you want to have the said option.
Customization options for for labels, error messages, etc.
Pricing: $29
Product Open Pricing (Name Your Price) for WooCommerce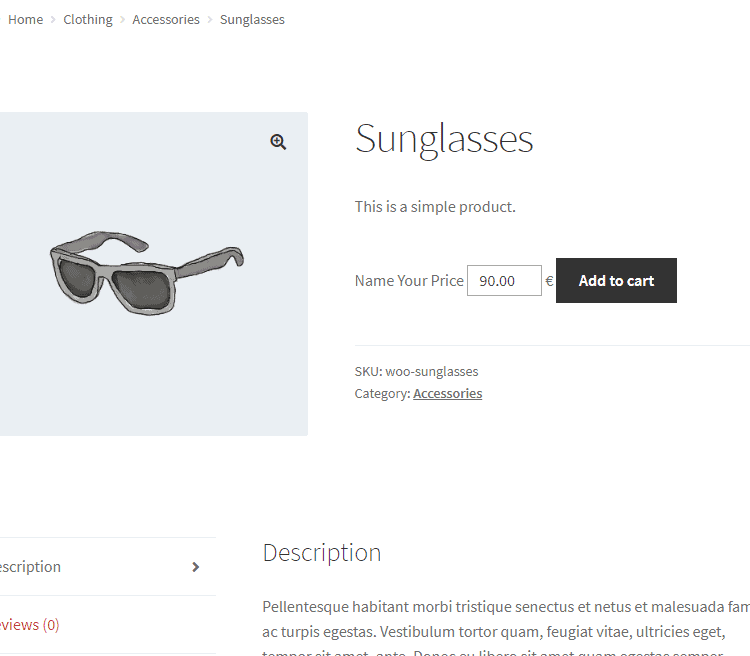 With a customized frontend template, the Product Open Pricing allows customers to pay their own price. Even though the plugin gives the flexibility to pay what the customers want, it allows the store operators to set a default, a minimum as well as a maximum value of the product.
Top features:
Enable or disable the tab to set an open price on the product or the category page.
Have an option to show the original price in the product page.
Set price step at the frontend
Set a range or a threshold value for the product
Premium version allows to set up open pricing for one or more products.
Pricing: Free version on WordPress.org, Premium version from $40
Conclusion
Long gone are the days when the product price was defined by the store operator. Today, the power lies with the customer.
To improve sales and boost revenue, it is a must for WooCommerce store owners to give their buyers the ease to pay what you want. Using WooCommerce Name Your Price plugin is one way of doing it. The best plugins are in front of you.