The Best Reporting Solution for WooCommerce
Smart Reporter delivers Business Analytics for WordPress powered e-Commerce shops like never before. You get up to date and accurate charts, reports and key performance indicators. You can now back up your intuition with data and take your sales to the next level.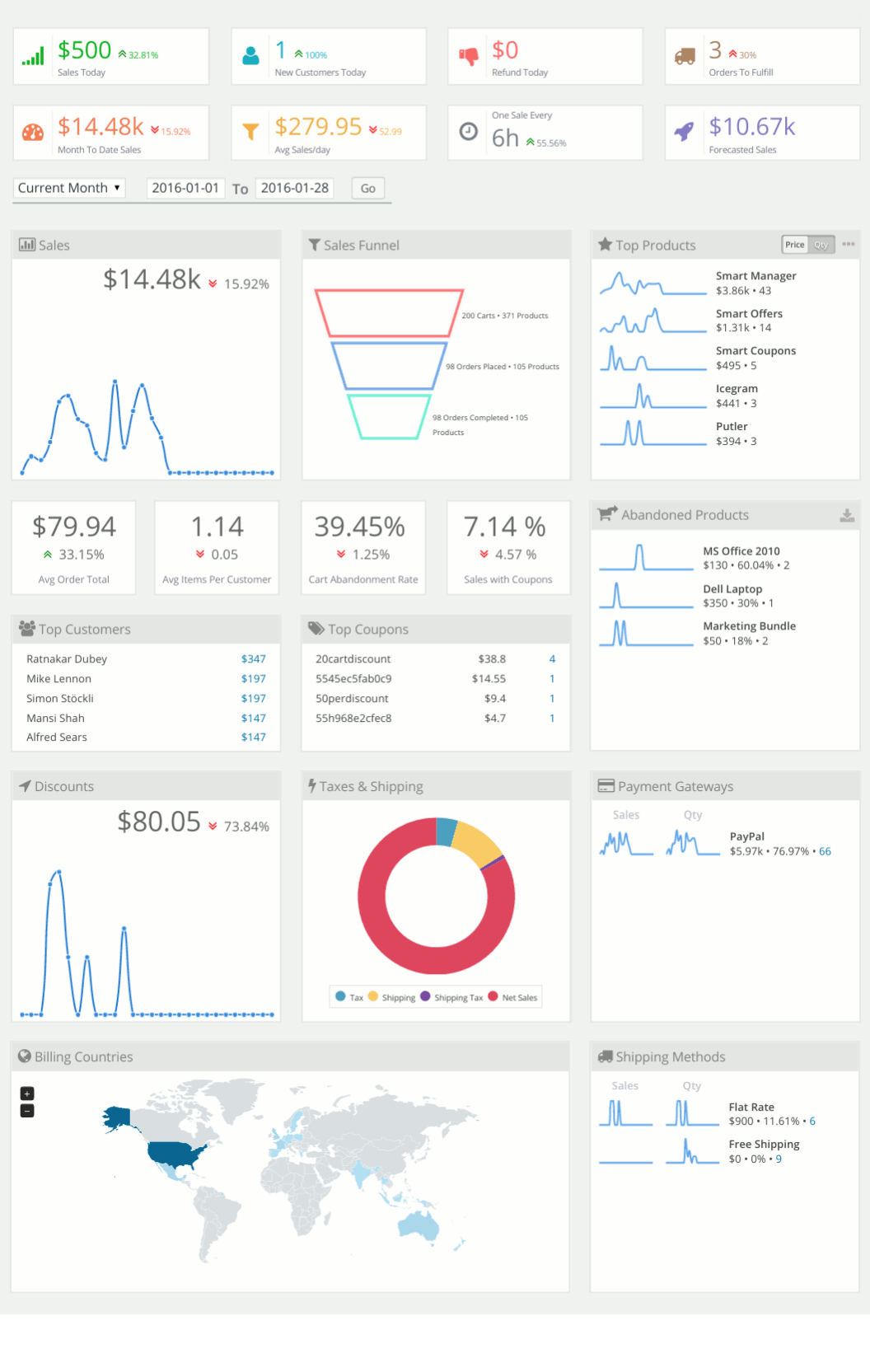 ---
One Page "Health Report" for your business
Smart Reporter provides detailed statistics about your store, your products and sales funnel.
Key Performance Indicators: Sales Today, New Customers Today, Refunds Today, Orders remaining to Fulfil
Daily, Weekly and Monthly Sales Summary Report via Email
Sales amount and trend chart
Sales Funnel – conversion from add to cart, order placement and payment completed.
Top Products – by sales amount and quantity, along with their trend chart and percentage contribution
Average Order value in $$ and how is it moving from last period
Average Items bought per customer
Cart abandonment rate – and whether it's going up or down
Coupon's contribution – percentage of sales that contained coupons
Top customers
Top coupons
Abandoned Products – which products are added to cart, but not actually ordered
Discounts – how much discount are you giving, now and historically!
Taxes and Shipping – and their ratio to sales
Payment Gateways performance – which do your customers prefer
---

---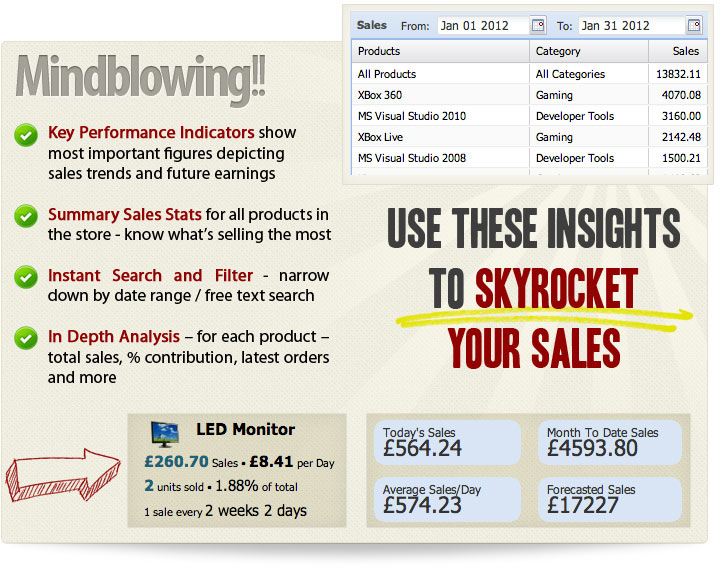 In Depth Product Sales Reporting
Smart Reporter provides a comprehensive products performance dashboard.
You can define a time range and use search to filter products to review.
Products Dashboard gives you in depth analysis of product sales – product names, their category and their sales amount for the selected criteria, quantity sold, frequency of sales, product's contribution to total sales, last few orders and more.
You also see a sales trend chart so you can easily spot the highs and lows!
Quickly discover top selling products, laggards, and how well a product performs over a given time easily with this add-on.
---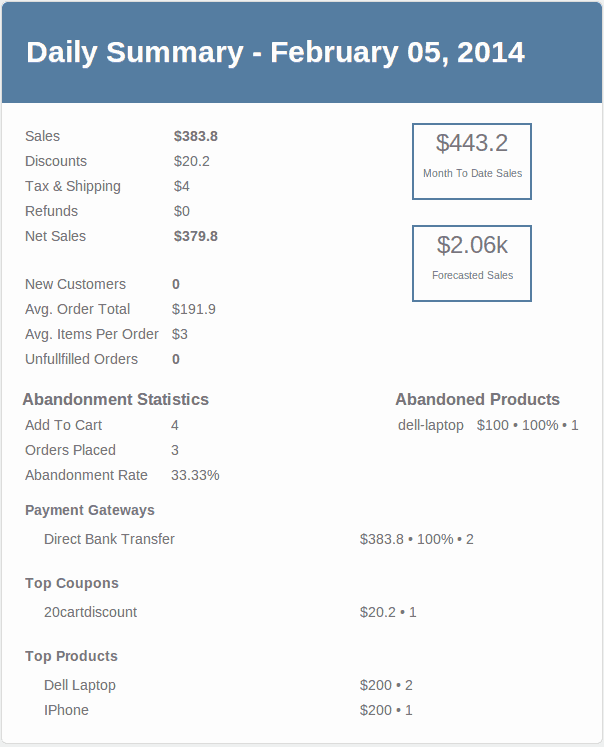 ---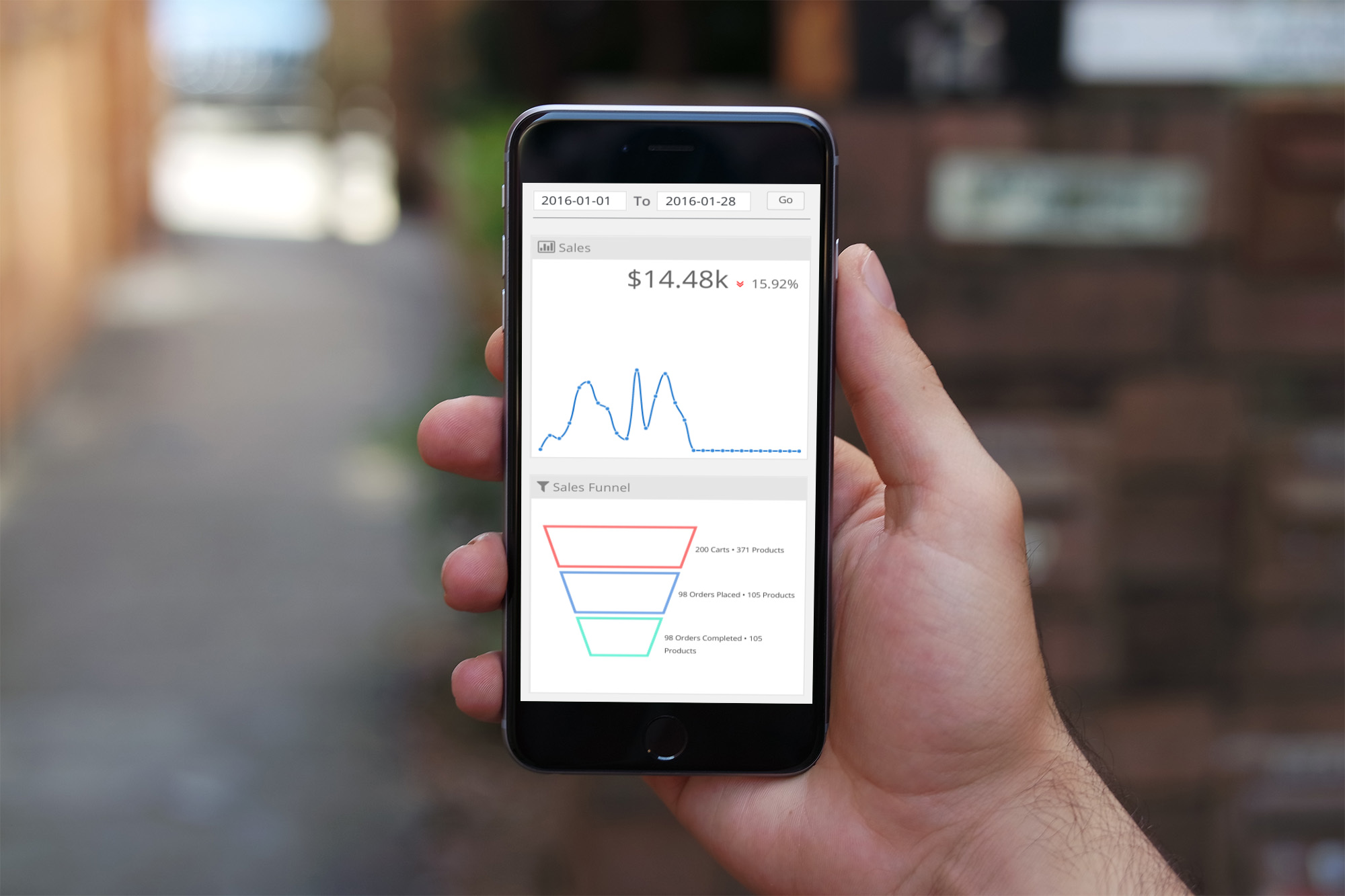 ---
Please choose how many sites you'd like to use Smart Reporter on
and Order Today.
You'll get instant access to the product.

Changelog


= 2.9.14 =
* New: Products Detailed View Widget [Top 50 Products] [Smart Reporter Beta] (WooCommerce)
* Fix: Dates not getting properly set as per WordPress timezone [Smart Reporter Beta] (WooCommerce)
* Fix: Minor Fixes

= 2.9.13 =
* Fix: Charts not showing proper sorted months in monthly view [Smart Reporter Old]
* Fix: Minor Fixes

= 2.9.12 =
* Update: Date library & improved date selection [Smart Reporter Beta] (WooCommerce)
* Fix: Summary Mails showing incorrect data for some of the kpi's [Smart Reporter Beta] (WooCommerce)
* Fix: CSS changes for mobile view [Smart Reporter Beta] (WooCommerce)
* Fix: Settings not getting saved in some cases
* Fix: Minor Fixes

= 2.9.11 =
* New: Send test summary mail [Smart Reporter Beta] (WooCommerce)
* Update: Click on 'Go' button for cumulative date sales [Smart Reporter Beta] (WooCommerce)
* Fix: Summary Mails showing incorrect data due to timezone issue [Smart Reporter Beta] (WooCommerce)
* Fix: Abandonment stats not showing properly [Smart Reporter Beta] (WooCommerce)
* Fix: 'Order To Fulfill' widget not showing proper data [Smart Reporter Beta] (WooCommerce)
* Fix: 'Top Shipping Methods' widget not showing proper data [Smart Reporter Beta] (WooCommerce)
* Fix: CSS changes for mobile view [Smart Reporter Beta] (WooCommerce)
* Fix: Minor Fixes

= 2.9.10 =
* Update: Compatibility with new versions of WordPress & WooCommerce
* Fix: Minor Fixes

= 2.9.9 =
* Fix: Admin CSS affected and admin notices hidden when Smart Reporter active
* Fix: Summary mails not getting sent [Smart Reporter Beta] (WooCommerce)
* Fix: Widgets showing data from trash orders [Smart Reporter Beta] (WooCommerce)
* Fix: Top Products widget not showing proper data [Smart Reporter Beta] (WooCommerce)
* Fix: Minor Fixes


= 2.9.8 =
* New: Multilingual support [Smart Reporter Beta] (WooCommerce)
* Fix: Cart Abandonment data not getting tracked properly [Smart Reporter Beta] (WooCommerce)
* Fix: Variations name not displaying properly [Smart Reporter Beta] (WooCommerce)
* Fix: Minor Fixes & removed some warnings

= 2.9.7 =
* Fix: Orders not syncing properly [Smart Reporter Beta] (WooCommerce)
* Fix: Minor Fixes

= 2.9.6 =
* Fix: Remove PHP anonymous functions for PHP