How to Show Upsells, Cross-sells on Custom Thank You Page
You can offer a variety of things to customers once they are redirected to the custom thank you page. One such thing is showing upsells, cross-sell offers using our Smart Offers plugin. 
Follow this steps
Step 1: Click here to to know how to create a new or edit existing offer in Smart Offers.
Step 2: Make sure that while creating offers, under 'Show this offer on', 'Any other page where shortcode is added' checkbox is checked.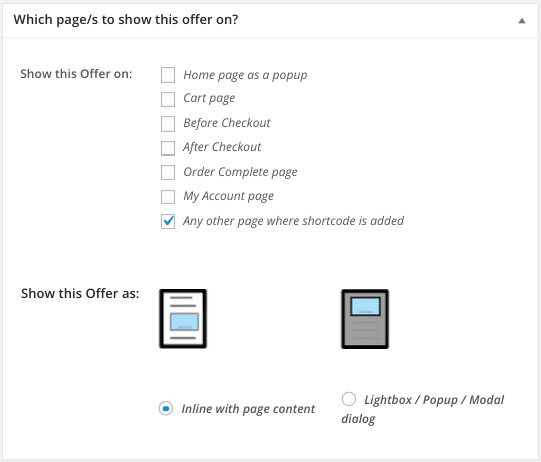 Step 3: After creating the offer, create a new or edit an existing custom thank you page.
Step 4: Add the show offer shortcode in the content.
Step 5: Add the shortcode [sa-wc-ctp-order-details] in the content if you want to show the customer their Order details on the redirected page OR select a readymade custom thank you page style as mentioned here and then click on Update (optional).
Step 6: Copy the permalink of that page.
Step 7: Create a new or edit an existing simple, variable, subscription or virtual/downloadable, or any other product type.
Step 8: Go to Product Data > General > Thank you page URL
Step 9: Paste the above-copied permalink in the Thank you page URL
Step 10: Save the product. That's it!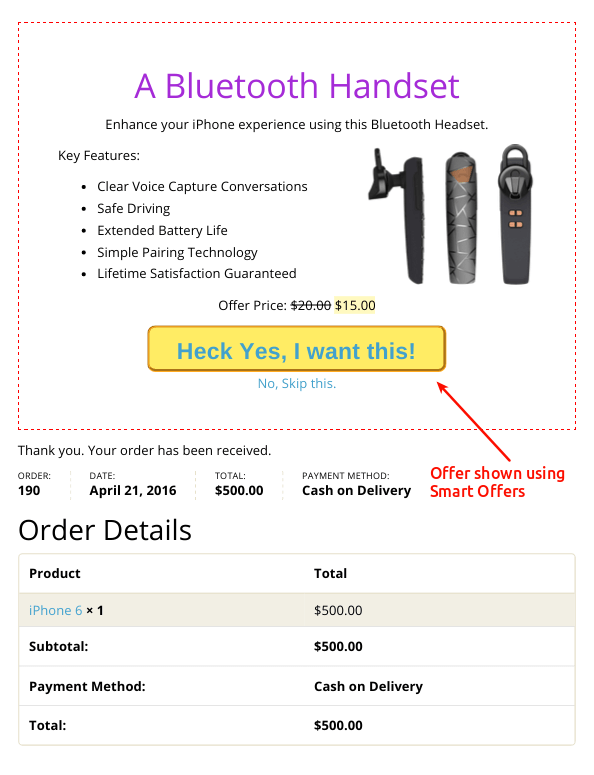 Now, once the customer purchases this product, after order completion, they will be redirected to the specified custom Thank You Page and the offer you have created will be shown on the redirected page.
If a shortcode to show order details were present in the content, then the Order details will also be shown to the customer.
Also learn how to set-up WooCommerce one-click upsell offers