Dear store owners, entrepreneurs, marketers…this is for you if you want to earn more sales on autopilot. Learn the steps to quickly create WooCommerce one click upsell on your store. Also learn why you need it, benefits, some smart upselling stuff, and hacks.
Already familiar with upselling? Jump to WooCommerce one click upsell steps.
If not, then let's begin from here.
This is why you lose money from a hot prospect
Is your WooCommerce sales funnel designed like this?
A customer adds products to cart, reach checkout, makes the payment, views order complete page.
Nothing further.
Now consider this approach:
A customer adds products to cart, reach checkout, makes the payment, sees the order complete page,
What just happened?
You made more money in the blink of an eye. BOOM!
This is WooCommerce one click upsell. Some even refer to it as WooCommerce 1 click upsell.
Since customers have already purchased from you, they are in that purchasing frame of mind. And the most vulnerable to make a purchase again.
Hence, if you neglect this simple thing, you are already losing out on revenue which you can easily earn without the hard work.
So, what is WooCommerce one click upsell exactly?
People also call one click upsell as the fastest way to boost your sales. Agree?
Pro-tip : Never settle for a single sale. You have the power of one-click upsell.
See the below GIF image to have an overview of how one click upsells for WooCommerce works –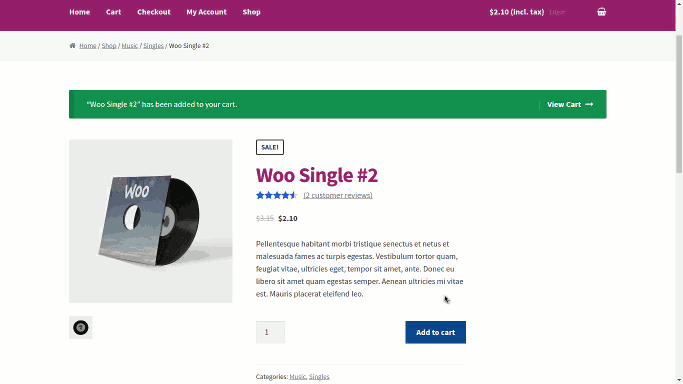 Strike while the iron is hot
This is what the WooCommerce one click upsell principle is based upon.
Every time you direct your customers straight to the thank you page, you lose an opportunity to make relevant upsell offers.
Now, customers have just bought from your business. They are your hot leads and they trust you enough to make subsequent purchases.
Then why not this golden opportunity lose?
And you're armed with enough information to make a relevant upsell offer with a time-bound discount.
How you convince customers after their first purchase to buy more is what makes you a smart businessman. #WooCommerce #oneclickupsell
Click To Tweet
But traditional WooCommerce doesn't provide post purchase one-click upsells
Yes. This is the problem WooCommerce users face.
WooCommerce lacks the ability to target these offers and that too in one click. You have to repeat the entire purchase procedure again.
Thus there is a higher chance of customers abandoning the upsell offer.
So, how to do it easily and smartly?
Using StoreApps' WooCommerce one-click upsell plugins – Smart Offers and WooCommerce Buy Now.
Benefits of using StoreApps' WooCommerce one click upsell plugins
Instant checkout – The customer won't need to enter card details and repeat the purchase process from scratch. All happens in a single click.
Increases the chance of selling – One-Click Upsell offers the upsell product to a customer that has already purchased a product from you, not to a user who's still not sure what to buy.
Reduce customer's product search effort – A customer purchases an iPhone, One-Click Upsell can offer a case, which he may browse in the future. It takes off the browsing burden from a buyer.
Reduces abandonment – Offering pre-checkout upsells can confuse users who are still making a decision to buy. Upselling after checkout reduces this chance.
Trigger the perfect offer – You can set-up multiple one-click upsell offers based on products. When a buyer has purchased a product, you know what product is purchased. This helps you make the perfect upsell offer that complements the initial buy.
Full control after-upselling actions – You can redirect customers to the second upsell offer if they accept the first one. If they decline the upsell, you can show a downsell offer with more discount which increases the chances of your offer getting accepted.
Boost average order value and sales – Obviously, more than a single purchase shoots up the average order value. And multiple instances of one-click purchases will amplify your sales.
Create unlimited funnels with an unlimited number of offers – You can create any number of funnels with any number of upsells and downsell offers.
Responsive offers – Offers will get automatically responsive based on mobile and tablet devices.
Get these WooCommerce one click upsell plugins
Ok, so what about cross-sell, downsell, BOGO? Can they be set-up in one-click?
Absolutely.
See, upsell doesn't mean just offer a higher version of the current product (which is what the traditional upsell definition is).
You can simply pitch another related or complementary product (a cross-sell offer) or a BOGO offer as an upsell.
The ultimate aim is to earn additional revenue. In fact, offering complementary or related products as an upsell offer has a minimum of 10% increase in conversion rate. Sometimes, even 25% or 30%.
There are only two choices available to the customer – Accept or Reject.
If the customer accepts, the product is purchased immediately on the click of the CTA button.
If the customer rejects, you may pitch another. Here's how you can target a series of offers.
Take this from me – As soon as you start running this on your website, you won't take it down.
I hope this makes it clear about how important WooCommerce one click upsell is for you.
Now we move to the steps to create one-click upsells on your WooCommerce store.
Pre-requisites for WooCommerce one click upsell
To achieve this, there are two things you will need:
1. Repeat Customer – The customer needs to have bought at least once prior to this purchase.
Note – For first-time users, if the user creates an account during the purchase process and completes the first transaction, then one-click upsell will work for him. (The user will be treated like a repeat customer)
2. Payment is done via any of these payment gateways– WooCommerce PayPal Standard, WooCommerce Stripe, Authorize.Net CIM, WooCommerce PayPal Powered by Braintree, Cash on Delivery, Cheque Payments, Direct Bank Transfer.
StoreApps' one-click upsell plugins support these seven payments gateways:

Now let us look at the necessary tools.
Tools to create WooCommerce one click upsell
WooCommerce (Free)
Smart Offers plugin (to create upsell, cross-sell, BOGO and other offers)
WooCommerce Buy Now plugin (to enable 1-click)
Payment Gateways (Only download the payment gateway which you want to enable on your WooCommerce store.)
WooCommerce Stripe (Free)
WooCommerce PayPal Standard or Cash on Delivery or Cheque Payments or Direct Bank Transfer (All these four gateways are included with WooCommerce).
For any of these three – Cash on Delivery, Cheque Payments, and Direct Bank Transfer, make sure it is enabled on your WooCommerce store.
Learn more about Smart Offers and WooCommerce Buy Now plugins.
Need a gateway for 1 click upsells that is not listed above? Let us know from here along with a link of the payment gateway and a short description of it's usage on your store 🙂
How to setup WooCommerce one click upsell?
Follow these steps to set up one-click upsell offers:-
Step 1: Installation
Download above mentioned plugins & install them on your WordPress site. Then activate each plugin.
Step 2: Configure Payment Gateways
Go to WooCommerce -> Settings -> Checkout -> Stripe or Braintree. Set them up as mentioned in the following articles :
Note: For 1-Click Upsell function to work correctly, customer should have at least 1 order paid from their account via the mentioned payment gateway (with Saved Cards enabled).
Step 3: Activate WooCommerece Buy Now
The activation of the plugin will be sufficient. No additional settings are required.
Step 4: Create upsell using Smart Offers
Refer the gif image below for a step-by-step instructions on how to create upsell in WooCommerce.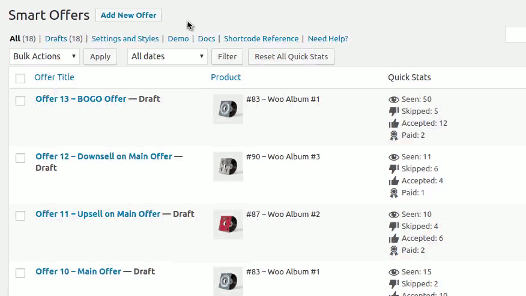 Go to WooCommerce -> Smart Offers
Click Add New Offer
You can use our existing offer designs or create your own offers using popular WordPress page builders.





Set Title: This will not be visible to user. This is for your reference. For example: 1-Click Upsell.
Set Offered product: Choose product you want to offer
Smart Offers plugin is also compatible with the WooCommerce Subscriptions plugin. So you can easily upsell any subscription product in one-click.





Img src – WooCommerce.com

Set Offer at:  Here set amount or discount you want to give on offered product.
Create Offer Description: This part will be visible to customer. This is a WordPress's default editor, so you can use almost all feature of WordPress editor like adding media, font size & color, layout etc.
Set Show this Offer on: Choose page where you want to show the offer. For example: Order Complete page.
Set Show this Offer as: Choose whether you want to show as inline content or as popup.
Set When to show this offer: Select conditions when you want to show the offer. For example: Cart/Order -> Contains Product -> Search & choose product. You can set multiple rules here based on visitor, registered user, customer's lifetime value, cart/order total and many more.
Set Actions to take when offer is Accepted: Here choose what all actions you want to perform when offer will be accepted. You can choose multiple actions from given set of options. For example: Add offered product to cart and instantly checkout with Buy Now plugin.
Set Actions to take when offer is Skipped: Define actions you want to perform if offer is declined. Here you can choose only one action from given set of action. For example: Instantly checkout with Buy Now plugin.
Set Hide From This User (optional): If you want to make the offer as One Time Offer, enable this option.
WooCommerce one click upsell in action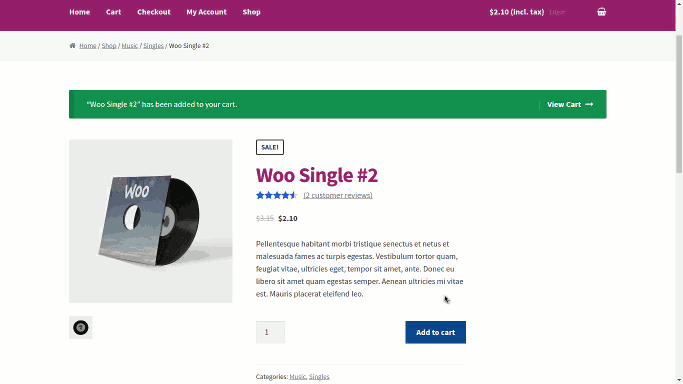 Pricing
WooCommerce one click upsell price is $148/yr – a way better deal than similar offerings from other brands.
Because not just one-click upsell, you get a plethora of benefits from Smart Offers and WooCommerce Buy Now.
Don't believe? This will justify the pricing:
See, one-click upsell is going to give you revenue on autopilot.
4x, 10x, 50x ROI…who knows! So go ahead and start upselling with confidence with these plugins.
Buy WooCommerce one click upsell plugins
Wait…there's something beyond single one-click upsells
You can pitch a series of offers so as to keep customers in the loop and get them acquainted with your product portfolio.
Hack 1: Run offers one after the other based on user's action
Let say you offer product B on upsell along with product A. But the user rejects it.
Then you can pitch another upsell offer (product C) or a downsell offer (product D) when the user rejects the previous offer.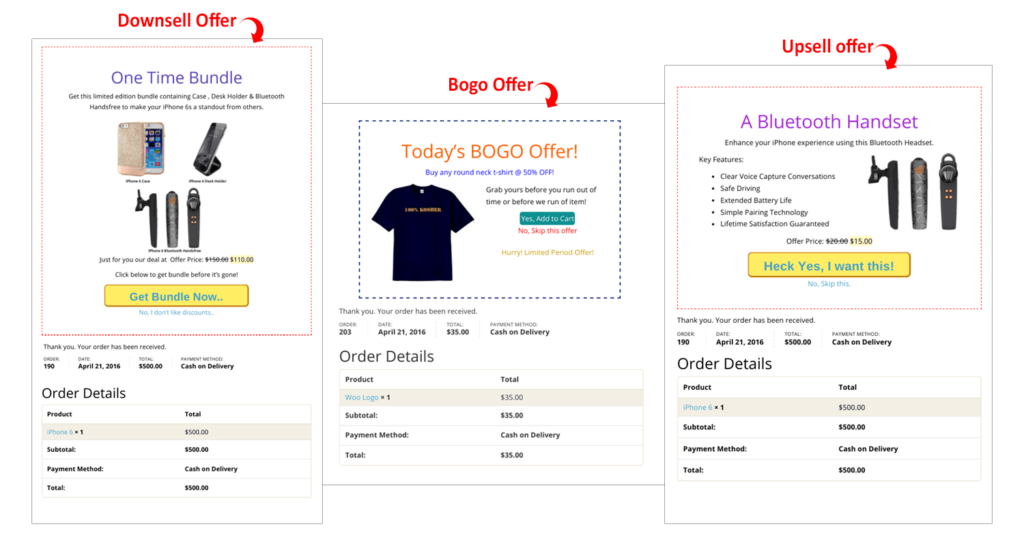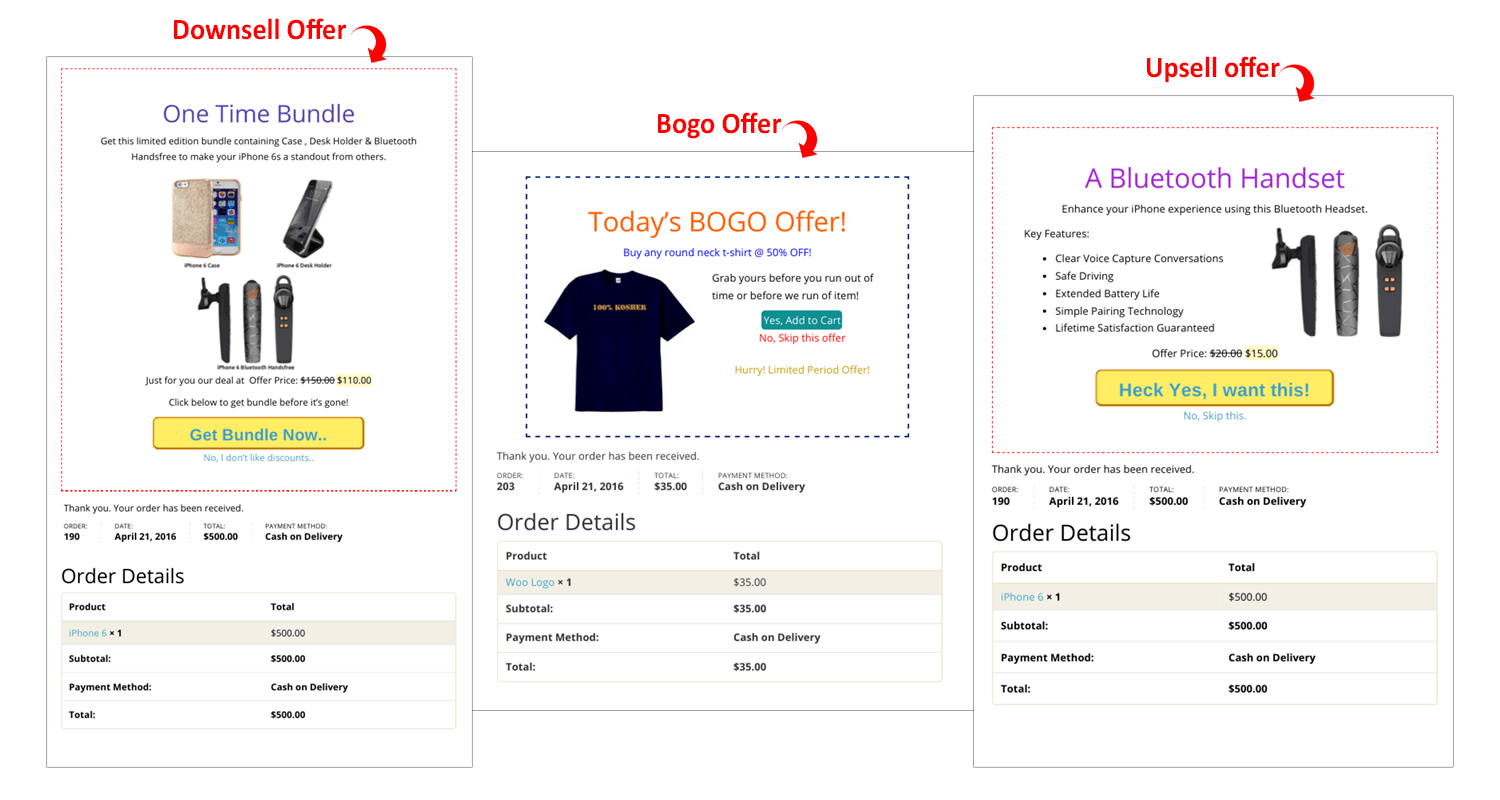 You may even run a series of offers to convince your customer to buy more and more.
But, also don't overload offers to your customers that will annoy them.
Or, pitch offers based on what users have already purchased; i.e based on product categories.
That is what Smart Offers is capable of doing. Full flexible and smart as the name goes.
Hack 2: Pitch offers on thank you page of upsold product
If a user accepts upsell offer B after product A offer, the user gets redirected to product B thank you page and the process ends there.
Now, what if you want to pitch an upsell or cross-sell offer on thank you page of product B. Or run a series of offers based on product categories. You can easily do that with Smart Offers.
Hack 3: Redirect users to an affiliate or another product page
You want to redirect users to an affiliate page or another product page to upsell a product. Using Custom Thank You Page for WooCommerce, you may redirect user to any page you wish to:
Affiliate page
Sales video of another product
Social media links
Email subscription page
or other page you want to and pitch offers.
Not just that, if you want to get rid of plain standard WooCommerce thank you page, you can easily show a fancy custom thank you page for each product purchased when you pitch your one-click upsell offer.
Offer reporting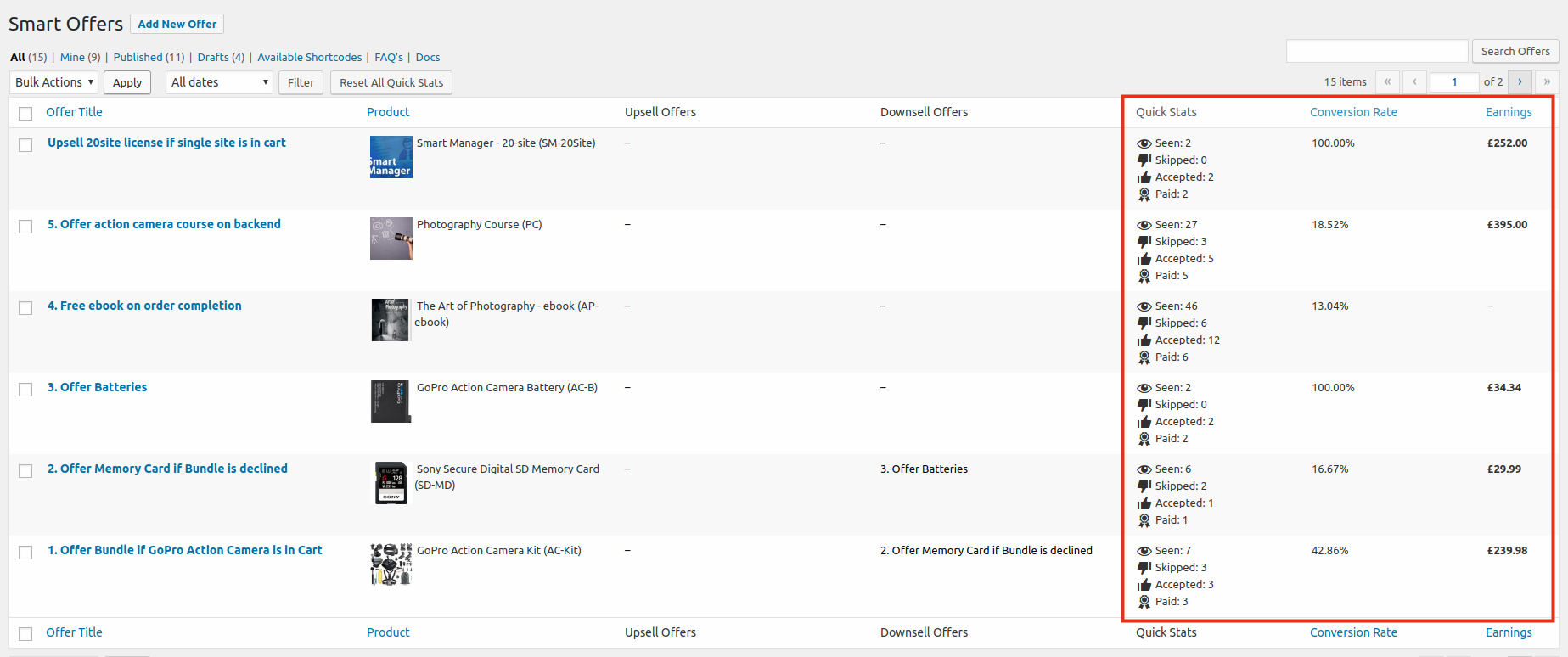 You can easily monitor your upsell offer performance from the stats and modify offers for optimum conversions.
Stop losing the money you deserve with one click upsell
Go ahead. Setup 1-click upsell offers on your WooCommerce store and tell us about your experience. If you have any questions, feel free to drop in a comment. I will definitely get back to you.
Remember, you don't have to be doing in millions to start growing right away. Anyone can do it.
Get these WooCommerce one click upsell plugins