Creating a new Smart Offer – Step 6 of 6 – Actions to take when offer is Skipped
Step 6 : Offer things to customers after they skip an offer
This section lets you define what should happen once the customer skips an offer. You can only select any one option from below.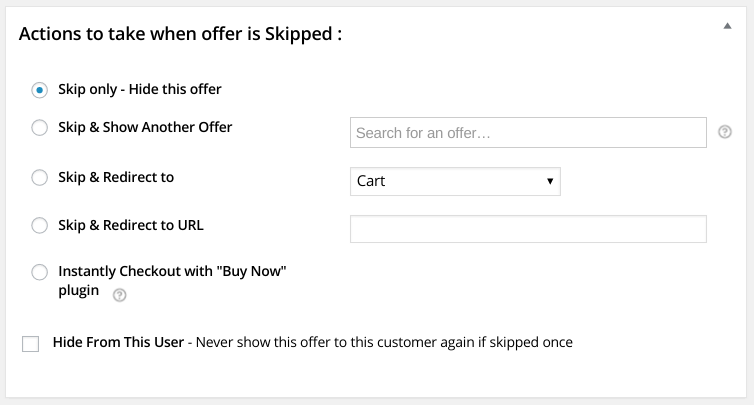 Skip only – Hide this Offer : If this option is selected, then when user skips this offer then that offer will be hidden and user will stay on the same page.
Skip & Show Another Offer : If this option is chosen, then it will show another offer that is entered in the field. If you entered multiple offers in the field, then it will show one depending upon WooCommerce -> Settings -> Smart Offers -> Preferences -> Multiple Offers? Select one with…
Skip & Redirect to : If this option is chosen, then the skipped offer will get hidden and the user will be redirected to the page selected from the dropdown.
Skip & Redirect to URL : This option will redirect customer to a defined URL on skipping this offer.
Instantly Checkout with "Buy Now" plugin : Our Buy Now plugin shortens checkout by picking up customer information from previous orders. This option if selected will take customer directly to payment page on skipping the offer or incase of previous order found (for registered users), it will also complete the offer for your customer.
Hide From This User – Never show this offer to this customer again if skipped once : This option lets you to decide whether you wish to show this offer to the user in the future or not. If this option is checked, then on skipping it will be perform above chosen option & offer won't be shown to the registered user in the future. If this option is unchecked, then on skipping it will perform above chosen option and won't show this offer during that particular session.
That's it! Your offer is now created and you can Publish it.
« Back to Smart Offers For WooCommerce