Simply speaking, this article will show you how to arrange multiple offers one after the other to show to your visitors or customers.
Feature made on request
We always value what our customer says. And this feature is built on all of your requests.
So this was the problem Smart Offers plugin users were facing:
Users were running multiple offers on their WooCommerce store to grow sales. (This is a good practice. You should too if you are running a single offer).
On a specific page, multiple offers did show up. But there was no provision to arrange and show offers in a sequence the user wanted.
In other words, there was no option to set priority to the offer as to which offer should be shown first and which offer the last.
To tackle this problem, we have come up with a simple solution in Smart Offers plugin – Offer Priority.
What's this Offer Priority?
Offer Priority is used to arrange offers in a sequence to show to your users on any page.
For example, if you have two offers set-up on your WooCommerce store – a 20% flat discount and a $50 fixed discount. You want to first show $50 discount and then 20% discount, you'll now be able to do using Smart Offers' Offer Priority feature.
Five predefined Offer Priority
We have set five Offer Priority within the Smart Offers plugin to show the offers. Here are they:
'Highest' – this offer will be shown first.
'High'- offer will be shown second (after the first offer).
'Low' – offer will be shown after the second offer is shown.
'Lowest' – offer will be shown after the third offer is shown.
'Default' – this offer will be shown last.
Remember, the order is Highest > High > Low > Lowest > Default for the offers to be shown from first to last. You'll find this Offer Priority feature in the top-right corner in all of your offers created using Smart Offers.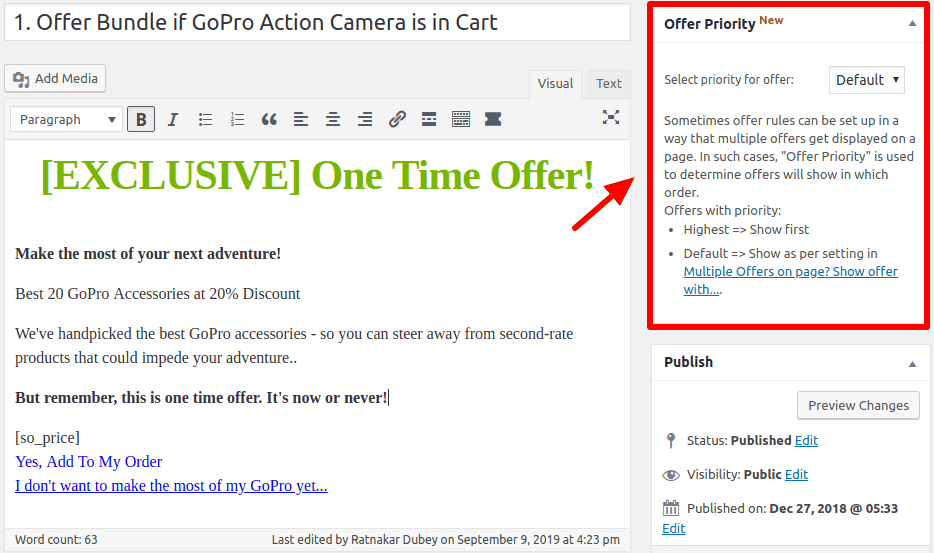 You have full control to choose which offer to be shown in which order.
See, we didn't want you to putin efforts by going through each offer and label it as 1,2 and so on. It is also confusing and difficult to remember.
We wanted to give you something that is easy-to-use. So we defined these Offer Priority.
What if I have two offers and I choose 'High' and 'Default'?
In this case, offer having priority as 'High' will be shown first and offer having priority as 'Default' will be shown next.
What if I set the same 'Highest'/'High'/'Low'/'Lowest' Priority to multiple offers?
Say for example you are running a 15% off offer and 25% off offer. You set both these to 'Highest' priority. Then offers will be shown randomly one after the other.
What if I set the same 'Default' Priority to multiple offers?
In this case, there is a setting within Smart Offers plugin:
Higher price
Lower price
Pick one randomly
The 'Higher price' option is selected by default. You can modify it as per your choice.
How to use Offer Priority feature?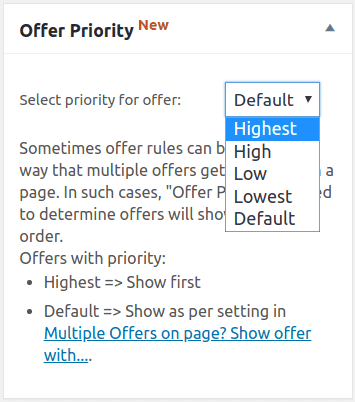 Here are the steps:
Go to WP admin Panel > Smart Offers
Create a new offer / select an existing offer you want to modify.
Select the priority for the offer from the drop-down as shown in the image above.
Repeat the same for multiple offers
There's a reason why running multiple offers is a boon for your WooCommerce store. It's based on a simple principle – If not this, then that.
Example – On purchase of a laptop, you want to offer the following things – Laptop bag, decorative skin, keyboard protector, accessories kit (cleaning materials, card reader, mouse), power bank.
Now, based on what user needs, you can arrange the offers one after the other.
The first requirement has to be a bag. So set the Offer Priority to 'Highest' for the bag.
Next, accessories at a discount seems useful and converts well. So set priority to 'High'.
During travelling, you don't want your laptop to go out of power. You can offer a power bank. Set priority to Low.
Among keyboard protector and decorative skin, protector is more useful. So set priority to 'Lowest' for this.
Last, for the decorative skin, set priority to Default.
So in real-time, when the user adds a laptop to cart, the offers will be shown in this order:
Bag > Accessories > Power Bank > Keyboard protector > Decorative skin
More the products user adds to cart, more the average order value and more sales.
Since you are using Smart Offers, you have full flexibility to add targeting rules for your offers to be shown.
Other use cases of setting up Offer Priority
We have arranged the offers sequence from highest to lowest priority in these most widely use cases. It's your choice to arrange your offers.
1. Purchase of mobile phone
Extended warranty > Screen guard > Memory card > Headphones > Decorative back cover
2. On cart total exceeding $1000
Additional 10% off > Store credit of $50
3. Buy Jumbo Burger:
Fries > Coke
4. Giveaway
Plugin 1 at 10% off > Plugin 2 at 15% off > Plugin 3 at 20% off
5. Purchase of T-shirt
Another T-shirt at 50% Off > Cap > Sunglasses
6. Purchase of a lower-plan subscription
Higher plan subscription at % off > BONUS resource > Affiliate plugin
7. Influencer event / Webinar
Membership at 50% off > Personal consultation > ebooks
8. Health & Fitness
Personal consultation > Diet pack 1 > Diet pack 2
Offer Priority feature can work wonders for hundreds of cases.
Black Friday / Cyber Monday is almost there. So use this feature and grow your sales.
Over to you
Update to the latest version of Smart Offers to get this Offer Priority feature. I hope you like it. Let us know your feedback on the same in the comments section below.
And if you are new to Smart Offers,