Custom Thank You Pages Per Product For WooCommerce
Question: What do customers do after they place an order on your site?
9 out of 10 WooCommerce stores show something like this.. Customers come to this page on order completion, face a dead end, and leave the site. Or struggle to find what to do next.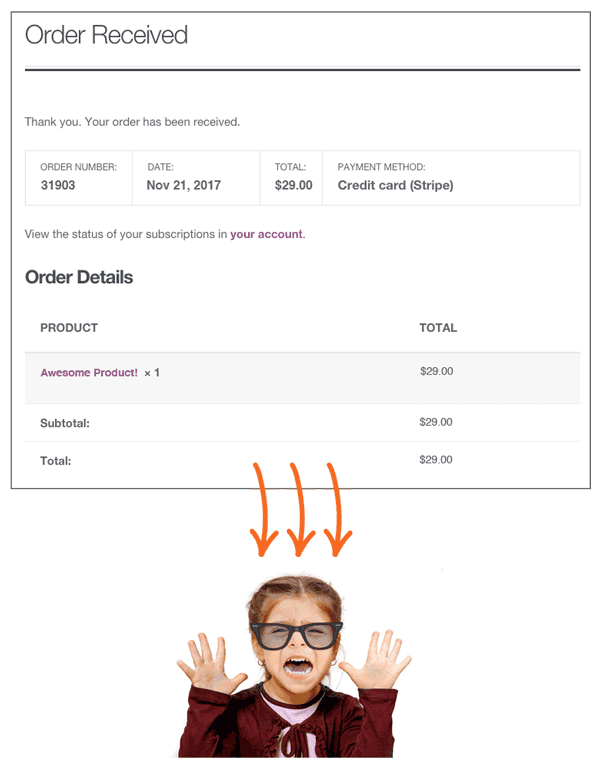 That's unfair right?
Because, at the end of a purchase, your customer is generally in a positive, receptive mindset. There is satisfaction of getting something they wanted. Expectation of quickly using – and benefiting – from the product. If you provide amplification of positivity, they will be delighted.
They also have a bit of anxiety – whether it was the right purchase, whether the product will be shipped and delivered on time.
If they encounter a roadblock, buyer's remorse will kick in – resulting in a refund, negative review or bad publicity.
You got to take utmost care of the customer at this stage. Their state of mind is fragile.
Order thank you page is the most important page on your WooCommerce site. Neglecting it is a grave mistake.

Make more money using Custom Thank You Page…
The default WooCommerce order completion page feels like a dead-end. It's dry and plain-texty.
But if you redesign it, you can use it to provide clear calls to action, take away concerns, build relationships and sell more. A big transformation.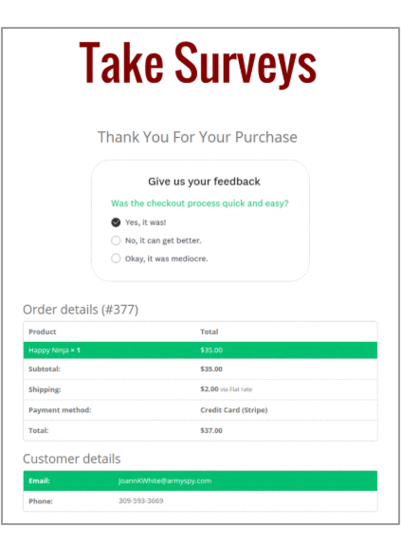 Simple psychological triggers to hack growth…
Acknowledge and deepen trust
Appreciate customer for their order – use your picture to build trust – or even a video. Then show order confirmation and shipping estimate if possible. Let them know your team is available for help, and reiterate your return/refund policy.
Ditch buyer's remorse
Show testimonies from other people who bought this product. Or success stories. Make them feel they made the right decision. Nudge them to use the product ASAP.
Provide help
What do you want them to do after buying? Provide a big button for that action. You can take them to their My Account page or product documentation, ask them to continue shopping or recommend the product to their friends…
Delight customers
Instead of selling, give something away for free. A small product, a store credit for next purchase, a personalized thank you note, a bonus for something they purchased.. Take every opportunity for customer delight.
Sell more
Post purchase is a great time to sell more. Show product recommendations, related products, upgrades, their recently viewed items or any other upsells. Embed an offer using our Smart Offers plugin. Or something else you want to promote.
Offer + Discount
Show a time bound special offer and give a discount code on a product they are likely to purchase. Or even storewide discount. Scarcity and discount together are highly likely to trigger additional purchases.
Onboard users
What do they do with your product after purchase? Provide documentation or video on-boarding. Take them to their dashboard and help them get started instantly.
Build relationship
Show them your human side – show a team picture, something personal. Share a story. Something that will establish a human, personal connect and strengthen your relationship.
Collect feedback
Take a survey – collect feedback about your business, product or service. Or even customers business, preferences or goals. This will help you know your customers better and gain valuable insights.
Grow social media followers
Show your social media links and invite them to follow you. Or share their product purchase with their friends. Run a social media campaign where they win a coupon or discount for sharing.
Promote a cause / affiliate products / third party resource
How about asking them to join a social / non-profit cause? Or taking them to some affiliated products and making a commission? Or some third party (or your own) helpful resource?
There are many things you can do on your custom thank you / order received page. Any customization will be a step forward in building a better customer relationship.
Reimagining WooCommerce order thank you page…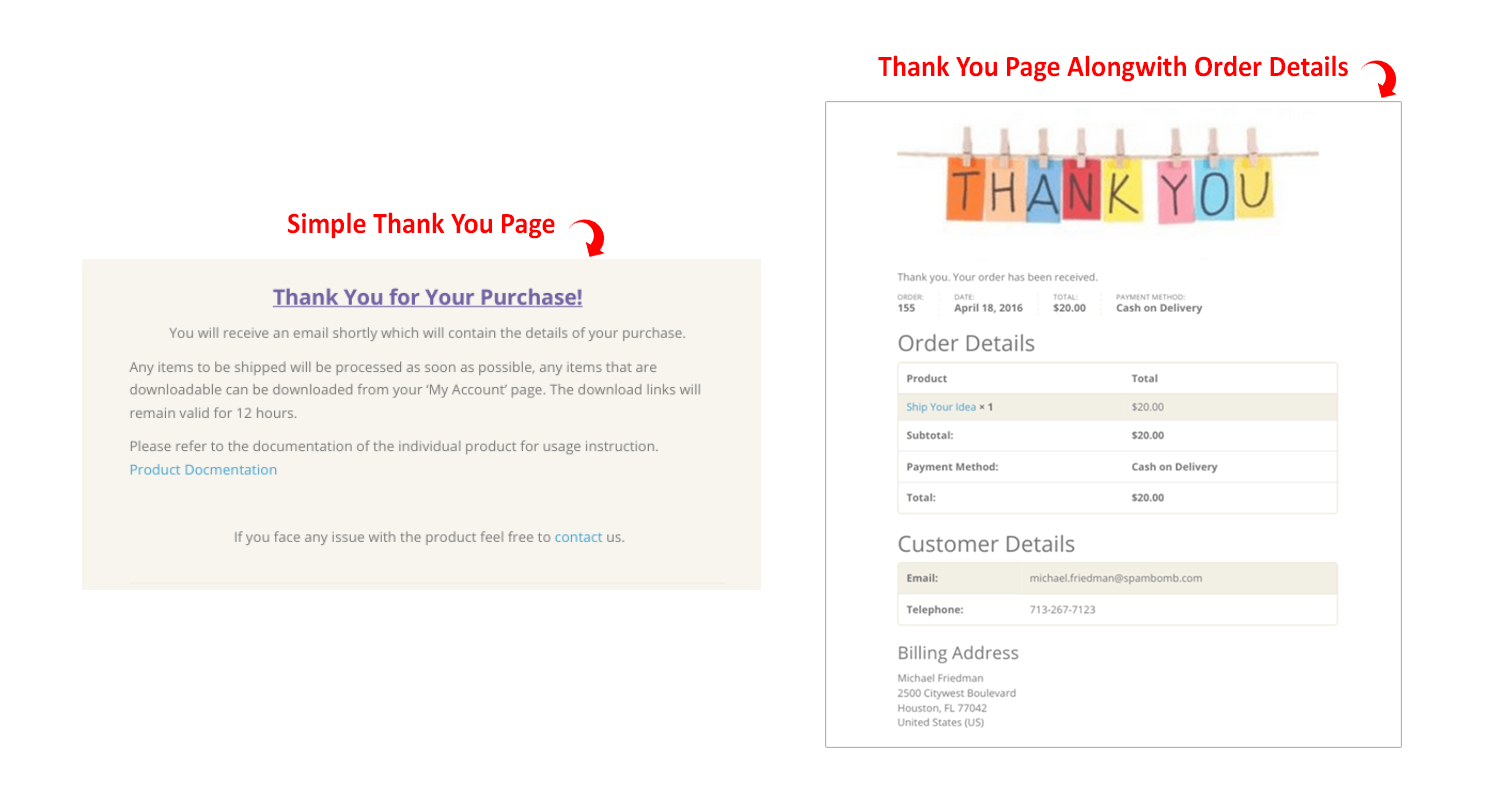 Displaying offers on Thank You page using Smart Offers
You can easily configure our plugin Smart Offers to show different types of Offers on the Custom Thank You page of your WooCommerce store. See a few examples below.
Showing offers on a thank you page will increase your chances of making more sales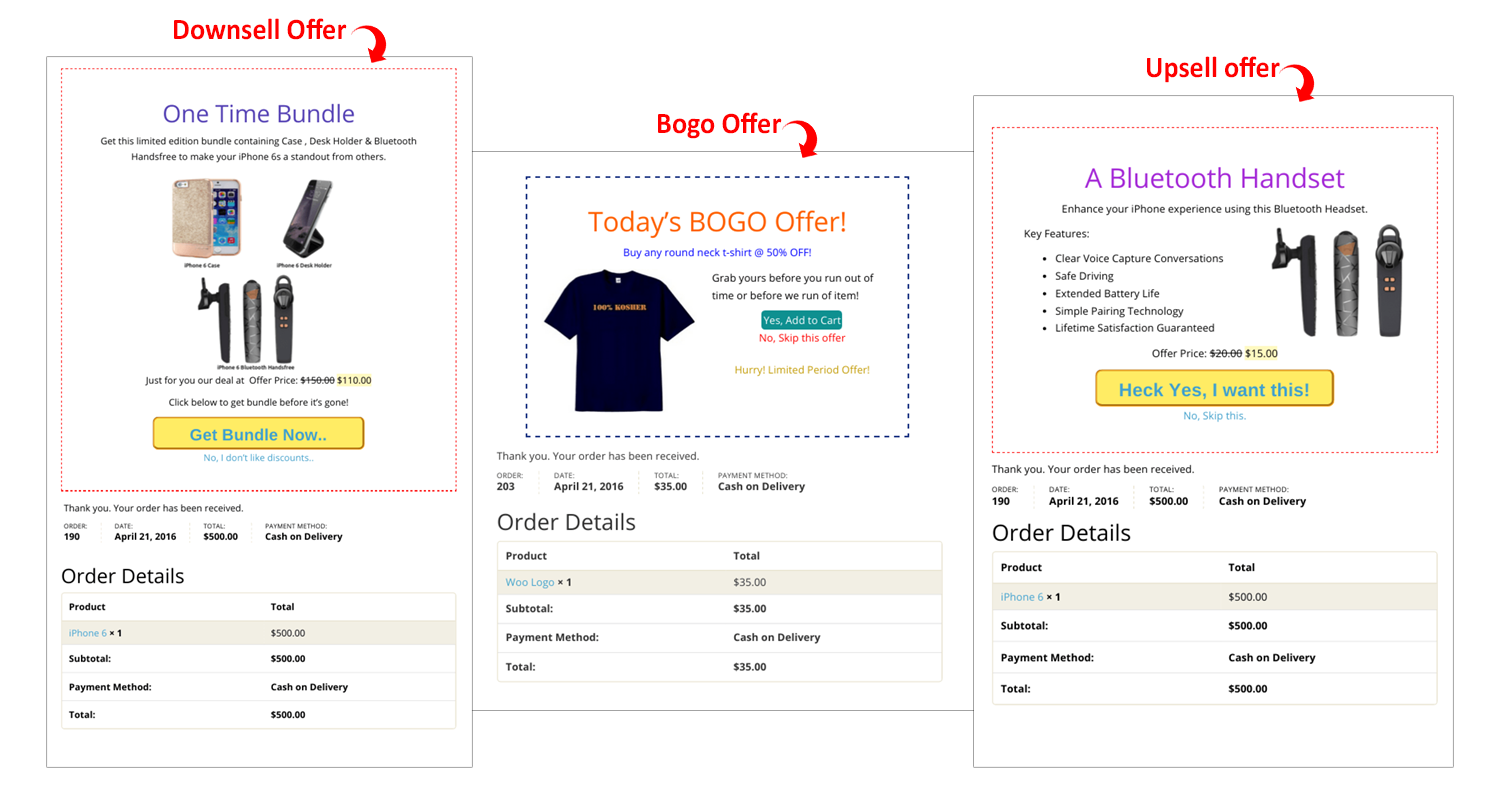 One simple plugin to do all this and more…
All it takes is three simple steps…
Step 1: Design your thank you pages
This is not a complex plugin that locks you into a maze of settings or their own design styles. Use your favorite page builder, your favorite theme, your shortcodes, embed other plugins – create a page with WordPress and design it the way you like.
Paste our shortcode [sa-wc-ctp-order-details] anywhere on the page to show order details.
Step 2: Link thank you page with the store or individual products
We recommend setting up one default custom thank you page for the whole store. Then you can create and link custom thank you pages for products that need custom thank you pages.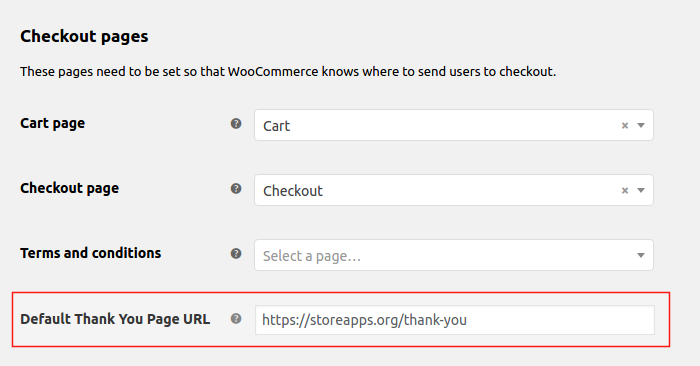 If the order contains only one product, that product's thank you page will show. Otherwise the default store thank you page will be displayed.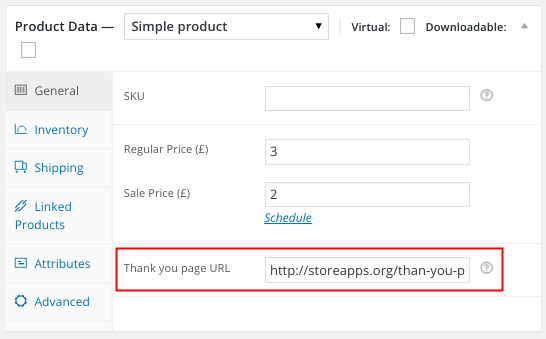 Step 3: Go live
Yeah, there is really no step 3. Measure results and keep revising your thank you pages for even better impact.

Mind blowing, game changer, simple setup, one time work, ongoing results…
hat's what hundreds of people like you are saying after using Custom Thank You Pages plugin for WooCommerce.
So don't wait.. Custom Thank You Pages for WooCommerce is the most flexible plugin to redirect customers to any custom order received / confirmation / thank you page on checkout for your WooCommerce store.

Don't let money and opportunities slip through your fingers…
I know it, hundreds of store owners know it and now even you know it.
The order complete page is a goldmine.
If you are not optimizing it for customer success and growing your sales, money and opportunities are slipping through your fingers.
Don't procrastinate. This is serious!
This is one of those simple plugins that create game changing results.
Select a license that works for you and get the plugin now.
Changelog
=== Custom Thank You Pages Per Product for WooCommerce Changelog ===

2017.01.12 - version 1.2
 * New: Feature to redirect to a common thank you page URL after checkout
 * Update: Filter to modify thank you page url 
 * Update: POT file

2016.10.10 - version 1.1.4
 * Update: Important changes related to Automatic Updates of this plugin
 * Update: POT file

2016.08.19 - version 1.1.3
 * Fix: Fatal error in Product Edit Screen in Admin panel when using with WooCommerce less than 2.5
 * Update: Removed hardcoded http from Ajax request for Quick Help

2016.08.04 - version 1.1.2
 * New: Fastest access to documentation in admin panel through Quick Help widget
 * Update: StoreApps Upgrade file
 * Update: POT file  

2016.07.20 - version 1.1.1
 * New: Inline Quick help available when using the plugin
 * Fix: Thank you page contents not being displayed properly when shortcode was added to the page.
 * Update : StoreApps Upgrade file
 * Update : Removed the duplicate documentation link
 * Update : POT file    

2016.06.20 - version 1.1
 * New: WooCommerce 2.6+ compatible
 * New: Added documentation link on the plugins page
 * Fix : Upgrade file - Unnecessary calls for latest update on every background process
 * Update: Use WooCommerce templates instead of custom templates to show order details when shortcode is added 
 * Update: Added compatibilty files for WooCommerce less than 2.6
 * Update: POT file

2016.05.03 - version 1.0.1
 * Fix: Security check in templates files

2016.04.22 - version 1.0
 * Initial release