Use The Thank You Page Of Your WooCommerce Store Wisely!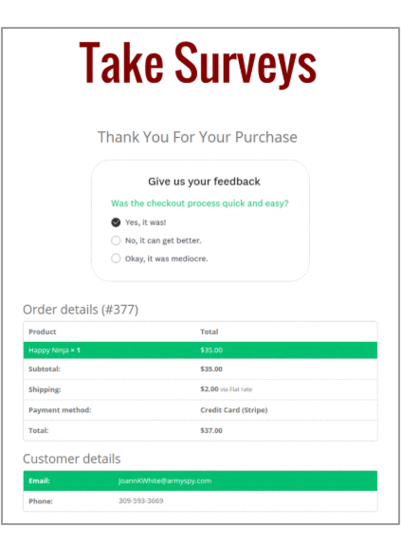 Custom Thank You Pages for WooCommerce is the simplest way to redirect customers to custom THANK YOU pages on checkout of your WooCommerce store
This WooCommerce plugin allows you to redirect a customer to any url once the customer hits checkout.
BY DEFAULT, WooCommerce shows you a boring page which only has the order details displayed on it. But by using WooCommerce Custom Thank you page you can redirect the customer to the url of your choice and show them any page you wish to.
You can redirect the customer as per your CHOICE
You may either redirect to
Thank you page on the same website
Static Thank you page
Anyother WordPress/ Non- WordPress website.
---
Here's how Custom thank You Page For WooCommerce WORKS..
1. Either create separate Thank You Pages for every product
Once you've activated the plugin, you will notice a extra option under the General head of every Product. You can add the Thank you page url right here.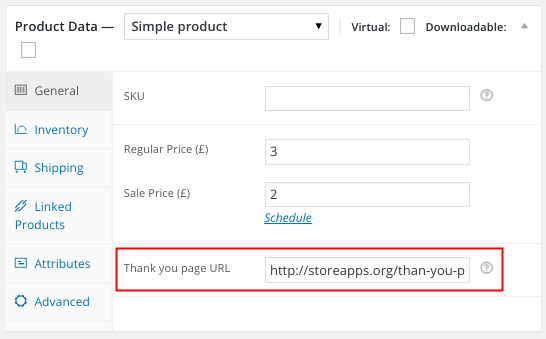 Once the customer adds this product to the cart and hits checkout he will be redirected to the Thank you page automatically. It's that SIMPLE!
2. Or create a single Thank You page for all your products.
To keep things simpler and save time, Custom Thank You page also let's you create a single Thank You page for all the products on the store. Here's how: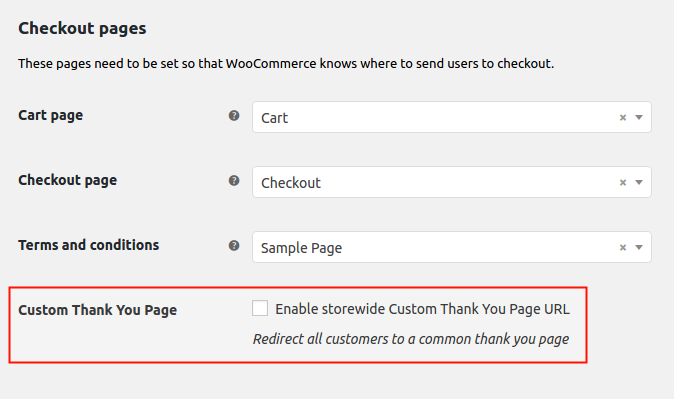 ---
Show Order Details Along With A Thank You
WooCommerce Thank You Page also gives you an option to show the order details along with a Thank you. You simply have to use the below shortcode and insert it on the Custom Thank You page/ whichever page you redirect your customer to.
Shortcode : [sa-wc-ctp-order-details]
Note: This shortcode will only work on the WordPress platform.
---
Make more money on your store with this plugin
Don't just use this plugin to redirect customers to a Thank you or order details page. Use it for more…
Redirect customers to an affiliate page
Redirect customers to a fantastic upsell offer
Redirect customers to your newsletter subscription form
Redirect customers to their dashboard and help them get started instantly
Redirect customers to your social media page
Take a survey
Show a customer success story
Displaying Offers On Thank You Page Using Smart Offers
You can easily configure our plugin Smart Offers to show different types of Offers on the Custom Thank You page of your WooCommerce store. See a few examples below.
Benefit: Showing offers on a thank you page will increase your chances of making more sales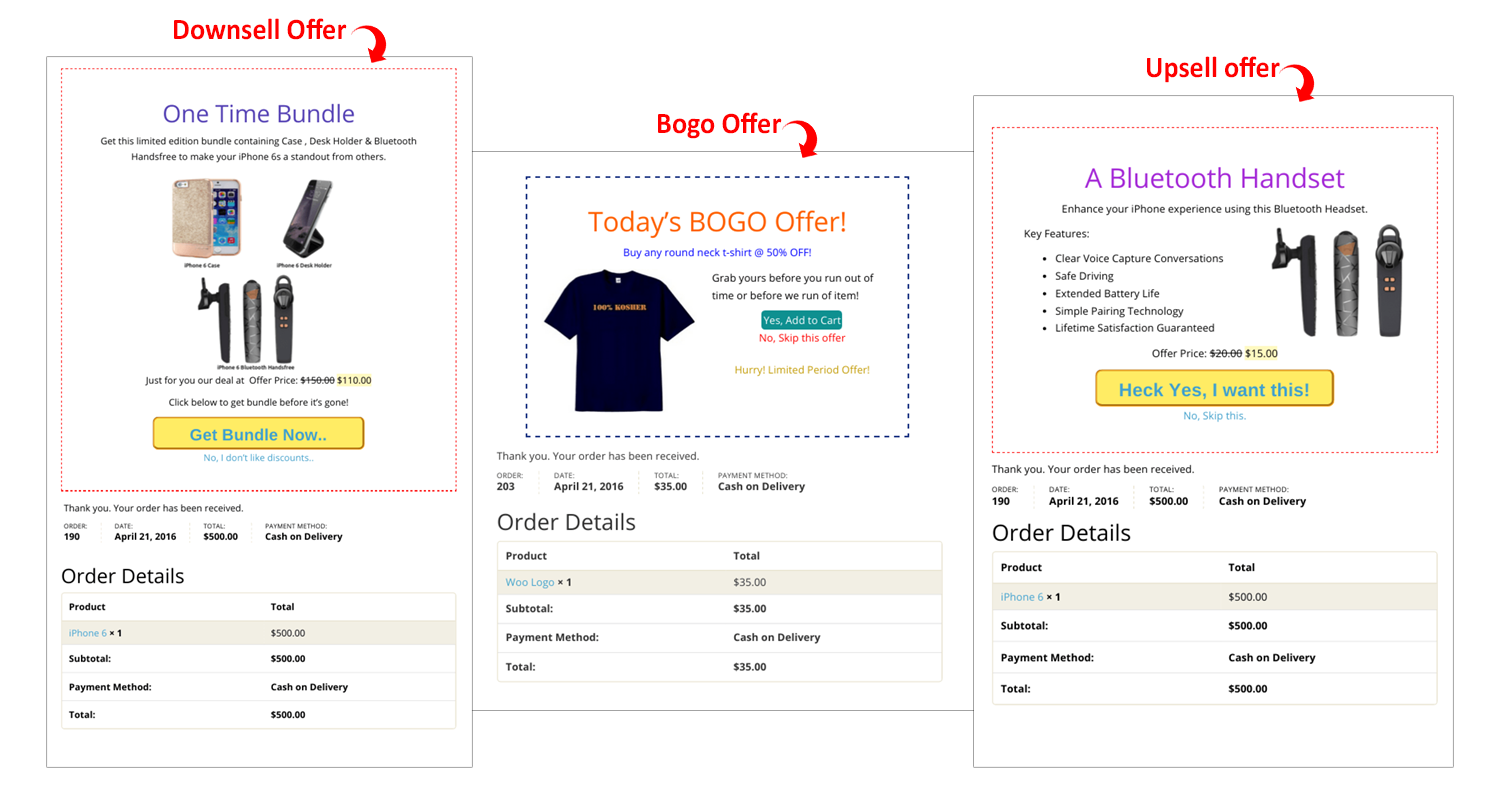 Note: You have to individually set the custom url to every product. Suppose there are multiple products on the cart with different custom urls set, the customer will be directed to the order completion page by default.
Also if there are multiple products in cart and if any one of them has the custom thank you page url in it then the customer will be redirected to that url after checkout.
Please choose how many sites you'd like to use Custom Thank You Pages Per Product for WooCommerce on and Order Today.
You'll get instant access to the product.

Changelog
=== Custom Thank You Pages Per Product for WooCommerce Changelog ===

2017.01.12 - version 1.2
 * New: Feature to redirect to a common thank you page URL after checkout
 * Update: Filter to modify thank you page url 
 * Update: POT file

2016.10.10 - version 1.1.4
 * Update: Important changes related to Automatic Updates of this plugin
 * Update: POT file

2016.08.19 - version 1.1.3
 * Fix: Fatal error in Product Edit Screen in Admin panel when using with WooCommerce less than 2.5
 * Update: Removed hardcoded http from Ajax request for Quick Help

2016.08.04 - version 1.1.2
 * New: Fastest access to documentation in admin panel through Quick Help widget
 * Update: StoreApps Upgrade file
 * Update: POT file  

2016.07.20 - version 1.1.1
 * New: Inline Quick help available when using the plugin
 * Fix: Thank you page contents not being displayed properly when shortcode was added to the page.
 * Update : StoreApps Upgrade file
 * Update : Removed the duplicate documentation link
 * Update : POT file    

2016.06.20 - version 1.1
 * New: WooCommerce 2.6+ compatible
 * New: Added documentation link on the plugins page
 * Fix : Upgrade file - Unnecessary calls for latest update on every background process
 * Update: Use WooCommerce templates instead of custom templates to show order details when shortcode is added 
 * Update: Added compatibilty files for WooCommerce less than 2.6
 * Update: POT file

2016.05.03 - version 1.0.1
 * Fix: Security check in templates files

2016.04.22 - version 1.0
 * Initial release