Fastest drag and drop editor, 300+ designer made templates, 90+ widgets and more…that's what makes Elementor, the popular WordPress page builder plugin a preferred choice amongst users.
Now, what if you can get some of these amazing features on your WooCommerce store and create jaw-dropping offers like upsells, cross-sells, BOGO, etc. and that too within minutes?
That's what is possible with the integration of Smart Offers and Elementor.
Double the power, double the sales
Smart Offers and Elementor are individually very powerful plugins on their own. So, their combined power for users is a boon.
Smart Offers lets you create powerful sales funnel, upsell, downsell, cross-sell, BOGO and special offers with targeting rules.
Elementor lets you build beautiful designs with its amazing functionalities.
So, we thought why not integrate them and let users create highly converting offers that their customers can't deny!
And if customers accept your offer, getting 2x sales is only a matter of a few hours…right?
Here's an example of how your offer will look when you use Smart Offers and Elementor together.
With Elementor at your disposal, get a completely new look to your offer designs.
Steps to enable Elementor in Smart Offers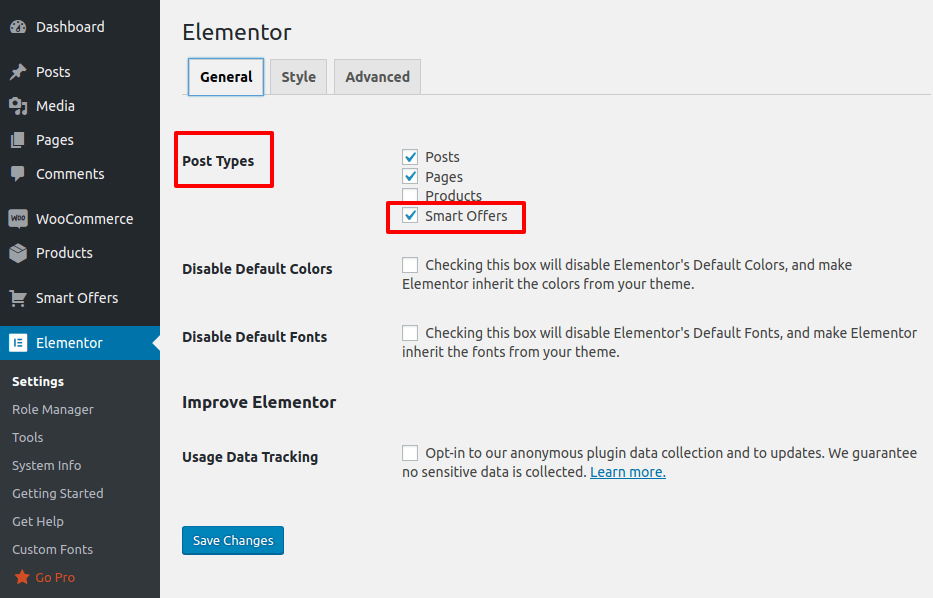 Go to Elementor > Settings
Under Post Types, enable Smart Offers.
Click on Save Changes
You are now ready to use Elementor and Smart Offers together.
Advantages you get from WooCommerce Smart Offers & Elementor Integration
Get rid of design anxiety
Many of us may not be Pro at designing or may not have time to spend on it. But with Elementor's huge template collection and the drag and drop editor, creating a good looking offer is a child's task.
Boost conversion rate
Content is the king. But a great content accompanied with a good looking template will naturally shoot up the conversion rate.
Make and achieve bigger business goals
Now with ample time saved in designing, you can delegate that saved time to focus more on creating and achieving bigger goals for your business. You can even plan on more aggressive marketing and show relevant offers.
Free of cost
The Elementor add-on you need for designing offers is free to use.
So, if you are already using Smart Offers plugin, simply update to the latest version of Smart Offers.
And if you haven't purchased Smart Offers yet,
Over to you
I hope you like this. Try this now and let us know how it goes.
And if you like to have any other page builder you use to be integrated with Smart Offers, let us know in the comments section below.