A small appreciation makes the world smile!
In the same way, displaying a simple Thank You after a customer has made a purchase can make them smile too.
By default, WooCommerce only shows the order details after a person completes a purchase. Using the plugin Custom Thank You Page Per Product for WooCommerce you can customize your Thank you page to display much more…
Benefits of Custom Thank You Page Per Product for Woocommerce
Main benefit of this plugin is showing a pleasant Thank You along with order details in a neat fashion just after the customer has completed his purchase. It's an awesome technique to show gratitude to your buyers.
However, gratitude is only one tiny area this plugin can be used for. There is an even bigger advantage. It can be used to grow your sales.
This article cover 4 hacks to use Custom Thank You pages for something much more than displaying a simple THANK YOU
#1. Increase revenue by driving traffic to an affiliate page
Affiliates are a great way to earn that extra income. Once a customer has made a purchase on your store and checkouts, you can show him a customized thank you page along with your affiliate product links. To make them even more interested in checking out these affiliate products you can provide them an enticing discount.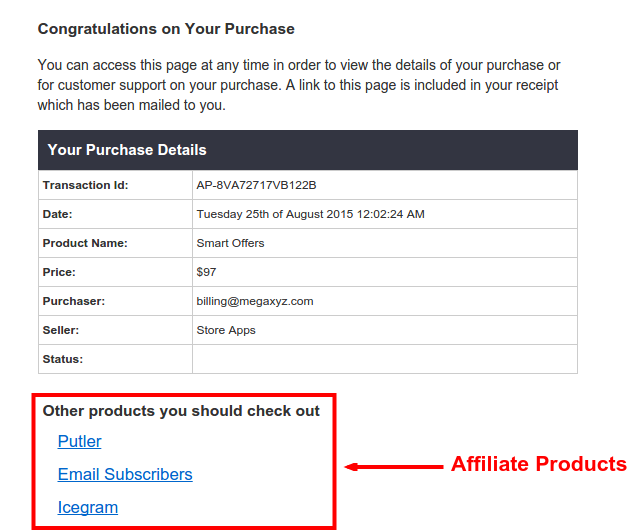 #2. Sell more by pitching Offers
Customize your thank you page with offers. Customers love a good deal. You can use a thank you page to show them an upsell or a downsell that will perfectly compliment the products they just purchased.
For example: If a person has purchased some eatables like burgers, fries and wraps from your store. Sell him a coke on your Thank You page. Pitching complimentary products is a very smart way of selling more and if pitched right will make you more sales.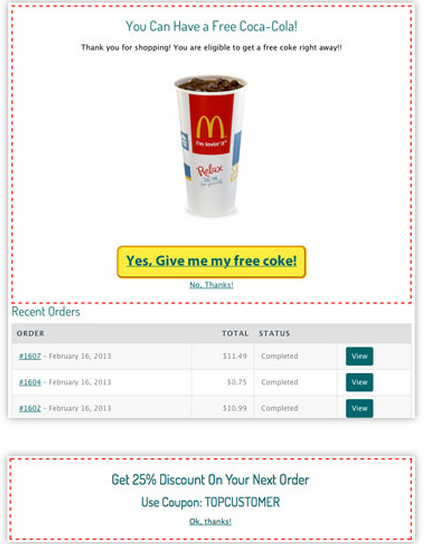 How to create a Upsell or a Downsell on a Thank You page or any page of your website?
You can use a simple plugin called Smart Offers which let's you create great looking offers like the one shown in the example above and target it to any page you want to.
To know more about Smart Offers, read this.  
#3. Grow your list from 0 to thousands using Subscriptions
Everybody is behind growing their list. And there's no better place to ask people to sign-up but once they have trusted you and purchased something on your store.
You may like to use some sort of social proof here like we've used in our example. Simply tell customers the number of people that have subscribed to your list or what benefit like exclusive content they will be entitled for once they sign-up.
The result of higher subscribers will be: 
Increase in sales
Increase in engagement
Increase in leads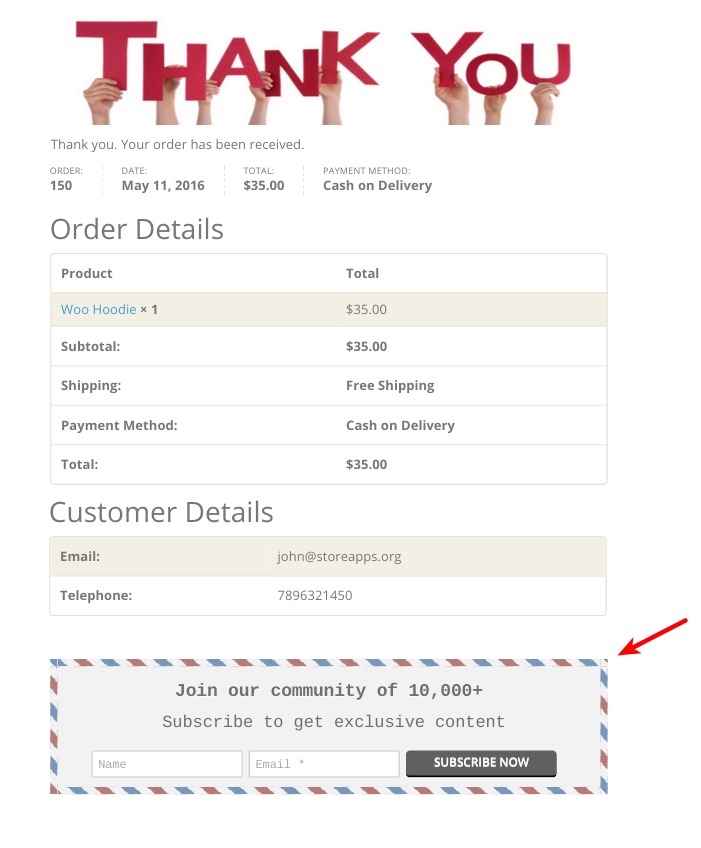 #4. Unleash your potential using Social media 
Use your thank you page to earn an extra follow on Twitter or win a extra like on Facebook. People are more excited to be a part of your community just after theyv'e purchased your product rather than days or weeks after the purchase. Thus, using the thank you page to display your social media icons could turn out to be really effective and may earn you followers instantly.

In the example above, we've shown social media icons using a lead capture plugin Icegram. You can read more about it here.
Try These Hacks On Your Website Now
Make some quick money with these quick hacks. Go try them out on your Thank you pages and let us know the results in the comment section below.
In order to start trying these hacks you will have to purchase the plugin Custom Thank You Page per Product for Woocommerce first. Buy it now.