Some affiliates deserve extra commission for their performance.
If you have hundreds of such affiliates, it's a daunting task to assign a special commission rate for each of these affiliates.
Instead, you can group or club similar affiliates together under a Tag and set the required commission rate for that affiliate group – simple and quick.
And this is possible using the Affiliate for WooCommerce plugin. This highly-rated premium plugin helps you set up your own affiliate program.
Let's delve into the steps of creating affiliate groups.
How to add affiliate groups?
Affiliate for WooCommerce plugin provides a Tags feature that helps you group similar affiliates and identify them easily.
For example, you can assign the 'Influencer' tag to affiliates who bring the maximum revenue or the 'Gold' tag to affiliates who bring sales for your best-sellers.
Consider you want to create a group named Champions, consisting of 20 affiliates that bring you sales for your high-ticket items.
Once you install and activate the plugin, follow these steps:
Go to WordPress admin > WooCommerce > Settings > Affiliate.
Look for the Affiliate tags option. Click on Manage affiliate tags.
You'll see the Affiliate Tags screen. There will be eight pre-defined tags – Active, Bronze, Dormant, Gold, Influencer, Platinum, Promoter and Silver.
To add your own tag, enter the tag name Champions under Add New Affiliate Tag.
Set the slug of the tag and assign a category if any.
Write a description to understand the tag's purpose.
Click the 'Add New Affiliate Tag' button.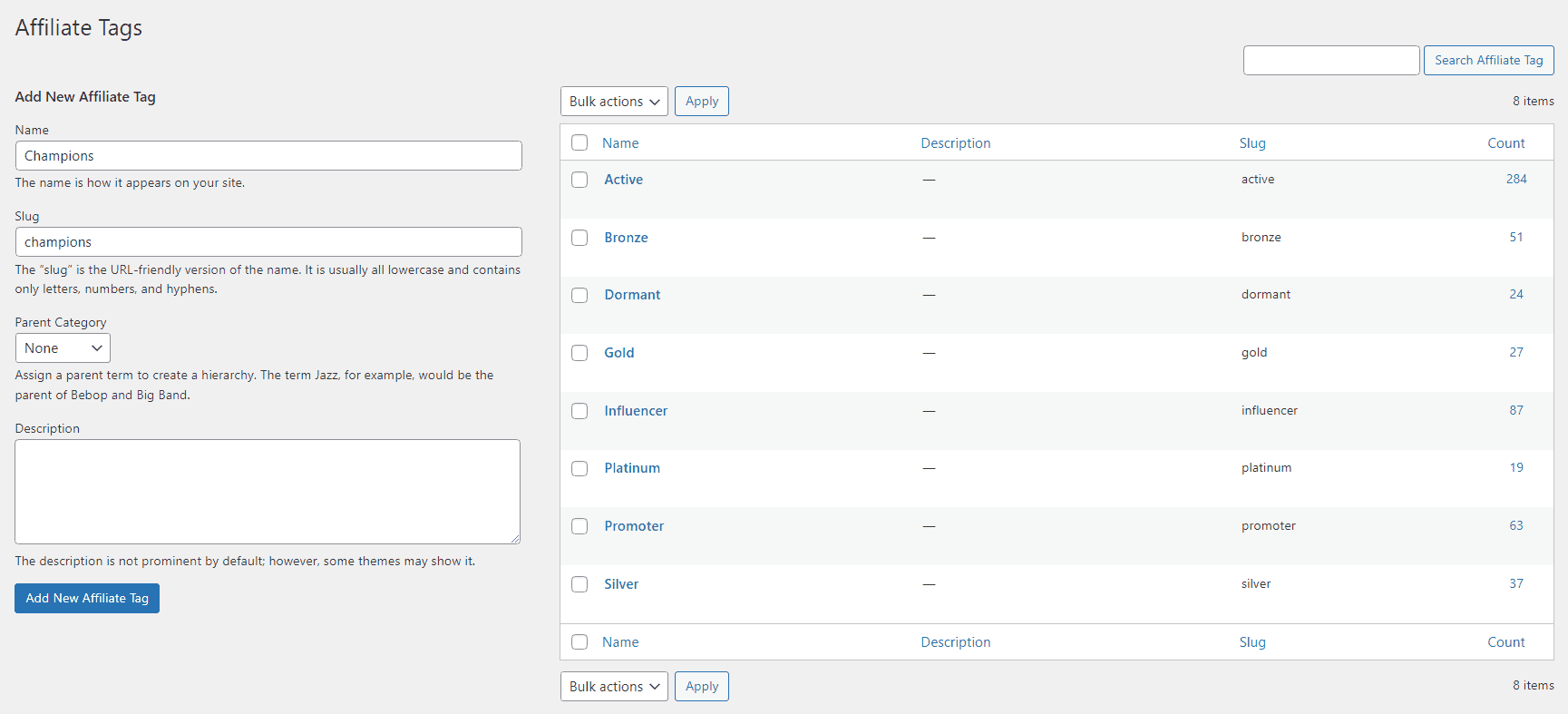 Your new tag will be added to the table on the right. You can search for tags using the search bar. You can delete tags if required.
How to add an affiliate to a group?
You have created a group with the tag Champions. Now you need to assign this tag to the desired affiliates.
Go to WordPress admin > WooCommerce > Affiliates.
Select the affiliate from the list or use the 'Search and Filter' bar at the top.
Click on the Manage Affiliate (User) icon. This will take you to that affiliate profile.

Under Select tags for affiliate, search and select Champions. Note – You can also add other pre-defined tags or custom tags directly.
Click on the Update User button.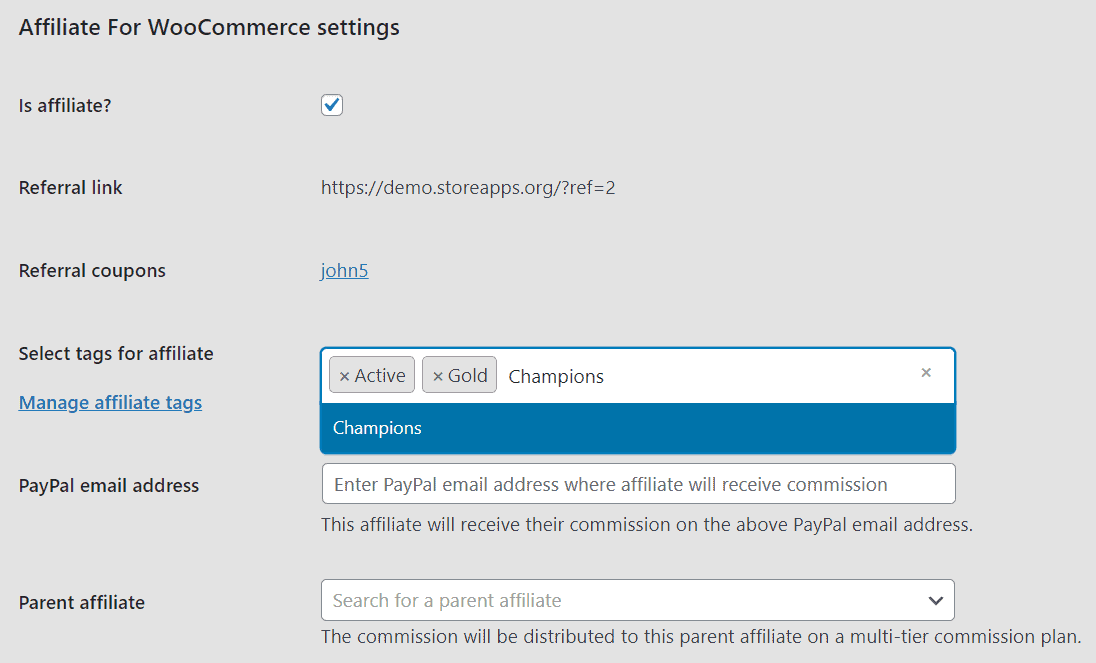 Repeat the steps for other affiliates.
A single affiliate can be a part of multiple groups. You can go to the Profile tab of the affiliate to view the assigned tags.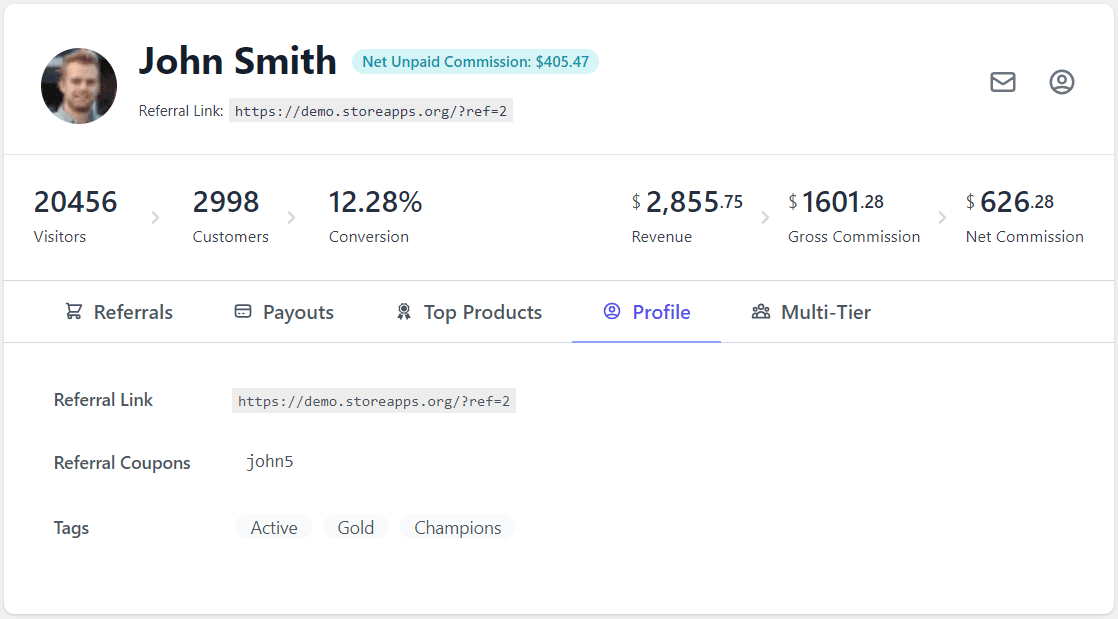 Once your affiliates are assigned with tags, it becomes easy to assign the required commission rate for all these affiliates in one go.
How to set a special commission rate for the affiliate group?
You have set your default storewide commission rate as 20% but you want to assign a 30% commission to your Champions group.
Go to WordPress admin > WooCommerce > Affiliates > Plans.
Click on Add a Plan to create a new commission plan.
Give a name to the plan for your reference.
Under Commission, enter the commission value (percentage or flat commission) you want to set for this affiliate group, 30 in this case.
Next, under Rules, set Affiliate Tag > any of > Champions as shown.
Change the commission plan status to Active from the dropdown at the top and click on 'Save'.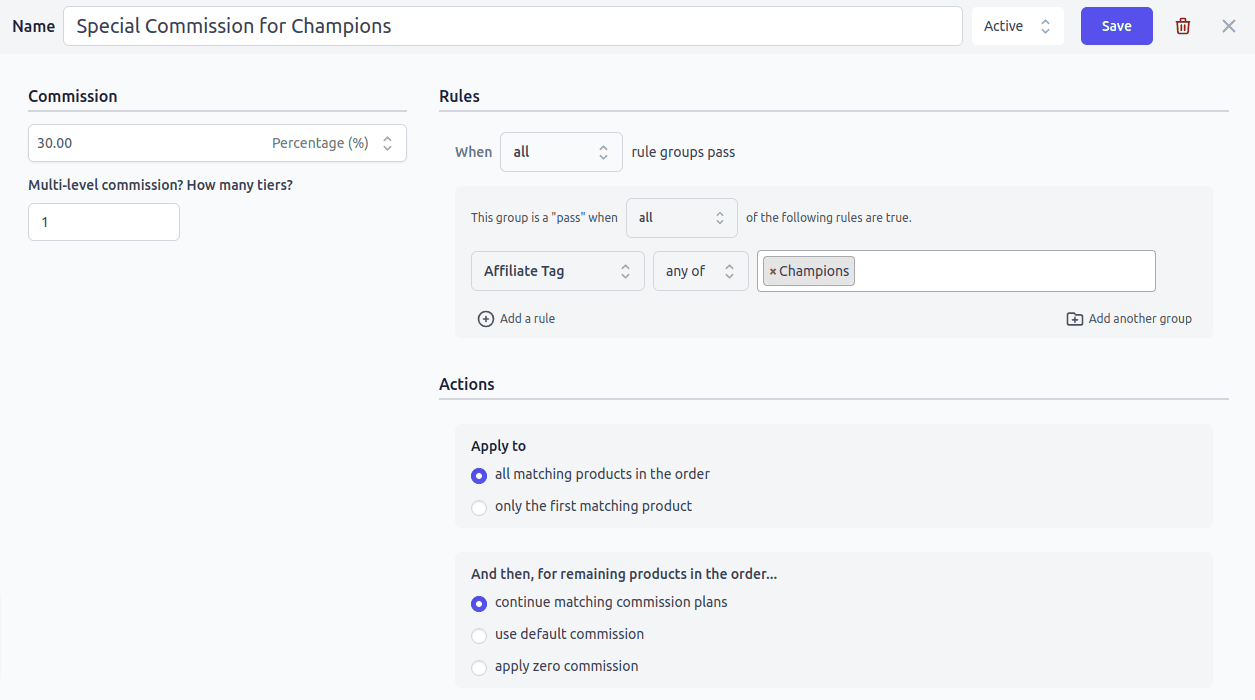 That's it. All your affiliates belonging to the Champions tag or group will now earn a 30% affiliate commission on a successful purchase.
Winding up
Creating and managing affiliate groups using the Affiliate for WooCommerce plugin offers a streamlined and efficient approach to rewarding high-performing affiliates with special commission rates.
By following the steps outlined above, you can easily create affiliate groups (tags) and establish commission rates tailored to each group.
The plugin is also the easiest to use, has no technical jargon and everything is manageable from a single place – commissions, payouts, marketing campaigns…