In the past few years, affiliate email marketing has become a leading marketing strategy for businesses. It's evolved from sending out an email to more personalized communications between your business and your customers.
Isn't it awesome to be able to work from home, make your own schedule and earn passive income while you're sleeping?
Launching an affiliate email marketing campaign successfully can turn your dreams into a reality. You'll learn exactly how to do it in this article.
Our focus will be on:
What is affiliate email marketing
The benefits of affiliate marketing by email
Launching affiliate marketing emails
It's time to get started!
What is affiliate email marketing?
Affiliate email marketing involves promoting affiliate links through well-written and targeted emails. The goal is to get your subscribers and customers attention, which will increase conversions and traffic.
Affiliate marketing isn't like traditional email marketing where the goal is to only sell stuff. You're not a salesperson here, just a user sharing the benefits of a solution. That's why it's important to be able to talk about the product naturally and convince others to buy it.
Why using email for affiliate marketing is helpful?
You can have direct communication with your audience through email campaigns. Your audience is one click away whenever you want to promote a product review.
Although SEO and social media marketing have advanced, email remains the most effective way to reach out.
It's an effective way to engage your audience and drive the conversation. Contact list subscribers are already interested in your niche and have opted-in to receive your emails.
Consequently, converting them to customers will be easier.
How to launch a successful affiliate email campaign: 7 pro tips
Affiliate email marketing can be tricky for beginners, but you'll get the hang of it in no time.
Here are the tips for successful affiliate email marketing:
Find an affiliate-friendly email provider
The first step is to make sure your email provider allows you to include affiliate links in emails. The deliverability rate of email automation services is often a concern. Check yours to see if affiliate links are allowed.
You can make all these email campaigns and tasks more efficient using Icegram Express. It allows you to add affiliate links in emails, automate personalized campaigns, reduce costs and do a lot more with its email automation features.
Compile a subscriber list
Make your website signup-friendly by integrating signup widgets and pop-ups. Signup forms should be visible. Make sure you test different popups to see which one gets you the most lead sign-ups.
Icegram Connect can help you create contact forms and subscription widgets in seconds. Embed them anywhere on your site to collect leads. You can store and relay submissions however you want.
Allow minimum space for affiliate links in your emails
Affiliate links shouldn't take up your entire email sequence. Why?
Continually sharing 3rd party products can annoy your audience.
Low deliverability rates may cause email service providers to close your account.
What's the best course of action?
A sequence of affiliate emails can be created and added to an existing sequence.
Add affiliate links to other content in a subtle way.
Embedding affiliate links organically in content is a great way to improve click-throughs and opens on your email sequence.
The most important part is providing the content and value you promised in exchange for the signup.
Make each email unique
Send emails consistently
Nurture and educate more than promote in your emails.
Automate drip emails
Automate your email flow and save your time. Assure your subscribers get emails on a specific date after signing up.
Prepared email flows help you send the right emails at the right time. Your audience will also be engaged with regular emails.
Produce high-quality content
To keep subscribers reading your emails, your content needs to be amazing. Keep your audience up-to-date on the latest developments in your niche.
Don't focus on what you want your audience to read, but instead what they might enjoy. Don't go overboard with affiliate promotions. Don't sound like a salesperson, that'll make your subscribers leave.
Offer exclusive content
If you're offering exclusive content that can only be accessed by signing up for your email list, that's another great way to get people to join your email list.
Top affiliates rely on an exclusive marketing content for a reason. The best content of some affiliates is only available to subscribers who subscribe to their email lists.
Monitor affiliate email marketing
Your affiliate marketing email sequence is working and commissions are starting to come in.
But there's still one thing to do. In order to continue receiving more commissions, you need to actively track your subscribers so you can tweak your campaigns accordingly.
If you are a WooCommerce store owner, you can now easily set up your affiliate program, create marketing campaigns and commission plans for affiliates with Affiliate for WooCommerce plugin.
Your affiliates can get all the marketing resources that can be used in the emails for your product promotion.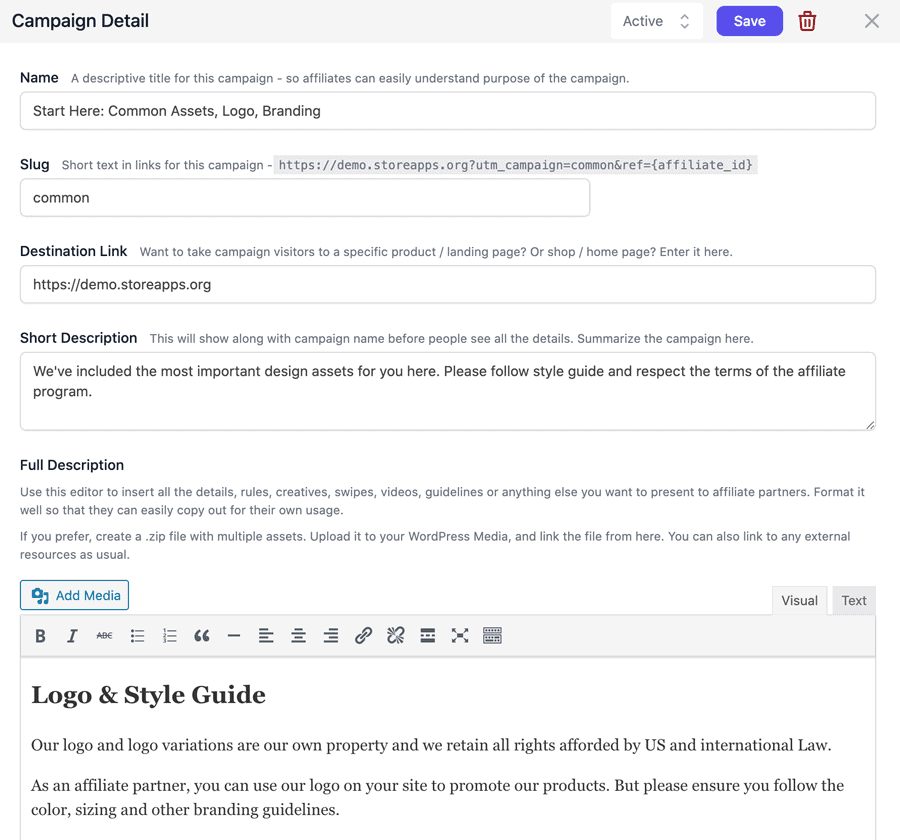 Best practices to follow for affiliate email marketing
No matter however tricks and tactics we apply, it is always to be cautious while we implement any plan. There are a few more things that can be considered while we practice some of the tips mentioned above:
Greeting the recipient by their name – People feel more connected to you when you send them an email with their name in the greeting.
Be concise – Bring new information to your audience. It's possible to lose subscribers or have them ignore your emails if you keep repeating yourself.
Avoid spamming – Emails should be sent out on specific days and at specific times.
Email list segmentation – As a result of segmenting your list, you will increase opt-in rates, open rates, and conversion rates, plus deliver relevant content to the right buyers at the right time.
Enhance email content – Write compelling emails, illustrate what you're promoting, and tell a story. You can use videos, images, audio files and podcasts.
Make the most of holidays – When the major holidays approach, people start looking for deals. Perhaps this is a good time to promote affiliate products in a creative way.
Test and trace A/B testing – It helps you to identify the one that gets the best response. Monitoring and adjusting affiliate email marketing campaigns according to the best results makes affiliate email marketing much more effective.
Wrapping it up
There's no rocket science to starting an affiliate email campaign. By using the right tools and practices, you can promote your affiliate links and watch your commissions soar.
What are your thoughts on these affiliate email marketing tips?
We'd love to hear your views and ideas in the comments.