Blockchain technology and cryptocurrency is booming. Bitcoin, Altcoin and other cryptocurrencies are becoming increasingly popular for digital transactions.
If you are running a WooCommerce store, adding cryptocurrencies will be a necessity apart from PayPal, Stripe, and other popular payment methods.
But there are 20+ WooCommerce crypto payments plugins. Which one is best suited for you? Let's help you choose the ideal one.
Why accept crypto payments in WooCommerce?
Writing about cryptocurrency is a huge blog in itself. If you are interested in how it works, have a look at this cryptocurrency article.
About 300 million people worldwide hold cryptocurrency. So accepting payments via cryptocurrency will help you tap customers who you never reached before.
And you have some awesome benefits:
Get your earnings transferred to you in your local currency (select currencies via bank/exchange partners) or as cryptocurrency.
Take payment from anyone, virtually anywhere, at any time without any local currency set up.
Lower transaction fees.
Receive payments without any delays
Cut several unnecessary middle-men
Save money on transactions, banking fees and chargebacks
For more benefits, refer to this post on accepting cryptocurrency.
There are a few cons as well:
Cybersecurity breaches, prone to hackers
Fluctuating prices
Government regulations as the tech are not adopted by them
Scalability – process fewer transactions and at a less speed compared to the giants like Visa and Mastercard.
But cryptocurrency has boundless potential. And if you pair it with WooCommerce, you unlock the great potential to increase your reach and boost your sales.
Top WooCommerce crypto payments plugins
Before moving to the plugins, you must choose between a custodial and non-custodial crypto payments provider.
If you choose a Custodial crypto payments provider, the service provider manages your crypto accounts on your behalf. It is a fully-integrated WooCommerce extension, has low transaction fees and settlements are sent directly to your bank account in fiat currency.
However, if you choose a non-custodial crypto payments provider, you have full control and sole responsibility over the security and management of your crypto accounts.
For more differences, refer to this blog.
Coming back to the plugins, the list available for accepting crypto payments on WooCommerce is big. But not all of them are secure. Some may also lack essential features.
To make things easy, we have compiled a list of the four best crypto payment gateways that WooCommerce has partnered with. A big thanks to them, this eliminates confusion and helps make a decision easier.
Coinbase Commerce
This plugin is developed by Coinbase Inc, the largest cryptocurrency exchange in the United States by trading volume.
The Coinbase Commerce plugin is the most popular one, used by 10K+ users. Add this plugin to your store and your customers will have the option to pay with various cryptocurrencies, including Bitcoin, Ethereum, and Litecoin.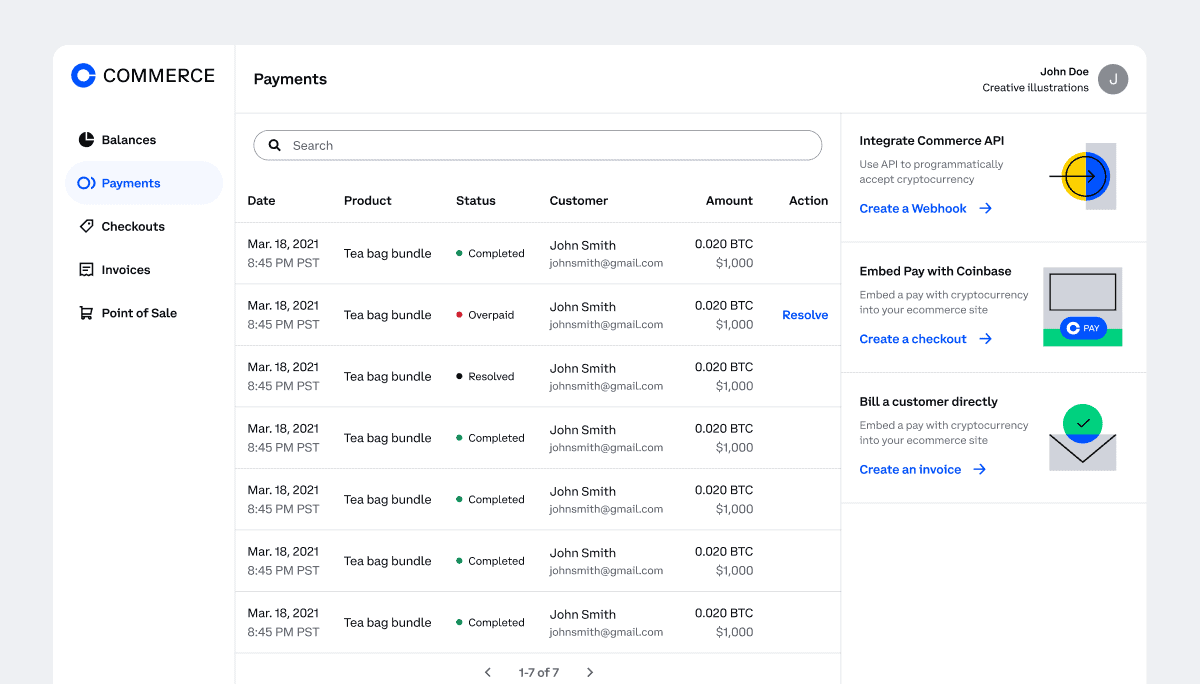 Features and Benefits:
Handles the payment processing and conversion rates automatically.
Choose which assets you want to accept as payment and convert them into cash or stablecoins whenever you need them.
Option to manage your crypto funds yourself or opt for Coinbase's managed service to handle custody.
Access transaction reporting tools for efficient accounting and reconciliation.
Turnkey API: Create customized workflows and provide unique experiences.
Manage fewer chargebacks and enjoy lower fees compared to certain traditional payment methods.
Vast user base – 103 million verified users, 11,000 institutions, and 185,000 ecosystem partners across 100+ countries.
Coinbase's established reputation ensures secure investment, spending, saving, earning, and use of cryptocurrencies.
OpenNode Bitcoin Payments
OpenNode Bitcoin Payments extension allows merchants to instantly settle funds in Bitcoin, USD, or both. It is compatible with any Bitcoin wallet, making it easy to set up and start offering Bitcoin payments to your customers within minutes.
Features and Benefits:
With OpenNode, funds are settled instantly, providing you with fast access to your funds.
Payment amounts are calculated using up-to-date exchange rates, ensuring accurate pricing for customers.
The extension enables instant Bitcoin payments through the Lightning Network, allowing for faster and more efficient transactions, and low processing fees.
Native SegWit address support: The extension supports traditional on-chain transactions using the new Native SegWit addresses (Bech32), providing flexibility and compatibility.
Schedule withdrawals free of charge.
Download OpenNode Bitcoin Payments
HAYVN Pay
The third crypto payments extension, HAYVN Pay allows you to securely accept cryptocurrency payments from customers worldwide, with the option to receive immediate fiat (traditional) money.
As a globally regulated platform, HAYVN Pay settles payments directly to your bank account, eliminating the need for you to hold cryptocurrencies and providing a secure payment solution for new global markets.
Features and Benefits:
You receive the exact amount displayed on the invoice in your preferred traditional currency, such as USD, AUD, and AED. EUR support will be added soon.
Do not bother with fluctuations in cryptocurrency values. You always receive the exact amount in your chosen traditional currency.
No setup fees, monthly charges, or hidden costs. It will directly deduct a flat fee of 1% from each payment, thus making it affordable for the users.
Swift payment settlements, with funds reaching your bank account within hours.
Utilize the HAYVN Pay Console to manage and track your cryptocurrency transactions, with detailed reports available for your convenience.
Extensive regulations, require all users to undergo a Know-Your-Customer (KYC) process. This safeguards your business, customers, and ensures compliance with regulatory standards.
The onboarding and KYC process is similar to that of opening a bank account and would be typically completed in 24-48 hours.
DePay Payments
This extension enables you to process cryptocurrency payments directly on your WooCommerce store and receive them into your crypto wallet without any intermediaries involved.
DePay Payments supports various blockchains such as Ethereum, BNB Smart Chain, Polygon, and Solana, and is compatible with most crypto wallets.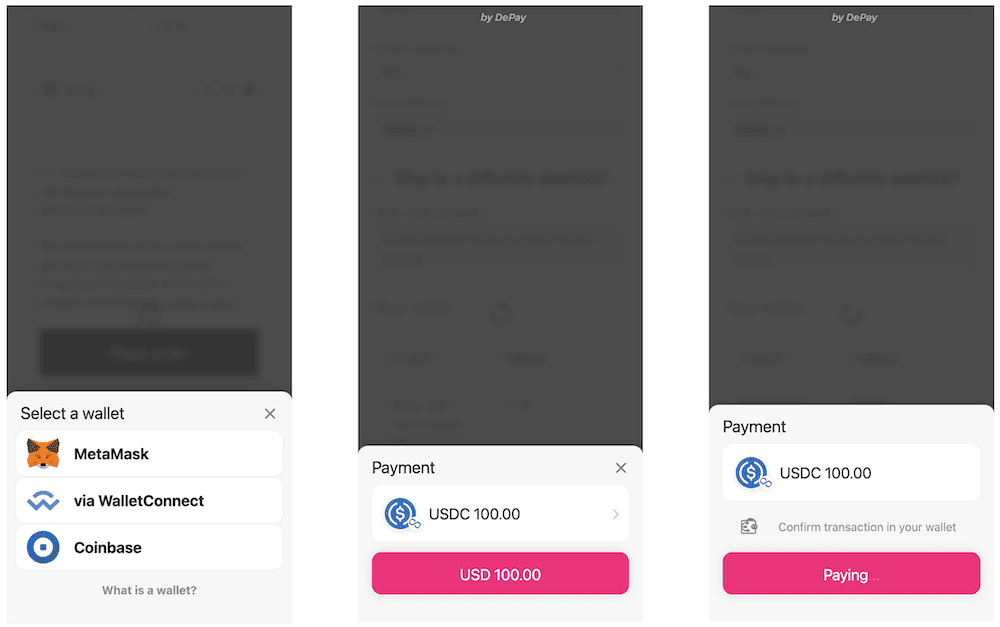 Features and Benefits:
Customers can make cryptocurrency payments using mobile devices or WalletConnect QR codes.
Payments settle immediately, eliminating the risks of fraud and chargebacks.
Offering a frictionless, one-click Web3 payment experience to your customers, reducing the likelihood of abandoned carts.
Customers can use any token that can be exchanged with the cryptocurrencies that you accept.
Which WooCommerce crypto payment gateway to choose?
Obviously, based on the popularity and user base, Coinbase Commerce will be the top choice.
However, other plugins also have their own advantages they can pride themselves upon.
DePay Payments allows for direct payments in your wallet without intermediaries, HAYVN Pay settles payments directly to your bank account immediately, while OpenNode Bitcoin Payments has SegWit support that reduces fees for users on the network.
The final choice depends upon the cryptocurrencies you want to accept, the level of control you want over your crypto funds, the payment settlement options, and the fees associated with each plugin.