Your customers love receiving exciting offers from you. Make them feel even more special by delivering them physical gift cards or gift vouchers.
This article will help you understand the feature of printing WooCommerce physical gift cards / gift certificates / discount vouchers / store credits for you and your customers.
Best applications of physical gift cards to grow business and customer base
Distribution through print media i.e. newspapers, magazines to reach out to a lot of people who can redeem these vouchers online or offline & avail the offer.
Your customers can surprise their family or friends by sending these physical gift cards during special occasions like birthdays, Christmas or New Year.
Sending across the gift certificates through email and allowing your customers to print them.
You as a store owner sending discount vouchers as a gift to selected customers based on their loyalty, previous purchases or recency which they can redeem later.
Three ways to create WooCommerce physical gift cards
You can easily create physical gift cards using WooCommerce Smart Coupons, the best-selling coupons plugin.
You can bulk generate gift cards, add restrictions based on payment, taxonomy, attributes, user roles and others. Let's understand how to create a gift card.
Coupons Dashboard
This is for the WooCommerce store owners who want to print coupons and send them across to their customers (the newspaper and loyal customers examples above).

All you have to do is:
Go to Marketing > Coupons and mark the checkboxes of all the coupons you want to print.
Click on the Print button.
Once printed, you can send those gift cards via a delivery service.
You can also generate unique gift cards in bulk, select them from the Coupons Dashboard, print them, and distribute them.
Here's how to bulk generate gift cards in WooCommerce
My Account
Your customers can print all the valid offer coupons available on the store for them.
All they have to do is:
Go to their My Account section
Click on Coupons tab
Click on the button Print coupons
That's it.
Email
Some of your customers may not be aware that there are coupons or discounts being offered on your WooCommerce store. To encash such customers, you can send them these coupons via email. Or you send gift certificates to your users via email to lure them to make some purchases.
For sending emails, the setting Email auto generated coupons to recipients should be enabled under WooCommerce > Settings > Smart Coupons.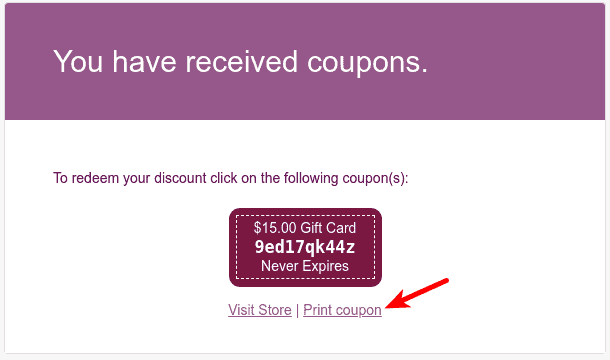 When you send a coupon via email using Smart Coupons (Bulk Generate or Send Store Credit option), there's a Print coupon option in the email below the coupon code that will allow the user to print all the coupons received in that email.
Adding terms and conditions to gift cards
There is an optional feature offered by Smart Coupons for adding the 'terms & conditions' page for the gift card usage.
If you opt for it, the plugin automatically adds one empty page while printing. While taking the print, you can add some content on it that specifies the terms and conditions for redeeming the coupon.
Follow these steps to complete this activity
Now, whenever you print any gift card or coupon, it will be printed along with the terms and conditions content page.
Winding up
Smart Coupons makes it very easy to create and print gift cards. If you are looking out for a quick and simple solution for physical gift cards, look nowhere than Smart Coupons.
Bulk generations, restrictions, auto-apply and URL coupons, scheduling are other features that are an added advantage.