Want to avert losses? Want to avoid the misuse of coupons on your WooCommerce store? You can easily do that by using advanced WooCommerce coupon restrictions. And this article will tell you how you can.
What restrictions default WooCommerce coupons provides? What it doesn't?
Now the default WooCommerce coupons provide nine coupon restrictions. Minimum and maximum spend, individual use, exclude sale items, include and exclude products, include and exclude categories, email restrictions.
You may already be familiar with it. If not, this article tells everything related to WooCommerce coupons you need to know.
But using default WooCommerce coupons, you don't have the flexibility to control your coupons based on location, shipping, payment details, user roles, etc. To avoid misuse of coupons and grow sales, you need these advanced coupon restrictions.
So what's the solution?
WooCommerce Smart Coupons, the all-in-one coupon solution on WooCommerce.com provides this flexibility. And helps you stay in full control of your coupons.
What advanced WooCommerce coupon restrictions Smart Coupons provide?
Other than the default WooCommerce coupon restrictions, you get additional ten restrictions. You can use any of the combinations or all.
New user
Expiry time
Maximum discount
Location based – country, city, postal or zip code
Payment methods
Shipping methods
User roles
Product attributes
Product taxonomy
Email restrictions
Go toWooCommerce > Coupons > General and you have New user, Max discount and Coupon expiry time restrictions.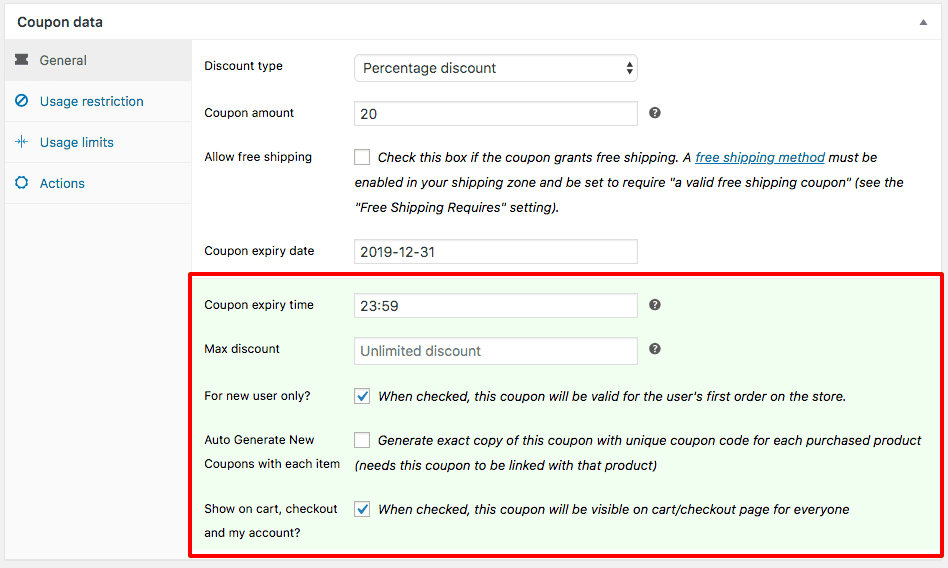 Now, go to WooCommerce > Coupons > Usage restrictions and you have the remaining restrictions (highlighted in green) as shown in the image below.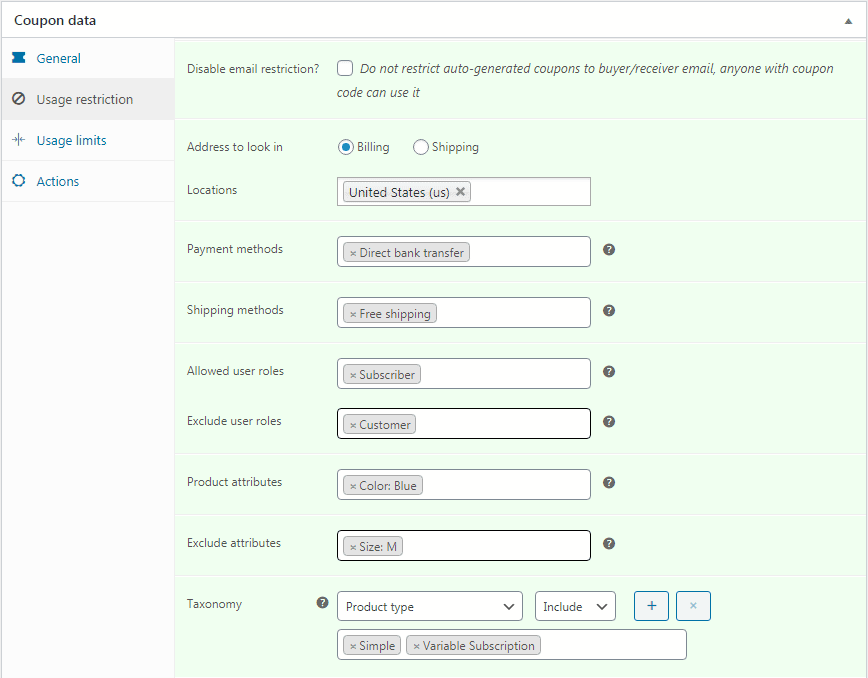 Choose the restriction and enter values for which you want to allow the usage of this coupon.
It can't get easier than this!
A quick walkthrough on each advanced coupon restriction
For new user only
This is to convert first-time visitors with the hope they return for subsequent purchases.
If a customer is logged in, the extension will verify that they haven't purchased anything before allowing the coupon to be applied.
For non-logged-in customers, the coupon verification runs right before checkout once the email address has been entered.
Coupon expiry time
Why wait for the clock to tick 12, then go to the website and switch off the discount coupon? What if you forget?
Instead, Smart Coupons gives you scheduling feature to set the exact time when your coupon will expire. So that the misuse is avoided. (23:59 on Dec 31 as shown in the image above)
Max discount
Here, you can set a maximum discount that can be redeemed on the percentage off coupon.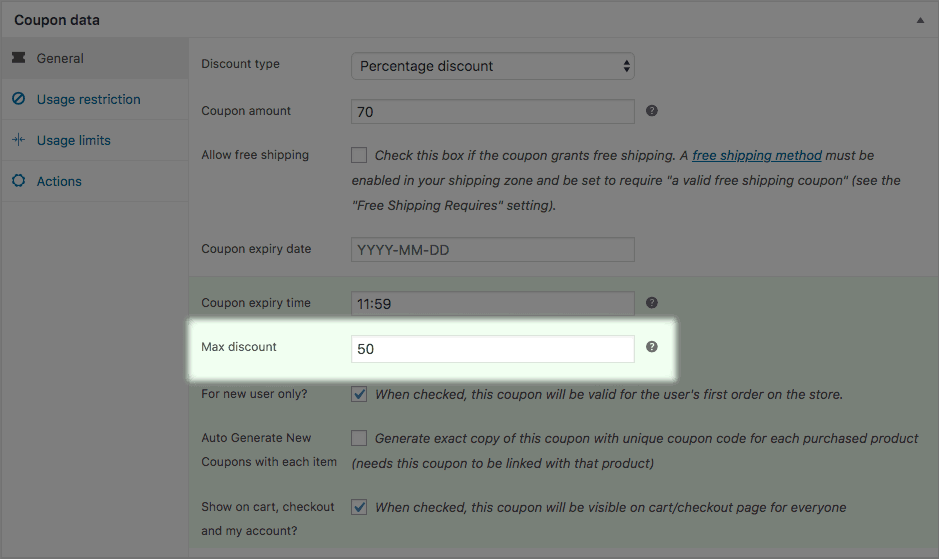 For example, if you run a 40% off coupon but want to restrict the maximum discount to $100, this is an ideal option. Learn more about it here.
Location – country, state, city, postal or zip code
By default, you'll be able to search & select a country. If you don't find a country, state, city & zip code, you can easily add it. Once entered, these records will be available for selection from the next time onwards.
Why use location restriction?
Run discount on specific days in selected countries (Boxing Day on 26th Dec – UK, Australia, Canada)
Tap sales from local markets where your majority customers live (postal code and zip code restrictions)
Take into account currency fluctuations
Tackle locations that levy high shipping charges
Learn more about restricting WooCommerce coupons by location
Payment methods

Some gateways are specific to countries like Alipay in China. Some gateways are the most trusted and highly popular – PayPal & Stripe.
However, some gateways allow easy chargebacks while some locations are prone to frauds for specific gateways.
So select the best suited based on what and where you to sell. Refer this guide to choose the best payment method.
Learn more on payment restrictions for coupons
Shipping methods

Restrict coupon based on any shipping method – flat rate, free shipping, local pickup, etc.
Based on the region where you sell, shipping charges associated, enable this restriction. Learn more on shipping restrictions for coupons
Allowed user roles

Restrict a coupon to one or more user roles. Customer, Subscriber, Administrator, Affiliate, etc. You can create coupons specifically for them. Learn more on user roles restrictions for coupons
Include & exclude product attributes

This is useful when you want your coupon to get apply to all products having a particular attribute. Or exclude a product attribute from the coupon getting applied. Earlier, you need to enter each variation. But not now.
Example – You are selling fifty T-shirts in total in your store. Different colors, sizes, collar-type (attributes). But, you want to offer a 20% off coupon only when the user adds a red-colored T-shirt to the cart, irrespective of other attributes. Simply add Color > Red as shown.
Now, consider the same example above, but now you don't want to show a coupon when any blue colored T-shirt is added to the cart. Add Color > Blue as shown. Learn more on attributes restrictions for coupons
Product taxonomy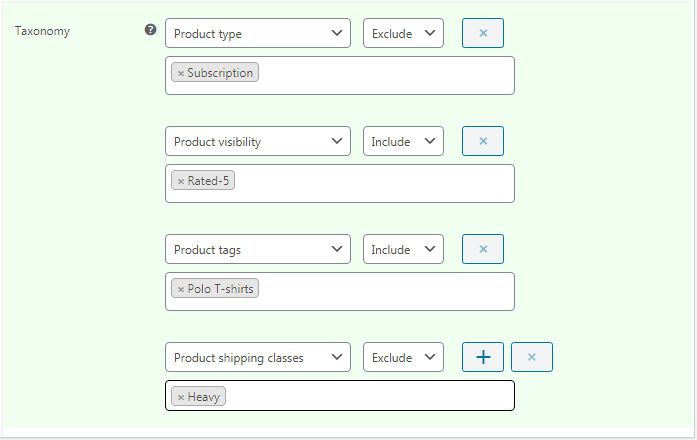 Smart Coupons provides full flexibility to include / exclude product taxonomy from the coupon getting applied.
Product type
Product tags
Product visibility
Product shipping class
Learn more on taxonomy restrictions for coupons
Disable Email restriction
If you want anyone having any email address use the coupon, tick the checkbox. This is good only if you run some flash sales or a limited time offer.
Eight best use cases of WooCommerce coupon restrictions
Here are some ways you can restrict coupons to avoid misuse, grow sales, avoid losses and frauds, gain new customers.
Show coupons only for targeted locations on specific days. Like US Independence Day on 4th July, St. Patrick's Day in Ireland on 17th March, etc.
Free Download – List of major festivals celebrated worldwide with dates
For subscription products, restrict coupons to these payment methods – PayPal, Stripe, Authorize.Net & Square.
For locations where shipping charges are high, allow coupon to get applied on free shipping.
Let only Admin purchase your premium products.
Offer protective case at a discount on purchase of all smartphones except for Blue color ones.
Apply coupon only for new users on launch of your new product.
Schedule all your Cyber Monday offer coupons to expire on 30th November, 11:59PM so that you don't have to open your website to do it.
Disable email restrictions when you do a flash sale. Make the coupon live at 12PM and set expiry time to 12.10PM on the same day.
Other powerful Smart Coupons features
Not just coupon restrictions, Smart Coupons gives you tons of other features:
Store credit / gift certificate
Bulk generate coupon codes
Add coupon in the URL
Gift a product as a coupon
Schedule coupons
Apply coupon before tax
Custom coupon box designs
The coupon restrictions can also be applied to store credit or gift certificates.
No doubt, it is the best-selling WooCommerce coupons plugin.
Conclusion
If you want to grow sales, get customers but also want to avert losses and misuse of coupons, restrict coupons based on factors listed above.
The best part, you don't need anything else when you have Smart Coupons for the same. Multiple restrictions in one solution.