Groundbreaking WooCommerce extension for creating powerful sales funnels & specials offers…

automatically.
Simply configure the plugin and let the profits come to you.


Create powerful
, profit boosting offers
that sell to your customers at the optimal time…while they are already making a purchase.
---
Don't Just Focus on Products, Websites, and Email Lists…
Optimize your sales funnels and target your customers using:
Upsells

Cross-sells

Downsells

One time offers

Backend promotions

And Triple Your Profits Instantly!
Checkout the LIVE DEMO now!
---
Sell More with Less Efforts
A strategy used by some of the most elite companies in the world, Smart Offers allows you to offer additional, relevant products to your customers as they are completing the checkout process.
Called the Super Profit System, this strategy significantly increases your conversion rate and sells product that would have otherwise gone unsold, increasing your profits instantly and leaving your customers satisfied with their special deals.
Customer not interested in your upsell? Give them another offer – something valued lower or better suited to their needs.
---
Still Not Sure?
Check out this example of McDonalds using the Super Profit System…

---
Woo Your Customers
Don't let unrelated offers upset your customers and ruin a sale that is already happening. Use Smart Offers' powerful, rule-based, offer targeting system to precisely determine what each individual customer needs. Determine who will see your offer, where will they see it, when they will see it, and what happens if they accept or skip your offer.
Target offers based on users

– whether they are registered, how long they have been customers, what products they have previously purchased, and more.

Target offers based on the cart status

– whether there is existing product or what the total purchase amount is.

Target offers based on the page of your website

– on cart page, during checkout, on order completion, and even on the "My Account" page or any other custom page.
Give your customers the utmost in customer service by personalizing their offers with hand-picked deals…just for them.
---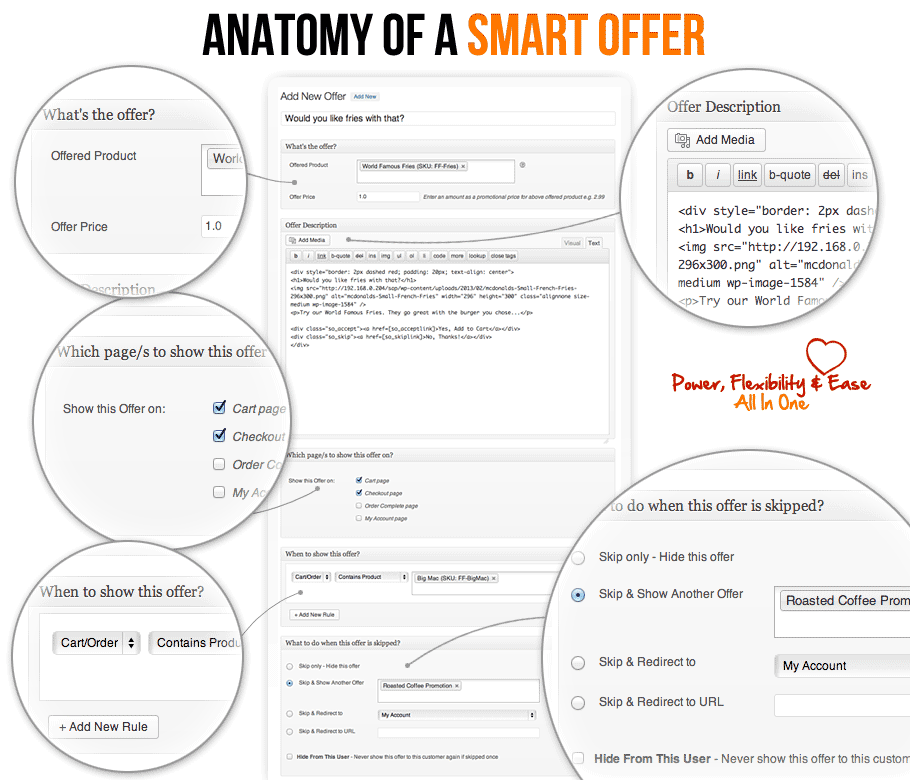 What's

the Offer?

Where's

the Offer?

When's

the Offer
You

select product from your store

and present it to your customer…and at any price you wish.
You

choose where there are higher chances of customers accepting additional offers.

You

decide when to present offers

to your customers and add as many rules as you want.
Describe your offer as a quick one-liner or as a full product sales page. Style the CTA buttons to match your brand and add visual appeal.
Upsell, cross-sell, downsell, backend sell, or offer one-time deals…maximize your conversions by placing offers in the best spots.
Offers reveal when the rules have been met – for instance, after a purchase has been made or when a similar product has been purchased.
Create unlimited offers, display them wherever you want, and determine the rules to meet before receiving an offer.
You maintain complete
control over your offers, your conversions, and your increased revenue.
---
Customer Behavior and What's Next
If an interested customer accepts your offer, the product is automatically added to their cart.
Display another offer at checkout to keep the conversions coming.
If a customer skips your offer, Smart Offers lets you choose the next step…
Hide this offer and don't show it again.
Reveal a new (and better valued) offer. Redirect to another webpage, even one beyond your website.
---
Maximize Conversion Rates and Boosts Sales Automatically
Set up Smart Offers Once and Let It Make the Money for You…Even While You Sleep!
Smart Offers saves you time and money by working for you day and night, continually showing customers your special offers.Working in the background, Smart Offers requires no additional salespeople, email newsletters, or separate offer creations.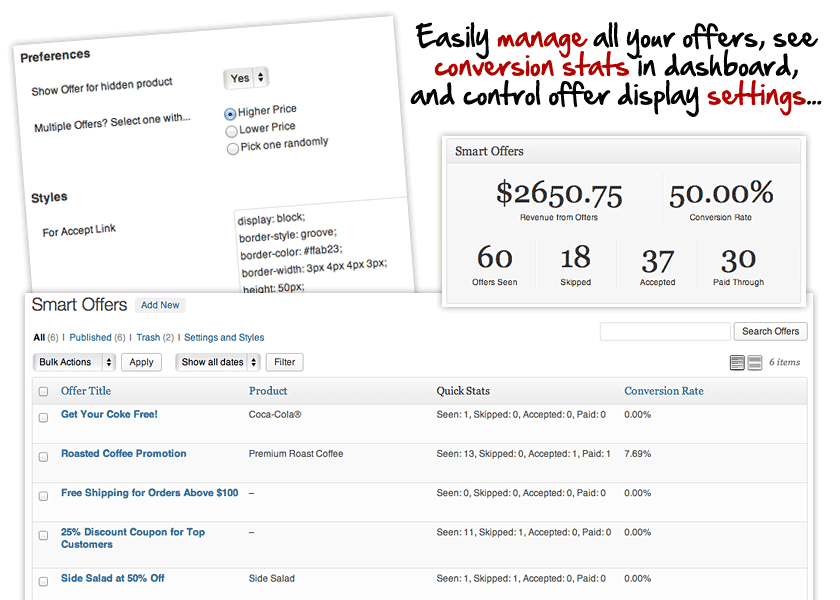 Offer Metrics

Multiple Offers

Out of Stock Offers

Smart Offers tracks your results
– offers displayed, number accepted, profits made, the highest converting – all so you can tweak your efforts and make even more money!
In the

case of a tie

(i.e. all rules are met for two or more offers) Smart Offers chooses which offer to share with your customer…automatically.
Smart Offers

will only show offers of products in stock.

Once restocked, that offer can be made live manually.
---
Smart Offers in Action
Work "on" your business, not "in" it!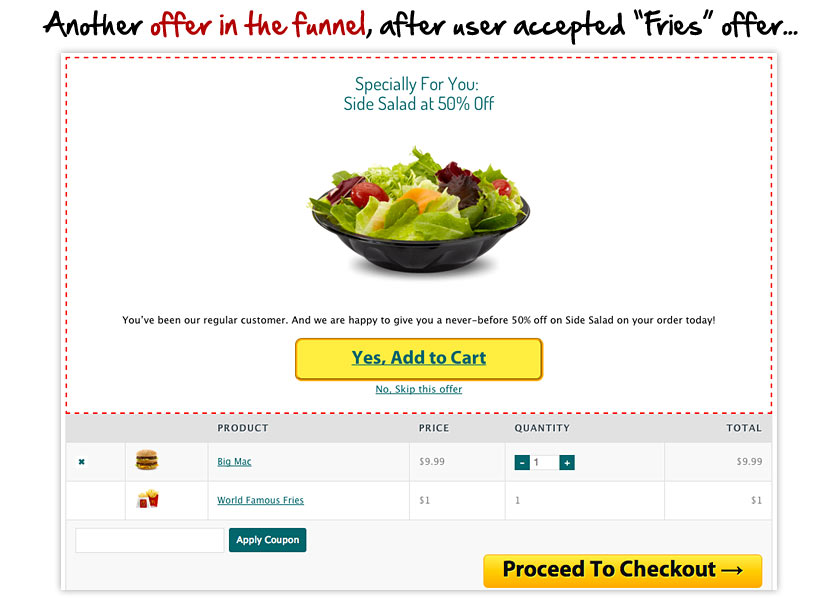 ---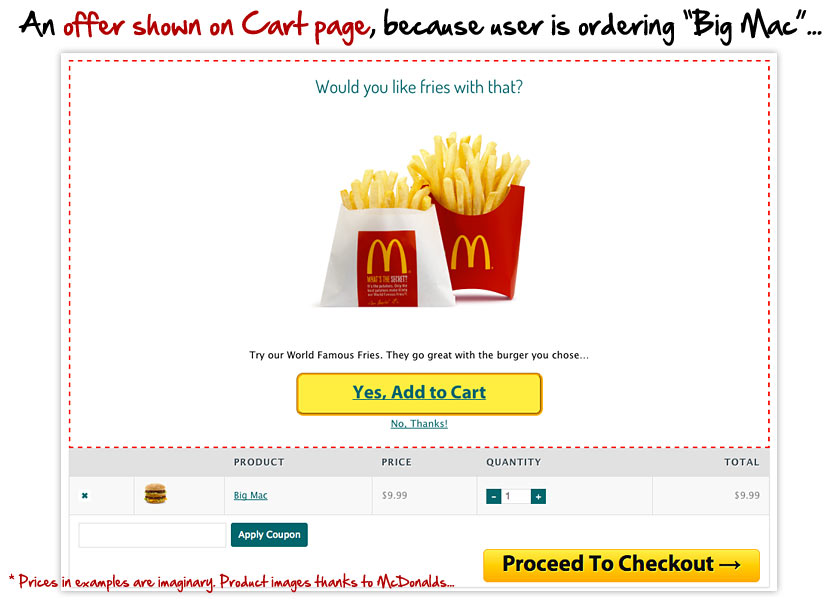 ---
What Customers Have to Say about
Smart Offers…
Working with the support for the Smart Offers app has been very easy
Working with the support for the Smart Offers app has been very easy. As a developer, it makes my job easier to work with developers like Ratnakar who are open to making plugin modifications to solve customer issues. Thank you.
Customer happiness is a priority here

I had a specific use case for Smart Offers and an issue with the plugin was revealed while implementing the offer. After contacting support I received outstanding customer service from Mansi and the issue was resolved. Based on this experience I can say that these guys are really doing their best to create value for their customers.
Smart Offers helped us increase our sales
I love your Smart Offers plugin… It has definitely helped increase our sales! And your customer support is great also. I had a question about a feature, and Mansi responded back to me quickly and helped me out. Keep up the great work!
Create profitable offers using Smart Offers

StoreApps support was fast and really helpful. Thanks to them, using Smart Offers, I managed to create profitable offers to my customers and already saw the positive impact on my business. Thank you ++
Gary Assoun, from Paris, France
Smart Manager & Smart Offers are great tools
We use StoreApps Smart Offers and Smart Manager as part of our e-commerce set up and they are great tools to have! Smart Offers makes it very easy to create custom up-sells for virtually any scenario our Marketing dept. can come up with. The folks in Customer Service find the Smart Manager plugin to be a big help when it comes to tracking orders. StoreApps customer support is great about getting back to us with any issues that may come up. That's always a huge plus when it comes to WordPress plugins and StoreApps definitely delivers!
Smart Offers fits Marketing Needs
Smart Offers is a great plugin that fits perfectly to our marketing needs. Support was very helpful with good communications which is very important when buying plugins. We are satisfied with our purchase. Thanks!
Simply setup Sales Funnel using Smart Offers

StoreApps has the best plugin – Smart Offers – to implement your sales funnel. There is simply nothing like it in the market. It may be pricey but it's worth it because it will at least double your conversion rates. Highly recommended.
2 years and Smart Offers is still the best

I've been using Smart Offers for over two years now. A great products that works like a charm, and whenever there is any problems with the plugin, the fast and friendly support fixes everything in a heartbeat.
Smart Offers is great for boosting Sales
Thanks for all your help getting Smart Offers to work exactly like I wanted it to with our new WooCommerce store… Smart Offers is a great product (plugin) that should really boost our sales… Thanks for taking the time to help us be successful.
Superior support for Smart Offers
I just wanted to thank you folks at StoreApps again for their superior support with the issues surrounding getting Smart Offers to work with my website. We were able to get to the bottom of it through many emails and testing attempts! Many thanks!
Smart Offers is great
Thank you very much, the information from you was very helpful. Your fast replying, accurate and precise guide definitely helped us decide to buy the plugin.
Smart Offers Is Infinitely Customizable

I'm very excited about all of the possibilities that the Smart Offers plugin offers for my client websites. All of the options make it infinitely customizable and the support is terrific!
Smart Offers – Outstanding Product

Outstanding product with outstanding service, you NEED this on your site
Smart Offers, truly amazing!!!
I just have to say that I'm very pleased with SmartOffer and their customer care is outstanding! I needed a feature added to their product (Accept & Show Another Offer) and their team set all that up in their update and that was truly amazing! Thank you SmartOffer!
Smart Offers takes upsells, downsells, cross-sells, and anything sells to the next level

I have used Smart Offers on a couple client sites now. Have been pleased with the level of services and features offered by this WooCommerce extension. Smart Offers takes upsells, downsells, cross-sells, and anything sells to the next level and I would strongly recommend it for any WooCommerce shop.
Great App for my E-commerce Store
Smart Offers is a great app for my e-commerce store. I highly recommend it as a way to offer upsells, cross-sells and downsells in the checkout process. It is easy to setup and customize to get running in no time, but also has powerful functionality so that you can direct its behavior exactly as you desire. Customer support is top notch! They respond quickly and listen to product feedback from customers. Mansi, in particular, helped me out a great deal and really took the time to scrutinize my offer processes and helped me correct some errors I was making in the implementation of my offers. An overall great plugin and customer support to back it up.
Awesome Work, Wonderful Assistance

First of all "Smart Offers" is a great plugin and an awesome work, and I would like to thank you for all your wonderful assistance, efforts and support to resolve the issue for us. We love your plugins, since we are more into WooCommerce based websites it was always and really helpful on our projects.
'FANATICAL' customer support
When buying any plugin from the internet, I always look out for good customer support because I'm not a technical computer guy. But Rupali from Smart Offers tops it up with 'FANATICAL' customer support. Every single problem I encountered was replied on the same day and when I get really lost with setting up smart offers, she would literally help me out step by step. Even volunteering to do it for me when I gave up. Every single plugin out in the marketplace should have customer support guys like Rupali. She's a lifesaver! Thanks!
Urbannakmuay
Urbannakmuay Official Website
Fantastic, quick, helpful support

Fantastic, quick, helpful support from StoreApps when I discovered a conflict with another plugin. Thanks for your help guys, and thank you for creating this great plugin (Smart Offers), which just gets better and better. 5 stars
Smart Offers saved me from purchasing a $70 a month sales funnel option
Smart Offers is a great product with even better support. Smart Offers saved me from purchasing a $70 a month sales funnel option for my web site! Keep up the great work!


Changelog
*** Smart Offers Changelog ***

2016.12.02 - version 3.2.8
 * Fix: Offer shortcode in page/post was displaying offer at the top of page/post instead of where shortcode is placed

2016.10.17 - version 3.2.7
 * Update: Moved showing offers shortcode in admin panel on publishing/saving offer
 * Update: POT file
 * Tweak: Collect offers data from order, only when required, which improves performance

2016.09.20 - version 3.2.6
 * New: New column 'Earnings' on Smart Offers Dashboard
 * Fix: When accepting offer from 'Order complete page' it shows "This offer is not valid for you"
 * Update: Added Offered product's images on Smart Offers Dashboard
 * Update: More readable Quick Stats
 * Tweak: Localization for quick stats text
 * Tweak: Removal of PHP notices & warnings

2016.08.25 - version 3.2.5
 * Fix: Fatal error when accepting offers having offered product as WooCommerce Subscriptions
 * Fix: When Offered product is Simple Subscription, discounted price was applying as 0
 * Fix: Fatal error in Smart Offers Admin panel when using with WooCommerce less than 2.5
 * Fix: All plugins getting deactivated on Smart Offers activation in some cases
 * Fix: Removal of few warnings
 * Update: Removed hardcoded http from Ajax request for Quick Help
 * Update: StoreApps Upgrade file
 * Update: POT file
 * Tweak: CSS for Skip Actions in Admin panel

2016.08.04 - version 3.2.4
 * New: Added Quick Help widget (Fastest access to documentation) - available within the plugin admin panel
 * Update: Change expiry value of cookie 'so_guest_id' to zero
 * Update: StoreApps Upgrade file
 * Update: POT file

2016.06.27 - version 3.2.3
 * Fix: Made offers mobile responsive
 * Update: POT file

2016.06.16 - version 3.2.2
 * New: Tested upto WooCommerce 2.6
 * New: Show offers shortcode in admin panel on publishing/saving offer
 * Fix: Upgrade file - Unnecessary calls for latest update on every background process
 * Update: Added compatibility files for WooCommerce 2.4, WooCommerce 2.5 & WooCommerce 2.6
 * Update: Minor jQuery change for social links styles on plugins page
 * Update: Upgrade file - Update plugin's download url if required
 * Update: Removal of PHP notices generated from upgrade file
 * Update: POT file

2016.05.06 - version 3.2.1
 * Fix: Accepting offers goes in redirect-loop in case of Accept & Show Another Offer on order complete page for Guest users when using Buy Now
 * Update: Minor change in CSS for social links on plugins page
 * Update: Removal of warnings & notices generated from Store Apps Upgrade file

2016.04.11 - version 3.2
 * New: Instantly Checkout with "WooCommerce Buy Now" (http://www.storeapps.org/product/woocommerce-buy-now/) plugin option is also available under Actions to take when offer is skipped (Buy Now version 1.9+)
 * Fix: "Header already sent" error when submitting support query form within the plugin
 * Fix: PHP notices generating from Store Apps upgrade file
 * Update: POT file
 * Tweak: Welcome page content improvements

2016.03.01 - version 3.1.9
 * Fix: Skip & Show Another Offer was not working on Before & After Checkout pages
 * Tweak: CSS tweaks for offer popup

2016.01.21 - version 3.1.8
 * New: Tested upto WooCommerce 2.5
 * Update: Updated content on Welcome Page
 * Update: POT file
 * Tweak: CSS tweaks for Admin Screen

2015.12.10 - version 3.1.7
 * Fix: Important fix related to WordPress 4.4, in Store Apps Upgrade file

2015.11.06 - version 3.1.6
 * Fix: A validation check performed after accepting an offer, was sometimes giving 'Offer Not Valid' notice
 * Fix: Sometimes offer popup was not showing due to style not applying in correct sequence
 * Fix: Only one out of multiple values was getting considered which was entered in one 'Cart/Order contains Product' rule
 * Update: Text for 'Offer Not Valid' notices
 * Update: POT file

2015.09.18 - version 3.1.5
 * New: Shortcode  to strike off original price & show offer price in offer content (for simple products)
 * Fix: Fatal error on 'get_product_title'
 * Fix: Remove offered product not removing from cart on removal of parent product
 * Update: Updated POT file
 * Update: Updated Shortcode reference on About Smart Offers page
 * Tweak: CSS tweaks for About Smart Offers page
 * Tweak: Code modification for checkout & before checkout
 * Tweak: Notice for After checkout page option on offer edit page

2015.09.06 - version 3.1.4
 * Update: Minor change in upgrade file

2015.09.01 - version 3.1.3
 * New: Generate embed code for offer
 * Update: Improvements in upgrade file
 * Fix: Removed Warnings
 
2015.08.19 - version 3.1.2
 * Update: Checkout page is now Before checkout page, as there is no difference
 * Update: Removed action 'woocommerce_before_checkout_form'
 * Fix: Pre-defined button styles not visible for sample offers

2015.08.13 - version 3.1.1
 * Update: Shortcode references on Welcome Page
 * Update: Updated POT file
 * Fix: Shortcode to show product's images in offer 'so_product_image' not working
 * Fix: Accept/Skip & Show Another Offer not working in some cases
 * Fix: 'Skip & Redirect to URL' not redirecting to external URL
 * Fix: Sometimes skipping offers goes in redirect-loop in case of Skip & Show Another Offer on order complete page
 * Tweak: Minor CSS change

2015.07.06 - version 3.1
 * New: 2 new location to show offer - Before Checkout & After Checkout
 * Update: In offer content, strike off original price & show offer price (for variable products)
 * Update: Text Domain & Language loader
 * Fix: 'Clear cart on Accept' not working when 'When to show this offer?' is not set
 * Fix: Smart Offers conflicting with original post of the page, where it is shown
 * Fix: Unable to skip offer on Order Complete Page for guest users
 * Fix: Sometimes skipping offers goes in redirect-loop
 * Fix: Set max-width for popup to prevent full-width popup
 * Fix: Minor fix related to text domain & admin notices
 * Fix: Removed Warnings

2015.06.08 - version 3.0
 * New: Rules for product quantity
 * New: Few sample offers
 * Fix: Quick stats was resetting on every bulk edit
 * Fix: Offers not visible on 'Order Complete Page' when rule is 'Cart/Order contains products from category'

2015.06.01 - version 2.9
 * New: Preview Offer
 * New: Support to clear cart before adding offered product in cart
 * Update: Use of Magnific Popup instead of ThickBox to make offers responsive
 * Fix: Minor fix related to Admin CSS

2015.05.26 - version 2.8
 * New: Pre-defined styles for Accept links

2015.05.18 - version 2.7
 * New: Welcome Page on activating Smart Offers
 * Fix: Smart Offers storewide setting "Pick one Randomnly" not picking up random offers
 * Fix: Minor fix related to text domain

2015.05.04 - version 2.6
 * New: Accept & Show Another Offer
 * Fix: 'Offered Product' field broken when WooCommerce Follow-up Email active
 * Fix: Saving categories, under offer rules not working
 * Fix: Always showing product image in offer, even if it is set "not to display"
 * Tweak: Source code, CSS, unescaped URL

2015.04.21 - version 2.5.2
 * Fix: Replace invalid character from accept link
 * Tweak: Load product's image from template
 * Tweak: Remove warnings from admin panel
 * Tweak: CSS of help tip

2015.03.05 - version 2.5.1
* Fix: 'Offered product' field under 'Whats the offer?' broken (WooCommerce 2.2.x)
* Fix: 'Search product categories' field under 'When to show this offer?' broken (WooCommerce 2.3.x)
* Fix: Shortcode 'so_product_image' shows main product's image instead of specific variation's image
* Fix: PHP Fatal error:  Call to a member function get_customer_id() on a non-object (Thanks to Nick Ivanter)
* Fix: Issue with HTML Entities in product title (Thanks to Nick Ivanter)

2015.02.25 - version 2.5
* Update: WooCommerce 2.3 ready
* Update: Moved 'Reset Quick Stats' to WordPress's 'Bulk Edit' & 'Quick Edit'
* Update: Compatible with PHP version lower than 5.3
* Update: Always show skip link in offer
* Update: Option to hold order statuses which is allowed to show offer
* Update: Removed 'global $woocommerce'
* New: Shortcode to show product's images in offer
* New: Now you can choose 'not to add product to cart' after accepting an offer
* New: Added 'Switch Subscription' action on accept, if offering already purchased subscription
* Fix: Missing argument for 'woocommerce_calculated_total' filter
* Fix: Sometimes offers doesn't show up on 'Order Complete' / 'Thank you' page
* Fix: Sometimes doesn't show offer due to JavaScript error 'jQuery not defined'
* Tweak: Count of 'Offers Seen' in stats, accepting an offer was also counted as 'Seen'

2014.12.14 - version 2.4.1
* Fix: Showing all offers by not considering offer rules

2014.12.11 - version 2.4
* New: WPML ready
* Fix: 'Reset Smart Offers' showing on pages other than Smart Offers
* Update: Improvements in offers statistics recording process
* Update: Minor update in JavaScript code of Smart Offers

2014.09.18 - version 2.3
* Update: WooCommerce 2.2 compatibility

2014.08.18 - version 2.2
* New: Rule: Cart / Order -> Does not contains Product from Category -> .....
* New: Rule: User -> Is not a -> .....
* Fix: Offered product not removing from cart, when the product, which caused that offer, is removed

2014.07.24 - version 2.1.1
* Fix: Fatal error for "Store_Apps_Upgrade" class redeclaration
* Fix: Offer does't display on incompatible themes
* Fix: Max inline offer set to '1' if it is not define 

2014.07.04 - version 2.1
* New: Rewrite code and introduce class structure

2014.06.11 - version 2.0.2
 * Fix: Displaying the offers even if the rules were not following

2014.05.23 - version 2.0.1
 * Fix: Warning on checkout & order completion page

2014.05.16 - version 2.0
 * New: Show quantity in offer with use of shortcode 
* New: Offer Rule "Cart/Order does not contains products" * New: Two new action after accepting the offer : Redirect to a URL and Apply Coupons * Fix: PHP short tag * Fix: Breaking page if target product field is empty 2014.04.16 - version 1.9.3 * Update: Important update related to 'update notification' of the plugin 2014.04.08 - version 1.9.2 * New: Show multiple offers on a page * Update: Code optimization 2014.04.04 - version 1.9.1 * Fix: Important fix related to plugin updates 2014.03.20 - version 1.9 * New: Compatibility with "WooCommerce Buy Now" (http://www.storeapps.org/product/woocommerce-buy-now/) plugin * New: Moved 'Swap' functionality, now located under 'Actions to take when offer is accepted' * Update: Backward Compatibility with WooCommerce 1.6.6 * Update: Showing up offer again if the product is removed from cart * Update: Showing up offer even if product being offered is already in cart 2014.02.14 - version 1.8 * Update: WooCommerce 2.1 compatibility * Fix: Pop up not working with Wootique theme * Fix: Showing all variation options in offer 2014.01.29 - version 1.7.1 * Fix: Offers in pop-up not working on some pages * Update: Minor update in CSS for License Key row on plugins page 2014.01.17 - version 1.7 * New: Show offer shortcode * New: Additional page option : Home, Any other page where shortcode is added * Update: Converted front end javascript to inline javascript using 'add_inline_js' of WC object * Update: Admin referer for searching product & only variations * Fix: Smart Offers not working on Multi site * Fix: Removal of offered product when there is product category based rule 2013.11.12 - version 1.6.1 * Fix: Warnings showing in Smart Offers Admin panel * Fix: Smart Offers Statistics update on order cancel, failed or refunded. * Fix: Pop up height set to auto * Update: Upgrade process 2013.09.23 - version 1.6 * New: Offer rule based on product category * Fix: Minor fixes related to Smart Offers changelog on plugins page and Support form. * Update: Redirecting to checkout page if offer accepted from page other than cart * Update: Demo link 2013.08.21 - version 1.5 * New: New offer rule to show offer between scheduled time * New: Show Offer as a Popup * Update: Changes in sending Support ticket. 2013.08.03 - version 1.4.1 * Fix: Minor jQuery issue, 'Add to cart' was visible even if the product is 'Out of Stock' 2013.08.02 - version 1.4 * New: Allow customer to choose product variation * Update: Allow dynamic price (Fixed Price, Discount on Price & Percent Discount) for offered products 2013.06.21 - version 1.3.1 * Fix: Reset Quick Stats button showing up at all pages. * Update: Use of nonce for accept & skip of offers to increase security * Update: Smart Offers Demo link added 2013.06.06 - version 1.3 * New: Resetting Smart Offers Statistics * Fix: Product searching was not happening when WooCommerce is lower than 2.0 * Update: Code optimization so that offer can be shown for first customers in Order Complete page. 2013.05.15 - version 1.2 * New: New offer rule based on User Roles * New: New offer rule to swap/replace the product in the cart * Fix: Offer's were not showing up if the stock quantity for a variation was null * Update: Removed the filter to show remove link for Offer Products in the Cart 2013.03.28 - version 1.1 * Fix: Cart updates that invalidate an offer rule, would automatically remove the offered product from the cart * Fix: Updated saving "When to show this offer?" rules * Fix: Support request failing if license key not entered * Update: Showing up only Simple Products & Product Variations in "Offered Product" in "What's the offer?" * Update: Text changes in rules * Update: Performance optimizations. 2013.03.06 - version 1.0 * Initial release