Increase sales and average order value without efforts
Use StoreApps' WooCommerce Order Bump on the checkout page to encourage users to buy complimentary/related products that boost conversions and impusle purchase.

Get WooCommerce Order Bump
What is Order Bump – Simple definition with examples
In simple terms, order bump is an offer made on the checkout page to encourage users to buy more products by spending a few extra bucks.
Example – While near the cash counter at offline stores, you find chocoates or cookies. Retailers are smart. They know you love chocolates and you won't mind spending an extra buck to get it. That's why they purposely place them near the counters. This is an order bump.
Another Example – If you are selling a mobile phone, offering a screen protector which is a necessity but hardly costs a dollar or two, that's an order bump.
The order bump offers are usually impulse buy products. (Impulse buy means unplanned decisions to buy). They are often priced at smaller price points than the initial product to make it a special, one-time offer.
The customer can directly accept the offer in just one-click, adding the bump product to their order without leaving the checkout page.
---
Top 3 benefits of using order bump on your WooCommerce store
Increased average order value

No doubts about this. Buying more than one product obviously increases the average order value. More the people accept the order bump offer, more the sales you pocket-in.
More product visibility

Order bump gives you the option to show more products you have in your portfolio as an offer. The customers won't refrain them from buying if the price strikes them well.
1-click offer acceptance

No need for the user to move anywhere. Order bump offer is shown as a tick-mark. Once accepted, the product automatically gets added with final price directly getting reflected.
---
Set-up order bump on your WooCommerce store within a minute
Simple steps and your order bump offer is ready in almost 60 seconds.
1. Add product and offer price

Select the product you want to offer as an order bump and at what price – % discount or fixed amount discount
2. Select targeting rules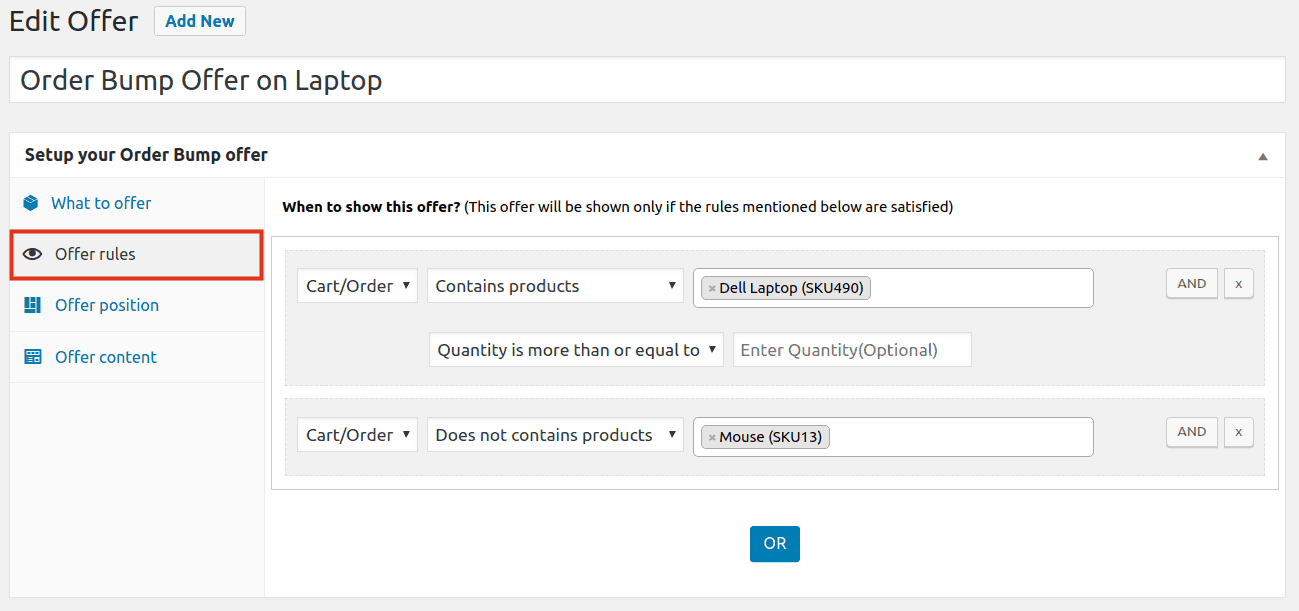 Add targeting rules as to when and whom to show your offer – based on cart total, user's previous purchase, product category, etc.
3. Choose order bump position

Select where to show your WooCommerce order bump offer on the checkout page – before or after the 'call-to-action button'.
4. Customize the offer

Select offer description, offer heading, CTA text and offer position for the order bump offer.
Here's how your order bump offer will look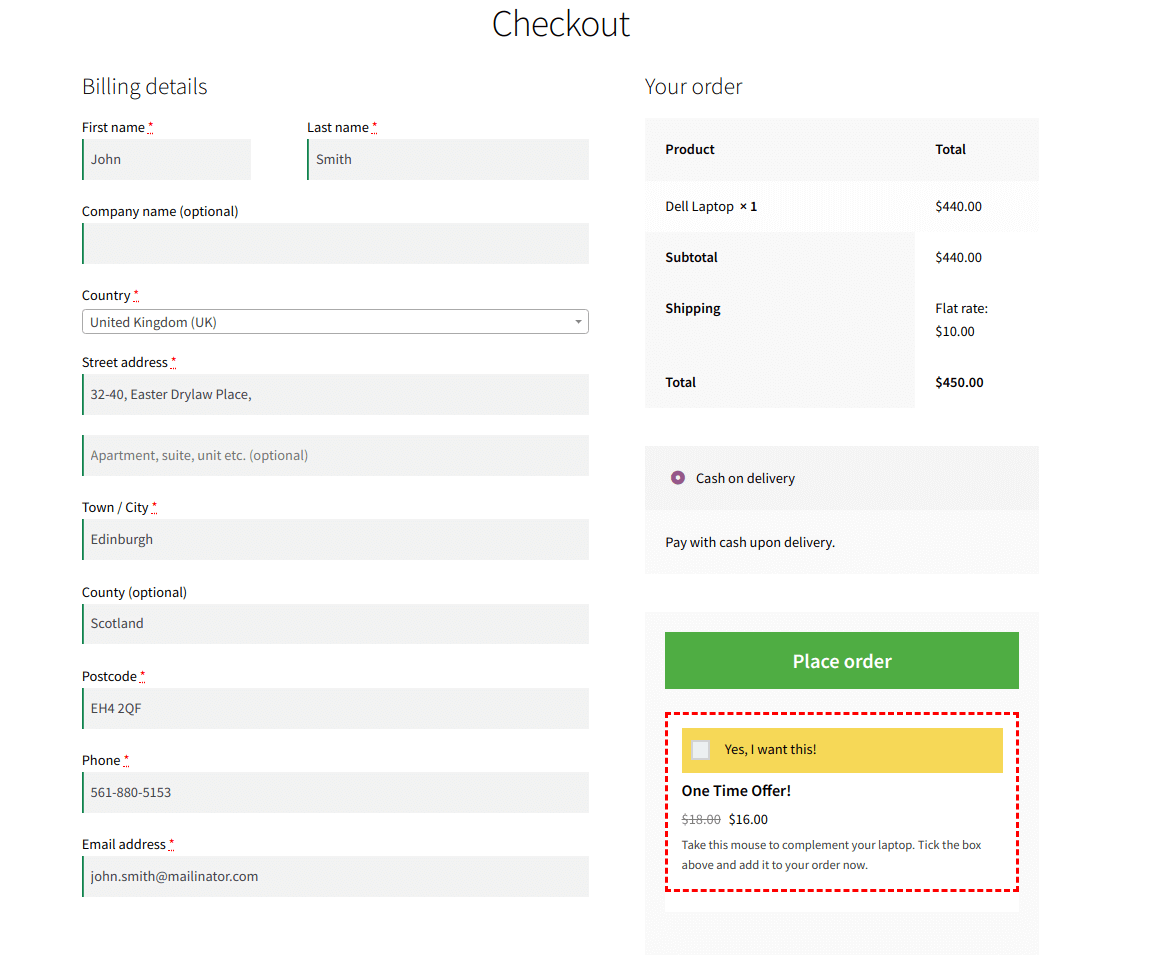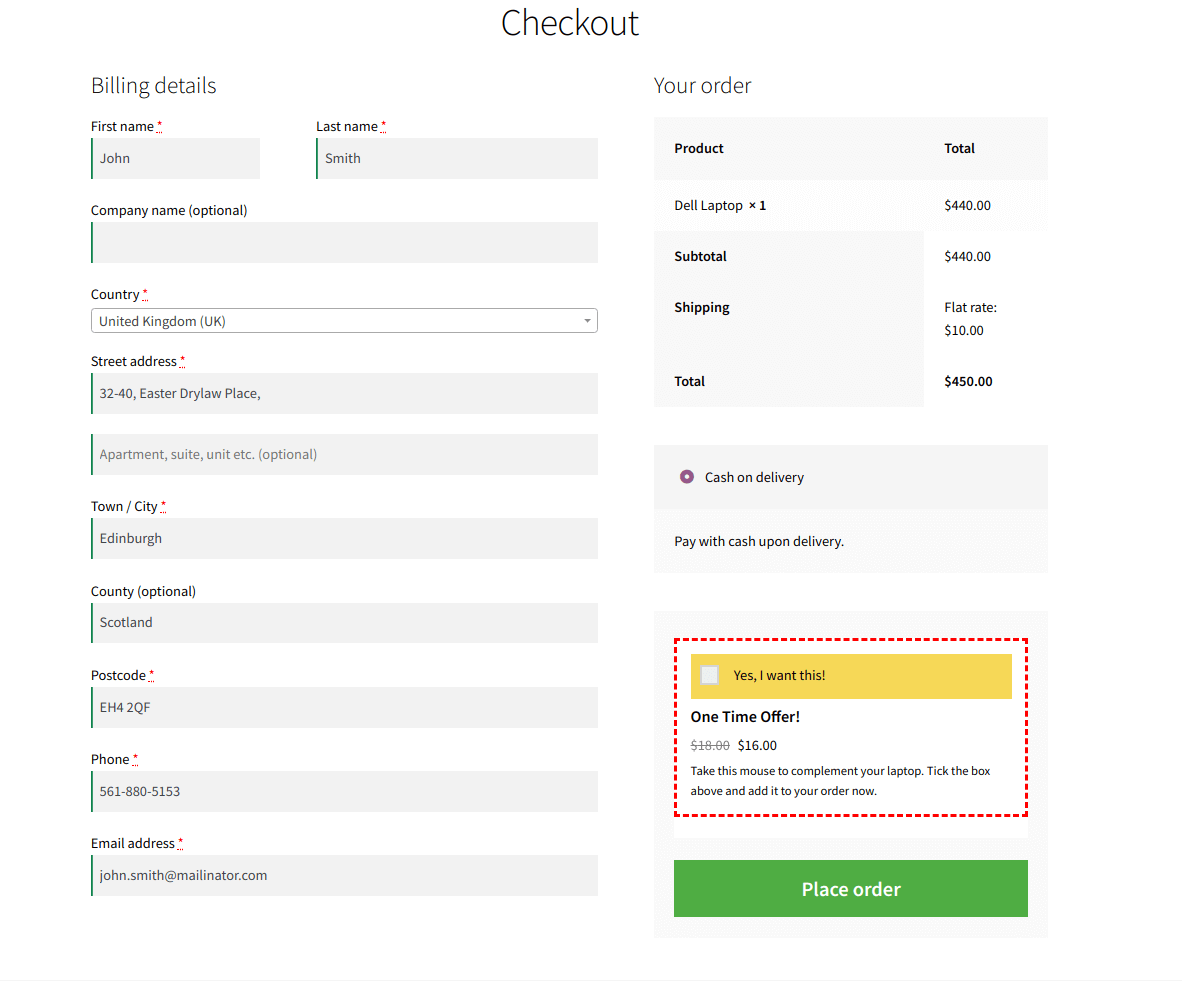 View Order Bump Live Demo
---
6 best order bump ideas that can work wonders for you
Complementary products
This works extremely well as they go well with the main product.
Example – Offering a decorative skin or keyguard on purchase of a laptop.
Related products
These products add some value on purchase of the main product.
Example – A small coke on purchase of a BigMac.
Super-fast delivery of products
There's always a craze to get hands on a new product or best selling ones before others. And people won't mind spending a few extra to grab them. In such cases, you can provide early access by using shipping as a bait.
Example – Provide an option of super-fast or 1-day delivery at an additional one or two dollars.
Membership based products
Be a member and get access to benefits other won't enjoy.
Example – If you happen to attend online virtual summits or real seminars, there's an entry pass fees as the main selling item. As on order bump will be with special training session with the influencer or resources or offline access to the summit as one-time-offer.
Extended warranty
People want their product to stay durable for a longer time and offering an extended warranty at a nominal price is a great order bump idea.
Example – Pay extra $15 and get one-year extended warranty for your Smart TV.
Scarcity based offer
Here, you want the customer to purchase something again from you. You plan to run a small giveaway only for first 50 customers.
Example – Offering a $10 credit as a giveaway which can be redeemed on the next purchase.
---
Ready to grow your revenue using order bump?
Unlike other plugins which provides only Order Bumps as a separate plugin, StoreApps' Order Bump is a part of our Smart Offers plugin which is a full-fledged offer solution that includes a lot of features and benefits:
Launch offer: $149 $99
It's a one-time investment and people have recovered from their first offer itself. So, no more second thoughts. Start getting extra sales right away.
Get Smart Offers