Increase sales and average order value
Order Bump for WooCommerce
Use StoreApps' WooCommerce Order Bump offer on the checkout page to encourage users to buy complimentary/related products that boost conversions and impulse purchase.

What is Order Bump? Simple definition with examples
Order bump is a type of a cross-sell offer made on the checkout page to encourage users to buy more products by spending a few extra bucks.
Example – While near the cash counter at offline stores, you find chocoates or cookies. Retailers are smart. They know you love chocolates and you won't mind spending an extra buck to get it. That's why they purposely place them near the counters. This is an order bump.
Another Example – If you are selling a mobile phone, offering a screen protector which is a necessity but hardly costs a dollar or two, that's an order bump.
The order bump offers are usually impulse buy products. (Impulse buy means unplanned decisions to buy). They are often

Top 3 benefits of using WooCommerce order bump
Increased average order value

Buying more products obviously increases the average order value. More the people accept the order bump offer, more the sales you pocket-in.
More product visibility

You can show more products you have in your portfolio as an offer. The customers won't refrain them from buying if the price seems right.
1-click offer acceptance

The customer can directly accept the offer in just one-click, adding the bump product to their order without leaving the checkout page.
Steps to set-up order bump offer
Note – StoreApps' Order Bump is not a separate plugin but an offer type within our Smart Offers plugin. You can create targeted upsells, bogo offers, sales funnel and other offers using Smart Offers plugin.
1. Select order bump as offer type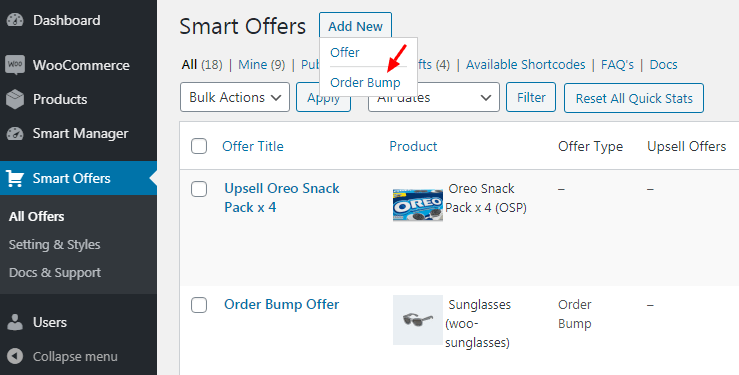 Go to WordPress Admin > Smart Offers > All Offers
Hover on the 'Add New' button. Click on 'Order Bump'.
2. Add product and offer price

Go to Smart Offers > Add New > Order Bump
Select the product you want to offer as an order bump and at what price – % discount or fixed amount discount.
3. Select targeting rules

Add targeting rules as to when and whom to show your offer – based on cart total, user's previous purchase, product category, etc.
4. Choose order bump position

Select where to show your WooCommerce order bump offer on the checkout page – before or after the 'call-to-action button'.
5. Choose order bump style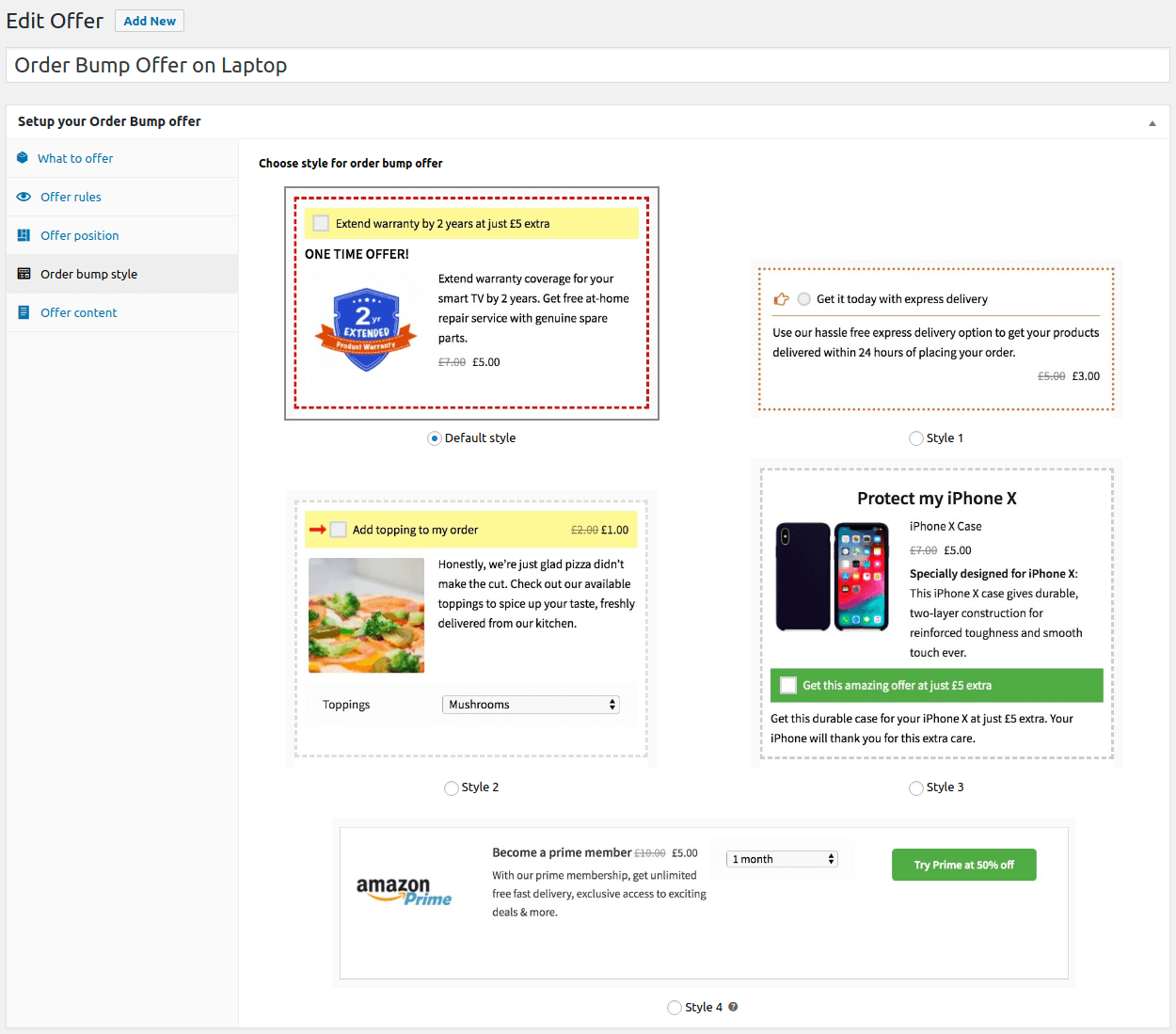 You get five readymade order bump styles to show on the checkout page. These styles are very flexible. Be it any industry, any product you sell, you can use these styles.
6. Customize the order bump offer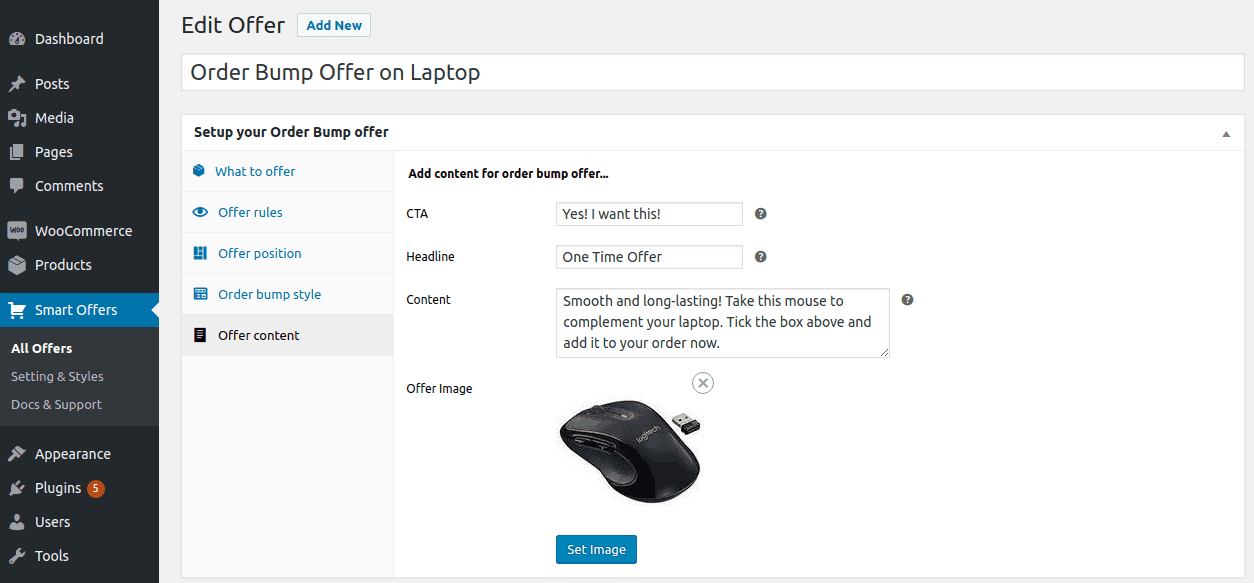 Enter CTA text, offer heading, offer description and add an image.
Publish your offer.
Here's how your order bump offer will look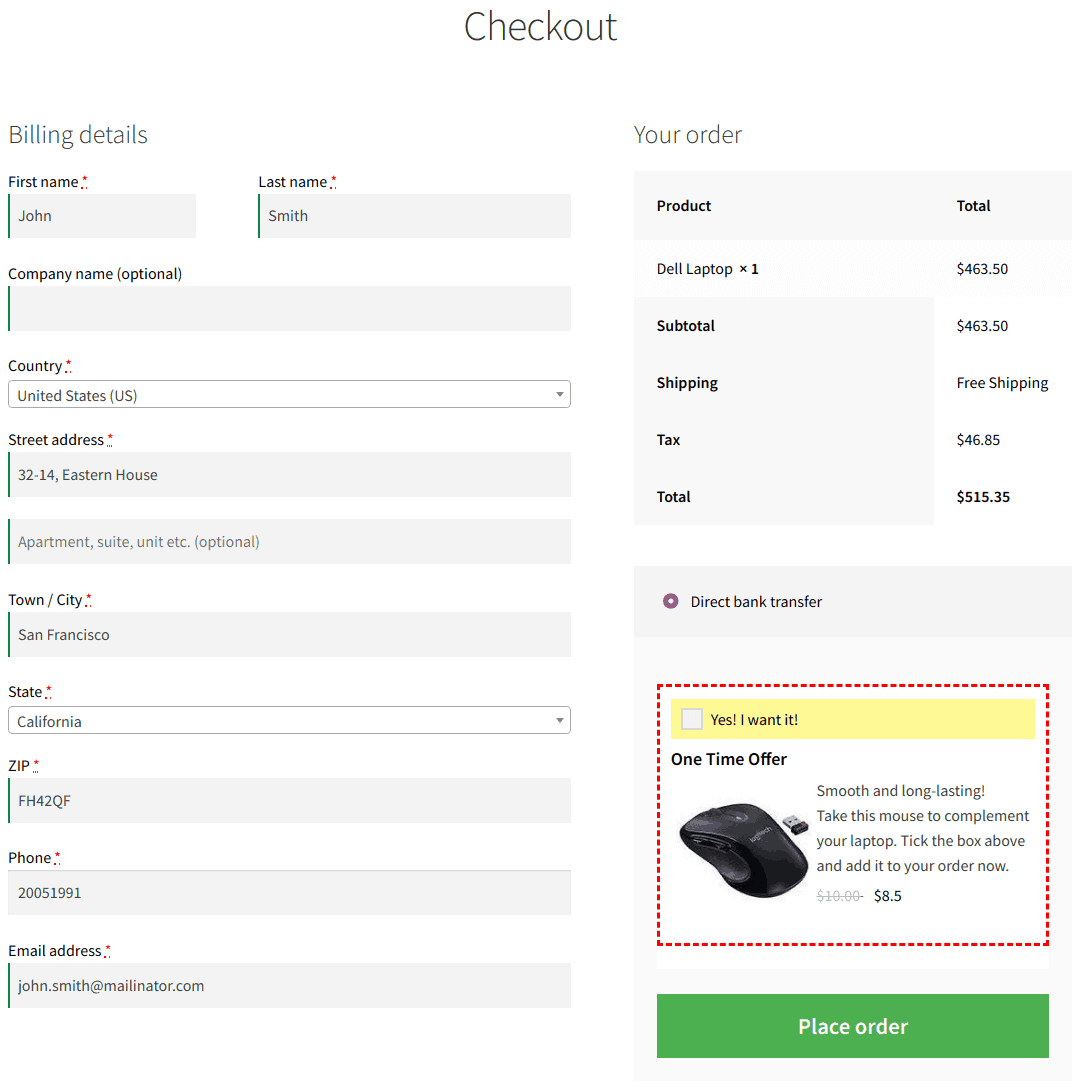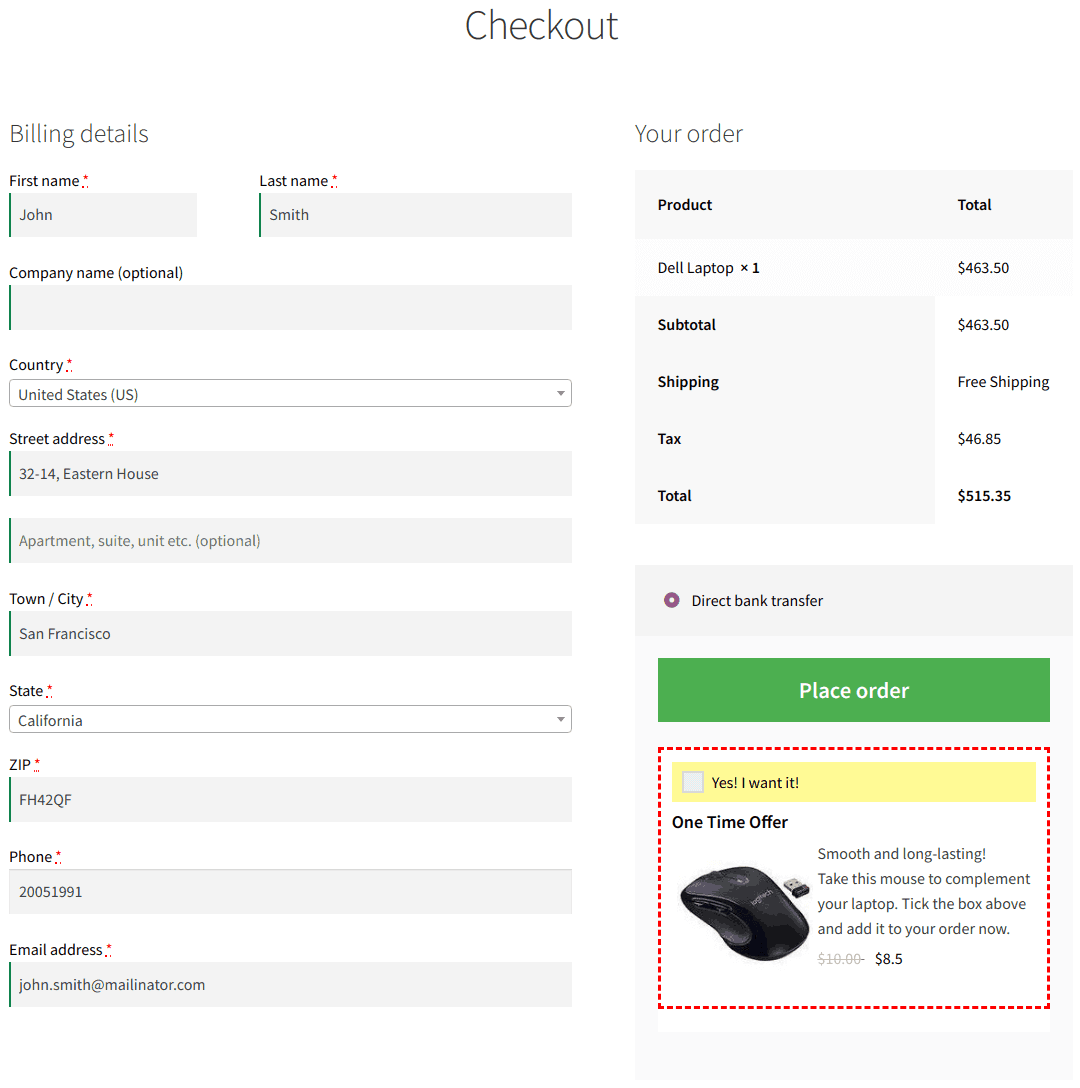 View Order Bump Demo
---
Six best order bump ideas that works
1. Complementary products
A decorative skin or keyguard on purchase of a laptop.
2. Related products
A small coke on purchase of a BigMac.
3. Super-fast delivery of products
People won't mind spending a few extra to grab their favorite products. 1-day delivery at an extra 1 or 2 dollars.
4. Membership based products
Be a member and get access to benefits other won't enjoy. Special training session with the influencer or BONUS resources is a good order bump offer.
5. Extended warranty
The most widely used idea. Pay extra $15 and get one-year extended warranty for your Smart TV.
6. Scarcity based offer
First 50 users get $10 credit as a giveaway which can be redeemed on the next purchase.
---
Order bump, upsells, bogo, cross-sells, sales funnel…Get everything in one
Create all types of offers for your store – WooCommerce one-click upsell, cross-sell, BOGO, downsell, order bump, one-time offers, sales funnel, etc.
Powerful targeting rules – based on user role, cart value, product categories, offer scheduling, user purchase history etc. with 'AND + OR' combinations
Integration with six popular WordPress page builders
Create offers without coding
Compatible with WooCommerce Subscriptions and Smart Coupons
Offer reporting
and a lot more…
It's a one-time investment and people have recovered from their first offer itself. So, no more second thoughts. Start getting extra sales right away.
Get Order Bump