Running an affiliate program on your WooCommerce store? Then here's some exciting news. You can now easily set-up affiliate marketing campaigns for your affiliates and get more sales.
So let's begin.
What are affiliate marketing campaigns?
Simple, effortless, powerful…that's what affiliate marketing all about. Keep earning money even while you sleep. Learn more about affiliate marketing.
And what makes affiliate marketing successful are the affiliate marketing campaigns.
In simple terms, affiliate marketing campaigns are a collection of promotional resources and guidelines for affiliate partners.
Big banners, logos, product images, creative descriptions, videos, blogs, emails, etc. are all promotional resources required by your affiliates to promote your brand better.
Why do you need to create affiliate marketing campaigns?
Affiliates don't have time and commitment to create marketing material for you.
Even if they design the campaigns, will that match your brand, your expectations or standards?
So, won't it be better if you or your team create well designed, high converting marketing assets?
Your affiliates will simply pick them up and run them through their audiences.
This will give you better quality traffic and higher conversions. Which in turn will encourage your affiliate partners to promote even more.
What type of campaign assets do you need to create and for what?
Campaigns can be of any type, based on what your goal is. Here are a few cases where campaigns are a must. More than one promotional material may be required in any case.
Banners – Deal sites and other websites during Black Cyber sale, Christmas sale, or other promotional offers.
Brand logo, guidelines, creative description – When affiliates promote you via a blog post, email or on their Partners page.
Images, demo videos – To describe your product, highlight the features and benefits.
Landing pages, demo videos, docs – During the launch of a new product.
Swipe files, PDFs, ebooks – During a giveaway or any other promotional offer to build brand value.
Marketing collateral/sheets – Promoting top-selling products, brand building
Audio files, PPT's, videos – Promoting courses, music albums, podcasts.
and many more…
That said, let's move on to creating your affiliate campaigns.
Creating affiliate marketing campaigns using Affiliate for WooCommerce plugin
If you are an Affiliate for WooCommerce plugin user, you can now create multiple campaigns for your affiliates.
Images, videos, PDF's, swipe files, logos, banners, e-books, whatever you want, you can add in the campaign.
Your affiliates can pick up the marketing assets from the campaign and use them on their various channels to promote your brand.
Not heard about Affiliate For WooCommerce plugin? It is the most popular and best-selling affiliate plugin on WooCommerce.com
How to set-up affiliate marketing campaigns in WooCommerce?
There are four essentials for a successful campaign.
Planning a campaign
Making the campaign
Launching the campaign and promoting it
Monitoring and improving the campaign
Planning a campaign
This is the most important. Do it right in the first place. You need to identify for what purpose you are setting up the campaign.
Once identified, tick these things off before actually making the campaign.
What marketing material is required and how much?
Who will do it? I or my team?
How much time will I dedicate to create the assets?
Whether it is for the short-term or long term?
Will I need more campaigns?
Now, you can move on to the next step.
Creating the campaign
Affiliate for WooCommerce plugin gives you a single-screen interface wherein you can prepare your campaign in a few minutes.
Btw…when you install the plugin, you get three sample campaigns so that you can get started quickly.
Go to WooCommerce > Affiliate > Campaigns. You'll see a dashboard where all your campaigns are listed as shown in the image below.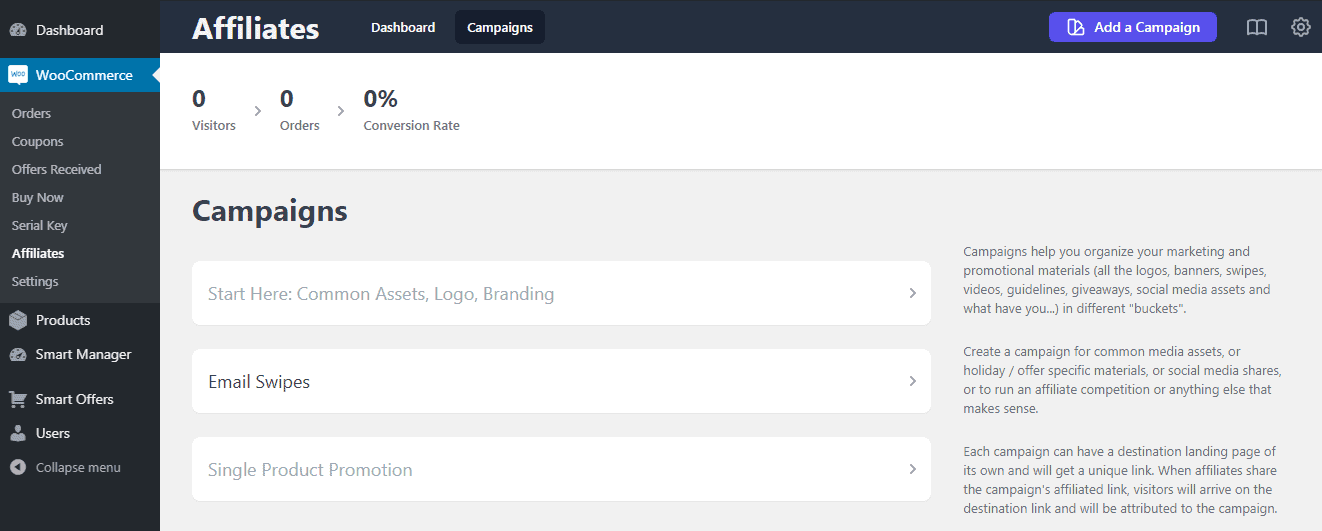 Now to create a new campaign, click the Add a Campaign button at the top right. It will open up a 'slide over panel'.
Follow these steps to set-up your first affiliate marketing campaign and other subsequent ones:
Name – Title for your campaign so that affiliates easily understand what's the campaign about.
Slug – Short text in links for the campaign.
Destination Link – This is where your affiliates' audience will land. Example – A product page.
Short description – Mention some details about your campaign. This will be shown along with the campaign name.
Full description – This is your familiar WordPress editor. Easy to add any content. Add promotional material like description, banners, swipe files, videos, external links, etc. for your affiliates.
Check everything is proper and click on 'Save' at the top.
Bravo! You have successfully created your affiliate marketing campaign.
Launching the campaign and promoting it
Once your campaign is created, your affiliates will find the generated campaigns from their My Account > Affiliate > Campaigns.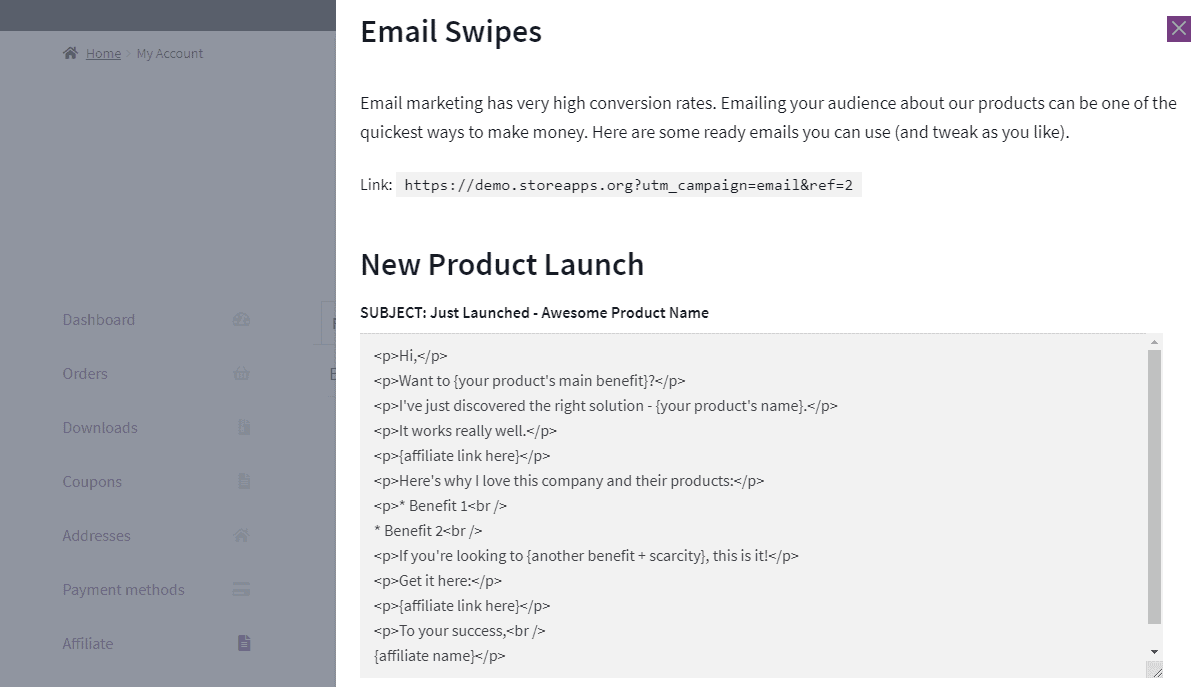 Clicking on a Campaign Title link will show the following details to the affiliates:
Title – What's this campaign about. Example – Email Swipes
Link – Where affiliates' audience will land. Example – New product launch page
Assets – All the promotional material you have added.
That's it.
View more affiliate marketing campaigns examples
You can also shoot out an email to your affiliates when your campaign is ready using.
Note – You have to manage this on your own.
Once your affiliates start sharing the campaign resources, it's a matter of time for sales to knock at your door.
P.S. We all know how huge Black Friday and Cyber Monday days are for any store, so this is a great opportunity to promote and grow. You should also inform the affiliates about your offers and coupons so the affiliates can better promote them to their customers.
Monitoring and improving the campaign
There is a campaign-specific affiliate link that affiliates use – so you can all track how well the campaign is working.
The plugin also gives you the option to pause any campaign. Put the campaign in Draft from the drop-down, next to the Save button. You can edit your existing campaign anytime. You can also delete poor performing campaigns as and when required.
Feature on our road map – Reporting based on each campaign
Five tips to high performing affiliate campaigns
Now running affiliate campaigns will get you good results. But some strategies if followed well by you and your affiliates can bring great results. Here are some top picks that are proven to work.
For physical products or offers, use high-quality banner images. Showcase them in different colors, use-cases form, with the caption, etc.
For digital products, better to present them as short videos or GIF images in good quality. Learn more about banner ads – best sizing, what to use, etc.
Running campaigns to a targeted audience via email also delivers great outcomes in terms of sales.
Create multiple campaigns.
Develop skills in-house or outsource doing campaigns if you can't dedicate time to it. It's profitable yet inexpensive.
How to design/create campaign assets?
How to make an affiliate banner? What should be the affiliate marketing banner size? What colors should be used and when? What file formats should you use? How should the banners look?
These affiliate resources are your answer to all your questions. Do have a look.
Conclusion
There were all the important things you need in place to set-up successful affiliate campaigns.
So, what are you waiting for? Start creating campaigns right away using Affiliate For WooCommerce plugin.
And share your experience below of creating the campaign using the plugin.