That same daily routine seems terrible right? Wake up early, rush through traffic, work tirelessly to bring sales, and get nothing much in return.
Now, what if you can cut down on these and start generating money without that stressful daily chores. Money that you can earn even while you sleep. Seems exciting right?
That's the power of affiliate marketing for WooCommerce.
This article covers all a WooCommerce user need to make a successful earning through affiliate marketing.
What is affiliate marketing?
In simple terms, promoting someone's products and getting a commission in exchange is affiliate marketing. You promote other products and earn money or others promote your products and get money in return; it's affiliate marketing.
Remember this – Anybody can be an affiliate marketer. No matter what.
How does affiliate marketing work?
Now affiliate marketing is not a single person's job. It involves three parties, each aiming for a win. And leveraging affiliate marketing as per their potential.
The purchase happens through a link or coupon code provided by the seller, promoted by the affiliate and clicked by the end-user.
1. Seller or creator
Seller can be an entrepreneur, store owner, merchant, vendor, etc. having a product to sell. The product can be physical or digital. The seller may not be actively involved in marketing directly. But may advertise the product. Or set-up their own affiliate program to allow affiliates to generate referral links and promote it.
If you are a WooCommerce user, here's a very popular tool to set-up your own affiliate program.
2. Affiliates
Affiliates can be marketers, bloggers, publishers, influencers, deal sites, etc. They simply market the sellers' products to consumers and earn their money on a successful purchase. Remember, each affiliate marketer works as per their potential. For example, influencers can bring more referrals quickly.
3. Consumer
Without consumers, affiliate marketing is dead. When they buy the product, the seller and the affiliate share the profits. Sometimes the affiliate will disclose that they are receiving a commission. The sales happen normally, and consumers remain unaffected by the affiliate marketing system in which they are a significant part.
Since we are into affiliate marketing, the prime focus will be on affiliates.
How affiliate marketers get paid?
As mentioned above, the affiliates get paid on every successful referral. But this paid commission is not constant. It varies. Let's see how:
Pay per sale / pay per order
Here, the affiliate receives the commission on the total sale made. That is when a customer purchases a single product or multiple products in a single order. The commission is more of a flat % one. However, some do offer flat rate commission.
And some offer different commission rates to different users based on who they are. Example – 50% for influencers, 35% for loyal customers, 25% for new customers.
Pay per lead
Another way affiliates get paid is when a lead gets converted. It can be a free trial converted to a paid plan or a visitor signing up for a free trial. Or even just subscribing to a newsletter.
This seems expensive as it is not sure whether the leads would successfully purchase something.
Mostly, the big shots or agencies run this whose marketing and onboarding process is killer.
Pay per click
Again, a little expensive and needs strong marketing because affiliates get paid when the user gets redirected to the seller's website using the link.
Affiliates need to write a strong copy or message to encourage users to click the link. And even more, an effort for the seller to convince those users to buy.
Bonuses
Not just the above three, affiliates also get paid based on their performance. And sellers must reward these affiliates more so that they keep on promoting more and stay for a longer duration.
Some affiliates may bring more referrals quickly than others. So based on what they bring to you or targets if you set out to encourage affiliates, you need to reward them.
Like an extra 5% commission after 100 successful referrals or an extra $200 bonus on bringing 20 customers who purchase the top plan and so on.
Pros of being an affiliate marketer
Now if you think it's the money that encourages you to become an affiliate marketer, think again. There are other benefits of being an affiliate marketer.
Passive income
You earn money not only when you are awake but also when you are in sleep. Some investment in marketing efforts and the steady flow of income is on the cards. Another good thing, you don't need to be at work or sit in front of those eye-straining screens. Which brings to another benefit of support.
No support
Since you are promoting other products, the support is handled by the seller's team. It's their job to keep customers satisfied. But you must select and promote products which are popular, useful to the audience and select sellers whose support is quick and reliable.
No tech mumbo-jumbo
As you are into affiliate marketing, you are not into product development, updates, and fixes.
Risk-free and cost effective
Developing and maintaining a product involves capital. While being an affiliate marketer, you are saving money here. You can get started quickly and without much hassle.
Flexibility
Since you can work anywhere on your own terms, you are free to set your own goals, select products, and niche, negotiate terms with sellers, work as and when required, etc. You'll also be free from company restrictions and regulations as well as non-performing teams.
Rewards
Affiliate marketing is based on performance. The more you promote and bring customers, the more you earn. For that, copywriting and SEO are a must.
Well done! You are now more than 60% covered on the path of being a successful affiliate marketer. Let's see what's in for the remaining journey.
What are the best affiliate marketing channels?
Being an affiliate marketer, you need to amp up your marketing. Leverage the following channels for a fortunate affiliate marketing.
Copywriting and SEO
No one will come to your site directly and click on a link. Crisp copywriting powered with SEO will bring potential leads to your site. "Best tool for…, top ten plugins for…"such posts rich with keywords will attract quality traffic to your website.
Influencers
This person is in a great position to give you high traction. With Instagram and YouTube being popular weapons for them to reach out to the masses. They already boast an impressive following, so it's easy for them to direct consumers to the seller's products through social media posts, blogs, and other interactions with their followers.
Here's an in-depth guide as to how to use influencers for affiliate marketing.
Bloggers
Like I said about copywriting earlier, the list posts, reviews can also be written by bloggers. They promote your brand more compellingly, driving quality traffic to your site.
Social media
Influencers can leverage this channel the maximum to their advantage and yours. Courtesy the follower count they have and people believe and trust what they say.
Deal sites
Deal sites are hungry for commission. You can easily send affiliate links or coupons to these people and they can promote it.
Email list
Email is still and will be the king. Affiliate marketers will be having a list of an audience that may be interested in your products. Some may even build a list and then start promoting products to this list. Either way, promotion is on.
The best part of all these channels is your brand becomes visible to a wide audience. This also includes people who haven't heard about your brand ever.
Why it is better to have your own affiliate program?
Being an affiliate marketer, you can have your own affiliate program or join other affiliate programs.
If you are a seller or a blogger having something to sell, it's better to set-up your own affiliate program.
Why? Here are some benefits:
Exposure
Your business will be more visible. Have a dedicated landing page as well. Here's our affiliate program landing page. Clear and simple. Join it and start minting money.
Lower costs
In other affiliate networks, there's a membership fee, monthly fees and a transaction fee for every successful referral. Having your own affiliate program won't cost you so much cash.
Full control
Other affiliate programs come with a series of complex features and clutter. But with your own program, you can customize it as per your needs and make it straightforward.
Dependency
Unlike earlier times, you won't have to depend on any specific program to issue payments or meet conditions.
Consistent marketing
With your affiliate program, you can get people from across the globe 24*7.
Using WooCommerce? Here's a popular plugin to set-up your own affiliate program
Affiliate For WooCommerce plugin makes it easy as a pie to set-up your affiliate program.
It's simple, jargon-free and without complications, unlike other plugins. It's one of the hot-selling plugins on WooCommerce.com.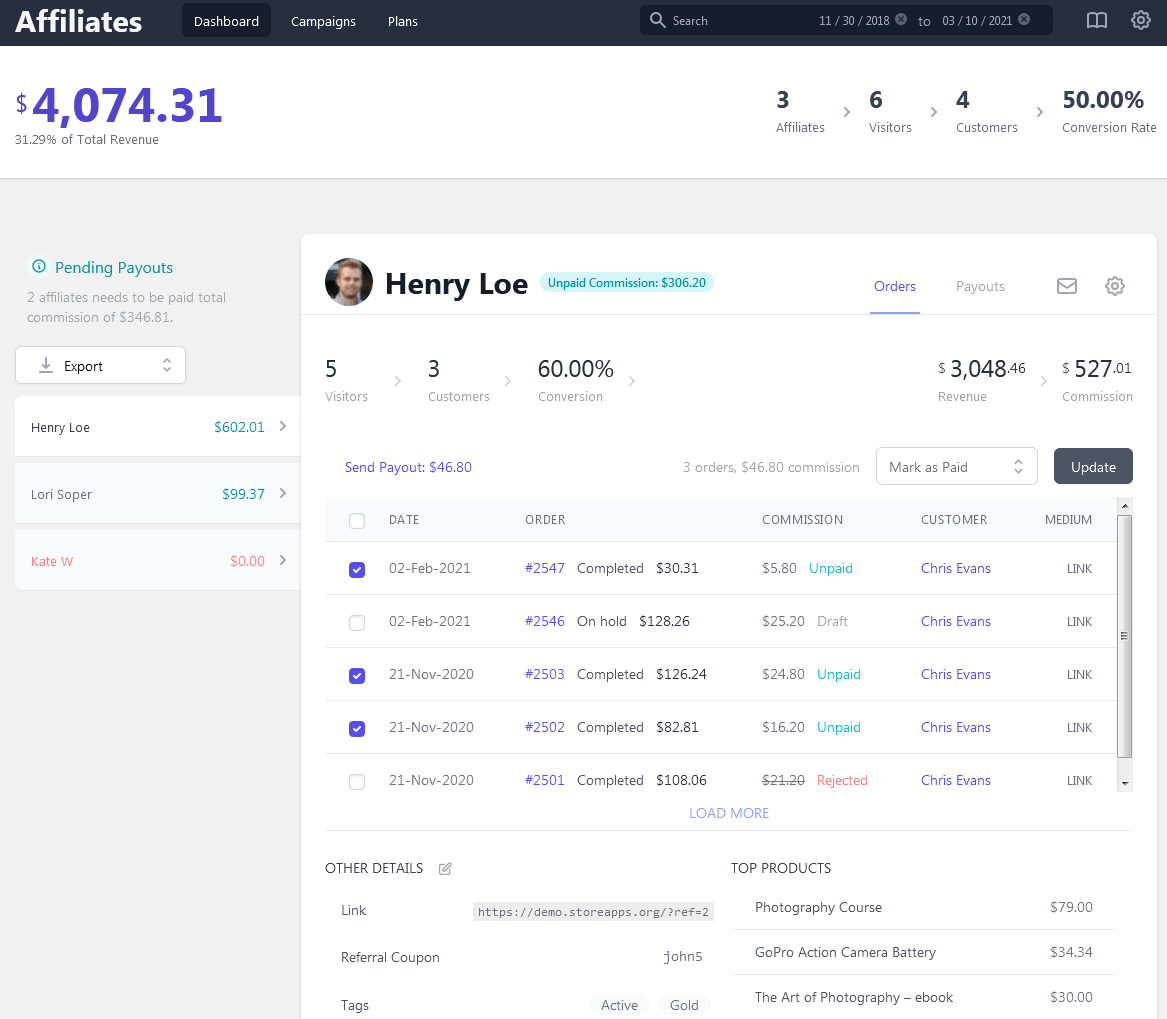 Must have features in affiliate program / marketing
Your affiliate program must have the following features. And Affiliate For WooCommerce plugin provides all of these mentioned below and a few more:
Easy set-up
Programs that allow you to get up and running quickly can make a big difference to your workflow, momentum, and confidence. Affiliates get the link, promote them, and start earning.
Single-screen interface
Better to have all but only important details at one place. This makes the plugin clutter-free and gives users a better experience.
Manual affiliate approval
Quality affiliates matter. You want to manually approve affiliate accounts to avoid spam and fraud or weed out affiliates that aren't relevant to your brand or goals.
Use coupons for tracking referrals
Social sites like Instagram don't allow links. So coupons can be used as affiliate links. For coupons and deal sites too, coupons are more convenient than links.
Affiliate marketing campaigns
Create unlimited affiliate marketing campaigns – add images, banners, email swipes, whatever you wish to. Your affiliates can use them to promote your brand better.
Payouts
You need to pay affiliates their commission on a timely basis. Having options like PayPal and manual payout are a must.
Real-time, accurate and advanced reports
Which affiliates are performing better, what products are getting sold, all such data in real-time is a necessity.
Multiple commission rates
Some affiliates bring more referrals than others. Some may be influencers. These people may also expect rewards for their hard work. So, set different affiliate commission rates for different users.
Get Affiliate For WooCommerce plugin
Mistakes to avoid in affiliate marketing for WooCommerce
Affiliate marketing has its shares of cons. Do it wrong and you'll struggle. Read the following mistakes to avoid:
Put money above all
Amateur marketers are interested in money and not the value product delivers. Focus on what the audience will gain from using the products you promote. Also, don't fall to sellers offering high commissions. The product quality may not be great. So think from the customers' perspective.
Recommending what you don't trust
You must recommend products that you have used and that gained your trust as a customer/consumer.
Your hands-on-approach will guide you in creating a genuine recommendation that will help your audience by making the right decision.
Wrong product, partner selection
If your audience is some health-conscious type, selling some other health-related products or organic foods will work wonders. And not selling some products related to electronics.
Like products, if you select the wrong partners, it can hamper your affiliate sales.
Ignoring SEO
If you have very comprehensive content but it's not optimized for search, there is almost no point to it.
Make sure to carry out your SEO research before planning your article list.
Go beyond SEO. You have social media, You have email. Utilize these mediums to promote affiliate products and earn good traction of traffic.
Not doing split testing
While preparing marketing campaigns like social media ads, google ads or email campaigns, we often have many ideas to deliver the same message. But we rely on the first one.
So don't refrain yourself from trying things out, running two sets of infographics from the same campaign, using two subject lines for the same email, this will provide you with the most important learning that is self-learning. Chances are, it can turn out to be a magical campaign.
Successful hacks for affiliate marketing for WooCommerce
Competitor analysis
Analyze what your competitors are offering and at what price. It will help you make decisions on selecting products, setting commissions, agreements, and targets.
Maintain the product quality
Successful affiliate marketing is not just about how high the commission or the money. It's all about having a great converting product that has an edge over your competitors.
Remember, a great converting product is the easiest way to repeat conversions.
Claim a niche market
Don't try to sell everything to everyone. You'll surely fail. Identify where your product fits best and then promote it.
Segment your affiliates
You have a list of customers. Identify customers like top-spenders, new customers within the first 3 months and so on. Try to make these customers as affiliates. See what works better and keep experimenting.
Take care of your partners
Communicate with them by welcoming them to your affiliate program. Send out updates on product additions or changes. Give them tips and advice on how to be successful in marketing your products. Always pay them on time. Give bonuses to some who give more sales.
For more hacks, mistakes, and content marketing ideas for affiliates, refer to this in-depth guide.
Conclusion
A simple and straightforward process, affiliate marketing is for everyone to make an income.
Although the success depends on the affiliate's marketing skills, it can prove to be an effective way to meet your income goals as either a primary career or a profitable second job.
Follow the tips, hacks, ideas mentioned in this article, and you'll have a thriving success.