Only the winner gets Gold in a race. It's Silver and Bronze for the second and third respectively.
Why? Everyone has some or the other advantage that makes them stand out from others.
The same way, all your affiliates won't get you the same number of paid referrals. Some more, some less, some none.
Based on their performance, wouldn't it seem justified to reward different affiliates with different commission rates?
Agreed? Affiliate For WooCommerce plugin will help you do that easily on your WooCommerce store.
Set global and individual user-based commission rates
Affiliate commission rate is the commission you reward your affiliate based on the sale made.
It can be a flat percentage commission or a flat rate commission.
Now, earlier you could set only a global commission rate on your store so that every affiliate will get the same commission.
But now, you can also set different affiliate commission rates for different users.
All thanks to Affiliate For WooCommerce plugin that makes this a walk in the park.
For those who entered late, Affiliate For WooCommerce is the most easy to use plugin to set up your own affiliate program.
Yes, you read that right. Simple and free from customizations. And with powerful features.
It's one of the hottest selling plugins on WooCommerce.com.
Steps to set different affiliate commission rates for different users
Install and Activate Affiliate For WooCommerce plugin.
Go to WooCommerce > Affiliate > Settings
You'll see 'Affiliate specific commission'. Enable this option.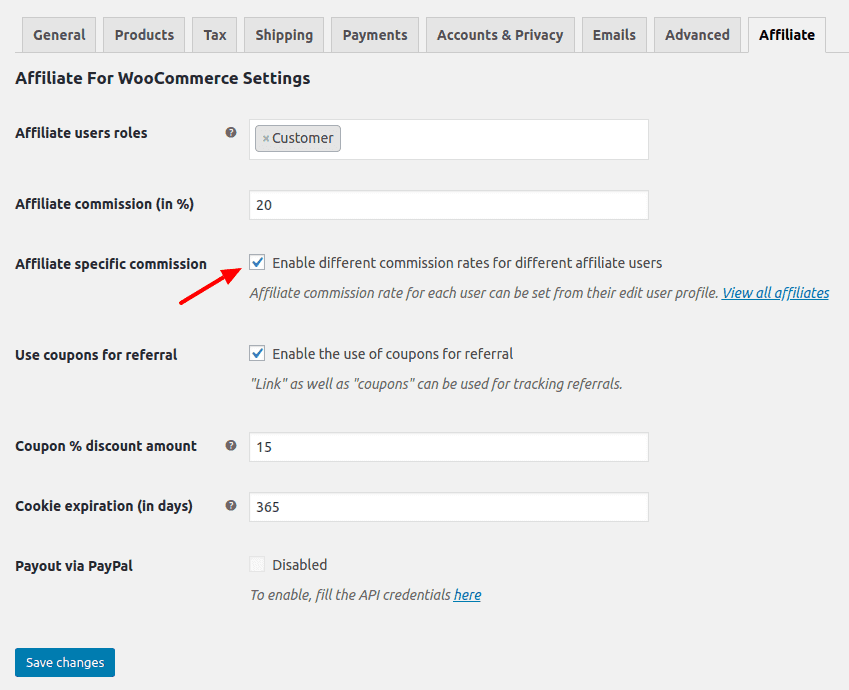 Next, from the Menu on the Admin panel, go to Users. OR Click on 'All Affiliates' from Settings. That will take you to the list of affiliates.
Select a user you want to set a specific commission rate, say John Smith.
Scroll down to 'Affiliate For WooCommerce Settings'.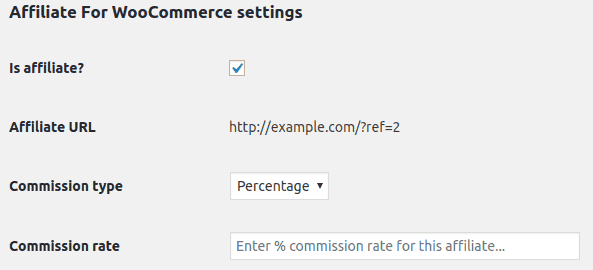 Here, select the commission type as Percentage or Flat from the drop-down.
Enter the corresponding commission rate, say 30%.
Update Users.
That's it. John Smith will now earn 30% as an affiliate commission per sale.
You can do the same for different users.
Note – Flat rate commission will be applied per order. If the order total is less than the commission rate, even then the affiliate will get the set commission rate for that order.
So, very simple as I said.
View Live Demo of the Plugin
Now, let's see how to decide different affiliate commission rates
Lower commission rates will lower your affiliate count. Higher commission rates will hurt your profit margins. A proper strike-off between the two will help you retain your affiliates without losing profits.
1. Set lower global affiliate commission rate
Agreed. Launching a new affiliate program with a higher commission rate will attract many affiliates quickly.
However, as time progresses, you may have to lower the commission rate. And that's where the affiliate activity will dip.
Therefore, set your commission at a manageable rate, so you never have to lower it. Say 25%. If you begin with 40% and then lower it, it will result in disappointed affiliates.
2. Identify your own customers
Your customers are good candidates to spread the good word about your products. If they are having a good outreach, a higher commission rate for these customers seems a great option.
Giving them a higher commission rate encourages them to promote you more. And also retain them for a longer time.
3. Increase commission based on performance
Not just your customers, but other people who signed up for your affiliate program may well give you sales regularly.
Affiliate For WooCommerce plugin gives you a leaderboard to monitor each affiliate's performance. Based on this data, you can set commission rates for these people. Like a commission tier structure.
For example,
Melina brings around 200 referrals on an average per month, set her commission rate to 35%.
Chris brings around 150 referrals on an average per month, set his commission rate to 30%.
4. Assess your products
Now, digital good sellers can afford to give more commission rates compared to physical products. The reason being minimal overhead and zero shipping costs.
The commission rate may well touch 60% provided the product is high-priced, super quality and life-changing.
So if some of your affiliates who can bring in paid referrals for your best-selling products, a commission rate of 50% will make their day.
5. Calculate your budget
Don't copy your competitors blindly. If they offer a higher commission doesn't mean you should join the same train. Find out your expenses, profit margin and then decide.
Your aim is to make your affiliates happy without you compromising on your profits.
Over to you
Affiliate is a big game. Everyone can win. Some big, some less. What makes sense is to look at all aspects – your website, products, customers, outreach, affiliates power, etc.
Based on that, decide the commission rate, global as well as per individual. And Affiliate For WooCommerce makes it easy to set-it up.
So what has worked well for your own affiliate program in terms of commission rates? We'd love to hear your experiences.