Discounts are great. And making your customer's purchase easier through them is even more amazing.
When you offer a discount coupon through your affiliates, don't just inform your customers but rather provide them with a quick link from where the discount coupon is automatically applied.
This article will help you understand how you can do that & the steps to complete the procedure.
How to generate an auto-apply URL for a single or multiple coupon codes?
For discount to automatically get applied, make sure you are using Smart Coupons and Affiliate for WooCommerce plugins on your website.
Smart Coupons is the original and best-selling coupons plugin on WooCommerce.com. You can create gift cards, bulk generate coupons, restrict coupons based on location, payment methods…and do many other stuff.
Affiliate for WooCommerce plugin helps you set-up your own WooCommerce affiliate program. You can manage your affiliates from a single dashboard, create marketing campaigns, make payout via PayPal, set up commission plans and do a lot more.
Follow the steps to set-up auto-apply coupons
Open your existing coupon or create a new one
If you're creating a new coupon, fill in all the details; discount type, coupon amount, description and the rest of it.
Tick the Auto-apply checkbox
Once done, click on 'Publish'
Then, find the section called 'Coupon shareable link'
You will see a URL generated there as per your coupon details
Click on 'Click to copy' and it will be copied to your clipboard.
Now, you can share this code via email, social media or on your website by pasting these links there.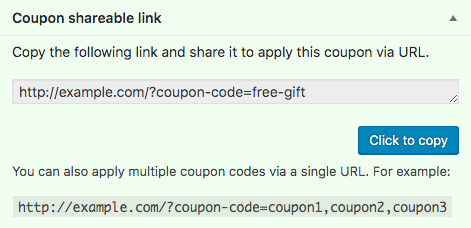 To add multiple coupons in one go
In the same section 'Coupon shareable link', you will see an option to add multiple coupons. You need to insert the coupon names in the URL by separating them with a comma as shown in the picture above.
This will encourage your customers to make the purchase as they won't need to remember or manually enter any code.
How do you get the affiliate URL having the auto-applied coupon code?
For example, this is what you get as the shareable coupon link generated by Smart Coupons:
https://demo.storeapps.org/?coupon-code=20discount
And this is the affiliate link:
https://demo.storeapps.org/?ref=2
So, the affiliate referral link will be appended to the URL as:
https://demo.storeapps.org/?coupon-code=20discount&ref=2
Once, a visitor visits the above URL, the coupon will be automatically applied and the affiliate will get the said commission.
To sum it up
If you're a WooCommerce store owner with not a lot of time on your hands but want to leverage the power of discount coupons to its best, Smart Coupons will do it for you.
And if you want to run your own affiliate program easily and want to enjoy the features of marketing campaigns, paypots, commission plan and others, get Affiliate for WooCommerce.
Both these plugins together will take your sales to the next level.