Want to generate WooCommerce coupons in bulk (hundreds and thousands)? Want to avoid the coupon code hassle and technical stuff? You're at the right place.
Why bulk generate WooCommerce coupons?
Tell me how much time you spend creating a single coupon in WooCommerce? With some restrictions and limits?
Around 3 minutes…I guess!
Now imagine if you need to create even 1000 coupons having a unique code for deal sites. That's almost 3000 minutes or 50 hours! One of your worst nightmares!
Can you afford to spend your productive time into this chaos?
If not, this WooCommerce coupons extension will free you from it.
3 days work done within minutes …WOW!
Yes. Smart Coupons by StoreApps can let you bulk generate any number of coupons effortlessly!
Take the above example of coupons. Creating 1000 coupons which could take almost 3 days (manual work) can now be done within minutes effortlessly!
It's like an automated solution. Set your requirements and you are good to go.
You also don't think to tinker your brains to generate coupon codes. Each coupon generated will have a unique code so that you can avoid the misuse of it.
In a nutshell, Smart Coupons provide a powerful, "all-in-one" solution for gift certificates, store credits, discount coupons, bulk generating coupons, etc. extending the core functionality of WooCommerce coupons.
Here's the complete Smart Coupons documentation.
Steps to bulk generate WooCommerce coupons
Smart Coupons allow you to generate coupons in bulk with all the necessary options required for a coupon.
The best part, you can set all the restrictions like location, user role, shipping, etc. which Smart Coupons provides.
You can also bulk generate store-credit/ gift certificates in bulk as well.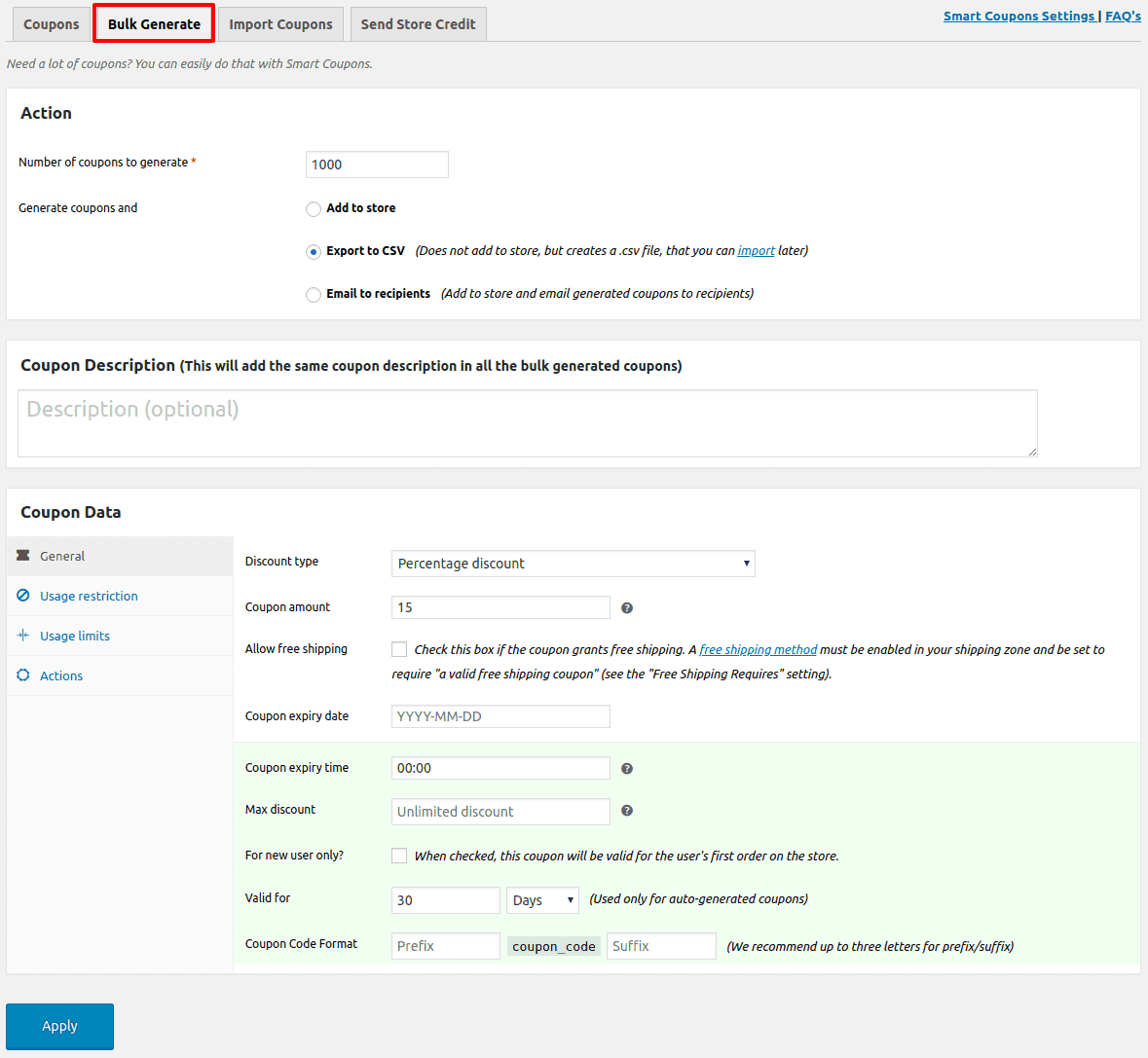 Go to WooCommerce > Coupon
Select 'Bulk Generate' next to the Coupons tab
Choose whether to

Add generated coupons to store
Export coupons to CSV ( Creates a CSV file you can import later)
Email the generated coupons to the recipients after adding to store

Add other restrictions, limits as you wish.
Click on Apply.
That's it.
Here's an example of bulk generated coupons, 1000 in number (CSV export), each having a unique coupon code within minutes.

Get Smart Coupons
A simple way to edit and manage coupons in bulk
You have created coupons in bulk. Now, what if you want to extend the expiry date of thousands of coupons?
What if you want to search for a particular coupon having a keyword and delete it? And other coupon management tasks…?
Here's an awesome solution that can help you bulk edit coupons in seconds.
Five applications where bulk coupons will save the day
We have listed some of the most widely used applications where bulk generating coupons is a must.
1. Deal sites
Deal sites are hungry for coupons. Users are hungry for discounts. Why not share bulk generated coupons with these deal sites so that maximum people can get access to your coupons, buy your products and give you sales.
2. Affiliate partners
Like deal sites, if your affiliate partners have a strong presence amongst their audience, it is wise to share coupons with them, so that they distribute it to their audience.
Reward affiliates so that they promote you better.
3. Holiday season / Christmas – Bulk generate and schedule coupons to customers
People expect gifts during Christmas. Isn't it a good idea to give customers some presents or cards they can redeem later on your store?
Smart Coupons gives you an awesome feature – Scheduling. (Scheduling feature is currently available for only those who are purchasing gift cards for others.)
Bulk generate coupons for specific customers and schedule them for a particular day, say 23rd December. The customers will receive it on 23rd.
4. Bulk generate store credit having a short-term validity for recent customers
There can't be a better strategy than store credit to nudge recent customers to make a purchase again.
What you can do is generate store credit in bulk, set it's validity to 30 days and send them to recent customers only (purchased within 30 days).
The urgency of credit getting expired soon will nudge customers to make a purchase again. After all, it's a proven fact that recent customers are less resistant to make a purchase again.
5. Bulk email coupon codes directly
Now Smart Coupons gives you this amazing feature to directly email coupon code to customers from the plugin itself.
Say you have 15 loyal customers and you want to send 15 coupon codes to these customers respectively (1 code to each).
Under Bulk Generate, enter the number of coupons as 15, choose Email, enter the email addresses of these customers and click on Apply. The coupon codes will be sent.
This is for those who want to send codes quickly and save time in switching to the email marketing service for the same.
Conclusion
No doubts, bulk generating coupons is the need of the day. If you want to eliminate manual work, save time and avoid the hassle of coupon codes, switch to bulk generating coupons today.
And it won't be wrong to call Smart Coupons the best WooCommerce coupon generator plugin!