At the time of a booking cancellation, you have two options:
Refund money
Give store credit/coupon for future purchase
As a store owner, providing them with store credits is what works the best to retain your customers. They can use it for future bookings or buy other products from your store.
How WooCommerce Smart Refunder ease the current refund process?
The typical WooCommerce refund process involves a lot of to and fro. Locating transactions, order verifying, logging into the payment method to issue refund, contact customers…its time consuming and frustrating.
WooCommerce Smart Refunder plugin exactly works on eliminating these pain points for both customers and store owners. It makes the process smooth, quick and complications free.
With WooCommerce Smart Refunder:
Store owners can issue cash refunds or store credits (need a separate plugin Smart Coupons)
Customers can request a refund from their My Account section
Customer get instant refunds if store owners opt in and the payment gateway supports it
Customers can request full or partial refunds
Get WooCommerce Smart Refunder plugin
How to assign a coupon / store credit to customers using Smart Refunder on booking cancellation?
This is very useful for businesses like classes, courses and others where their users can get a store credit or gift card equivalent to the refund amount on cancellation.
First, the store owner needs to set store credit as an option for refund and then, customers need to request the store credit.
Steps to enable store credit for refunds
Go to WordPress admin > WooCommerce > Settings > Smart Refunder.
In Storewide settings, enable the option 'Offer coupons as credit note for refund & let customer choose what they want' besides the Offer coupons? option.
Under Select coupon type to refund, choose Store Credit / Gift Certificate from the drop down. Note – If you choose Fixed cart discount, you won't need Smart Coupons plugin.
Set the Refund period
Click on Save changes
You have enabled the store credit option.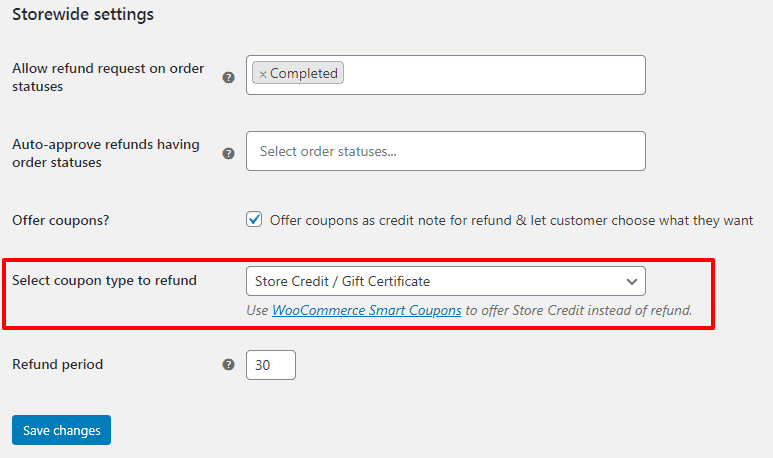 What customers need to do to get store credit?
Your customers need to log in to their My Account > Orders and locate the booked product. Now, clicking on the Request Refund option besides that product will provide two options to customers – choose store credit or ask for a refund.
This is what appears in front of your customer –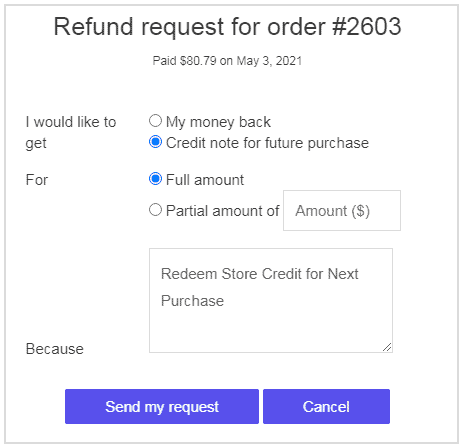 I would like to get: They can select My money back if they want a refund or Credit note for future purchase if they want store credit.
For: Whatever option they select from the above, they can select it in place of their full amount or partial amount.
Because: Customers can mention the reason behind choosing the specific option.
Send my request: You receive their request for refund or store credit once they click on this.
The store admin can now issue store credit to customers.
How Store admin can issue store credit to customers?

Locate the particular order under WooCommerce > Orders. It's order status will be Refund Requested.
Click on the Toggle under Actions on the right hand side.
Enter the Amount to be refunded and click on the Send coupon of $X amount button
That's it. Your customer will find this store credit amount under their My Account > Coupons section. They can utilize this store credit for further bookings.
Ending notes
Providing store credit truly paves a smart way for your customers to come back to your store.
While some may be happy about getting a coupon, some would want to get some store credits to spend on their next bookings. This is possible when you have Smart Coupons and WooCommerce Smart Refunder plugins installed on your site.
Get both these plugins today!