If you want to know everything about order bump, you are at the right place. Definition, examples, how to use order bump, use cases and more, we have covered all. So, without any further long lectures, let's begin.
What is an Order Bump? Meaning and example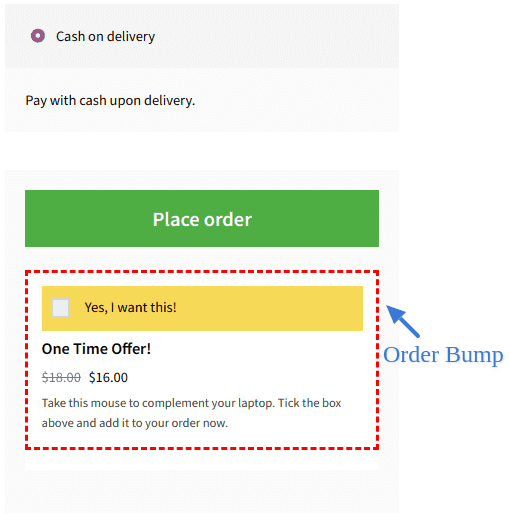 The additional product can be any complementary, related, service or any other product which may be required by the customers along with their main product.
The order bump product is displayed as a checkbox option. After a customer selects the initial product, he can choose to add the "bump product" to their order.
The process is so simple, entire process happens on the checkout page and the offer gets accepted in one-click.
Example – You are at the checkout page after adding a mobile phone and you are offered 1-year extended warranty for a few bucks. That's an order bump.
Our inner kid never dies – Order bump backstory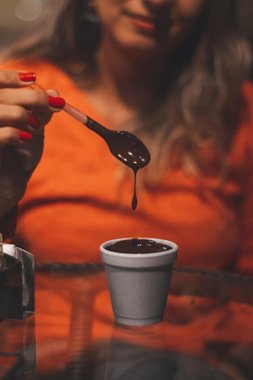 Offline stores report a healthy conversion rate of extra 15%-30% because of order bumps.
I'm sure everybody goes through this:
At offline stores, when you're in a queue to pay the bill at the cash counter or before reaching the cash counter, you'll find your favorite chocolates, chewing gums, cookies or biscuits or even juice tetra packs.
Something which we can't resist (the child within ourselves gets activated) and we add up those items in our shopping cart.
If not, then while paying the bill, the cashier asks us "Whether you would like to add chocolates to the bill value?" telling us that the bill amount will be rounded.
So smart, right?
That's an order bump. Comparing it with the online process, the paying of the bill is the checkout stage, adding chocolates is an order bump and since you don't move away and the product gets added, the order bump happens in one-click at the checkout stage.
Top 3 benefits of using Order Bump
1. Boost in Average Order Value – Add a highly useful product that complements the main product at the checkout stage. It stimulates customers to buy more, raising the value of the current order.
2. More product visibility – You can showcase more products from your store to potential customers, allowing more customer engagement with your brand.
3. Smoother checkout experience – Customers don't need to move away from the checkout page to add product and product gets added in one-click. This way, the checkout experience goes smooth.
Get WooCommerce Order Bump
What product types you can add to your order bump?
Any product can be attached as an order bump; be it a subscription product or a non-subscription product.
This means, both physical and digital products can be attached to your order bump offer.
Why order bump on checkout page only
This is purely based on psychology.
Things that attracts us, we can't resist them from buying. And when low cost is associated with that choice, impulse buys get triggered. #WooCommerce #OrderBump
Click To Tweet
That's why order bump is so successful.
On the product pages, the customer is not sure about the main purchase. And on the cart page (if present), asking customers to buy something extra still can create resistance.
And since at checkout page,
The buyer has already made his mind to purchase the main product. This makes it easy to cross-sell an item.
The purchaser is the most attentive here.
He buys with confidence what he aimed for.
Hence, checkout is the most successful page to show WooCommerce order bump offer.
Difference between Order Bump & Upsells
Now, this is a little tricky. But stay with me. I'll clear it out.
Order bump is an offer made on the checkout page. Some refer order-bump as a cross-sell offer as the offer is of a related or complementary product.
Upsell in most cases is targeted on the thank you page after the user has made a successful purchase. And yes, it's nowadays one-click upsell.
Want one-click upsell for your WooCommerce store? Click here
Though, many people also use upsell offers on the checkout page to nudge customers. Both are simply used to nudge customers to buy more.
Advantages of using order bump over upsell
Easy to set-up.
Low price products that easily encourages customers add them.
No need of a pop-up to show the offer.
No redirecting customers to any other page and disrupt their flow.
Advantages of using upsell over order bump
Usually happens on the "thank you page" where customer is vulnerable to purchase again.
Can be a one-click upsell, so the customer doesn't need to enter their credit card details again.
Accepting upsell offers increases average value to a great extent.
Customer gets more feature-rich product if he accepts the upsell offer.
How to configure WooCommerce Order Bump?
StoreApps' Order Bump is the most easy thing to set-up on your WooCommerce store. You can set-up your order bump within a minute.
The best part – For existing users, simply update to the latest version of Smart Offers to get order bump feature.
And if you heard about Smart Offers for the first time, Smart Offers is a WooCommerce plugin to create offers like upsell, cross-sell, one-time, BOGO, etc.
You also get powerful targeting rules, offer dashboard to track your revenue made from offers, flexibility to create offer without coding and a lot more.
Click here to view the steps to create your order bump offer
Top 6 Order Bump ideas proven for success (with examples)
Not every order bump offer converts. You need to identify what the user may need and then set-up order bump offers.
I know this may be a little difficult, So, I have compiled a list of best 6 ideas of using order bump offer on your WooCommerce store:
Offer an extended warranty
The most widely used tactic proven for conversion. No one wants to spend more on repairs of their product. If you offer an extended warranty at a nominal price, you won't see a 'No' from customers.
Example – Pay extra $20 and extend your Microwave warranty for 2 years.
Use super-fast delivery of product as a bait
Some people are damn crazy to get hands-on their favorite products before others. The best use case for new launches or best-selling models. People are willing to pay a few extra cash to grab the product. In such cases, you can provide the product by using shipping options.
Example – Pay $5 more and get your favorite product within 24 hours.
Show related product
The most common and widely use case of order bump. These products add some value to the purchase of the main product.
Example – Add your favorite toppings at just $1 and make your Pizza more delicious.
Offer complementary product
This works extremely well as they go well with the main product.
Example – Offering a memory card or protective case on purchase of a mobile phone.
Create a scarcity-based offer
Here, you want to encourage repeat purchases. Hence, you run a small giveaway only for first 50 customers.
Example – Give a $10 store credit as a giveaway which can be redeemed on the next purchase.
Sell membership-based product
Experts, influencers best use this tactic. They run a membership program and on joining it, you get special benefits on Early Bird basis.
Example – Get special training session with the influencer or offline access to the virtual summit anytime if you join the program now. This offer is valid only for first 100 customers at 50% off.
Conclusion
The most simple, cost-effective and sales growing tactic that can give instant boost to conversion on your WooCommerce store is order bump.
And if you are using StoreApps' order bump, you are having a treasure-chest of offers as you get powerful targeting rules, create any type of offer and a lot more.
Get WooCommerce Order Bump