Good news! You can now handle WooCommerce PayPal payouts for your affiliates. That means you can pay commissions to your affiliates with PayPal directly using Affiliate for WooCommerce plugin.
Quick sneak-peak about Affiliate for WooCommerce plugin
If you have entered late, Affiliate for WooCommerce plugin helps you set-up your own affiliate program. No complexities or confusion whatsoever.
Developed by StoreApps, the plugin is available on WooCommerce.com
Some top features of Affiliate for WooCommerce plugin:
Automatically turn your customers (or any other WordPress users) into affiliates.
Affiliates can generate links and track commissions themselves.
Self-explanatory KPIs to monitor affiliate performance.
Real-time reporting about sales from affiliates, reports on individual affiliate performance, an affiliate leaderboard, etc.
Unlimited tracking – 1 or 1,000 affiliates, track them all.
Detailed log of every payout sent to affiliates.
and a lot more…
Benefits of sending affiliate payouts via PayPal
PayPal is the most popular and widely used payment gateway. So store-owners can easily pay the commissions and their affiliates can easily receive them.
Send payout commissions to affiliates instantly in one-click.
PayPal handles the payouts directly. So stay risk-free.
Reduces the time spent processing payouts, thus giving you more time to run your business.
Affiliates are happier too because they get their commissions faster.
Prerequisites
First:
Very important – PayPal Payouts API!
The PayPal payouts requires API access to be enabled in your PayPal account. So for the sender, PayPal API credentials set in WooCommerce will be used for payments.
Make sure, 'Payout via PayPal' is enabled on your WooCommerce store.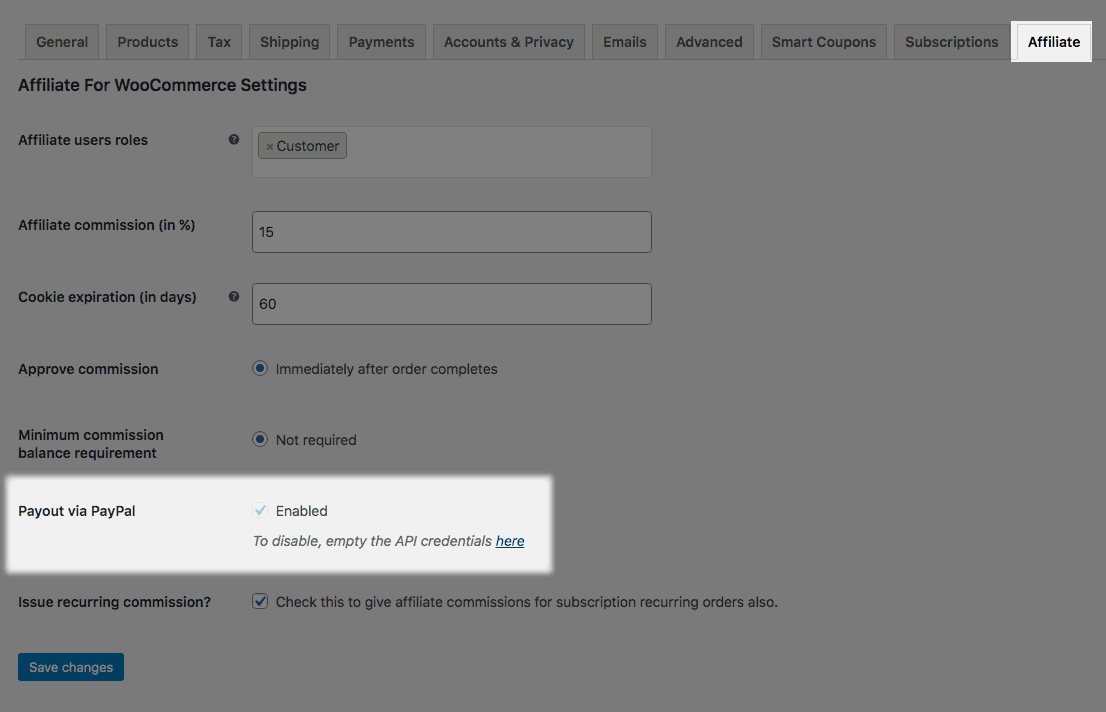 Second:
For affiliates to receive payout commissions via PayPal, they need to set their PayPal email under My Account > Affiliate > Profile > Payment Setting as shown in the image below.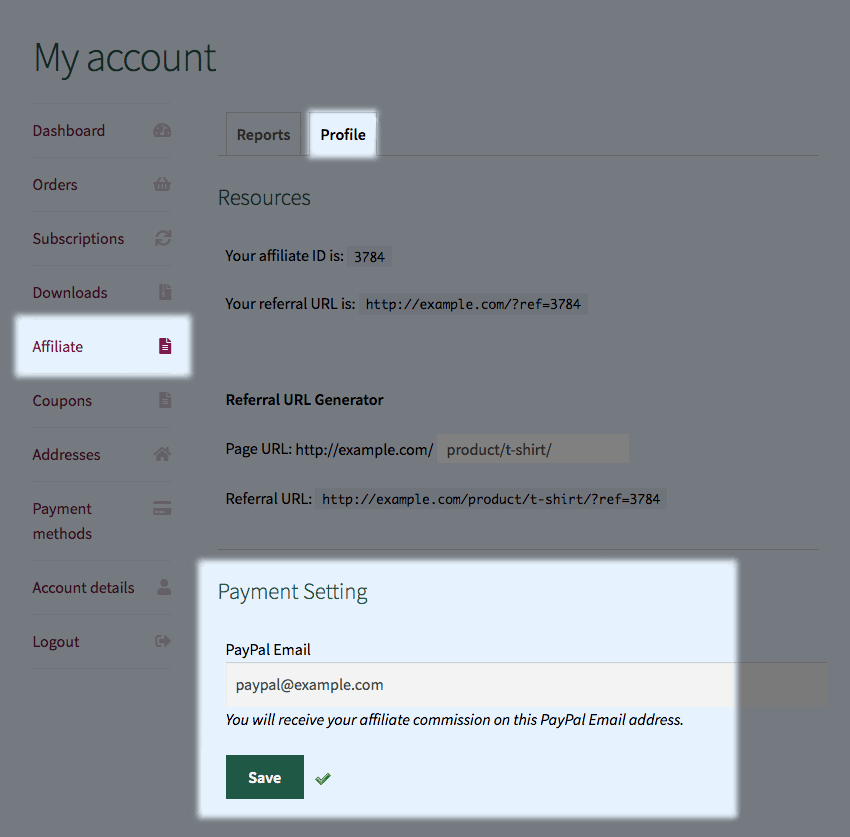 Third:
Alternatively, store-admin can set the PayPal email for the affiliates as shown.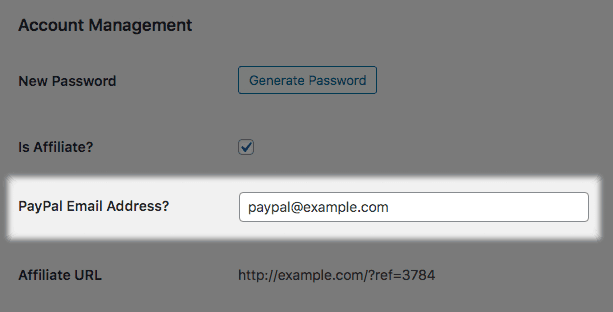 Steps to issue PayPal payouts to affiliate using Affiliate For WooCommerce plugin
Log in to the admin panel of your WordPress website
Now go to WooCommerce > Affiliates

From the left panel of the Affiliate dashboard, select an affiliate to make payout.
Click on the Orders tab
Select orders from the list you would like to process the payouts. While you're selecting the orders, the commission to be paid will keep adding up only for those orders for which the Commission status is Unpaid.
Select the Send Payout option (also shows total commission to be paid) above the orders list table header.

Payout affiliate commission via Paypal

It will open up a popup. Under Payment Method, select PayPal: Pay and Record. Select the Record date and add Notes if your wish to for your reference.
Click on Send
The affiliate will receive the said commission.
Note – If you select PayPal: Record Only under Payment Method, it will only mark the record but payout won't be issued.
That's it. Do the same for other affiliates.
How to check processed payouts?
You can check all the processed payouts done either via PayPal or using the Manual method, under the Affiliates dashboard > Payouts tab. You can also find the transaction id in this tab if you've done the payout via PayPal.
Get Affiliate For WooCommerce plugin
How to handle commission payouts manually?
This is when PayPal email is not set. OR store-owner / affiliates are not using PayPal. OR your affiliates need payment via another method like a direct bank transfer.
Follow the above-mentioned steps till step number 6.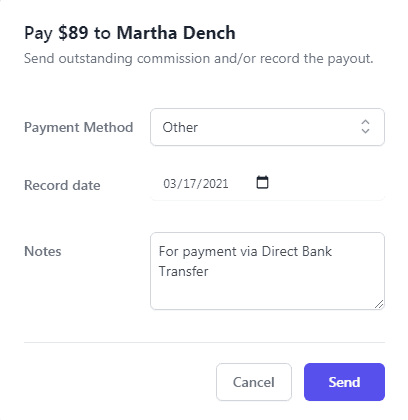 Now, under Payment Method, select Other. Select the Record date and add Notes if your wish to for your reference and click on Send.
This will only record Manual payouts. It won't send the actual commission as you do for PayPal.
To do the actual payouts (payment) to affiliates, you need to have your affiliates' bank account details to transfer money.
Closing notes
If you are an existing Affiliate For WooCommerce plugin user, start using this feature.
If you are new, get Affiliate For WooCommerce plugin. You won't be disappointed.
Questions, suggestions, feedback? Share them in the comments section below.