Howdy WooCommerce user!
If you wish to earn money without the hard work, you landed at the right place.
Seriously! That's the power and beauty of the WooCommerce affiliate program. Set-it up and make money on autopilot.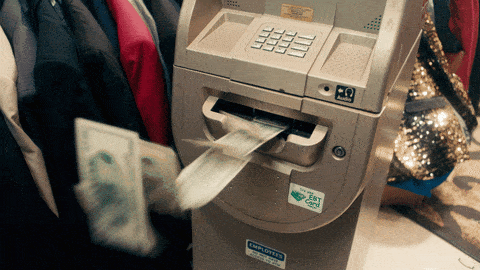 If you are a beginner, you'll learn everything you need to run a successful affiliate program and marketing. Yes, a successful one. In fact, you can even start today.
And if you are a pro or an intermediate in affiliate marketing, you'll make it even better.
Clear enough? Let's move ahead.
What is affiliate marketing? What is WooCommerce affiliate program?
Very simple meaning – Earning a commission by promoting other people's (company, friends, partners) products is affiliate marketing.
As simple as that.
You like a product, promote it to your audience and earn a share of profit for each sale you make. So, you are generating income without burning out your sweat and time.
So, affiliate program is a part of your affiliate marketing.
Someone has already done the hard work. You are just banking upon that.
Above all, it's not a win-win but a win-win-win situation. The seller, the affiliate partner and the end user.
Easy to get started but a challenge to succeed
Why?
Chris Lema, a WooCommerce expert has the best answer to this.
Very true.
So, whom they trust?
They trust their friends. They trust their gurus, influencers and also people who may be your customers.
As a store owner, you need to leverage this psychology for your own good and earn money.
And that's possible using a WooCommerce affiliate program. Along with that, you need proper planning and smart tactics (also covered in this article) that can make a difference.
People begin from scratch and earn millions without effort. That's the power of affiliate marketing. #WooCommerce
Click To Tweet
Three biggest reasons why affiliate marketing is successful
When someone thank you for your recommendations, they're more likely to take you up on further recommendations you make.
They're more likely to trust and value your advice and hopefully, eventually become raving fans.
1. Risk-free
Since affiliate involves more of selling others' products, you are free from all the product-related hassle. You also don't need to provide much support for these products.
2. Payouts after sale
Affiliate payments are performance-based. You'll only have to pay out referral fees when a sale has been made.
All you need is a platform to sell products or services and start making money.
3. One-step game
Send qualified traffic through a link to that product and sales are ready to knock on your door.
Rest all is out of your hands. Right?
Mostly. But there's more to it.
Learn more about affiliate marketing for WooCommerce
The most simple to use WooCommerce affiliate plugin
Now, traditional WooCommerce is very powerful. However, it doesn't provide the things you need to have your own affiliate program.
You definitely need a plugin that helps you set-up your own affiliate program the easy way.
I said, the easy way.
Look, you'll find lots of WooCommerce affiliate plugins that are good but are way too complex to use and saturated with things you don't need.
After all, simple is always better! Agreed?
That's what I have for you – Affiliate For WooCommerce plugin.
No complex elements, no jargon.
The plugin is developed by StoreApps and you can purchase it from WooCommerce.com
Phew! That's a lot about affiliates. Now let's move to the core section – setting up your WooCommerce affiliate program.
How to set-up your WooCommerce affiliate program?
Here are some things you need for your WooCommerce affiliate program:
Defining your WooCommerce affiliate program terms
Allow affiliates to join your program
Getting affiliate links and affiliate coupons
Affiliate tracking – referrals, sales, commissions…
Paying your affiliates
Affiliate marketing campaigns, affiliate tags and more features
You get all these things when you use Affiliate For WooCommerce plugin.
Defining your WooCommerce affiliate program terms
Install and activate the plugin as you do for any plugin. Once activated, go to WooCommerce > Settings > Affiliate.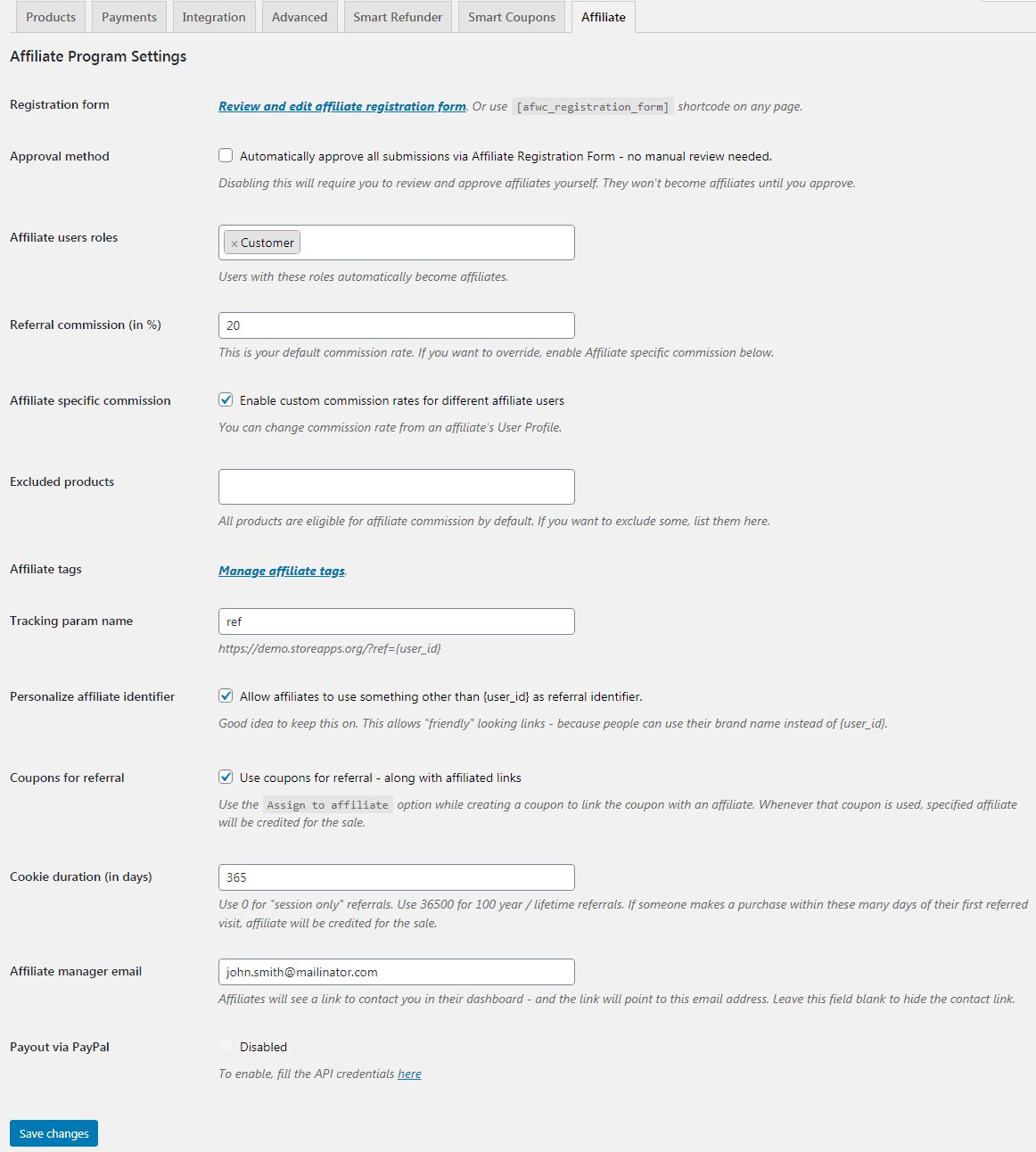 Set some details like the affiliate approval method, global affiliate commission rate, specific affiliate commission rate for different users, coupons for referrals and others.
Read more about each setting in this doc article
Allow affiliates to join your program
As shown above in the image, you can use the shortcode [afwc_registration_form] on any page or post of your site. This will show registration form to visitors on your site and they can request to join your affiliate program.
Automatic affiliate approval – If you check the 'Approval method', checkbox, it will automatically approve all submissions via the affiliate registration form without any manual review.
You can also automatically make some users having a specific user role like 'Customer', 'Subscriber' or others as your affiliates.
Getting affiliate links and affiliate coupons
Get shareable unique referral ID – Affiliate For WooCommerce plugin gives store-owners a unique referral ID for each affiliate. The affiliates need to simply suffix this ID to any product URL they want to promote. Affiliates will find it under their My Account > Affiliate > Profile.
Example – https://demo.storeapps.org/?ref=2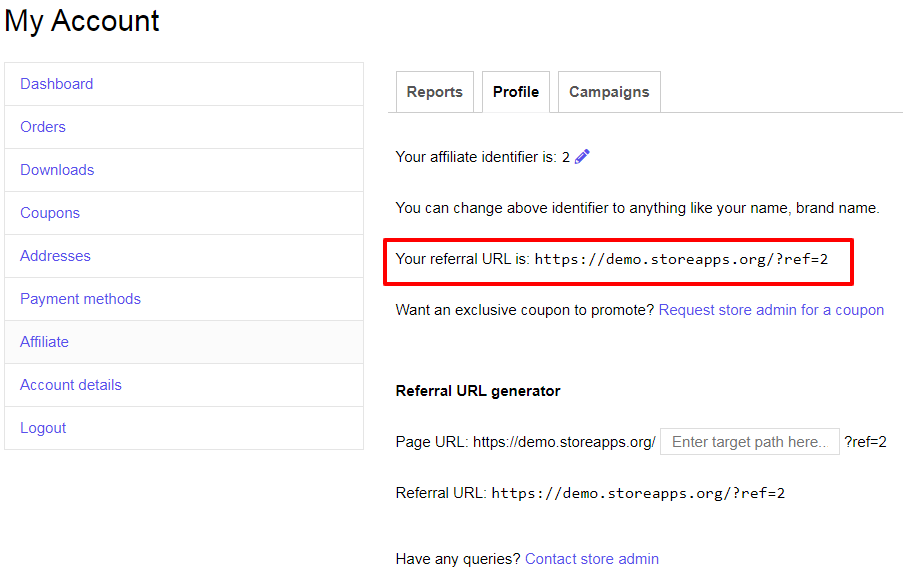 Affiliates can customize their affiliate ID using the pencil icon to their own name or brand name for simplicity.
Example – https://demo.storeapps.org/?ref=john
Affiliates can also promote products using a coupon instead of referral links. The affiliates need to contact store admin for a coupon.
Once the coupon is assigned, affiliate will find the coupon code under their "My Account" area as well as under the User Profile.
Here's how to create and assign coupons to affiliates
That's it.
Start earning!
Whenever a visitor buys any product from your affiliates using this URL, your affiliates will earn the commission (when you payout to them) and you get your money.
Thus, these affiliates promote your products in their circle giving your products and your WooCommerce store a more global outreach.
Your affiliate program is set-up within minutes.
Get Affiliate For WooCommerce plugin
Track everything from a single place – referrals, sales, commissions…
Track performance, improve. Once you start earning, you know which affiliates bring more revenue and which affiliates bring less revenue or no revenue. Based on these data, you can plan your future affiliate marketing strategies.
Affiliate For WooCommerce plugin provides everything in one single dashboard. You don't need to struggle with different screens and menus to track revenue, affiliates, referrals, and payouts.
There are two dashboards – one for store-owner and one for affiliates.
No plugin overload – We believe in simplicity and not confuse users with too many unwanted things. Hence, in this plugin, you'll find only those essential metrics which are needed to give you a quick glance on affiliate performance.
So you get a neat and clean dashboard.
Important metrics store-owner can track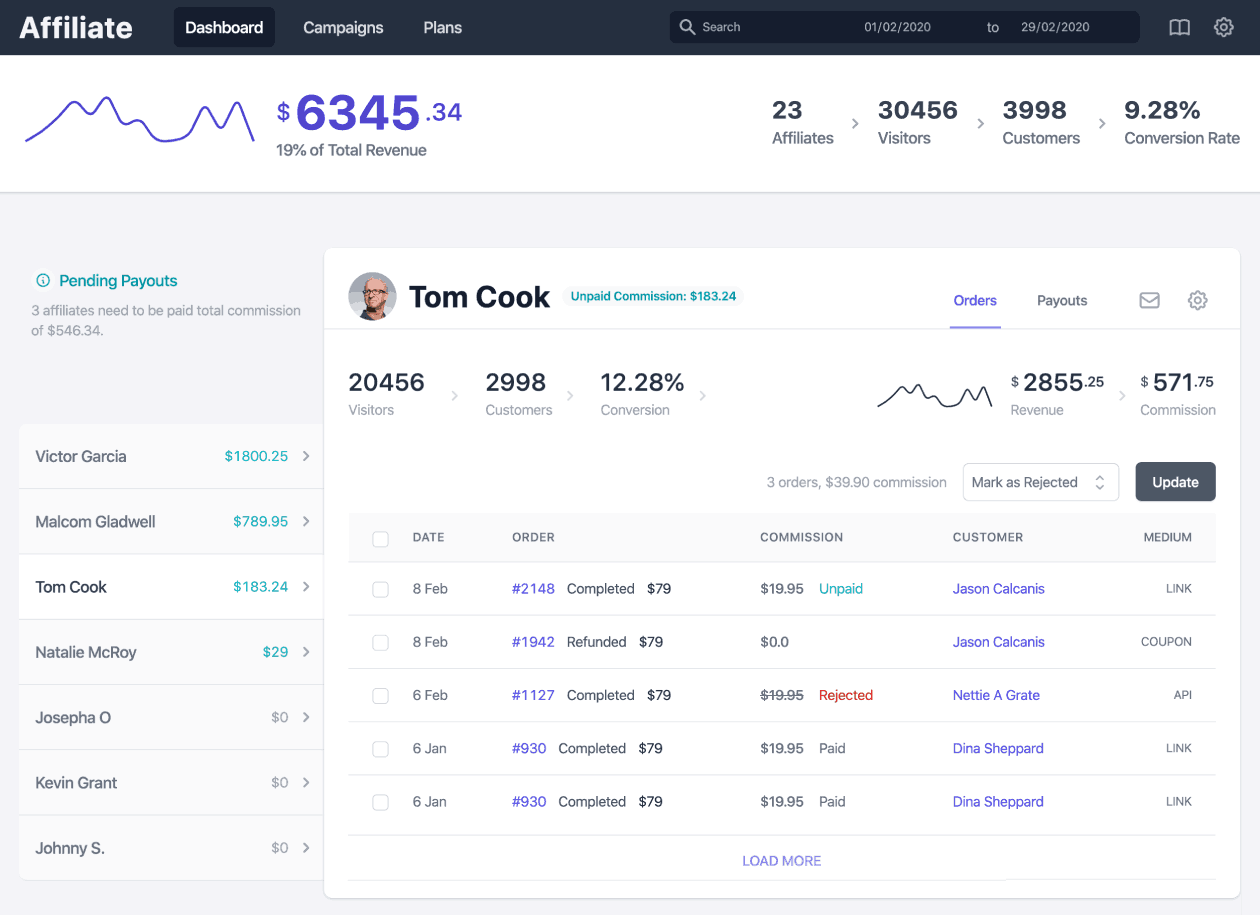 Net affiliate sales
Unpaid commissions
Refunds
Complete details of each affiliate – Payment method, order date, commission paid, payouts
and others…
Important metrics your affiliates can track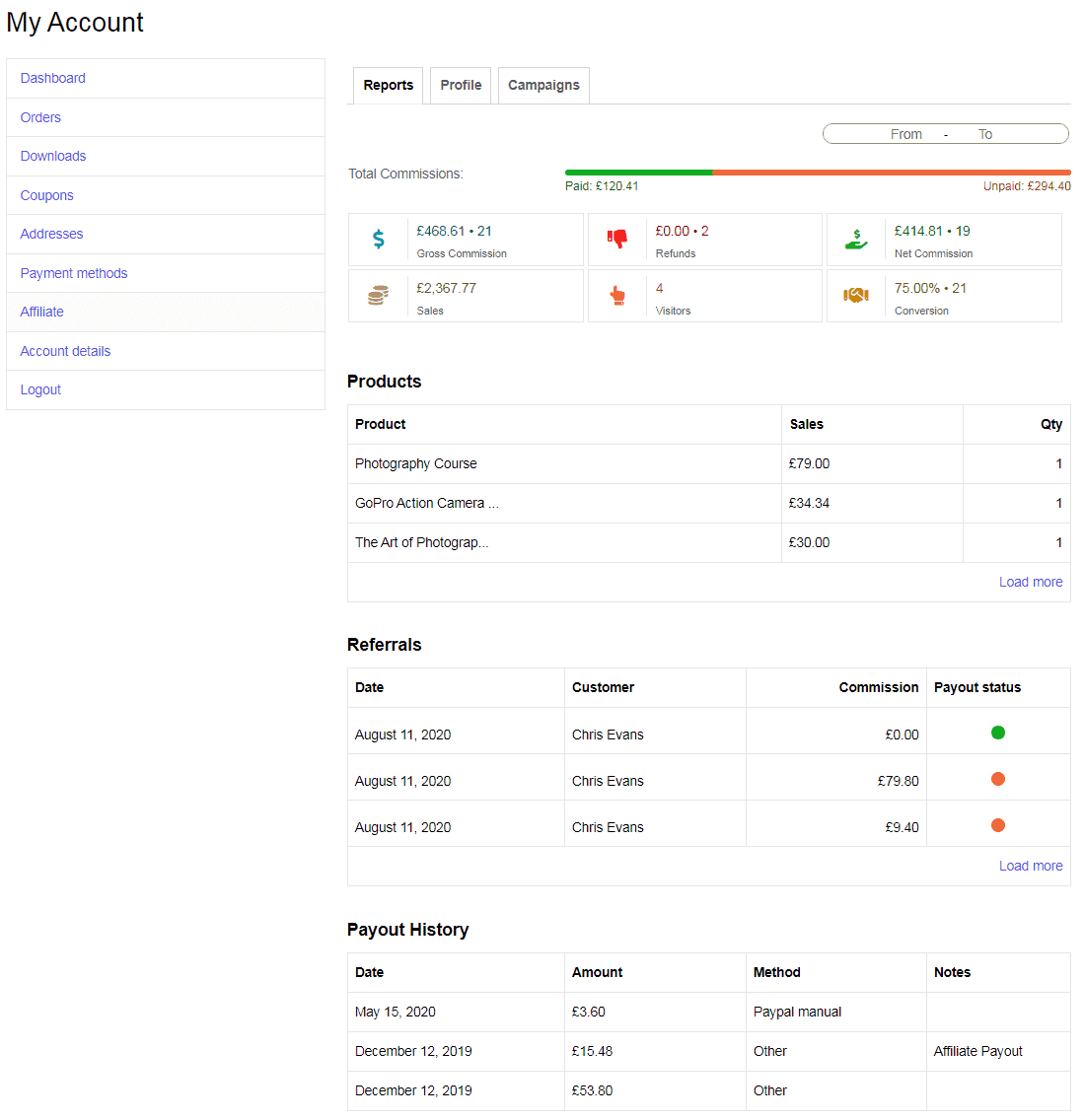 Gross and net commission
Total sales and conversion rate
Details of all product sold
Commission earned from each customer
Payout history
Both store-owners and their affiliates can track all their data from their respective dashboards.
Paying your affiliates
Affiliate For WooCommerce plugin provides two ways for commission payout:
Commission payout via PayPal
Manual commission payout
For payout via PayPal, refer this doc for the steps
The manual commission payout is to keep track of the commission payout. The actual payment of the commission is done by you outside the Affiliate For WooCommerce plugin. It can be using a bank transfer or other payment method.
You can check for each payout made from the Payouts tab.
Create affiliate marketing campaigns
Store owners can also create marketing campaigns for their affiliates using the WordPress editor. This to help you create campaigns as per your brand image.
Images, videos, PDF's, swipe files, logos, banners, e-books, whatever you want, you can add in the campaign.
Your affiliates can then pick up the marketing assets from the campaign and use them on their various channels to promote your brand.
Learn more about creating affiliate marketing campaigns
Commission plans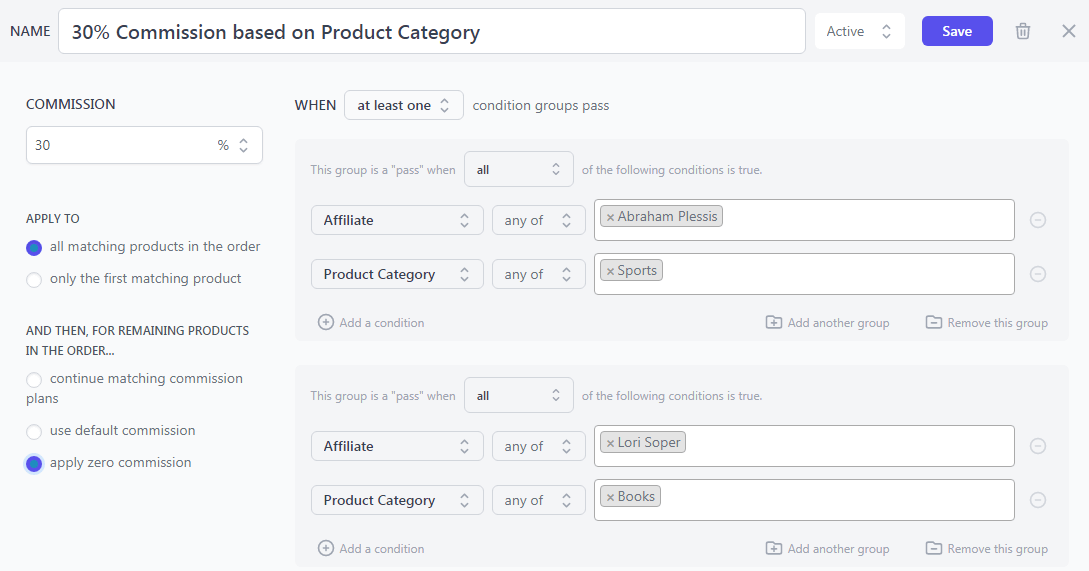 Product-based commission, affiliate-based commission, tag-based commission, or others, you can quickly set up affiliate commission plans on your WooCommerce store.
Learn more about commission plans
Other Affiliate For WooCommerce plugin popular features
Simple, self-explanatory KPIs to monitor affiliate performance
Real-time reporting about total sales, sales from affiliates, reports on individual affiliates performance, an affiliate leaderboard and more.
Search for a particular affiliate and see how much revenue they make for you. See your top earning affiliates, view affiliate reports, edit individual affiliate account.
Set different affiliate commission rates for different users.
The plugin automatically link WooCommerce orders with affiliates. It also updates commission status as order status changes – pending to completed, completed to refunded, etc. Commission status will be synced with WooCommerce order status automatically.
Unlimited tracking – 1 or 1,000 affiliates, you can track them all.
Easy migration from other affiliates plugin – Click a button and all your data from popular WordPress Affiliates plugin will be imported to Affiliate For WooCommerce plugin.
Easily see a detailed log of every payout sent to affiliates.
Assign / unassign order to an affiliate
Assign tags to affiliates based on their performance
Search for affiliates using name, username or email
Predefined labels – affiliate status, payment status, tags and date range to filter affiliates
What makes Affiliate For WooCommerce different from other WordPress affiliate plugins?
All other WordPress affiliate plugins have their own share of benefits. Most support WooCommerce and have been around for a while. But these makes Affiliate For WooCommerce different from others:
Simple and pleasant – Other affiliate plugins are too complex. And their interfaces clunky.
All at one place – You need to switch over to multiple dashboards to track metrics. And yes, they are too many. Our plugin provides only the most useful. That too at a single place.
No coding required – A person without having technical knowledge can use the plugin. Be it your juniors, marketers or others who don't want to play with code, they can use the plugin.
Faster and better – Works on shared hosting, code quality is efficient. It won't slow your site.
WooCommerce and Subscriptions support – Your affiliates don't have to worry if their referral will be credited to them or not. You don't have to spend hours reconciling numbers.
Get Affiliate For WooCommerce plugin
Five hacks that makes for a successful WooCommerce affiliate program
As you saw above, setting up an affiliate program is a no-brainer. But it doesn't stop here. You need proper content strategies, avoid mistakes, explore more opportunities to make your WooCommerce affiliate program a great one.
We begin with the hacks first.
1. Competitor analysis
Analyze what your competitors are offering and at what price. It will help you make decisions on selecting products, setting commissions, agreements, and targets.
For example, if your competitor pays 35% commission on $200 per sale and the product is promoted well on all relevant websites and marketing channels; you have two options:
Match that commission and those channels if you could afford it.
If you cannot, don't worry. Start experimenting with new affiliates. If conversion rates keep improving, you can raise the budget.
2. Maintain the quality of your product
Successful affiliate marketing is not just about how high the commission or the money. It's all about having a great converting product that has an edge over your competitors.
Remember, a great converting product is the easiest way to repeat conversions.
3. Segment your affiliates
Not every customer of yours can become a successful affiliate. You have a list of customers. Identify customer like top-spenders, new customers within the first 3 months and so on. Try to make these customers as affiliates. See what works better and keep experimenting.
4. Look out for new partners
Visitors on your website can also be a good affiliate candidate. Find new partners by advertising your affiliate program on your website, listing or by contacting potential affiliates directly. Your own friends running businesses can also be good affiliates.
5. Take care of your partners
Communicate with them by welcoming them to your affiliate program. Send out updates on product additions or changes. Give them tips and advice on how to be successful in marketing your products. Always pay them on time. Give bonuses to those who get you more sales.
Five content ideas for affiliate marketing that works
Content is king. Provide valuable information to readers. And you'll gain their loyalty and steer them toward smart purchasing decisions. In addition, some creative work and designing will boost that more.
Not just run your affiliate program, but also become affiliates of others and start earning. And when you become affiliates of others, these content ideas will stand out.
1. Benefit-driven reviews
Write up your opinion of the affiliate product. Describe how you used it and how it helped you.
Provide honest information so that users trust it and get persuaded to buy.
You may even use videos for the same.
Yaro Starak pulls that off with impressive results over at the Entrepreneur's Journey blog when he writes about using a stand-up desk. Both the video and the post lay out the reasons why a stand-up desk is worth it and how to put one together.
2. Product comparisons
Your readers get confused when there are similar competing products to choose from.
In such cases, product comparison post works the best.

Smepals does a good job of pitting popular business accounting software products against each other in a tabular form. They also add mini-reviews of each product. This makes it very easy for the audience to select the product based on their requirements.
3. How-to articles (text, video) / case-studies
Articles that describe how to get the most out of an affiliate product or make use of certain features work well.
Similarly, case-studies that describers how affiliate product helped someone achieve a particular goal is even better.
5. Seasonal content
In October, its the scary costumes and pumpkins. In November, Black Friday and Cyber Monday dominate.
Brainstorm all the seasonal trends that relate to the product you promote and turn those ideas into content that goes up at just the right time for people.
For example, if you want to promote a marketing product for Black Friday, you can mention how Smart Offers for WooCommerce plugin helps create offers like upsell, cross-sell, order bump, etc.
6. List roundups
Putting all those products together in one place saves readers the time and trouble of going out and finding those products and deals on their own.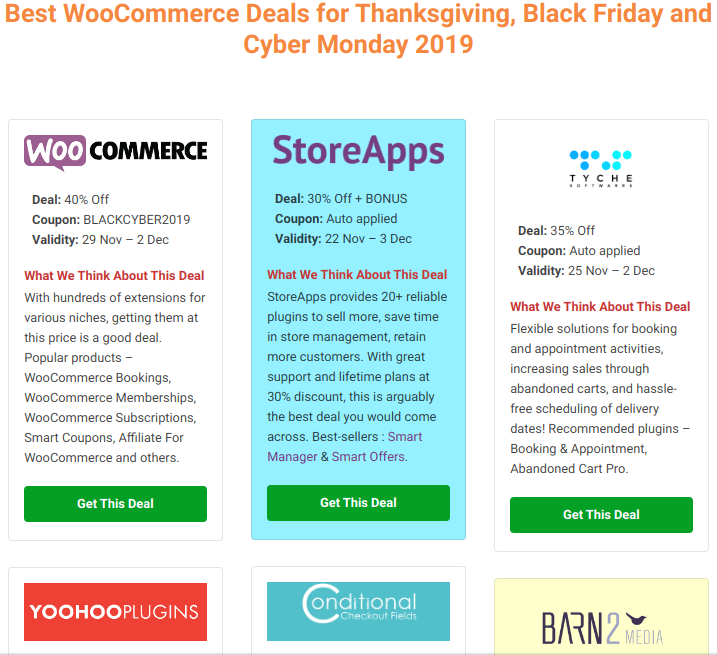 As shown above, you get to see all the best holiday season deals at one place.
And it's proven that users will surely click one of the products.
Good! You are almost done. But we are humans. We make mistakes. But these mistakes also don't stand a place in your WooCommerce affiliate program. Let's look at them below.
Nine mistakes that can make your affiliate marketing fail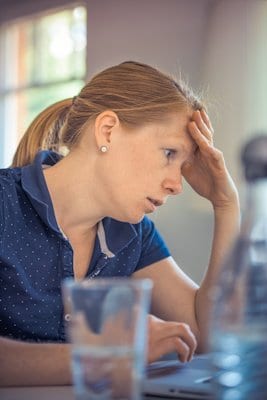 1. You put making money above your audience
Amateur marketers talk about products. The experts, however, highlight the product benefits without actually focusing on the product itself.
For example, experts will pitch a mattress like "Get a good sleep at night. Get the comfort and relaxation you always desire daily". They won't promote fancy features.
So think from the customers' perspective.
2. Wrong product and partner selection
The right product selection will improve your conversation rates significantly and it will directly impact how much you make out of your efforts.
If your audience is some health-conscious type, selling some other health-related products or organic foods will work wonders. And not selling some products related to electronics.
Like products, if you select the wrong partners, it can hamper your affiliate sales.
3. Ignoring SEO
If you have very comprehensive content but it's not optimized for search, there is almost no point to it.
Make sure to carry out your SEO research before planning your article list – this way, you have a guideline as to what articles and formats would be of maximum value.
4. Not extending your reach
Go beyond SEO. You have social media, You have email. Utilize these mediums to promote affiliate products and earn good traction of traffic.
5. Unrealistic income expectations
Don't fall blindly to the success stories of affiliate marketers. They are true but they have taken efforts and commitment to make it a successful one.
Think about the time you'll need to research, craft and optimize even one article, then multiply that by a hundred.
6. Recommending what you don't trust
It's very important that you recommend products that you have used and that gained your trust as a customer/consumer.
Your hands-on-approach will guide you in creating a genuine recommendation that will help your audience by making the right decision.
7. Ignoring helpful resources
You are not in affiliate marketing alone, there are many affiliate marketers out there who are making a great living out of this profession.
Many of them are spreading their experience and knowledge. You should definitely keep on learning from it and experts recommend at least 30 minutes every day dedicated to learning.
8. Not trying split-testing
While preparing marketing campaigns like social media ads, google ads or email campaigns, we often have many ideas to deliver the same message. But we rely on the first one.
So don't refrain yourself from trying things out, running two sets of infographics from the same campaign, using two subject lines for the same email, this will provide you with the most important learning that is self-learning. Chances are, it can turn out to be a magical campaign.
9. Not creating an email list
An affiliate marketer should always start creating their email list as soon as they start their journey as an affiliate marketer.
Recent researchers have shown that direct search users have a higher conversion rate which means a repeating customer tends to have more trust in your products then a unique visitor.
Affiliate marketing is a tough space. But if you are passionate about what you market, it becomes easier to target the needs of the users you are approaching and every day becomes an adventure.
How to keep affiliates happy so that they stay longer with your brand
Like retaining customers, your affiliates also need to be kept happy so that they stay for a longer time with your brand. Here how:
1. Rewards
If an affiliate brings more paid customers than other affiliates, doesn't it indicates that affiliate's dominance? Then rewarding such affiliates with bonuses, the extra commission encourages them to promote your brand more.
2. Timely payouts
It's a good practice to pay affiliates their commission on time. Otherwise, it will lead to more communication back and forth. You don't want your affiliate to get angry and leave due to payment dues.
3. Resources
Banners, logos, content material related to your products will make your affiliates work easy.
4. Emails
What's your new product? Any upcoming offer? Any new features? Email your affiliates about the same and tell them to promote.
5. Call
Talk to your affiliates. Take feedback. See whether they are having any difficulty.
6. Your affiliates' promotion
If your affiliates sell products, describe their product to your audience and give your affiliates the visibility. Be it a blog post, how-to's, reviews, social media or emails.
Your affiliates will really feel good. A step up to your affiliate relationship.
Now let's look at another approach to earn money using affiliate marketing.
Earning commissions by becoming Amazon affiliate
Affiliates is also about visibility. The more you showcase yourself, the more traction you get.
You should also make money using affiliate marketing via these two options:
Option 1: Add Amazon Affiliate Links to your WordPress site / WooCommerce store
List Amazon products on your WooCommerce store. You send traffic to Amazon by adding your affiliate links to products. Users are redirected to Amazon to complete the purchase, and you earn an affiliate commission on each sale.
You get an affiliate commission from other sellers who sell on Amazon. This tactic works well for small sellers who have a small presence and relies on you or other big guys to earn.
Once you're a part of the Amazon Associates program, you'll get a unique ID that will identify the referrals you send to the platform. However, keep in mind that you'll need to generate an affiliate link for each product you want to promote.
To do that, you can:
Log into your Amazon Associates account, and use the Product Links tab to look up the item you want to share.
Click on the Get Link button next to the product you chose.
Select which type of link you want to generate (i.e., text and image, text only, or image only).
Add the link to your WordPress website.
Option 2: Publish Your WooCommerce Products on Amazon
What if you're selling your own products? For the best possible results, you'll want to publish those items using both WooCommerce and Amazon. That way, you get access to a wider range of potential customers.
However, this integration is a little difficult to manage. For example, since you're sharing stock between Amazon and your eCommerce site, you'll need to make sure your inventory is always up to date.
Additionally, you'll have to spend time adding each item to both marketplaces.
For limited products, this isn't a big issue. However, for larger WooCommerce sites, you'll want to use a plugin that automates the WordPress and Amazon integration process.
Here are some popular plugins for the same:
Like Amazon, promote other marketplace products like eBay and AliExpress, etc. on your WooCommerce store and earn commissions.
Heads or Tails, you're the winner!
So, keep earning money even while you sleep
As Pat Flynn (one of the top affiliate marketers) rightly says – "Do not put the desire for short-term gain over the needs of your audience".
So, avoid mistakes, implement the strategies and start earning.
A successful WooCommerce affiliate program used to take time to build. But with Affiliate For WooCommerce plugin, it's quick. This plugin and some good affiliates promoting well are what you need to boost sales on autopilot.
After all, having your own WooCommerce affiliate program gives so much satisfaction, right?
Get Affiliate For WooCommerce plugin