Want a simple WooCommerce affiliate program? Want to have sales on autopilot on your WooCommerce store? You are at the right place.
Your successful marketing gimmick
As Chris Lema, VP of Liquid Web says, "People don't believe you because too many marketers have lied. Too many have used tricks – all kinds of them – to create ways to get people to click and/or buy. Even if your marketing and sales copy is good enough, people don't convert."
Very true.
So, whom they trust?
They trust their friends. They trust their gurus. They trust influencers and people who may be your customers.
As a store owner, you need to leverage this psychology for your own good and earn money.
And that's possible using a WooCommerce affiliate program.
Believe me, people begin from scratch and earn millions without effort. That's the power of affiliate marketing.
What is this WooCommerce affiliate program?
As simple as that.
WooCommerce affiliate program is risk-free
Why?
You only pay to your affiliates after the results are delivered. The referral commission is also fixed. Using an affiliate marketing program, you agree to pay your affiliate partners a referral fee for each lead or sale that is generated.
Now comes the best part.
we have something for you – Affiliate For WooCommerce plugin.
It is the most simple plugin to set-up your own WooCommerce affiliate program!
No complex elements, no jargon.
How to set-up your WooCommerce affiliate program?
Here are some things you need for your WooCommerce affiliate program:
Enabling WooCommerce and affiliate plugin integration
Generation of affiliate links
Affiliate dashboard
Tracking referrals and sales
Paying your affiliates
How do you get all these things without effort? Using Affiliate For WooCommerce plugin. The plugin is listed on WooCommerce.
The plugin automatically and tracks every custom URL, plus every click, to see if a purchase was made.
Step 1
Set the plugin on your site, fill up a few setting details and you are ready to roll!
Step 2
Get shareable unique referral ID – Affiliate For WooCommerce plugin gives store-owners a unique referral ID for each affiliate which they can share with them.
Step 3
Start earning! The affiliates need to simply suffix this ID to any product URL they want to promote.
Example – https://www.testsite.com/product1/?ref=2, https://www.testsite.com/product3/?ref=2
Whenever a visitor buys any product from your affiliates using this URL, your affiliates get a commission as a thank you token and you get your money.
Thus, these affiliates indirectly promote your products in their circle giving your products and your WooCommerce store a more global outreach.
Automatic affiliate creation
This is one special feature of this plugin. Enable automatic affiliate account creation for all users who register a new user account on your site. This is possible if you enable a setting wherein all users to become your affiliate on registering. You can also make selected affiliates based on a user role.
Step 4
Track performance, improve. Once you start earning, you know which affiliates bring more revenue and which affiliates bring less revenue or no revenue. Based on these data, you can plan your future affiliate marketing strategies.
That's it. Your affiliate program is set-up within minutes.
Get Affiliate For WooCommerce plugin
Track everything from a single place
Affiliate For WooCommerce plugin provides everything in one single dashboard. You don't need to struggle with different screens and menus to track revenue, affiliates, referrals, and payouts.
There are two dashboards – one for store-owner and one for affiliates.
No plugin overload – We believe in simplicity and not confuse users with too many unwanted things. Hence, in this plugin, you'll find only those essential metrics which are needed to give you a quick glance on affiliate performance.
So you get a neat and clean dashboard.
Important metrics store-owner can track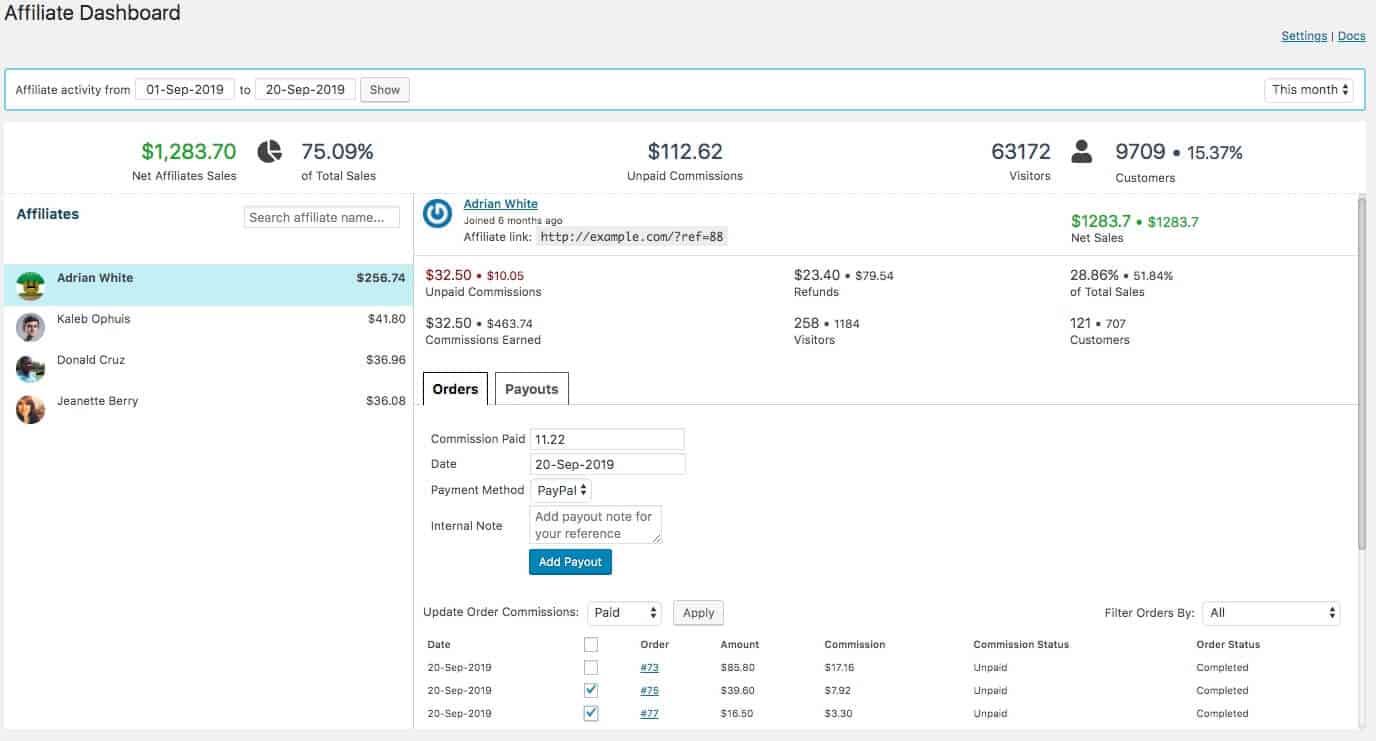 Net affiliate sales
Unpaid commissions
Refunds
Complete details of each affiliate – Payment method, order date, commission paid, payouts
and others…
Important metrics your affiliates can track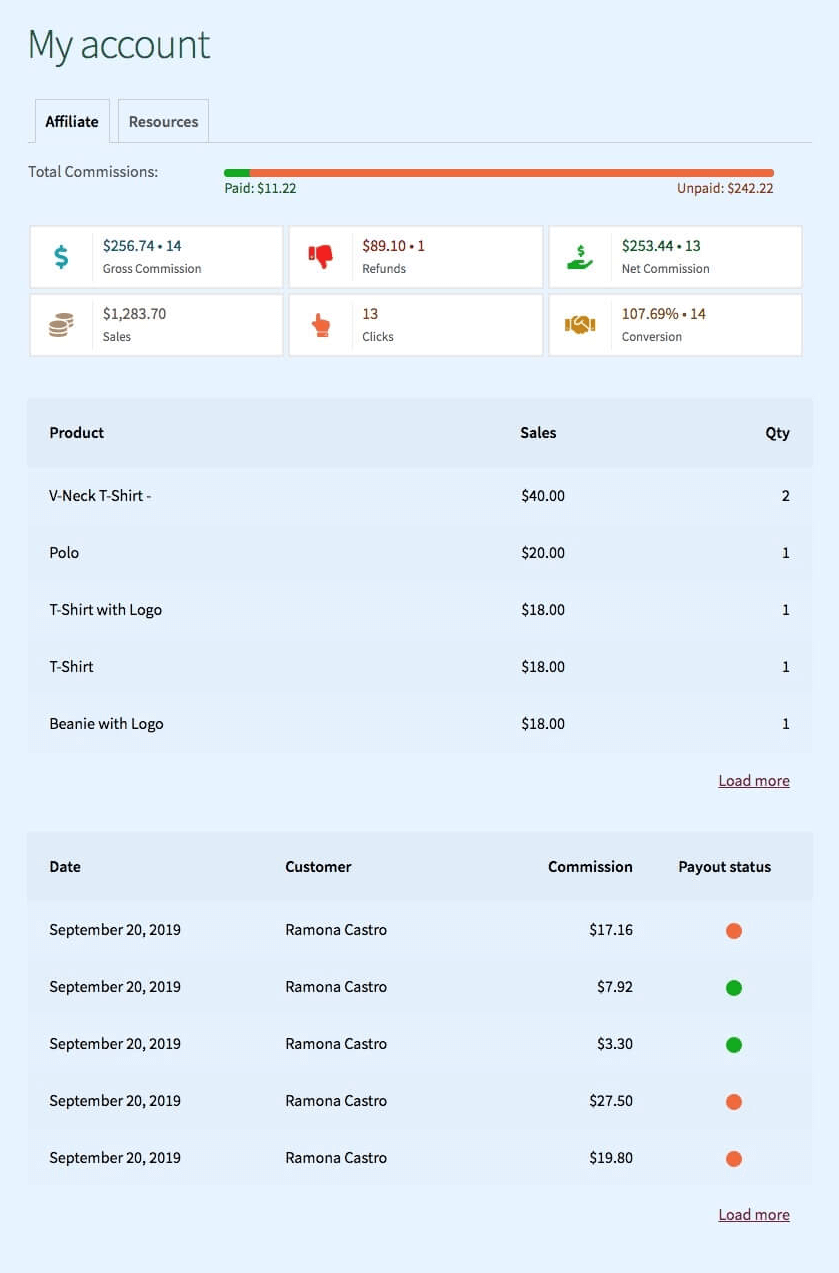 Gross and net commission
Total sales and conversion rate
Details of all product sold
Commission earned from each customer
and others…
Both store-owners and their affiliates can track all their data from their dashboard respectively.
Top Affiliate For WooCommerce plugin features
Simple, self-explanatory KPIs to monitor affiliate performance.
Real-time reporting about total sales, sales from affiliates, reports on individual affiliates performance, an affiliate leaderboard and more.
Search for a particular affiliate and see how much revenue they make for you. See your top earning affiliates, view affiliate reports, edit individual affiliate account.
Affiliate For WooCommerce plugin automatically link WooCommerce orders with affiliates. It also updates commission status as order status changes – pending to completed, completed to refunded, etc. Commission status will be synced with WooCommerce order status automatically.
Unlimited tracking – 1 or 1,000 affiliates, you can track them all.
Easy migration from other affiliates plugin – Click a button and all your data from popular WordPress Affiliates plugin will be imported to Affiliate For WooCommerce plugin.
Easily see a detailed log of every payout sent to affiliates.
Referral link generator – Affiliates can generate their referral links from the Affiliate area with the built-in referral link generator.
(Coming soon) Pay your affiliates using PayPal – Easily pay commission to your affiliates using PayPal.
(Coming soon) Offer unlimited creatives – Give your affiliates unlimited visual resources like banners, logos, text links, etc. for more effective promotion of your store.
What makes Affiliate For WooCommerce different from other WordPress affiliate plugins?
All other WordPress affiliate plugins have their own share of benefits. Most support WooCommerce and have been around for a while. But this makes Affiliate For WooCommerce different from others:
Simple and pleasant – Other affiliate plugins are too complex. And their interfaces clunky.
All at one place – You need to switch over to multiple dashboards to track metrics. And yes, they are too many. Our plugin provides only the most useful. That too at a single place.
No coding required – A person without having technical knowledge can use the plugin. Be it your juniors, marketers or others who don't want to play with code, they can use the plugin.
Faster and better – Works on shared hosting, code quality is efficient. It won't slow your site.
WooCommerce and Subscriptions support – Your affiliates don't have to worry if their referral will be credited to them or not. You don't have to spend hours reconciling numbers.
Get Affiliate For WooCommerce plugin
Six hacks for a successful WooCommerce affiliate program
1. Competitor analysis
Analyze what your competitors are offering and at what price. It will help you make decisions on selecting products, setting commissions, agreements, and targets.
For example, if your competitor pays 35% commission on $200 per sale and the product is promoted well on all relevant websites and marketing channels.
You have two options:
Match that commission and those channels if you could afford it.
If you cannot, don't worry. Start experimenting with new affiliates. If conversion rates keep improving, you can raise the budget.
2. Maintain the quality of your product
Successful affiliate marketing is not just about how high the commission or the money. It's all about having a great converting product that has an edge over your competitors.
Remember, a great converting product is the easiest way to repeat conversions.
3. Claim a niche market
Don't try to sell everything to everyone. You'll surely fail. Identify where your product fits best and then promote it.
4. Segment your affiliates
Not every customer of yours can become a successful affiliate. You have a list of customers. Identify customer like top-spenders, new customers within the first 3 months and so on. Try to make these customers as affiliates. See what works better and keep experimenting.
5. Look out for new partners
Visitors on your website can also be a good affiliate candidate. Find new partners by advertising your affiliate program on your website, listing or by contacting potential affiliates directly. Your own friends running businesses can also be good affiliates.
6. Take care of your partners
Communicate with them by welcoming them to your affiliate program. Send out updates on product additions or changes. Give them tips and advice on how to be successful in marketing your products. Always pay them on time. Give bonuses to some who give more sales.
So, keep earning money even while you sleep
A successful WooCommerce affiliate program used to take time to build. But with Affiliate For WooCommerce plugin, it's quick. This plugin and some good affiliates promoting well is what needed to boost sales on autopilot.
After all, having your own affiliate program gives so much satisfaction, right?
The affiliate program is worth the effort, and it can become one of the best time and financial investments in your marketing plan.
Get Affiliate For WooCommerce plugin